The perfect Valentines Day escape for wine buffs and foodies. Lympstone Manor is a luxury country house hotel situated in the heart of Devon on the tranquil Exe estuary. It is the vision of Michael Caines MBE, one of Britain's most popular and well-known chefs, whose timeless and eclectic European cuisine is at the heart of the experience. DOSE writer Becky escapes the confines of the city to experience what Lympstone Manor has to offer…
Lympstone Manor
Arrival
After a long drive from London we crunch up the gravel driveway and are greeted by a veranda wrapped Grade II listed Georgian manor house that has been imaginatively restored into a luxury country hotel for the 21st Century. The house is surrounded by manicured lawns rolling down to beautiful views over the sparkling estuary. Staff are super friendly and attentive handing over hot towels to refresh us while whisking away our luggage and settling us into the bar with coffee and home-made biscuits.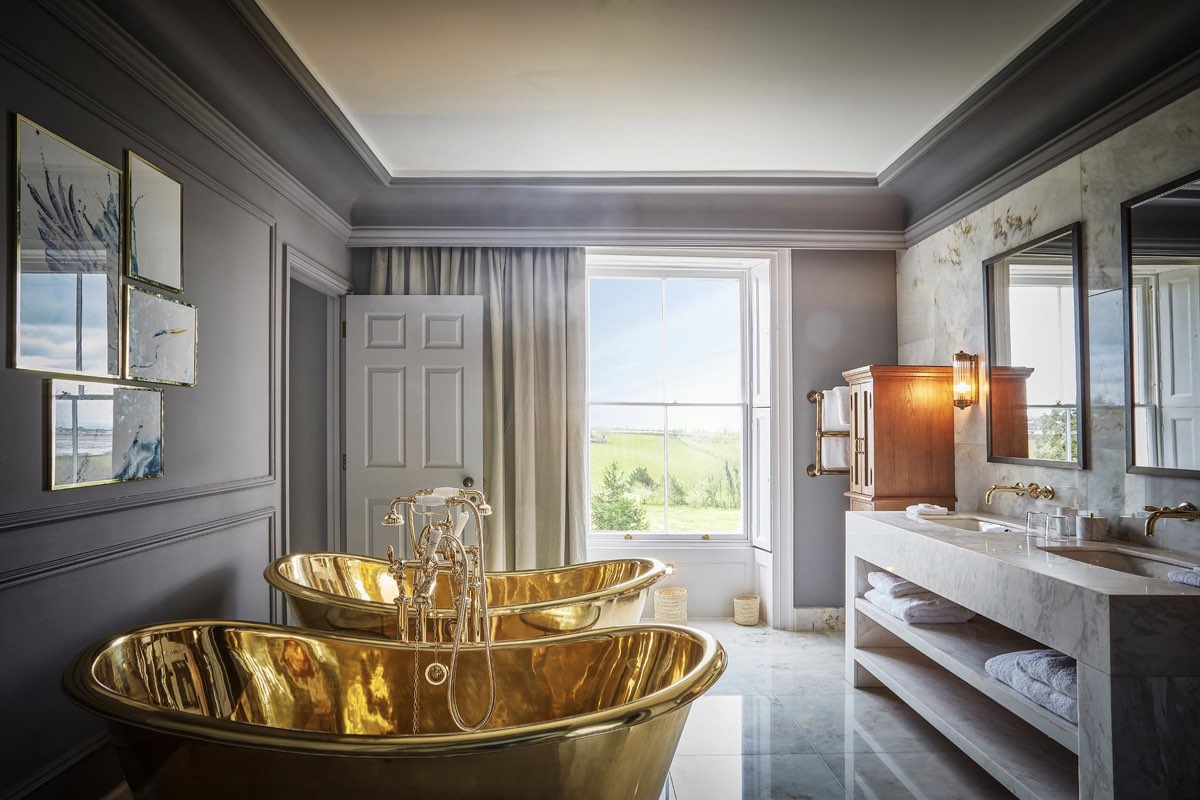 Décor
The décor is country but luxurious and the walls around the central staircase are covered in a mural depicting the local estuary birds – each of which represents the 21 hotel suites and rooms.
We are lucky enough to be holed up in the Wood Warbler Suite with its own sitting room, bedroom and bathroom containing a gold roll topped bath, hair dryer, straighteners and plentiful L'Occitane products. There's also a complimentary gin bar and outside a huge (private) marble soak tub and fire pit (lit on request) with south facing estuary views.
We stretch our legs with a wander round the grounds littered with sculptures and inspect the recently planted vineyard on the "ladies walk". Next to earn our supper (sort of) we borrow two of the hotel's bikes and cycle to Exmouth sea front feeling happy and slightly railway children-esque, as we're trailed by what must be the sweetest and tiniest train in Devon. Although the wind on the outward cycle made us feel smug and fit, the return trip wasn't so easy on the legs and we reward ourselves with a restorative pre-supper GnT in the garden.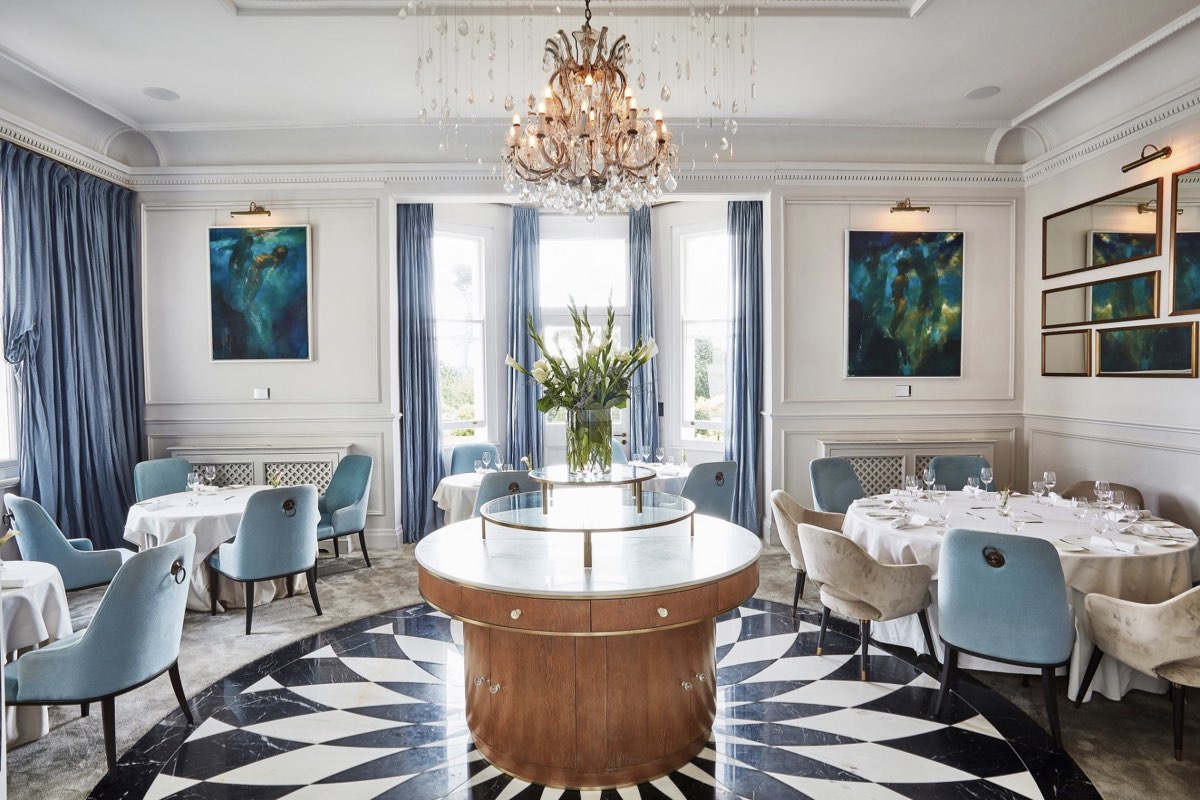 The Food at Lympstone Manor
While the surroundings are undeniably delightful the best reason to book a stay is undoubtably the food (and wine). As any foodie worth their salt knows, Michael Caines (MBE) the chef/patron of Lympstone Manor, is one of Britain's most popular chefs and has held two Michelin stars for 18 consecutive years. He's also a local hero having long championed the South West as "one of the finest larders in Europe" as well as calling Devon his home. Having been awarded a Michelin star for Lympstone Manor just six months after opening you know you're in for something seriously special.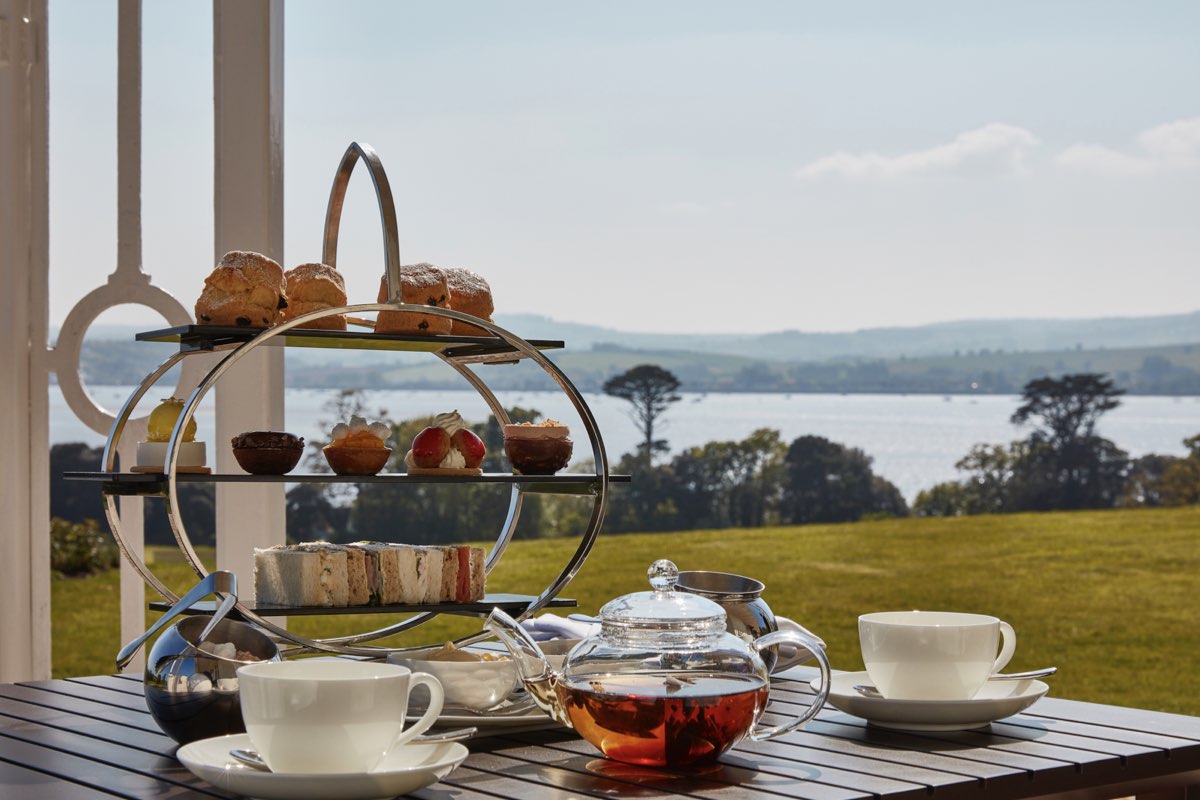 Our night begins with a glass of Michael's own Blanc de Blanc champagne in the bar, followed by the signature tasting menu and accompanying wine flight. The menu draws on what's local and in season and is hands down one of the best meals we have ever eaten. In the morning (feeling the wine flight) we run to the seafront and back which then completely justifies a two-course breakfast of home-made pastries followed by poached eggs, avocado and bacon. If COVID has left you craving some unstuffy Michelin starred excellence in one of the country's beauty spots then its time to treat yourself!
Set in 28 acres of Devon countryside with beautiful views of the Exe estuary, the luxury country house hotel is the ultimate staycation destination for walkers and foodies alike.
For wine lovers…
In spring 2018, Michael and his team planted 17,500 vines (Pinot Noir, Pinot Meunier, Chardonnay) on Lympstone Manor's southwest-facing parkland overlooking the Exe estuary with the aim of making some of the finest English sparkling wine in Devon. This autumn, Lympstone Manor's Classic Cuvée will finally be unveiled, made from the first harvest of grapes that ripened during the long and gorgeous summer of 2020.
The grapes were harvested and transported a short distance to Lyme Bay Winery where they were transformed into base wines that were skilfully blended, under Michael's supervision, to create Classic Cuvée. With its beautiful lemon colour and very fine and persistent bubbles, a sample tasted in December 2022 displayed a fresh, underlying backbone of clean, bright acidity, and a richness on the palate with notes of autolysis that will further develop with ageing on the lees. Michael is patiently waiting to unveil Lympstone Manor's Classic Cuvée in the autumn to allow further development of complexity in the bottle.
Exclusive Valentine's Day voucher:
Grade II listed Georgian manor house Lympstone Manor is offering a Celebration Stay as part of their exclusive Valentines vouchers this winter. Be welcomed by a bouquet of seasonal flowers, handmade chocolates before enjoying a fine dining experience of champagne aperitifs with canapes, followed by Michael Caines signature eight-course tasting menu accompanied by matching wines.  Vouchers starting from £1,224.
To book your stay visit the website or call 01395 20 20 40. 
By Becky
Get your weekly DOSE fix here: SIGN UP FOR OUR NEWSLETTER