Ellie Watson is one of our favourite instructors at Core Collective for her electric, playful, fierce Cycle sessions. Expect tech/house mixed in with some old-school hip hop and of course, big drops. And you'll leave class filled with a mega dopamine rush, full of positivity, a sense of inner strength and accomplishment. She talks to us about what inspired her to become a trainer and what a typical day of wellness looks like… (Interesting fact, Ellie Watson has travelled the world to 67 different countries and sang on stages across 5 continents!)
Meet Ellie Watson – Cycle Instructor at Core Collective
What inspired you to become a personal trainer?
I think my first ever spin class opened my eyes to the idea. I was totally in awe of the trainer leading the class – they looked so fit and cool whilst they were training on the bike. I loved the sense of community the class gave me; The energy in the room was insane! And then the endorphin hit afterwards you get is so addictive – there's nothing like that feeling you get after you've completed a spin class. I knew at that moment it was something I needed to be a part of.
What does a typical day of wellness look like for you?
Lockdown has slowed things down for me. I always look forward to my breakfast and coffee first thing. Some days I teach classes on a morning, other days I have a client. I love being outside, and I always take the opportunity to walk everywhere to get my step count up. In the afternoons I enjoy taking the time to train myself. Evenings consist of cooking myself a nice dinner, winding down, having a relaxing hot shower and then jumping into bed with a cup of tea.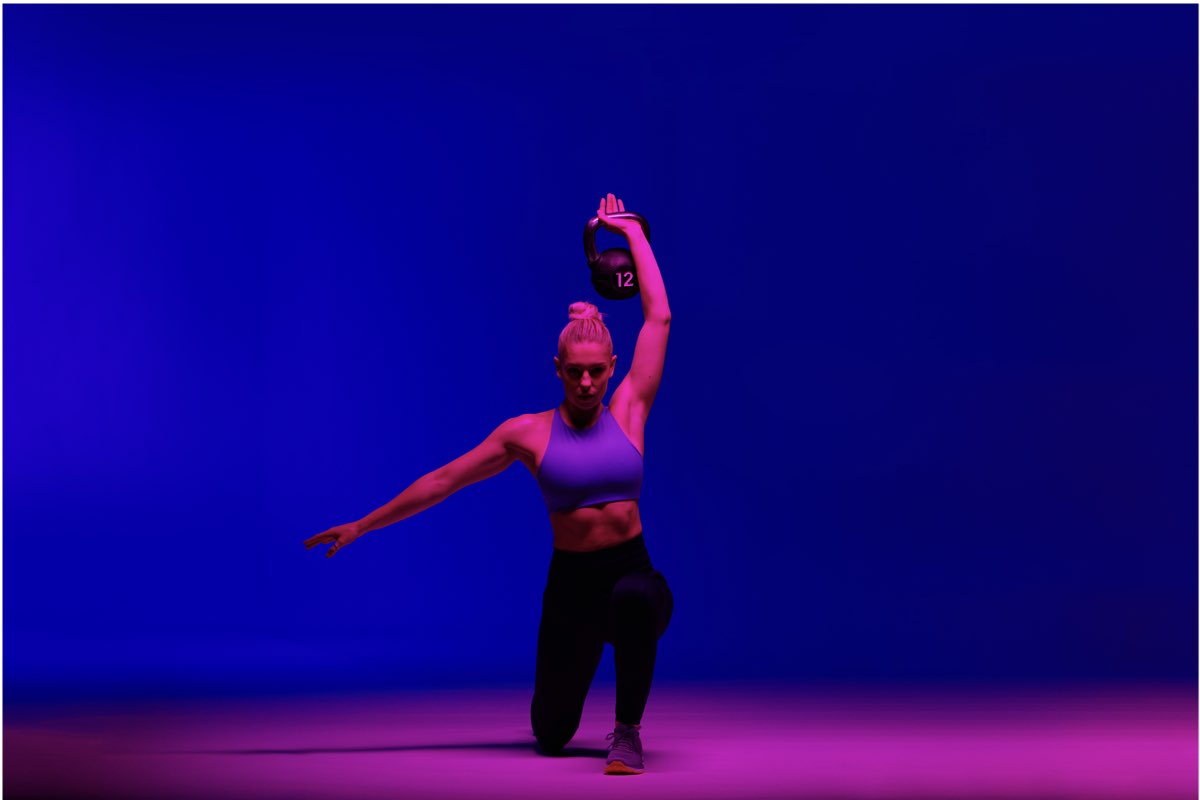 Describe your ultimate pre-workout routine in order to power up?
The running theme throughout this interview is going to be caffeine! I absolutely love it; I always look forward to my coffee. I usually put on some upbeat tunes while I drink it to get myself pumped up and ready to go. I'm a big house music person – I think we all need some funky house vibes at the moment! (Above picture: Ellie on the DOSE Mood Mists shoot for HIIT ME UP – Energising Essential Oil spray with eucalyptus, orange, lemon, lime and bergamot).
Favourite workout for an endorphin hit?
Spinning 100%! There's nothing like it. Especially when you're teaching on that bike and you get everyone in the class giving everything they've got with you, it's an unbeatable experience. It gets me so excited; I can't wait to get back into the studio.
What does healthy hedonism mean to you?
To me being more health conscious makes you much more aware of the things in life you essentially love. I see some people's unhealthy, toxic habits and I struggle to understand how they can physically live like that.
How do you stay motivated and smash your goals?
I have to have an end date to work towards, such as a holiday etc. I'm a very all or nothing sort of person, there is no in between. I'm either all in or all out. When I don't have anything to work towards, I find it really difficult to motivate myself, but when there's a deadline there is no stopping me.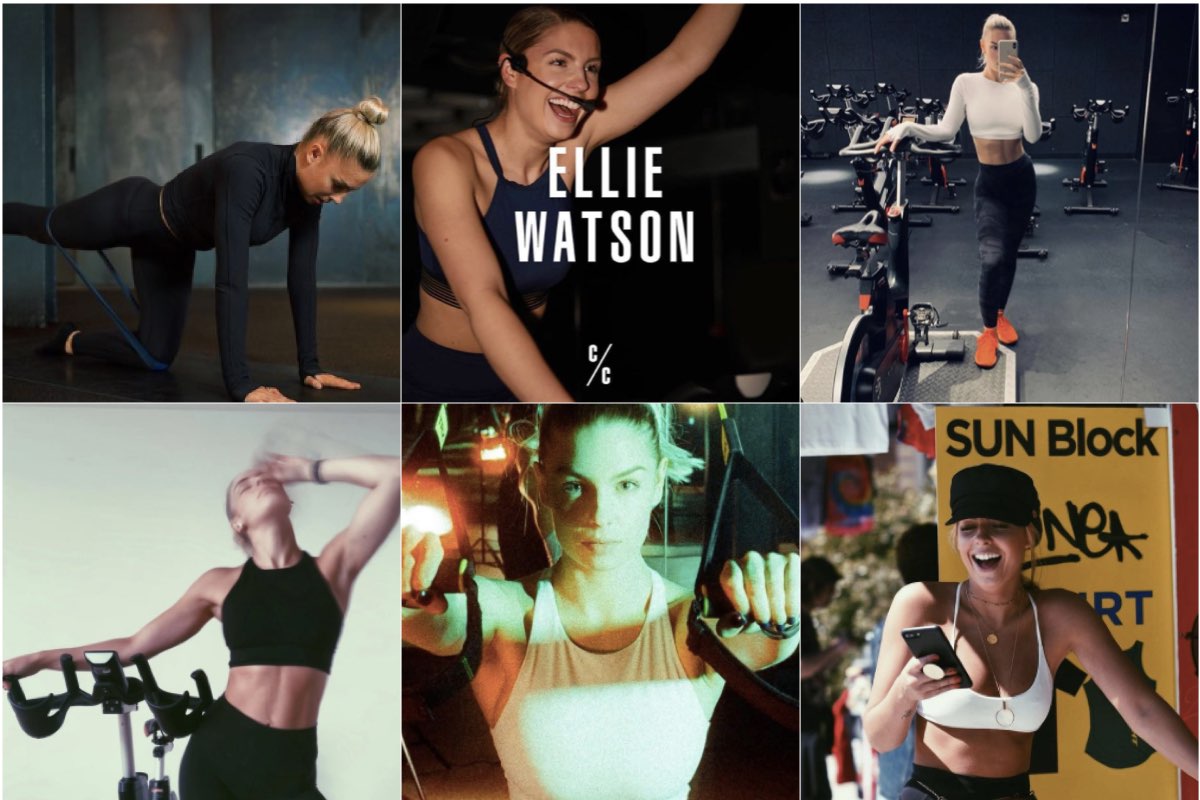 How do you recharge after a workout?
I'm the queen of being lazy! Sometimes I work out just so I can do nothing for the rest of the day. I do love to treat myself to a warming cup of herbal tea, and I especially enjoy taking the time to cook myself a nourishing meal to replenish my body.
Which foods bring you joy?
Anything with chocolate; I have such a weak spot! But in general, healthy food makes me the happiest. I love a hearty, filling salad with goat's cheese, nuts or some other source of protein. I'd say it's an obsession – I have one every single day without fail. Breakfast foods are another favourite. I could eat them three meals a day, seven days a week!
Define your very own personalised D O S E…
My dopamine hit would of course have to come from my much-loved coffee. I get my oxytocin from spending quality time with my friends and partner. I find being in the kitchen cooking a form of meditation, so I'd say that's my serotonin hit. Finally, my endorphins definitely come from exercising regularly.
How have you coped with the lockdown experience?
This lockdown has forced me to do things that I wouldn't normally do. In fact, without this lockdown I wouldn't have achieved everything that I have done career wise at this moment. As hard as this year has been, I am super grateful for everything it has given me. Lockdown has been a blessing in disguise.
Tell us about some wellness products you can't live without?
Anything that smells good! I love a good candle; I always have one burning. Diffusers are also great. I love treating myself to goodies to use in the shower. Self-care is key!
If you could pack a bag and hop on a plane tomorrow, where would you travel?
We actually had booked to go to the Maldives, but the second wave has disappointingly shattered the possibility for us to go anytime soon. That's really somewhere I would love to be right now though.
Where can we workout with you?
I'm a trainer at Core Collective and I teach about 99% of their classes, so there really is something for everyone. I have also started my business – Personal Training by Ellie – where I offer one to one sessions.
What advice would you give your younger self?
I believe whatever you put into your body reflects on the outside. It's so important to look after what you put into your body and to be consistent with your diet. Never feel guilty about taking the time to look after yourself. Do what makes you happy – life is too short not to!
Liked this article with Ellie Watson Core Collective trainer? Listen to our podcast with Core Collective Operations Manager Héloïse Nangle
Get your weekly DOSE fix here: SIGN UP FOR OUR NEWSLETTER
Born and bred in Yorkshire, English Literature student Helena divides her time between the dance floors of her university town of Exeter and her Northern home. And also a fitness and wellness author at WYD. She likes her steak as rare as a Sunday morning gym session and woe betide anyone who tries talking to her before she's had an oat milk cortado upon waking.