What does mind-body balance look like to you? For DOSE writer Helena, it's an OMNI wellness retreat: three days' worth of mindful movement, morning mimosas, lakeside lunches and hot tub soaks, set within the realms of a luxurious 850-acre countryside estate. Here's what to expect from this healthy hedonist haven in the heart of the Cotswolds…
About OMNI Wellness
Embodying the meaning of the term omnipresent, OMNI's mission is to create a space that incorporates all areas of health and wellness, whether that be movement, nutrition or recovery. When the terrific trio isn't busy training clients, you can find them hosting wellness retreats across a variety of exotic worldwide destinations, including Kenya and Jamaica.
PT Profiles
Aimee Victoria Long
Expertise: Training, Pilates, Barre, Pre- and Post-Natal Training
A session with celebrity trainer Aimee Victoria Long guarantees a full body burn. Prepare for intense workouts that focus on primary and smaller muscle groups, toning from head to toe.
Lucy Raetz-O'Connell:
Expertise: Training, Pilates, Pre- and Post-Natal Training, Nutrition
Equipped with her MSc in Personalised Nutrition, Lucy Raetz-O'Connell incorporates the importance of fuelling the body through the principles of healthy eating, alongside regular and consistent movement.
Josh Luke Davies:
Expertise: Strength and Conditioning
During his eight years as a professional rugby player, Josh Davies mastered the secrets to a balanced body and mind. His primary focus is to help clients improve their longevity and lead a happier and healthier life.
The Lakes by YOO
The retreat holds its residency at The Lakes by YOO, an outrageously opulent estate that can only be described as the Cotswolds equivalent to The Hamptons. The concept was the result of a genius collaboration between property mogul John Hitchcox and designer to the stars Philippe Starck, who together have created the ultimate home away from home for the uber rich. Offering the promise of privacy and extreme exclusivity, don't be surprised if you spot a celebrity or two while gandering around the gated grounds. Sat within the collection of exceedingly Instragrammable interiors, are houses designed by supermodels Kate Moss and Elle Macpherson. While retreat guests have the option of booking into one of the luxurious lakeside cabins for a more secluded feel, we enjoyed the communal experience of The Manor House – a property boasting five bedrooms and a large open-plan living space for feasting and socialising, surrounded by meticulously manicured lawns with stunning views of the sailing lake. The feel is trendy yet traditional; Think classic cosy Cotswolds meets modern country home.
Drinking and Dining
Throughout the three days we were wined and dined by the OMNI team, who presented us with banquets of seasonal produce and primarily plant-based meals, which left us feeling full and fuelled, yet light enough to enjoy the workouts and outdoor excursions. There's definitely no sleeping through the buffet style breakfast, where chef Juliet whips up golden eggs from the resident hens with smashed avocado spread on local sourdough toast and fluffy banana pancakes accompanied by fresh fruit and velvety Greek yoghurt (mimosas optional, but in my case encouraged). Lunchtime sees guests feasting on an array of sexy salads, from caprese to quinoa, courgette and mint, with platters full of polenta and charred tomatoes for a buttery bowl of comfort. Come evening, you'll be tucking into a three-course menu featuring some of the following delectable dishes: aubergine meatballs bathed in a rich tomato sauce, creamy coconut and cauliflower curry, decadently rich dark chocolate mousse and delicate yet intensely flavoursome poached pears plated with Madagascan vanilla ice cream. The gastronomical experience is topped off with an interactive cooking class, where guests will be taught how to concoct the repertoire of recipes for themselves.
The Itinerary:
Day 1:
Upon entering to the manor, we were greeted with a champagne reception and a sumptuous selection of canapés: fresh apricots with crumbled feta and crushed pistachios, salmon and seaweed seeded crackers and, my all-time favourite, seared courgette strips with hummus and grated beetroot – dangerously moreish but also highly nutritious, a theme that would continue throughout the food served on the retreat.
After demolishing the bite-sized morsels of bliss, Connor, our Lakes by YOO guide, arrived to take us on a bike tour of the grounds, so we could familiarise ourselves with our new home for the coming days. Framed by a glowing sunset, we spent golden hour riding around the woodlands and waterfront, taking in the breathtakingly beautiful views and observing the abundance of wildlife.
"Sustainability is at the heart of everything we do at The Lakes" explained Connor, as we halted next to a secluded stream, veiled by an emerald blanket of willows and mighty oaks.
"Our founder John Hitchcox's original vision was a Swallows and Amazons-style playground, somewhere safe for children to play, explore and build dens in the woods. We have never deviated from that plan. We maintain the estate in an utterly natural way, rewilding areas so they can flourish without human intervention".
Indeed, OMNI have expertly curated their retreat amongst a Garden of Eden that's easily reachable from London. Within just ninety minutes, stressed out city slickers can find themselves immersed within Mother Nature's sanctuary, brimming with activities inspired by an eco-friendly lifestyle, whether that be crayfish spotting in the pristine lakes, collecting freshly-laid eggs from the chickens, pulling on some wellies and pond dipping, dragonfly watching in the wildflower meadows, or visiting the farm for rescued animals, home to BNOC Kevin Bacon the Sandy Black pig.
We returned to the Manor feeling grounded by the healing powers of nature, tummies rumbling from the fresh forest air, ready for feasting.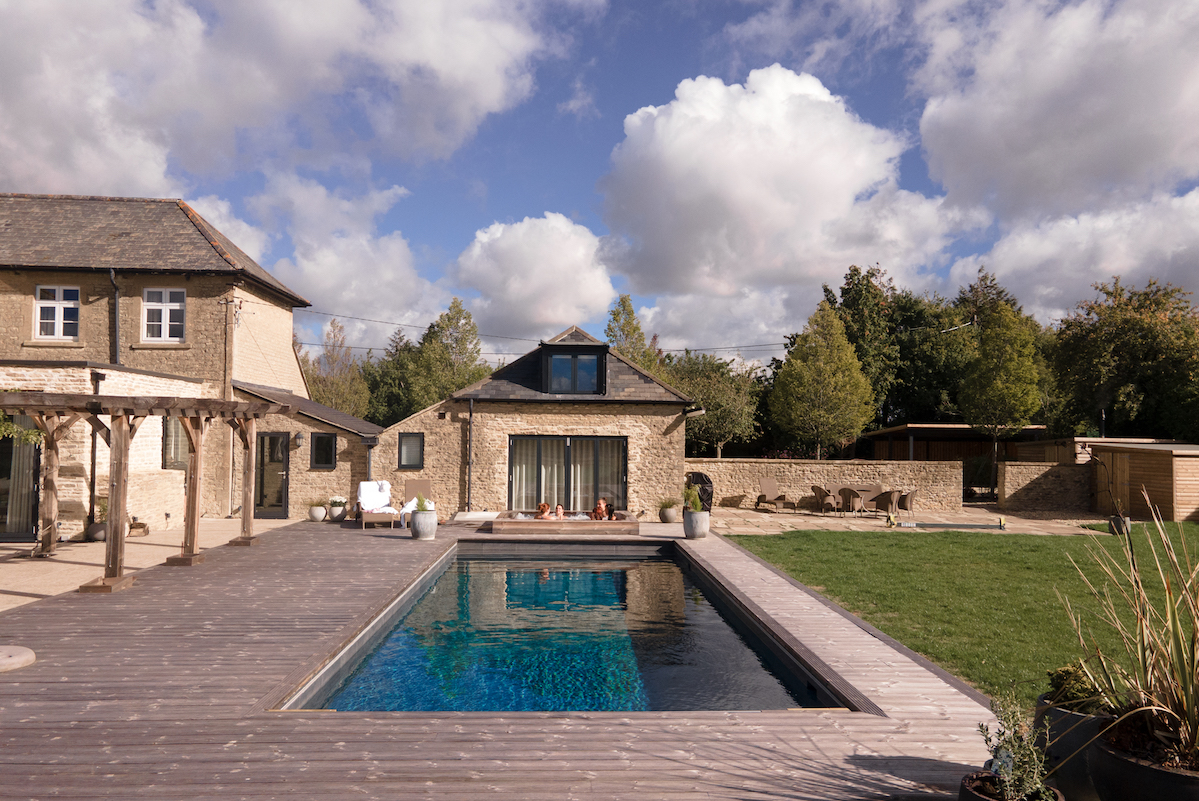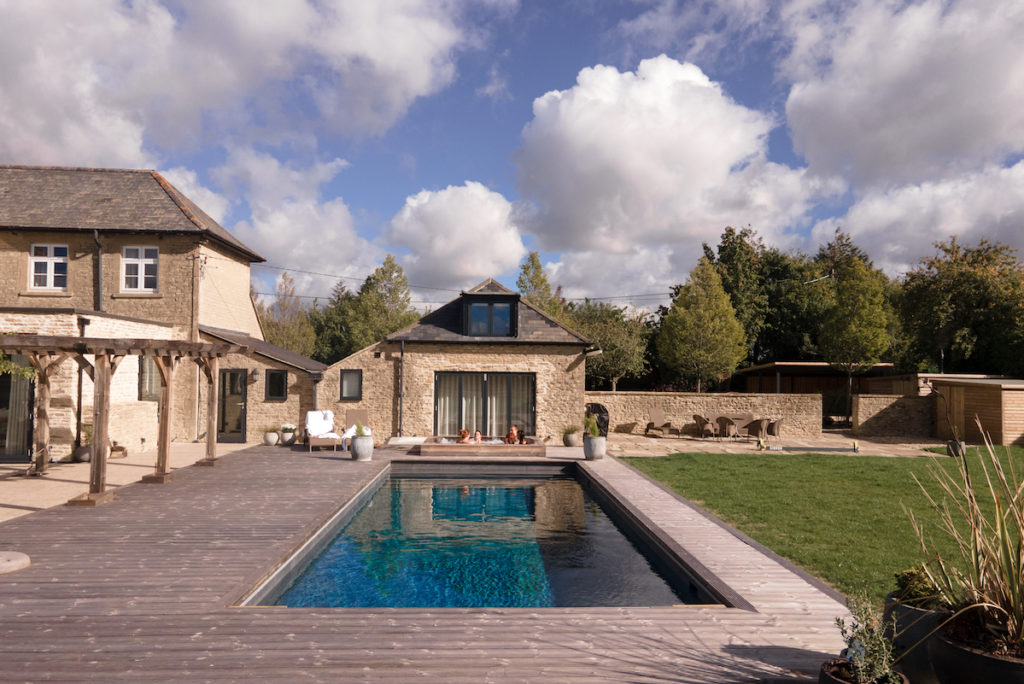 Day 2:
We assembled bright and early, for a signature barre session with Aimee – an hour full of donkey kicks, downward dogs, bicycles, pulses and plank holds. Despite it being a slow, more controlled style of training, with a strong emphasis upon alignment, Aimee raised our heart rates and had us sweating by the end. My glutes and core were on fire, legs shaking as I walked over to the breakfast table to reward my hard-earned efforts with an almond croissant.
A short and speedy car journey led us to the lakeside for a late morning wild swim. An instant mood booster, the cold-water plunge provided an intense dopamine hit like no other. We headed back to The Manor for a soak in the hot tub, the contrast in temperatures fading our muscle fatigue from Aimee's killer morning class.
Post-lunch we took to the water again, though this time on a paddle board, guided by Lakes by YOO team member Amber and her glamorous assistant Agatha, the Hungarian Vizsla. This exercise was perfect for practicing mindfulness, the repetitive rows of the paddle lulling us into a meditative state.
After some free time to relax and regain our strength, we reconvened with Josh outside the Manor House for a poolside HIIT and mobility session, which involved stretching, explosive bodyweight exercises and an AMRAP to well and truly finish us off. "Movement is medicine" explained Josh, as we battled through another round of burpees. He wasn't wrong. We completed the class feeling as high as the sky on endorphins, buzzing from the short bursts of high energy movement.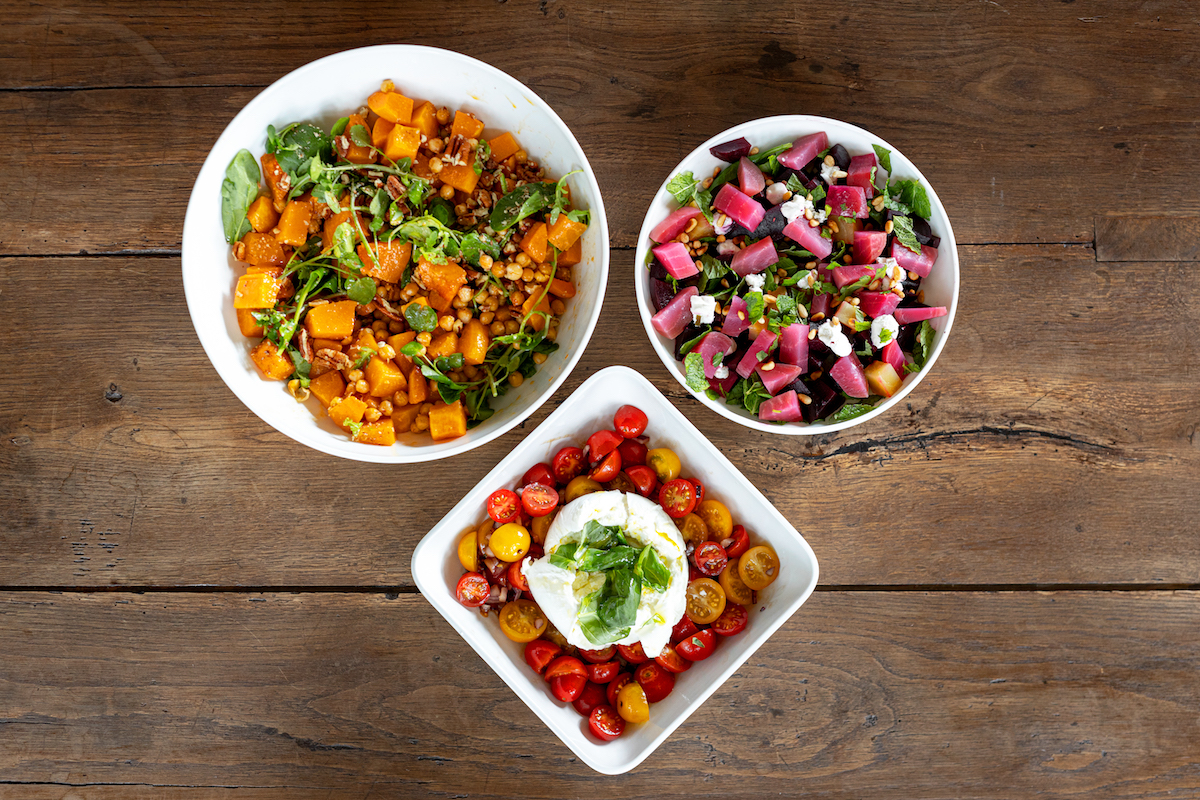 Day 3:
Our final morning saw a forty-five-minute mobility and Pilates class with Lucy. A slow burner, the session lengthened, strengthened and toned our muscles, all while forcing us to focus upon our breath. Lucy then guided us through a full body stretch to soothe our sore muscles from the previous day's workouts. We were left in a zen like state; All tension and stress floated far away.
Following a breakfast banquet, we were chauffeured to the activities tower. Here, Amber was ready and waiting to help us take on the climbing wall. Nimble and loose from Lucy's morning class, we were harnessed up and attached to the Belay. "Rock climbing isn't just a workout for your body", declared Amber, as we concentrated on which nook to put our foot into next, "it's also a workout for your mind and soul, developing skills that are transferrable to other aspects in life". Indeed, I found the climb to be a holistic form of movement, developing not only my body strength, but testing my cognitive abilities and emotions, as I gathered up the courage to climb a little higher.
Our last lunch marked the end of the retreat. The time had come to reluctantly head home back to reality. We left, bellies full, feeling blissed out from spending three days in the ultimate wellness utopia.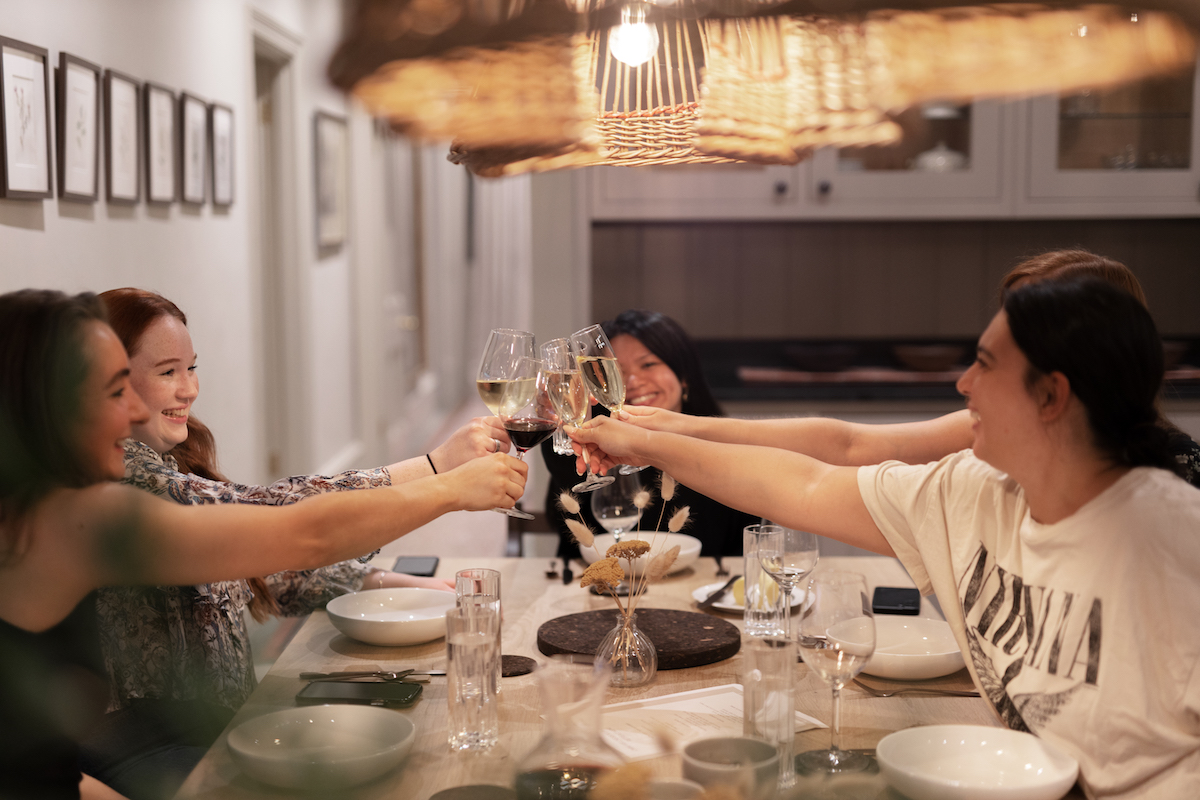 In a Nutshell:
If you're looking for an all-encompassing approach to wellness that unites health and hedonism, then look no further. The retreat invites guests to celebrate their bodies through the magic of movement, while providing enough downtime and indulgence to ensure you come away feeling relaxed and rejuvenated. Boasting attention to detail throughout every execution of their retreat, from the lakeside location to the divine cuisine and diversity of wellness activities, OMNI have created an enriching health and wellbeing experience that embodies the essence of luxury.
Retreat Dates:
Cotswolds, UK: 1st – 4th November 2022
Montego Bay, Jamaica: 20th – 27th April 2023
Laikipia, Kenya: 7th – 14th October 2023
Find out more: https://omni-wellnessgroup.co.uk/
Email: [email protected]
Follow on Instagram: @omniwellness_group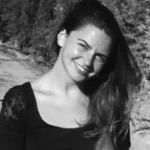 Hettie is the editor and co-founder of DOSE. A keen runner, she's also partial to a blast of high-intensity and hot yoga. A country girl at heart, she divides her time between London and the lush rolling hills of North Devon. When she's not jetting off on her next adventure, Hettie can be found in a candle-lit alcove with a laptop, a spaniel and a full bodied Malbec.