They say that the path to paradise begins in hell. I find myself in a sort of purgatory aboard a Greyhound from LA to Phoenix. I'm sat behind a lost soul talking gibberish. All I can make out is: "I'm not dead, they're dead… they just don't know it" before he leans over to offer me a packet of crisps. I politely decline.
Of course, I could have opted for a more sophisticated mode of transport. But after spending a week racking up Uber fines in LA, this appears to be my only option.
Seven hours later, I find myself hailing yet another Uber, making my way to Scottsdale, Arizona. First stop, The Sanctuary on Camelback Mountain. Beyoncé and Jay-Z honeymooned here and I appear to have landed the Diamond suite. Suffice to say, I have made it to paradise.
Day 1
I am welcomed with champagne and charred edamame in the Jade Bar. A splendid contrast to my lunch at Taco Bell just a few hours earlier. It's a popular dating spot among locals and tonight I am experiencing "Sundays in Paradise". A weekly event with live music, 50% off wine and $7 specialty cocktails. The place is packed.
I wait here for a while absorbing the atmosphere before being whizzed off in a golf cart to my palatial suite that's so vast, it's quite easy to get lost inside. Alarmingly, I almost don't hear a knock on the door for a delivery of a Cabernet Sauvignon Reserve from Napa Valley and a plate of cheese.
This is before I have even stepped foot inside Elements, the hotel's on site restaurant for a three-course meal, courtesy of Beau MacMillan. The acclaimed celebrity chef, known for his farm-fresh American cuisine with Asian accents.
I peep inside his cooking lair that boasts a high-tech kitchen following a $3 million renovation – possibly the result of Bey and Jay's visit. It opens onto a plush dining room designed to give VIP's a private viewing of "the Beau show". His packed schedule means I can't meet him in the flesh but I'm left in the capable hands of his team.
[smartslider3 slider=110]
I order Tuna tartare and miso glazed salmon, which my attentive waiter insists on serving with their speciality… Brussel sprouts. It turns out this humble cabbage is having quite a moment in Scottsdale.
Feeling full of festive spirit I accept but am quickly defeated by the portion size. There are enough sprouts on this plate to feed the entire Cratchit family, let alone a table of two.
God knows how I made room for the S'mores or "Smorg" as my husband fondly refers to this decadent pudding. He watches with amusement as a plate of chocolate mousse, graham crackers, caramel and toasted marshmallows disappears into a practically exploding wife. But I'm comforted by the sight of him tucking into the cheese back at the suite.
Day 2
A piercing alarm stirs us from our sleep. A 6am wake up call for a hot air balloon ride over the Sonoran Desert.
Bleary and still full from our bacchanalian feast the night before, I wonder if it's too late to tell them I appear to be almost a stone heavier than what I wrote down on my form. Surely this happens to holidaymakers all the time, right?
I sign a waiver as long as my arm as the balloon is pumped full of air by a flight crew. Our charismatic Captain helps us into the basket one by one. As we begin our ascent to 5,000ft, I think how safe I feel inside this sturdy container. The woman to my left however has other ideas. She remains deathly silent for the hour long trip but perks up at the prospect of champagne on landing. It's compulsory apparently.
"Thanks to the French…", explains Captain John, pausing mid-sentence to fire up the propane gas to great dramatic effect.
"The Montgolfier brothers, who got the idea in 1782 after watching embers fly up a chimney. They thought that the wood smoke was the buoyant part", he says, chuckling while firing up the gas once again. "Little did they know it was all to do with heat!"
This led to many hot air balloon demonstrations, first tested on animals and later on humans. But on landing the aeronauts seemed to encounter a problem. Burning embers from the fire scorched the balloon fabric, which the simple peasants below took as an attack from a fire breathing demon. Naturally they went at it with pitch forks. But the aeronauts found that the peasants' could be easily placated with champagne. Hence the tradition today.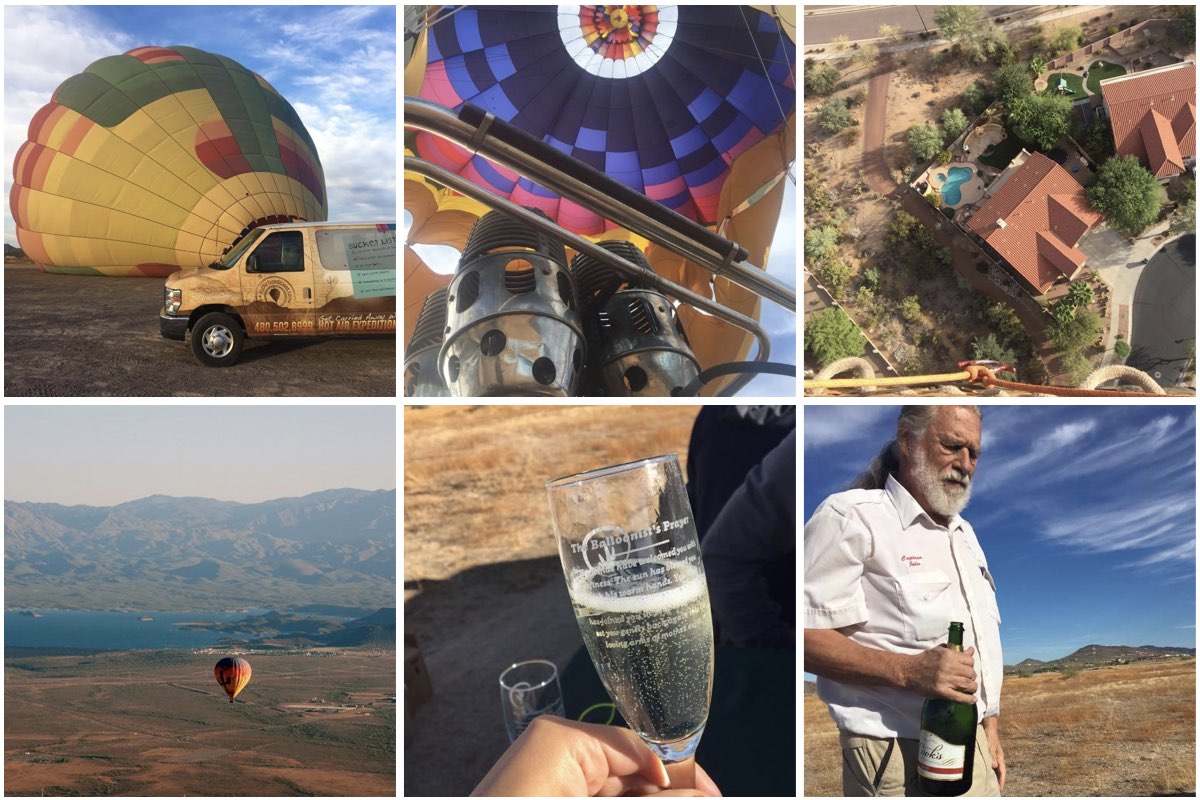 The hour-long trip with 360 degree views of the desert is a spectacular way to start your morning, I highly recommend it. Though you might want to wear a hat, as it can get toasty under the propane gas!
Expect magnificent views of towering mountain ranges and desert terrain. As for all those little holes? Ground squirrels and cottontail rabbits apparently… not rattle snakes. It's also an opportunity to spot local plants, wildlife and to have a general nosy into peoples' houses.
The "delectable gourmet cuisine" served on landing consists of a Babybel, croissant and a slice of apple… but this is more than compensated by Captain John who makes for a lively host. Plus, who doesn't want to drink champagne for breakfast? My husband apparently.
[smartslider3 slider=111]
Back in Paradise Valley, I check into The Sanctuary Spa and meet my therapist Shulie.
Unlike most facials, this one kicks off with breathing exercises to balance my chakras. Shulie then switches on a face steamer and gets to work on a cleanse and exfoliation with a microdermabrasion tool. She performs a couple of extractions and applies a sweet cherry brightening enzyme peel, with vitamin-rich anti-inflammatory agents and resveratrol (the same stuff in red wine). She is conscious to give my arms, hands and legs some attention in the process while the peel takes effect. For just a facial, you get a lot of bang for your buck. But this next add-on I wasn't expecting…
On my way out, Shulie takes me to one side and asks if I am "open" to receiving an energy reading. It turns out Shulie is quite the multi-tasker. A Pilates instructor, aesthetician, quantum healer and wellness coach. I nod nervously. She gives me a spiel about how I need to meditate more, start saying no to preserve my energy and to have more boundaries (all of this she gleaned from a facial?) "I just wanted to share that with you", she says, with no inkling of an up-sell, just a simple gesture of good will then like some magical fairy godmother, she disappears.
Lost for words, I eat lunch on the terrace overlooking the 24-hour infinity pool and peruse some of the healthier options like the "Spa bento box", made from fresh, seasonal local farmed and organic ingredients. Each one is served with brown rice, steamed vegetables and pickled cucumber salad. I opt for the roasted chicken sandwich instead that comes with, as I've come to notice with most meals in the US, covered in cheese.
We spend the rest of the day leisurely exploring the property, dining on popcorn from the minibar and what's left of that Napa Valley Cabernet Sauvignon. I'm not sure if that counts as intermittent fasting.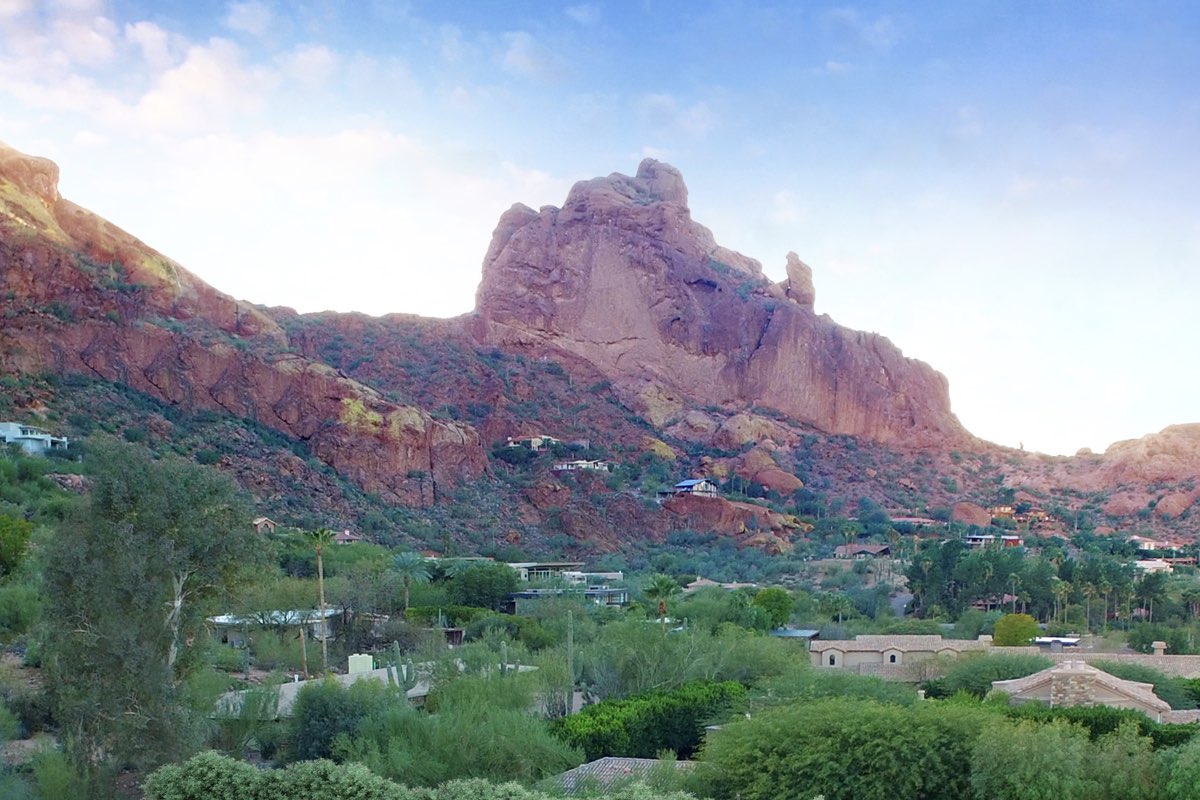 Day 3
The alarm sounds again, this time, at the mildly more civilised hour of 6.30am. It was supposed to be 5.30am so we could catch the sunrise but this bed is so comfortable I end up hitting the snooze button, twice.
This morning we're climbing Camelback Mountain. The Echo Canyon trail is like nature's very own Stairmaster – a hit with the locals who climb it daily before work. I'm told it's one of the more challenging trails in Arizona that experiences over 150 air lifts per year thanks to overly ambitious tourists forgetting to drink enough water. Silly tourists.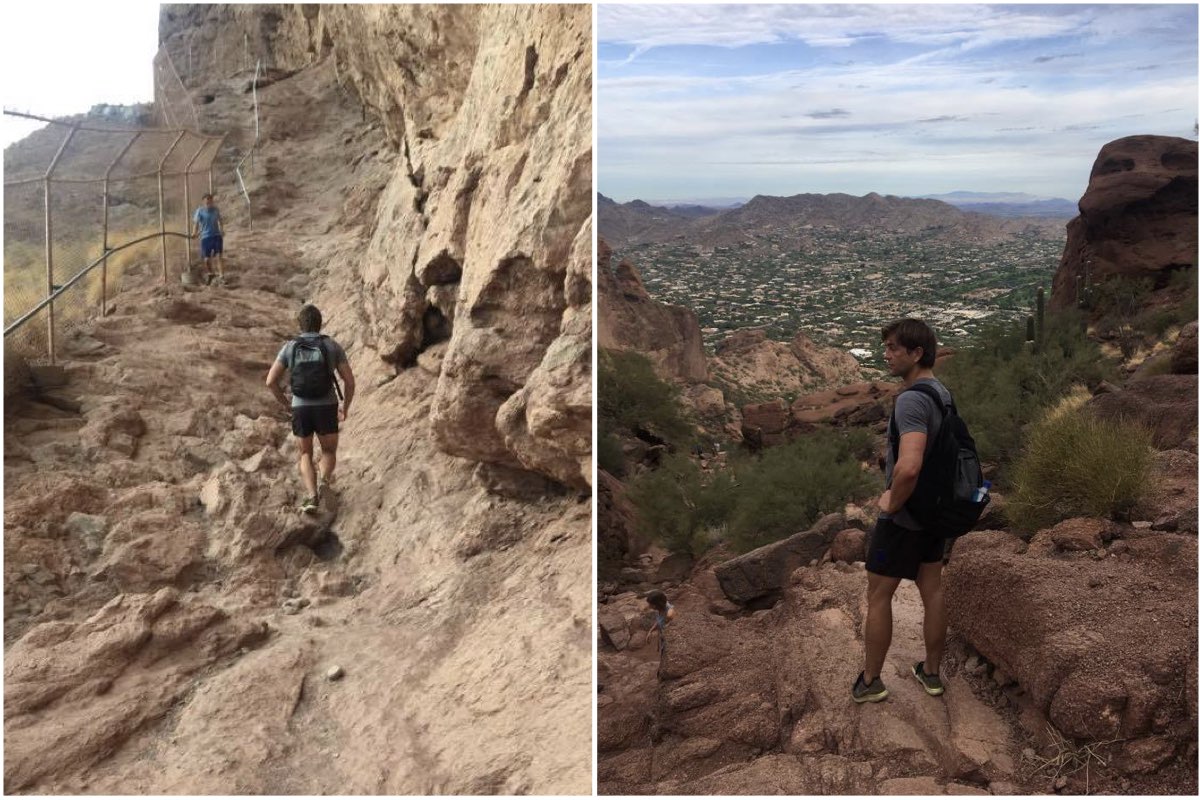 At only 1.23 miles, it takes about forty minutes to reach the top but it's a strenuous climb.
We miss the sunrise but the views from the top are still worth it. We wait here 20 minutes to allow our jelly legs to recover. The way down is trickier due to the rocks sliding and shifting beneath.
On arrival back at the hotel, we feast on poached eggs on sourdough, feeling awfully smug that we've climbed a mountain before breakfast.
That afternoon we try a reformer Pilates class which proves the perfect antidote to stretch out aching hamstrings and glutes after all the climbing. With more emphasis on stretch than cardio, I don't work up much of a sweat but by the end my limbs feel like they have grown an inch or two. For something to get the heart pumping, try the F.I.T. Boot Camp, 20/20 Cycle & Abs or go and climb another mountain…
Other classes on offer include Paddle Board Yoga, Bike & Hike and TRX. They're also big on tennis here. Recognised as the Paradise Valley Racquet Club throughout the 1950's, Sanctuary has a legendary history filled with Hollywood celebrities and international tennis stars. They even offer "Zennis" for those who want to practise their forehand with some down-dogs in between.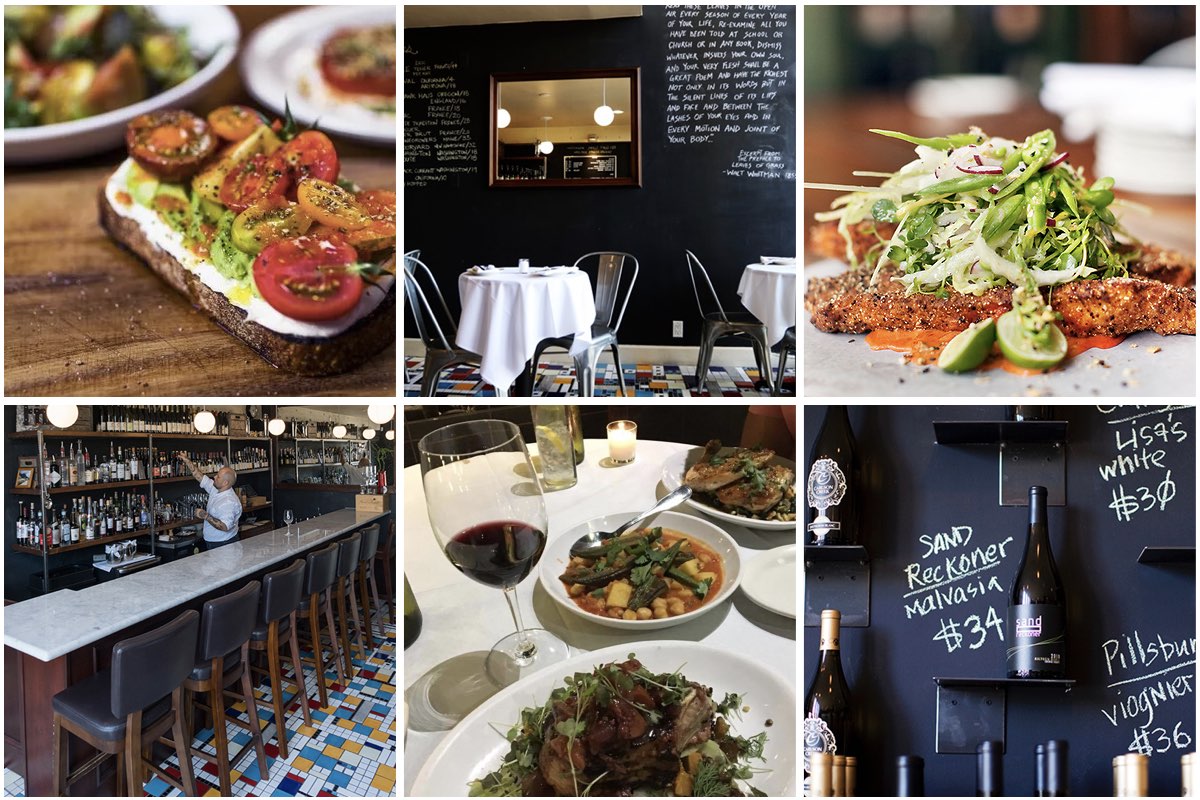 That evening we take a taxi to downtown Scottsdale for dinner at FnB Restaurant – a trendy local favourite with a seasonal menu. We sample tasty, filling vegetarian options cooked by Chef Charleen Badman. From tuscan kale falafel and charred sweet potatoes with cinnamon to a beetroot salad with melon, pumpernickel and goat cheese – all washed down with lashings of wine, selected by Pavle, our attentive host who recommends pairings for every dish.
While Chef Charleen is a vegetarian, she is conscious to offer carnivorous options and insists on testing every meat dish before it is sent out of the kitchen. Meat lovers can opt for roast chicken or a ranch pork chop. If by some miracle you leave room for dessert, try their signature butterscotch cream concoction or a dessert wine.
For non-drinkers, this wine bar offers a "Shrub" – a grown up blend of ruby red grapefruit. It makes a change from sparkling water anyway. Or so my husband tells me.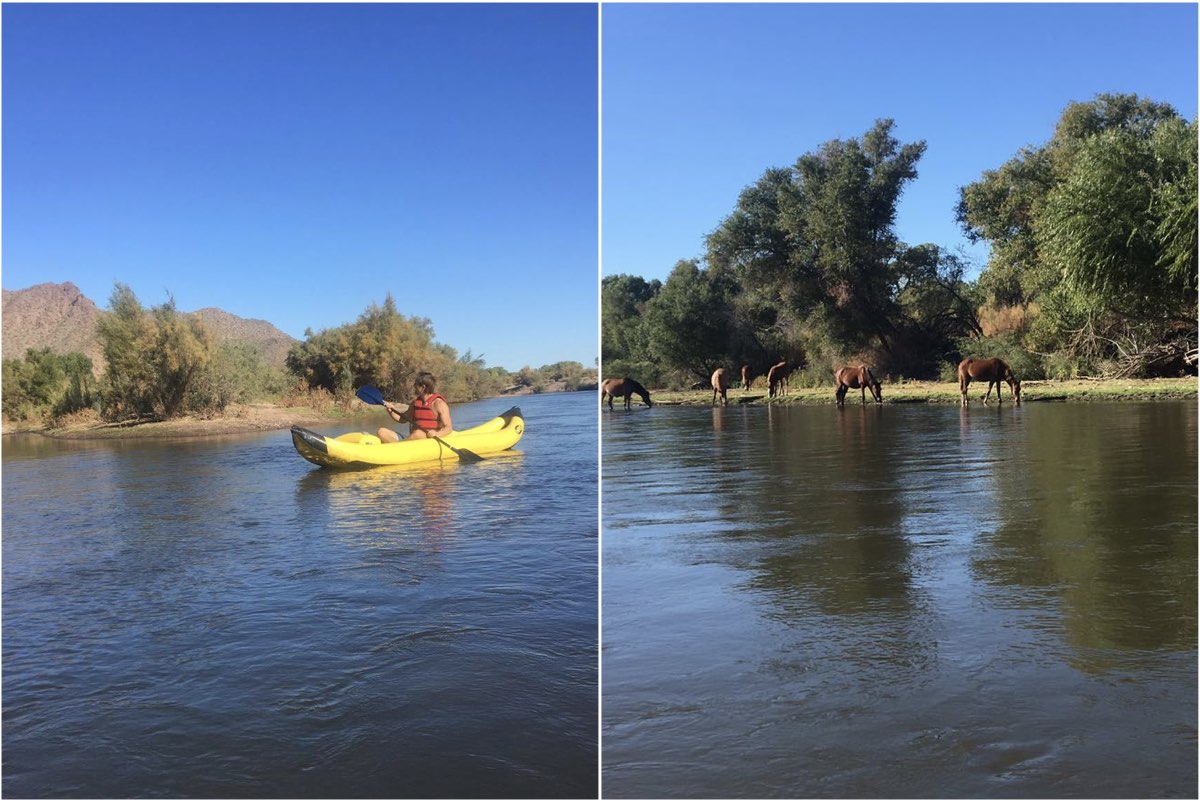 Day 4
The next morning, we are collected by Arizona Outback Adventures for a half day guided kayaking tour of the Lower Salt River. This is not one for thrill seekers, more an opportunity to float down a relaxing, class-1 river surrounded by unobstructed views of four different mountain ranges.
We spot a group of Stand Up Paddle-boarders, a couple of egrets and a pack of wild horses as we drift by. You can expect to get a little wet, so be sure to wear a swimming suit and flip flops. Apparently, the locals come out in droves to go "Tubing" in the summer months.
[smartslider3 slider=106]
For lunch we head to the trendy taco joint Diego Pops in Downtown Scottsdale. All kitsch décor, neon lights and a laid back local vibe. Along with tacos, nachos, burritos and margaritas, they serve a Smor's ice cream equivalent called a "Campfire". But take my advice and share one between two.
Other healthy options nearby include Farm & Craft, which offers a seasonal wellness menu based around "four paths to optimal health"; an anti-inflammatory diet, increasing probiotic levels, maintaining high levels of antioxidants and reducing overall stress, using sustainable, gluten-free, organic and hormone-free ingredients.
Back at the hotel, it's time for check out. I feel sad to leave this honeymooner's dream. I highly recommend it for active couples looking for a romantic escape with plenty of action thrown in.
Next stop, Mountain Shadows. A boutique hotel popular in the 1950's with Hollywood stars from John Wayne to Elizabeth Taylor. The hotel reopened last year following a refurb but traces of its iconic past can still be found around the property today.
Luxuriously furnished and effortlessly chic, this hotel seems to cater more to the executive traveller, with smartly turned out guests in suits, dresses and heels, tapping busily on laptops at the bar. Backpacks and flip-flips feel somewhat out of place here.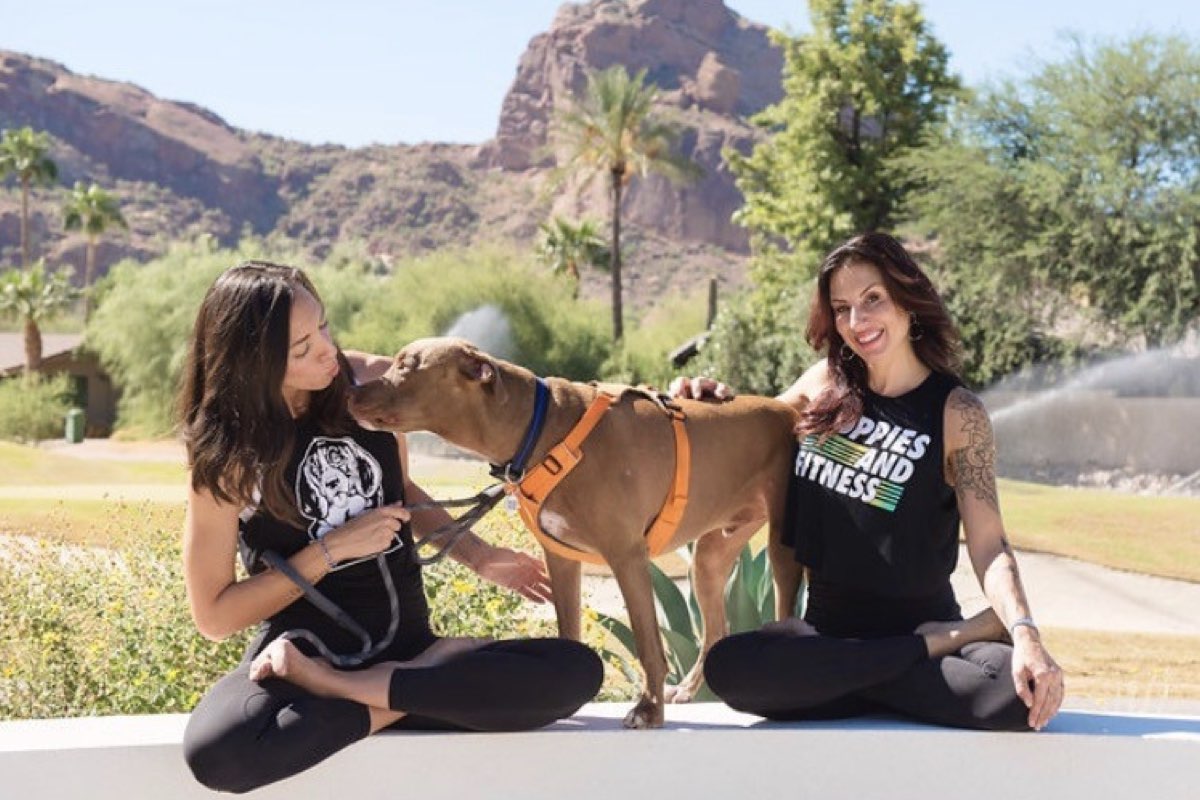 You wouldn't think it but dogs are welcome. So welcome that this evening's entertainment consists of "Puppy Adoption Yoga" that will see the beautifully manicured lawn transform into a mass yoga class with pups auctioned off to bidding yogis.
Puppies – tick. Now to the bedroom. On opening the door, I feel as though I have had a tiny glimpse into heaven. White curtains billow gently in the breeze to the sound of Ludovico Einaudi style piano music, with a balcony that looks on to an 18-hole golf course and a majestic mountain.
[smartslider3 slider=107]
A spacious, modern shower stands proudly in the centre of the room next to the bed. The sort you can imagine Elizabeth Taylor reclining on in her day. A welcome offering of creamy coconut macaroons and sparkling water are at our bedside.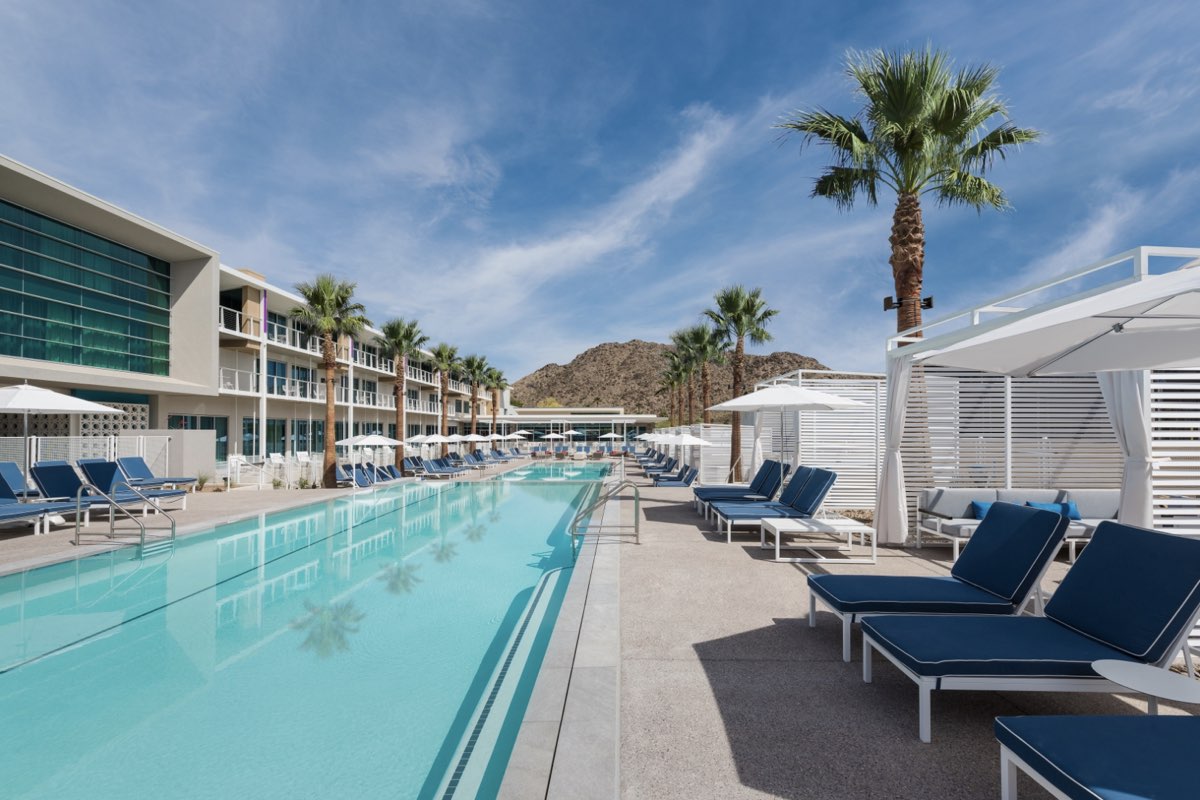 Now to The Citizens Club, Mountain Shadows' poolside gym. A 4,000-square-foot facility offering Pilates, classic and aerial yoga, barre, a cycle centre, TRX, the latest Precor equipment, personal training and individual and group classes. It also has a juice bar serving Cold Pressed Karma juice with flavours ranging from "Gratitude" to "Black Magic".
I am here for an evening TRX class with Suzanne, whom it seems was always destined for a life in fitness, having grown up in a family of bodybuilders. The pocket rocket Pilates instructor, pays close attention to technique and is conscious to ask about any injuries, suggesting modifications throughout. I start to wobble uncontrollably attempting the "Grave Digger", a sort of reach around side plank while hoisted in mid-air that gets the oblique's firing.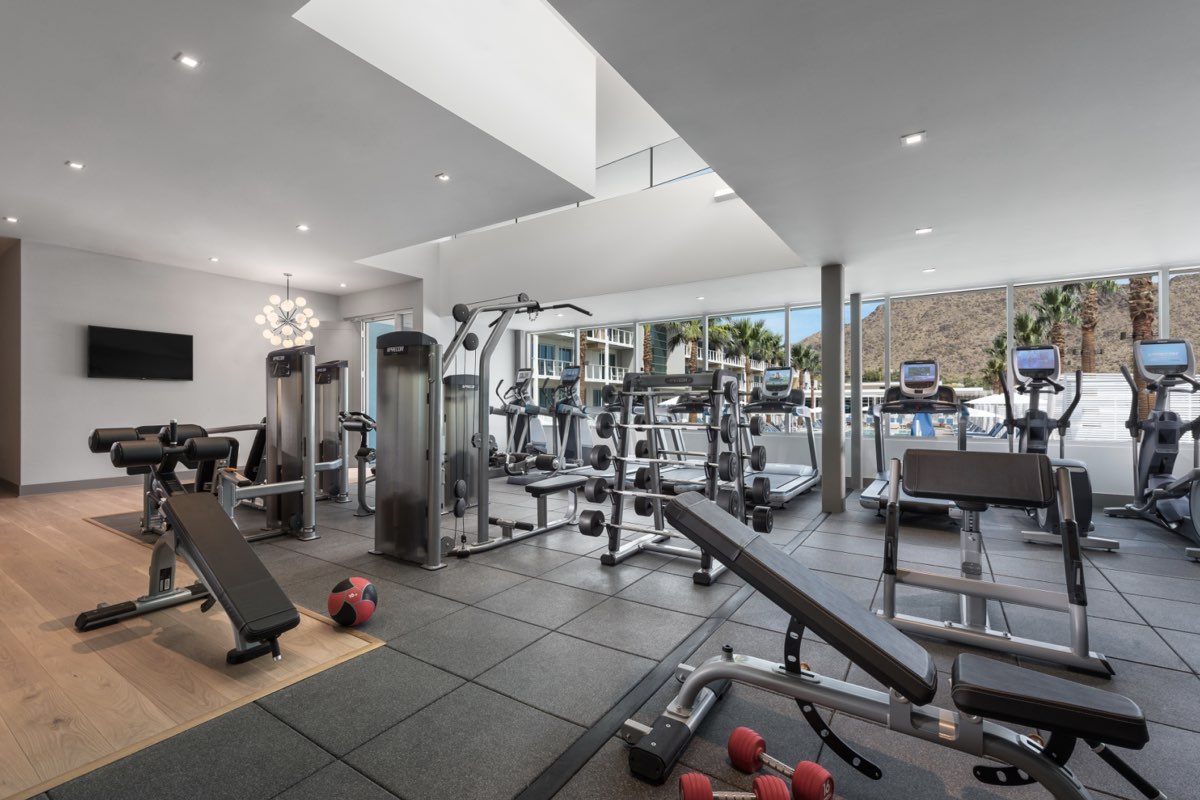 By the end my body feels stretched, my core engaged and I've worked up enough sweat to more than warrant that macaroon.
By now it has turned dark outside and the azure pool glistens like a precious jewel. There's also a hot tub and eight cabanas available for rent. Business travellers sit together clinking glasses by fire pits, while lone travellers tap meditatively on laptops.
That evening we dine at Hearth '61, presided over by renowned Chef Charles Wiley. The open exhibition kitchen shows the team inside, hard at work.
[smartslider3 slider=108]
I opt for a starter of wood roasted prawns and polenta with smoked cheddar, andouille sausage, mushroom broth and scallions, followed by day-boat scallops with celery root, haricot vert and bacon apple mustard relish. It's delicious, and the portions are refreshingly spot on.
Tonight definitely called for a dressy occasion so be sure to pack suits, dresses and heels.
Day 5
We squeeze in a green smoothie and sourdough toast, before setting off on a guided hike in the McDowell Sonoran Preserve.
Our knowledgeable guide Kathy, the same one from our Kayaking trip, explains all about the different species of Cacti, like the giant Saguaro that can grow up to 50 feet and live for 150 to 200 years. "Contrary to what you see in the John Wayne movies, don't try to slice one if you get thirsty", she says, "If anything the salt will just make you dehydrated and you'll get sick."
Creosote, we learn is a common evergreen shrub that can live to be more than 100 years old. After a rare desert rain, they give off a fresh, unmistakable fragrance, known as the "smell of the Arizona desert".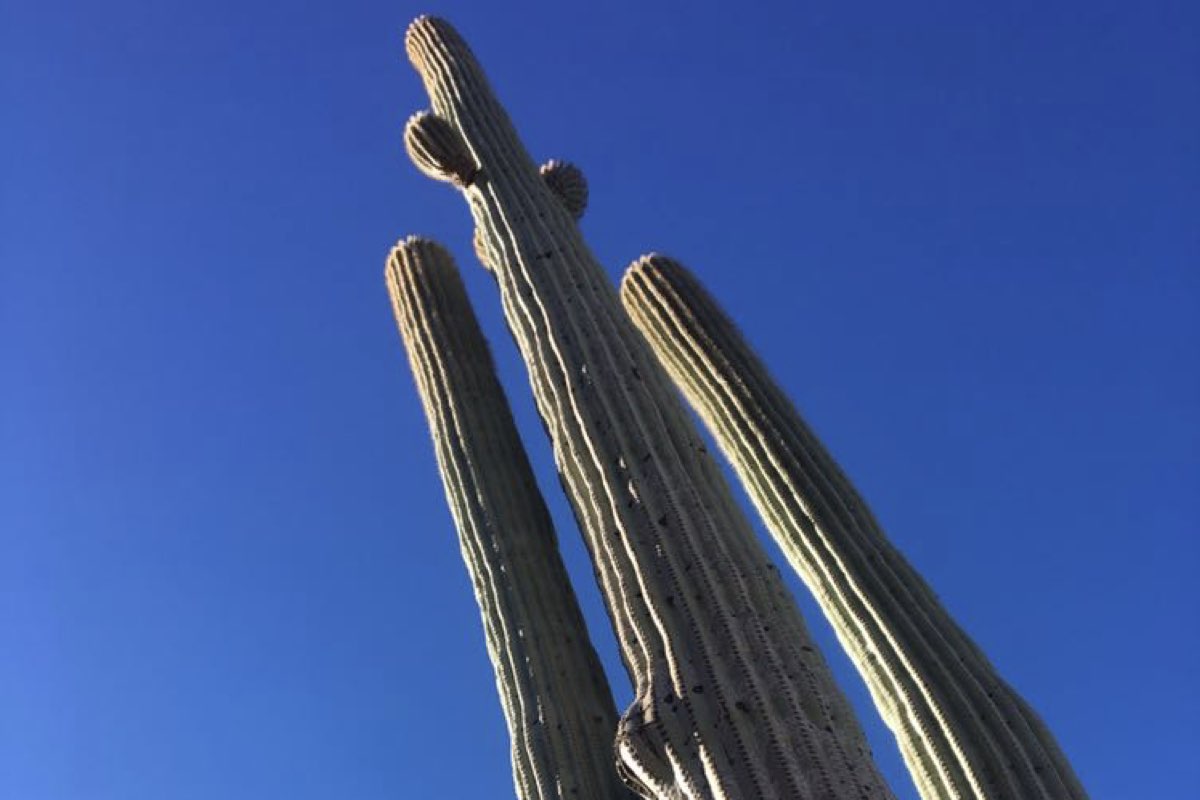 The barbed, fuzzy looking balls are called Cholla, known as "velcro of the desert". Packed with Vitamin C, the buds from these spiky plants were eaten by natives to ward off scurvy. But you really don't want to get caught up in them. Kathy recounts tales of bikers falling head first into bushes and being air lifted off the mountain. "Always carry a pair of tweezers, in case any get attached to your clothing or shoes" she warns, just as my husband stumbles into one, getting needles stuck in his shoe.
Then there's the Barrel Cactus aka "suicide cactus", for how it goes to extreme lengths to follow the gaze of the sun, until it eventually snaps itself in two. For this reason, it is also called the "compass" cactus. I contemplate taking one home and keeping it eternally propped up in the garden with scaffolding.
We return to downtown Scottsdale for lunch, this time, at Kale & Clover, a trendy health conscious cafe packed with vegetarian, vegan and gluten-free options. They also serve "Mindful Wine" by the glass. Everything in moderation! I opt for the Veggie burger sliders and a side salad with a freshly pressed Turmeric juice.
That afternoon we take part in a 60-minute Flow Yoga Session on the lawn, admiring the striking views of the mountains above.
We return to Diego Pops for taco's and margaritas… (it really warrants a second visit). This time they urge us to try their delicacy, you guessed it, Brussels sprout nachos served with Mexican cheese, chili and onions, topped with a fried egg. They are delicious and the swirl of bright pink beetroot cream means it'll look great on your Instagram feed.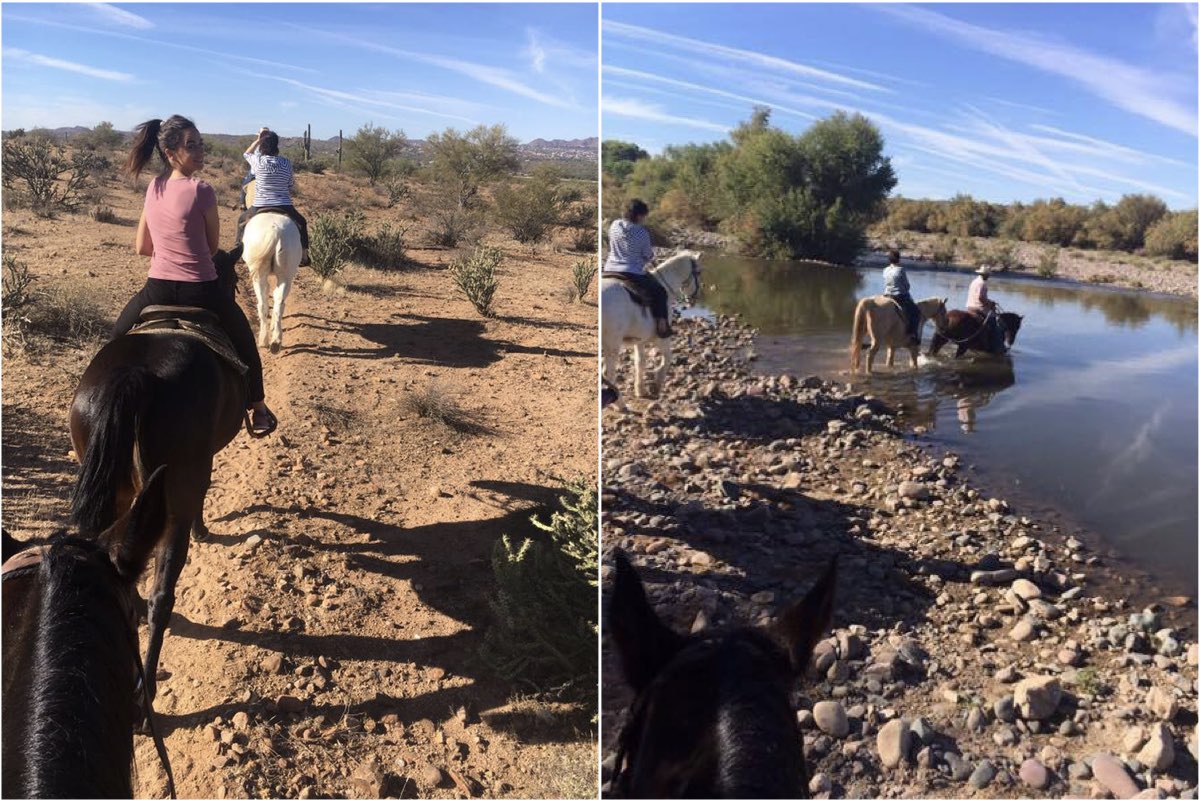 Day 6
After a swift breakfast of green juice and pancakes, we check out of Mountain Shadows and head to Fort McDowell Adventures where we are being treated to a morning horseback ride through the Verde River.
I survey my companions, nervous, doddery types who appear to have never ridden horses before. I presume this isn't the sort of hack that will involve trotting let alone, cantering. Besides, it seems like all these horses have one speed and one speed only. Perhaps that's a good thing… what with all the spiky cacti.
We ride at a slow, gentle pace, feeling the warmth of the sun on our skin and catch sight of a bald eagle perched high on top of a Saguaro.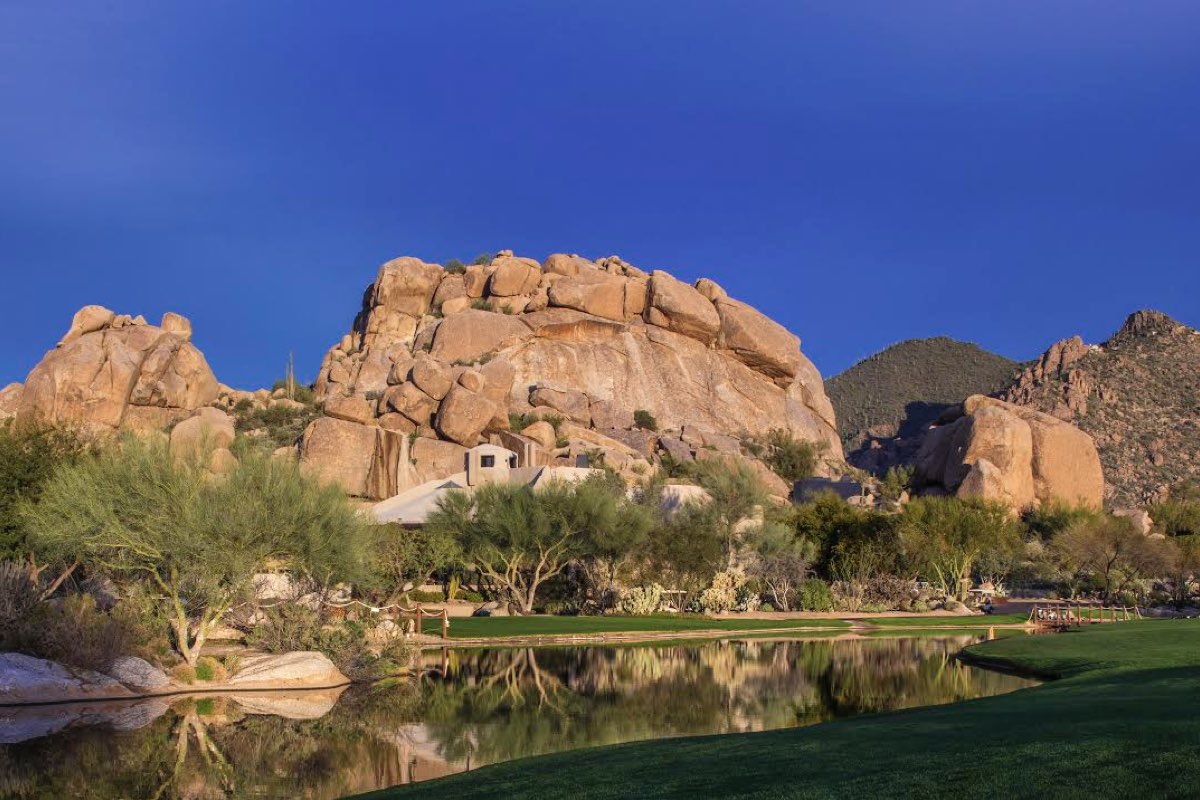 After a 40 minute drive we arrive at one of the world's most celebrated hideaways, Boulders Resort & Spa, named after the 12-million-year-old granite boulders that surround the landscape.
Golf carts zoom about, transporting guests to their various casitas. Each one, rustically furnished with wood-burning fireplaces and Native American inspired rugs.
Our casita looks over one of the two 18-hole championship golf courses and is conveniently just a hop, skip and a jump to the spa and fitness centre.
We are advised to watch the sunset from the swimming pool by the main lobby, but decide to take the Boulders trail up to the highest viewing point. It's spectacular, with the sunset casting a warm golden glow on the rocks behind. On our walk down, we dive out of the way of a recently married couple mid-photo shoot.
We have supper on the Palo Verde Restaurant outdoor patio that overlooks a scenic duck pond and grassy knolls. A playground for local Gambel's quail and baby cotton tail bunnies. I opt for the seabass on a bed of patatas bravas, washed down with a glass of dry Californian Pinot Grigio,
Later that evening we take ourselves away from the swanky soirees of Carefree town to Cowboy country next door otherwise known as Cave Creek…
It's Friday night and Buffalo Chip Saloon is packed full of locals and tourists who have travelled from far and wide to see the bull-riding show. Not the mechanical bucking bronco kind… this is the real deal. We meander around the lively bars, fire pits and BBQ grills until we get to the bull riding arena at the centre and watch as one cowboy manages to hold on for 8 seconds securing the top score of the night.
Day 7
We grab a protein smoothie from the Spa Café for breakfast before heading out on a morning hike with our guide, Rico Riley. A former trader and semi-professional mountain biker, with four iron man titles under his belt. He seems to find our British accent amusing.
After exiting the trade floors after 9/11, he now leads adventure tours for Boulders. What began as a one-off, helping a friend to organise a hike for a bunch of athletes, turned into a long term job that combined all of his passions along with the odd sighting of some of his favourite rock stars that holiday here.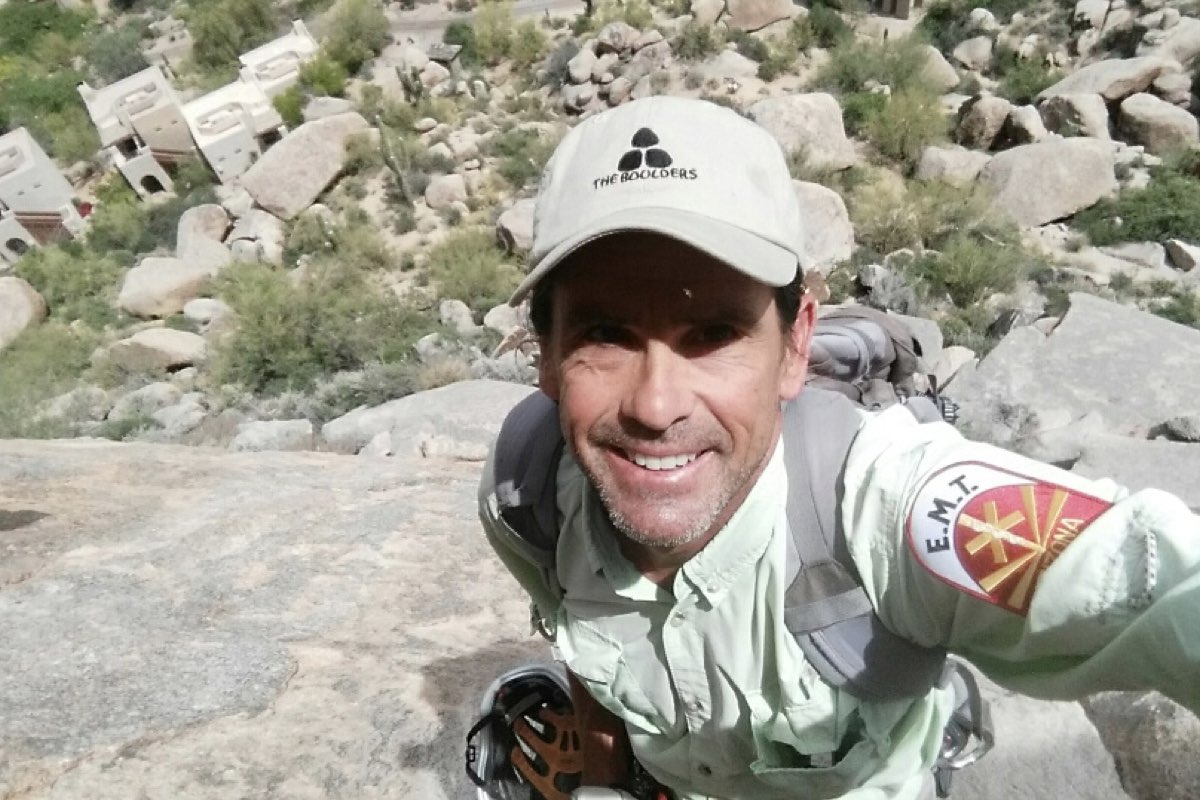 We ask him to take us on a challenging trail so he suggests Black Mountain. Standing at thirty-four hundred feet, the 2.3-mile trail is short but seriously steep. The primitive climb adds a sense of adventure, but this soon dissipates as a 60 year old local cruises past with his pet poodle – who climbs this mountain every day before breakfast apparently.
Rico appears to know every nook and cranny of the land and explains why this mountain is known for its "split personality".
A fault in the crust apparently. As a result, the mountain's two sides look very different. "The east side is speckled with granite boulders, one to two billion years old, and the other west side is cloaked in the dark metamorphic rock that makes the mountains name so appropriate."
Our conversation soon shifts from geology to the Phoenix Summit Challenge, where the aim is to hike 4, 5 or 7 of the Phoenix-area summits in one day.
That's 9 – 12 hours of hiking, covering 15 – 25 miles. Last year, 1,200 hikers of all ages and abilities took part. The clock stops when you reach the top of one, and starts again at the bottom of the next mountain to discourage crazy car racing in between. The day ends with live music, free massages, food trucks and cold beer. Give me this over a marathon any day.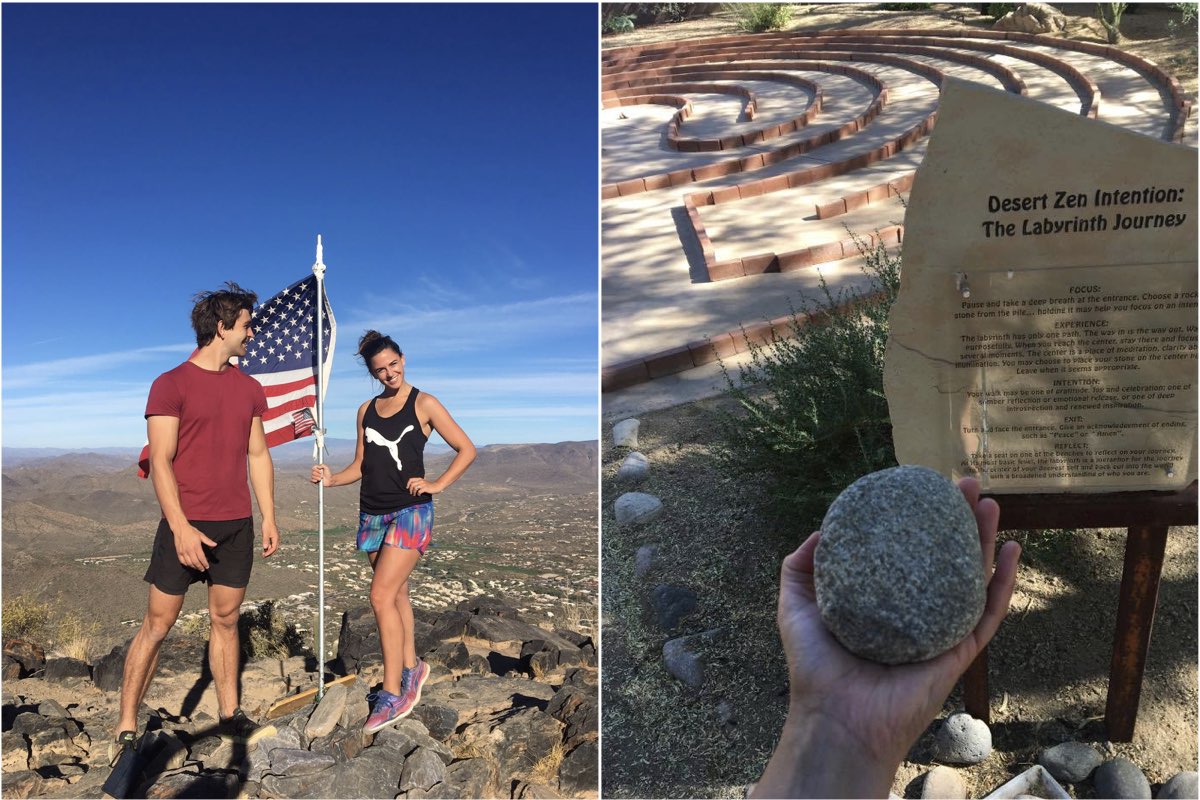 The view from the top of Black Mountain is spectacular. Be sure to take a photo by the American flag and watch your step on the way down. Rico advises to avoid this trail in May, due to a swarm of flies that can hover at the top and ruin the view.
The round trip takes us 2 hours with some water stops on route. For those worried about mountain lions and rattle snakes, it's incredibly rare to see any. "The biggest threat you'll ever encounter is yourself" Rico muses philosophically. Be sure to pack water in a backpack otherwise a bum bag or "fanny pack" as they're fondly referred to here, can be provided.
Back at Boulders, I am treated to an 80-minute Desert Rose Radiance treatment, where a jojoba and desert rose exfoliation is followed by a soothing aloe mask. This one is particularly beneficial for sun damaged skin.
My sturdily built masseuse has equally strong hands. Her pressure errs on the side of painful but this is actually just how I like it.
Instead of hopping off the bed to shower off the scrub mid treatment, I lie still as a Vichy shower streams over my body. (Be prepared to get completely naked for this one.)
Next I'm smothered in Aloe gel and wrapped in a soft cocoon, while my masseuse performs a scalp massage. She closes the treatment with a hydrating massage dousing me in body lotion, transforming me quite literally from a prickly pear into a silky desert rose.
I finish with a tour of the vast spa facility that's buzzing with locals, older couples and groups of women on spa days. Outside there's an organic herb garden where Sunrise Yoga classes take place.
There's also a self-guided meditation "labyrinth" where you collect a rock representing your worries and wander around a path shaped like a maze. On reaching the centre you drop off your rock and wander back, supposedly feeling "lighter" in your woes than you did before.
This one might have been slightly lost on me… perhaps due to the impatient looking husband, tapping his foot, trying to catch all this insanity on camera.
I recommend the breakfast wrap at the Spa Café. Egg whites and avocado on a fresh tortilla… but again, tell them to go easy on the cheese. The strawberry and mint lemonade makes for a refreshing cooler. If you like it, you should try it at the bar later spiked with a little vodka.
It's easy to while away the hours at Boulders that feels more like a village than a resort, with six restaurants, eight tennis courts, 33,000-square-foot spa, four swimming pools, two championship golf courses, bike paths and walking trails. Phew. I only wish we had more time to squeeze in some rock climbing with Rico and a day trip to the Grand Canyon.
Summary
Whether you're looking to trek, cruise, ride, climb, bike, float or soar above the clouds, Scottsdale Arizona has every activity for every adventurer. And if your wallet can stretch to a luxury spa hotel and some fine dining on route, all the better, even if it means you have to take the Greyhound now and again. It'll make the sound of that popping champagne cork all the more satisfying. A philosophy that serves to neatly sum up my trip. From bus rides to Diamond Suites, wild mountain trails to shiny studios, Carefree town to Cowboy Country… pleasure can only truly be gained from contrast.