Planning a hen party pre pandemic is hard enough… The stressed out moments that leave you questioning "why did I agree to this again?", the minor spats with the other bridesmaids, the awkward chats about money. But at least we could rely on events not getting cancelled at the last minute, or entering a nightclub without having to deep throat a swab stick. Add to this, planning a hen party with a huge amount of expectation from a group of women who had been locked up, literally, for months and a bride-to-be with a gluten and dairy intolerance. With cancellation after cancellation, that at times felt like playing a game of party-planning roulette, DOSE editor Hettie survived to tell the tale. Here's how she planned the ultimate hen party in London post lockdown.
Identifying a theme is usually a good place to start when planning a hen party. It often sets the tone for the activities, costumes and adult entertainment that ensues. In our case, it was Dirty Dancing. Secret Cinema was supposed to be hosting the cult classic this summer, that would see our party relive the iconic moments of the movie in an epic outdoor immersive experience. But just as I'd finalised a Dirty Dancing themed itinerary down to the leather-clad adult entertainer, who would be having a private cha cha with our bride-to-be, my plans were scuppered.
https://vimeo.com/191643934
With two months to go, I was met with a message that anyone planning a party post lockdown dreads. Due to the uncertainty around the hosting of mass gatherings, and the lack of COVID-19 cancellation insurance, the event had to be postponed until next summer. Bummer. Thankfully I had a good plan B that centred around a staycation at the best hotel in London. Here I share my itinerary with you, to hopefully make your hen party planning a breeze… (you can totally rip it off as your own idea)
Planning a hen party in London
1. DANCE PARTY EXPERIENCE
Now in our 30's, many of us know only too well the dangers of getting on the bottomless booze before midday. Which is why this hen party kicked off with a heavy dose of endorphins courtesy of Dance Party Experience. The dance instructor for this class was supposed to be Johnny Castle himself from the Secret Cinema production. (If you're planning a Dirty Dancing themed hen-do for Summer 2022, you might want to book this experience).
The fall back choice was naturally a Beyoncé routine that consisted of a mash up of nostalgic bangers like Single Ladies, Run The World and Crazy in Love, that transported us back to our youth. Our friendly, fun and approachable dance instructor Hannah made for a memorable class with upbeat energy and positive vibes. After an hour of strutting and twerking with our flashing light rings, we were left grinning from ear to ear.
The booking process with personal events manager Penelope was seamless from start to finish. She couldn't have been more patient or accommodating about all the itinerary changes – reassuring me that this has "happened a lot lately".
Dance experiences take place at different studio locations across the UK. Hen packages include everything from '90's and Noughties' to 'Bollywood'. There's even a a Ru Paul Drag race themed experience, which leads me nicely on to our next event.
2. VEGAN CUPCAKE & DRAG QUEEN BOTTOMLESS BRUNCH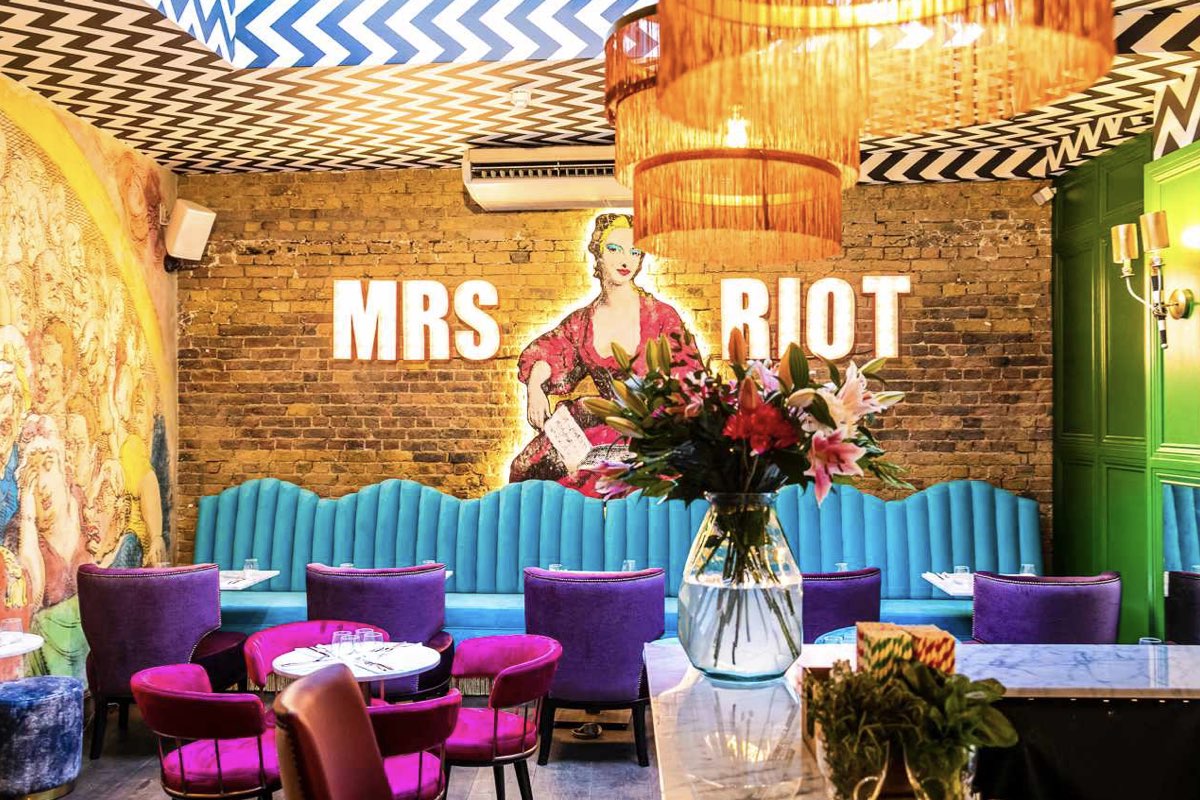 Possibly the highlight of the hen. This drag queen experience is not to be missed – whether you're celebrating a hen do or an average Saturday. Mrs Riot is a pleasure den in Covent Garden no less, that every Saturday serves up unlimited cocktails and divine cupcakes at London's only Vegan Cupcake Drag Queen Bottomless Brunch.
The flamboyant Margo Marshall, with special guests, lead sing-a-longs (Britney Gimme More was a major highlight), lip syncs, runway walks, and games. Winners are invited up to the bar for shots with the queens, which is met with raucous applause. I scanned the room and spotted another bleary eyed hen party (who haven't yet mastered the art of moderation) and tables of teens, mums dads and grandparents, under a giant pop-art style mural of Kitty Clive. The pioneering feminist and performer was an icon of the 1700's. Mrs Riot is the name of the most famous character she ever played and whose daring ways inspired the cheeky and bohemian vibe of the venue.
Unlimited cocktails of frothy pink Bellini's, high-class rosehip cocktails and St Germain Spritz kept us in good spirits, along with mouth-watering Ruby's of London vegan cupcakes. Expect 90 minutes of pure unadulterated indulgence that ends with everyone on the dance floor beaming with merriment.
Shows take place every Saturday at 11:00am and 1:30pm.
3. CUPCAKES AT VIDA BAKERY, EAST LONDON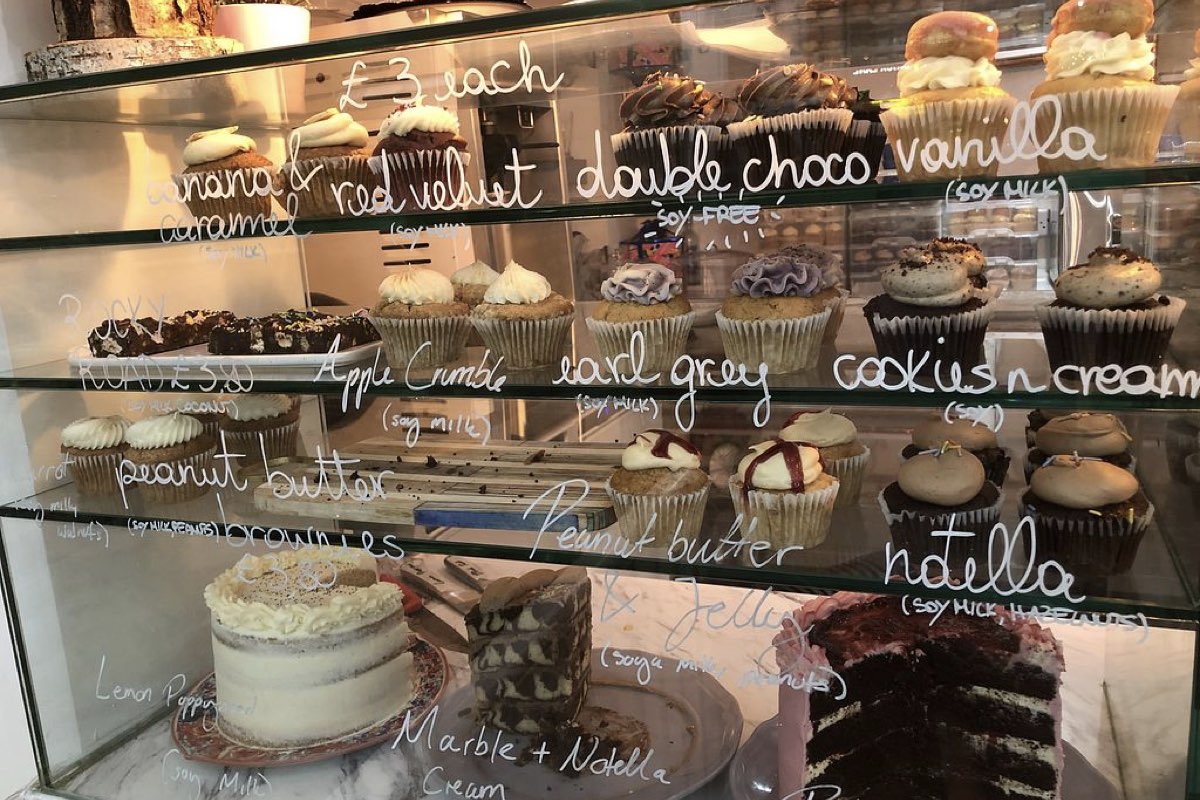 I became something of a cupcake connoisseur while planning this shindig. Lola's cupcakes (who recently went nationwide) were my obvious go-to. With fanciful designs and delicious flavours, they can do little wrong in my eyes. But what to do when  you are planning a hen-do for a bride-to-be with a gluten and dairy allergy? Despite offering gluten-free and vegan options, Lola's don't actually offer a cupcake that caters to both at present. The Lola's Vegan Gluten Free Fudge cupcakes apparently contain traces of milk, so they can't for sure say they are dairy free. This product might be accredited by the Coeliac UK society but it won't do for my bride-to-be or two other members of our party for that matter.
My search lead me to Vida Bakery in Brick Lane, East London. I made a quick stop over here after the dance class before the drag show and heaved a sigh of relief as the assistant told me that "everything in the bakery is both dairy and gluten free". Phew. I ordered a colourful assortment with some sporting mini doughnuts on top. Mrs Riot were more than happy to serve these alongside Ruby's of London cakes, though I couldn't help but feel theirs were rather upstaged…
Vida Bakery also offer cakes in a tub made for delivery but the online reviews aren't very good with some complaining that their cakes arrived stale. Make a trip to the bakery and order fresh if you can. You won't be disappointed.
Open Fridays – Sundays.
4. AGUA SPA, SEA CONTAINERS HOTEL LONDON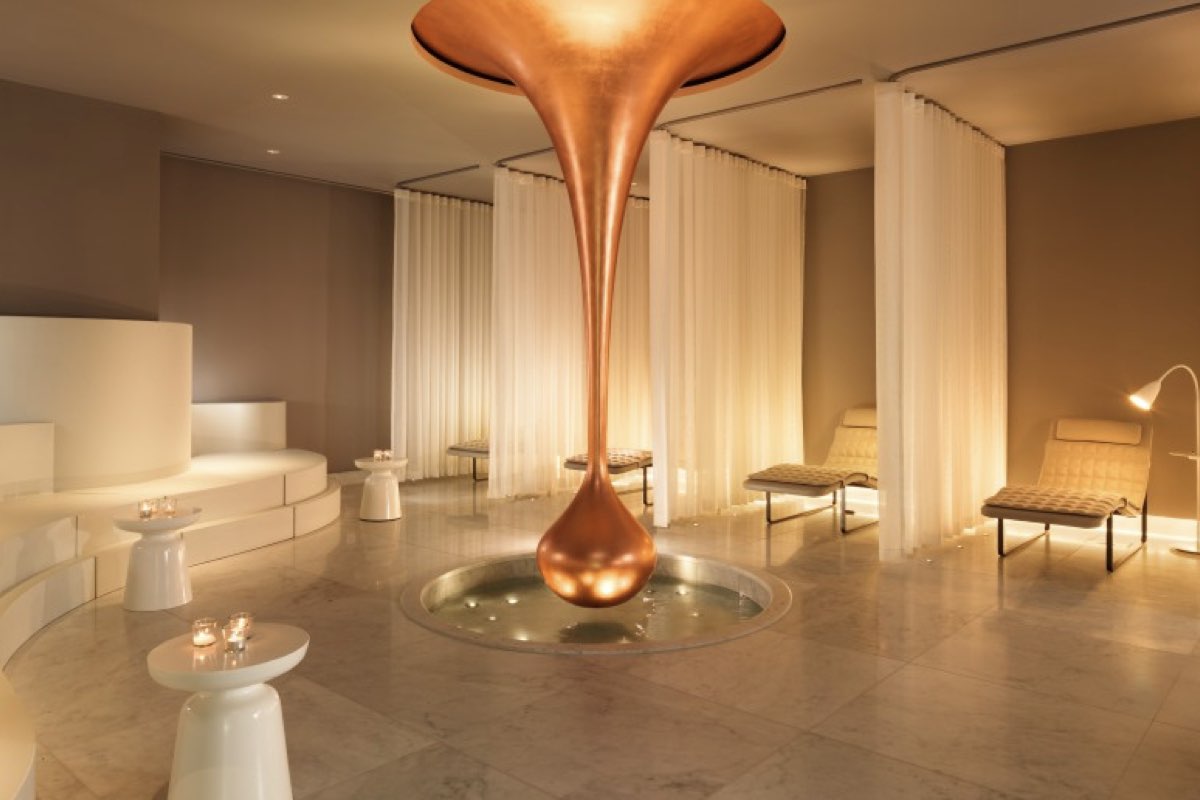 Sea Containers London, formerly The Mondrian, is a Tom Dixon designed art-deco style hotel on London's trendy Southbank. It's possibly the coolest hotel in London and regularly houses events that include a Laurent Perrier summer terrace and a 'Health and Hedonism' themed yoga experience with wine and chocolate. What's not to love?
Aside from the show-stopping design (a copper clad wall, inspired by the hull of a ship, takes pride of place in the  lobby), my favourite part of this hotel is the basement agua spa. It's home to some of London's most talented therapists and a highly Instagrammable floor-to-ceiling glowing copper water droplet that descends gracefully from the ceiling into a gently rippling starlit pool.
Their latest spa concept HEDGEROW, draws inspiration from British hedgerows and the indigenous flora that can be found within them, blending house-made herbal salves, butters and blended oils in its treatment menu. Each product has been created using local, botanical ingredients that can be nurtured in urban communities and city environments such as London's Southbank.
My bride-to-be and I escaped here after the drag brunch for a moment of calm, while the other hens prepared the party room upstairs. We were both treated to a full body massage utilising techniques drawn from herbalism and aromatherapy. We left feeling unknotted and nicely woozy in our dressing gowns before heading back up to the fourth floor for the next instalment…
5. STRIP IN THE CITY ADULT ENTERTAINMENT
A bit cliché perhaps… but fun nonetheless. I met Pierre in reception where I politely enquired after his costume (he arrives in jeans and a Tshirt). I was expecting James Bond but he seems set on being a policeman. He reassured me that the costume is easy to slip on outside the room. After a slightly awkward bank transfer in the corridor (he was expecting cash), he slipped on his costume, fired up his boom box and started his performance.
With some aloe vera gel smothering and enthusiastic grinding, Magic Mike style, after 15 minutes he was gone. He kept his police goggles on throughout, which gave off a slightly creepy Mr Black from Matrix vibe but regardless the party was left thoroughly entertained. We opted for g-string only but for the full monty it's a £10 extra. The whole experience was very respectful and added a moment of frivolity that left us in fits of giggles and more bonded in the process.
6. THE RIVERVIEW APARTMENT, SEA CONTAINERS HOTEL LONDON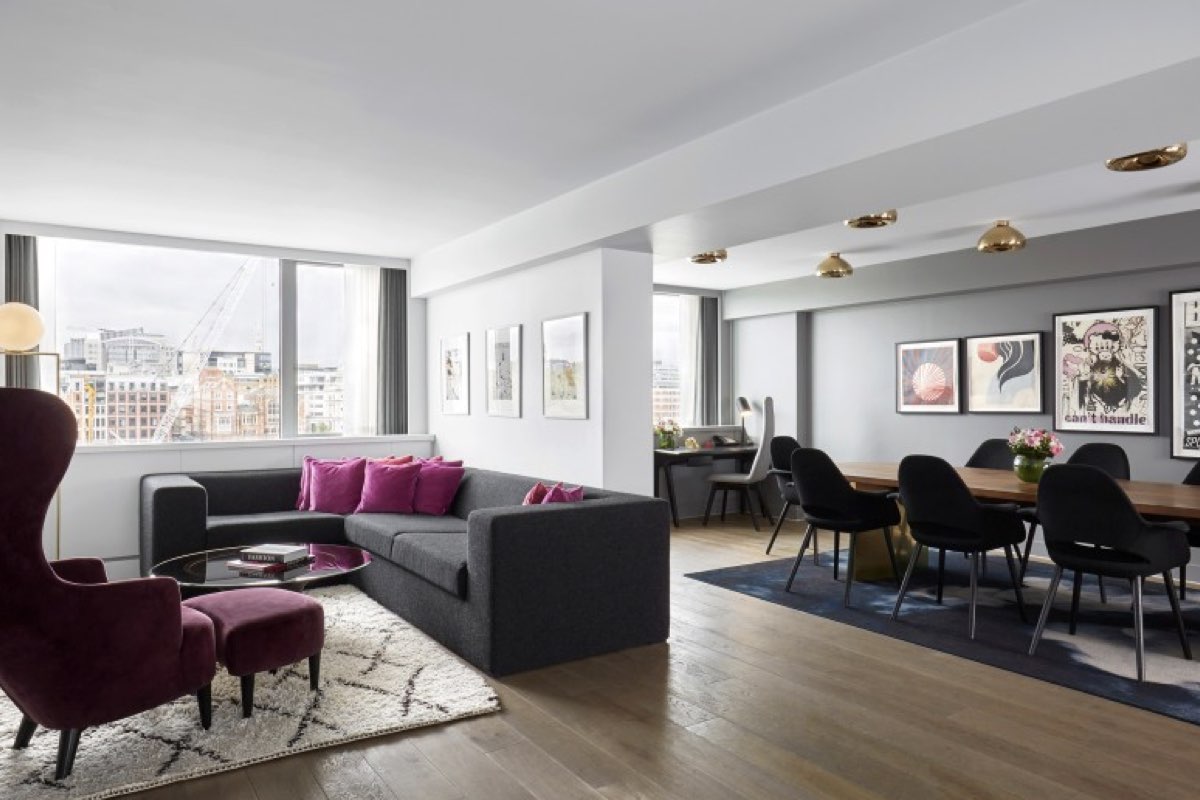 The pièce de résistance and central focus of the hen party had to be this gorgeous apartment. It highlights London at its finest with breath-taking city and river views from multiple angles. There was an open plan living and dining space with a wet bar – perfect for hosting parties. A stylish en-suite bedroom, flat Screen HDTV for playing hen party games like Mrs and Mrs. An oversized marble bathroom featuring a freestanding bath and rainfall shower, as well as a sitting room.
The apartment caters to 16 guests so our party of 11 had more than enough room. But we paired up and retreated to separate bedrooms, as the apartment only sleeps two sharing a bed. It's pricey at £650 per night peak season but worth it for a special occasion.
7. HONEST BURGER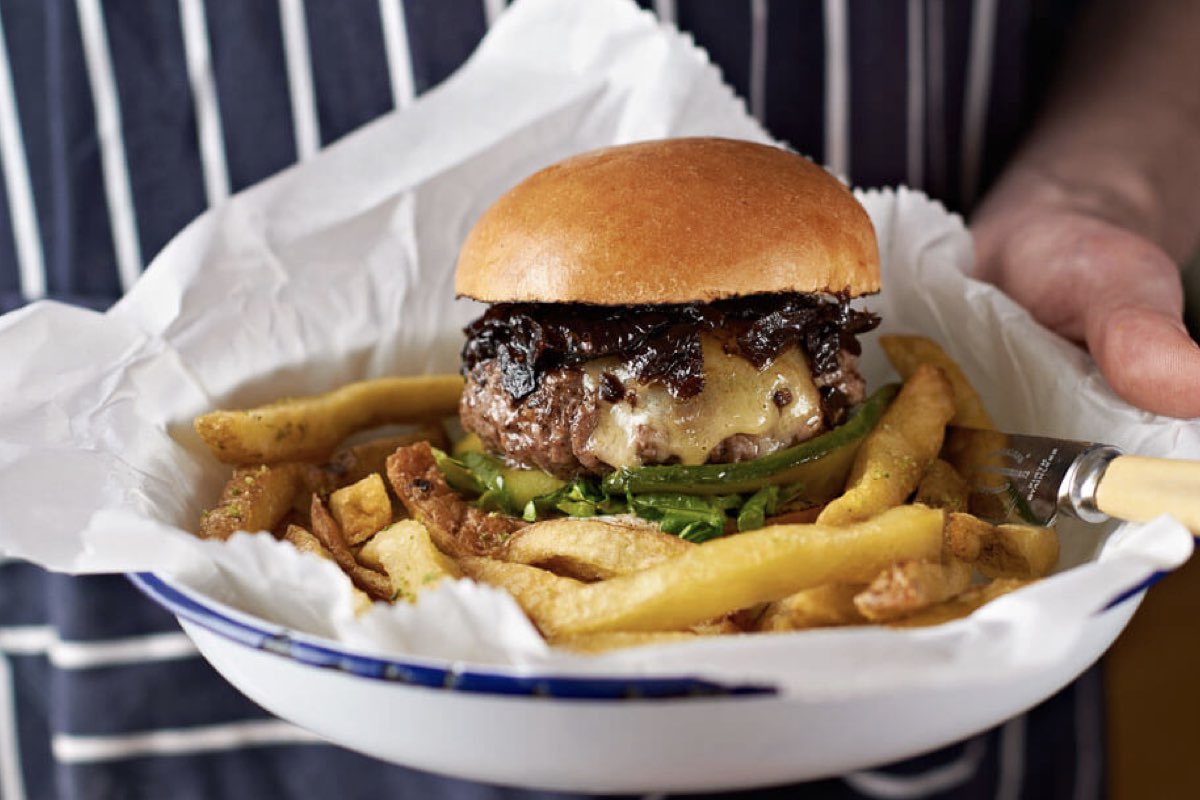 What to get a gluten free and dairy free bride on a hen do? You can't go wrong with an Honest Burger. Although, despite all the planning, I still managed to mess up the order, thinking that a standard Honest Burger came with just meat and bun. After painstakingly completing the order with a gluten-free bun I was horrified to realise that the signature burger does in fact come with cheese. Everyone who ordered a cheese burger, therefore got an additional slice of cheese. Who knew. I made another order to conceal the error and our tummies were soon lined before more debauchery ensued.
For plant based eaters there is a Beyond Meat patty, served with tortilla chips and chipotle jackfruit with Frank's, vegan gouda, BBQ sauce, guac, pink onions. Each meal comes served with the homemade rosemary salted chips which are vegan and gluten free. Order on Deliveroo.
8. PRINCE OF WALES, BRIXTON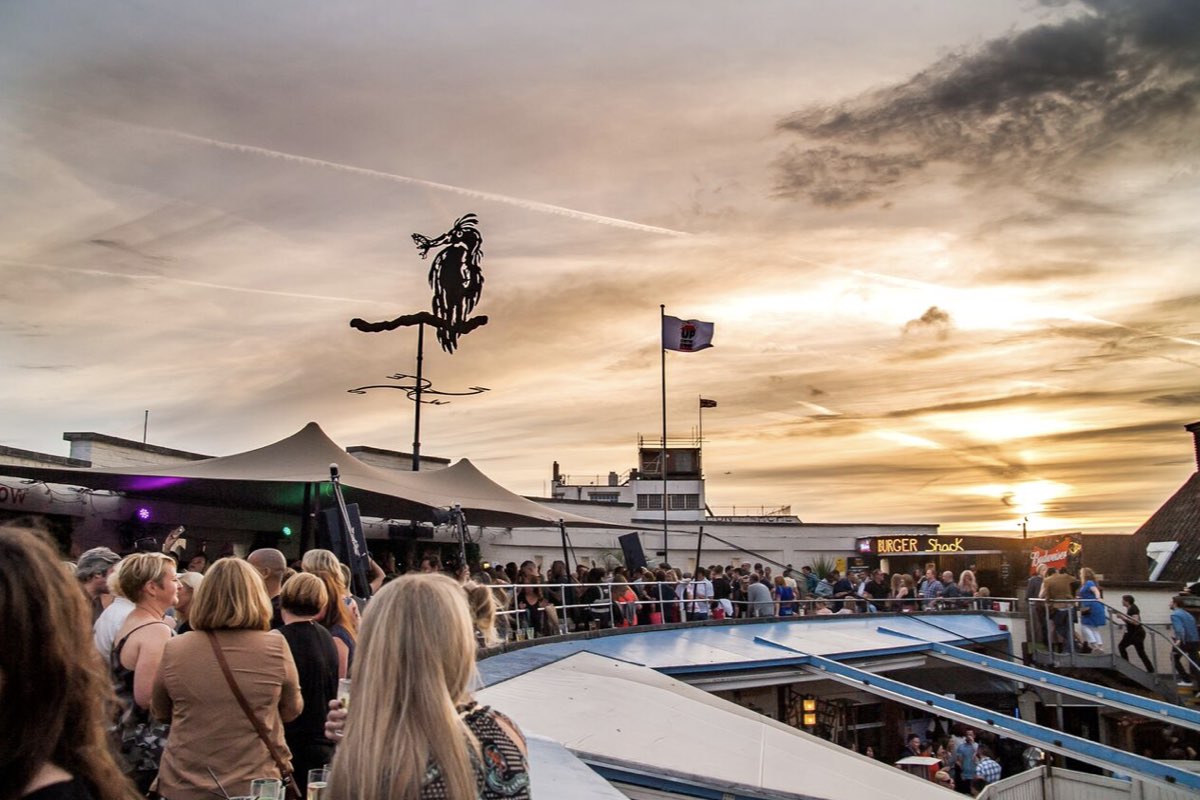 After a few rounds of Espresso Martinis made in our very own wet bar at the Sea Containers Riverview apartment, we all caught taxis to The Prince of Wales pub. A large music venue in Brixton with a two-tier outdoor roof terrace. Perfect for late night drinking and dancing.
With a 1920s Art Deco vibe, the dancehall has a sprung wooden dancefloor and a banging sound system with heavyweight bass to keep you moving. It felt a bit like being back at university and strange in these Covid times to suddenly be mask free and sandwiched cheek by jowl, grinding next to a load of sweaty strangers. Our hens danced themselves silly to the early hours to world-class DJ's before retreating to our 5 star hotel.
9. CURZON CINEMA, SEA CONTAINERS HOTEL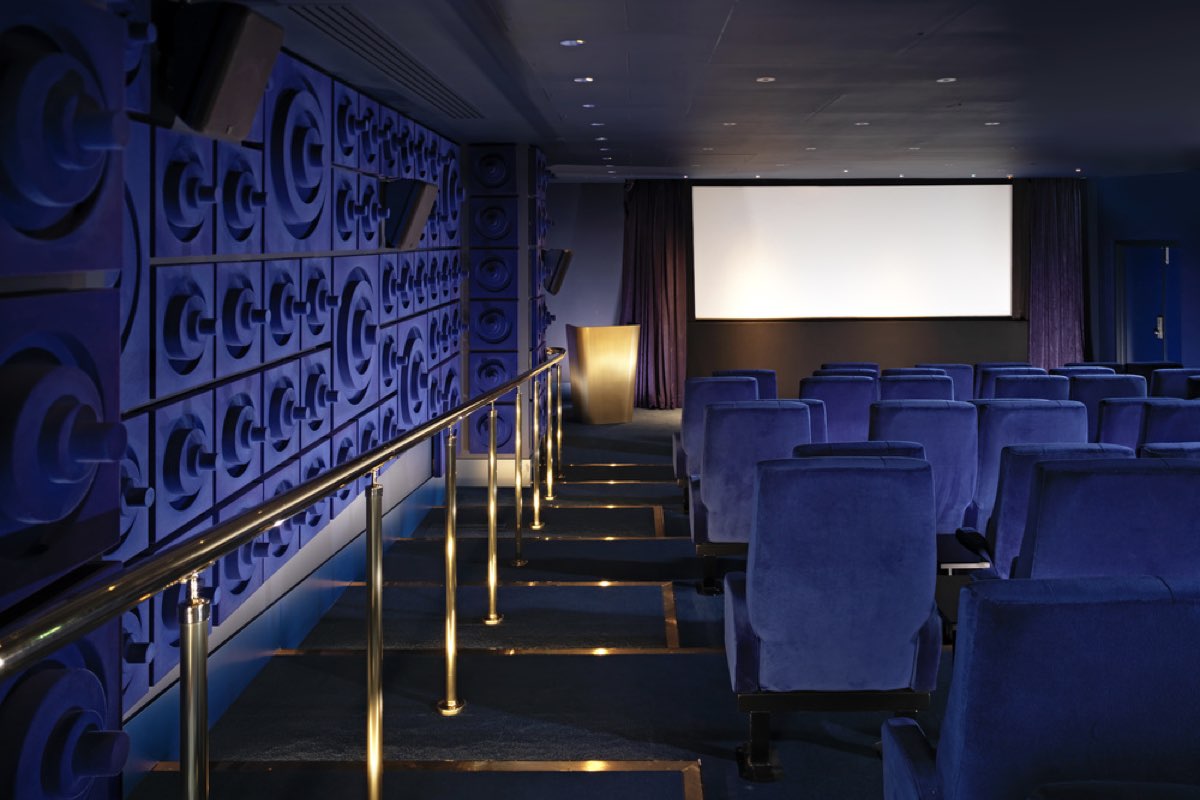 Bleary eyed, not all of us made it down in time to catch breakfast, where you'll find the usual full english and eggs and avocado favourites. To round off the experience, a few of us headed to the Curzon Cinema on the basement level of Sea Containers for a private screening of Bridesmaids. What else?
There's a license fee to pay for the movie and popcorn and snacks are extra but it was the best way to work off a hangover, and all inkling of shame diminished as we watched the star of the film, Annie, make blunder after blunder, attempting to pull off the perfect bachelorette party. With no food poisoning to speak of, (or so I thought… someone asked for imodium after breakfast – you can't win them all!), I smiled smugly at what I managed to pull off, despite the many complications.
The screening room seats 56 so we only took up the front row but it was a memorable way to end the hen party.
10. UBER
Planning a hen party in London without Uber would be challenging to say the least. I must have caught ten rides over the course of the weekend whether ferrying cupcakes or hens to and from venues. Thank god for these knights in shining armour, who delivered us from walk of shame to saintliness…
Sea Containers is the perfect venue for planning a hen party in London. Read more about what's on here.
Are you planning a hen party at the moment? Let us know what you're planning @DOSE.
Get your weekly DOSE fix here: SIGN UP FOR OUR NEWSLETTER