Who needs to have their cake and eat it when you could bathe in wine and drink it? We sent Charlotte along to visit the UK's first ever wine spa. Could this be the ultimate healthy hedonist pursuit?
I was very, very excited to give this a go. Wine – check. Spa – check. Luxe facilities – check, check, check. That said, I didn't really know what to expect when I arrived at Ella Di Rocco in Fulham, the UK's first ever wine spa.
It's a trend in Italy, France and Japan, the owner tells me, and now it has made its way over to our shores. We (I'm here with my husband) head down to the beautifully appointed treatment room (think black and white flooring, dark green walls and gold fixtures) before changing into paper underwear for a foot soak and total body scrub at the hands of a talented therapist, using a scrub containing grapes and wine extracts. It involves dry body brushing, getting rid of dead skin cells and opening up the pores for what comes next: a wine bath.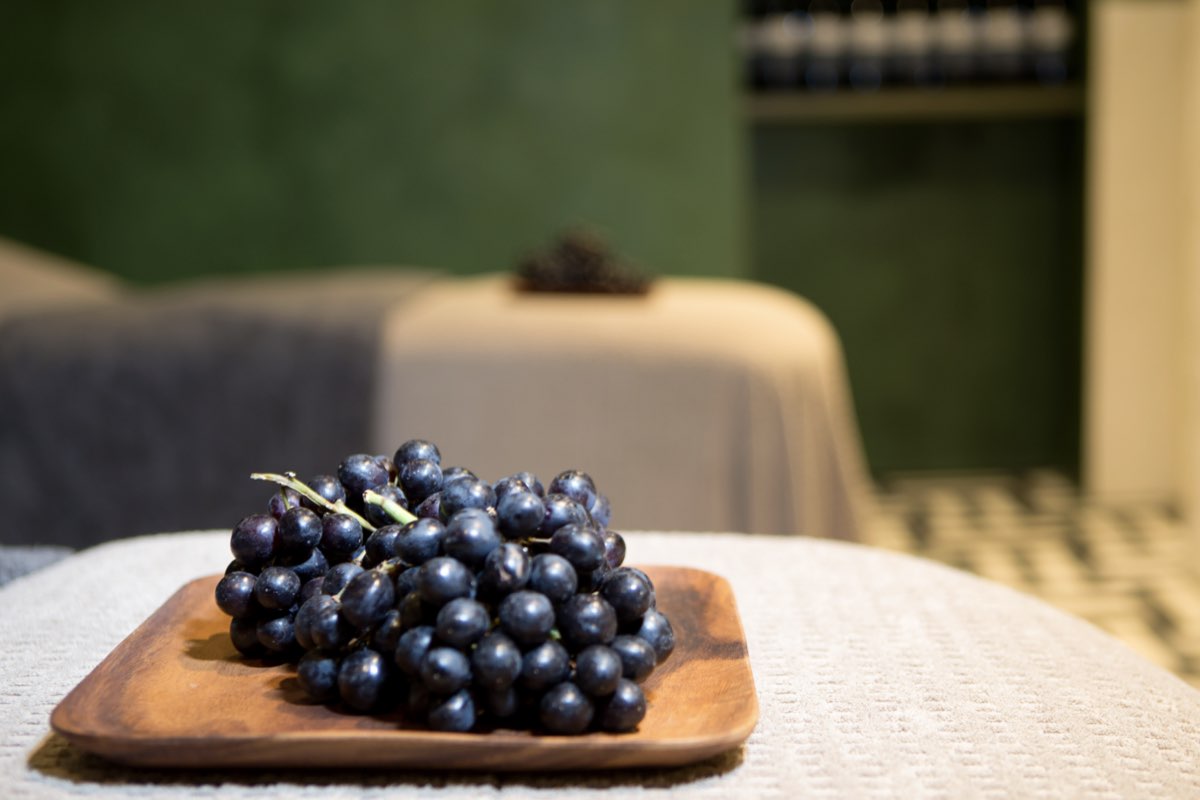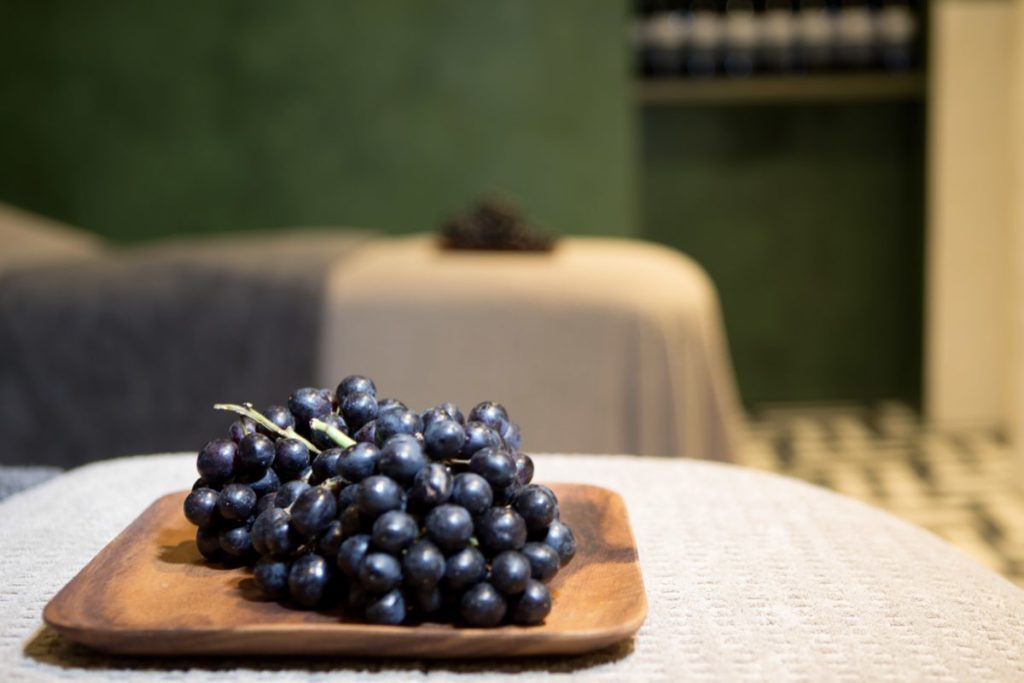 Basically, it's exactly what it sounds like. A warm, not sticky, and thoroughly pleasant large bath tub, Jacuzzi-sized but not bubbling, is filled with Sangiovese, Merlot and Ciliegiolo red wine, warm water, a detox powder, grapeseed oil and concentrated virgin grape juice, and is then scattered with rose petals. Benefits of this reportedly include a serious hit of antioxidants, which go directly to the skin and work to counter premature ageing. The bath releases toxins, lowers blood sugar levels and alleviates aching joints and muscles. The bath is a very dark red, so much so that you can't see your hands beneath the surface.
It promises relaxation and it delivers – whether that's due to the bath itself or the glass of red wine I enjoy while submerged, I know not. My husband and I are in baths facing each other and we have a good chat for 20 minutes or so while soaking, feeling blissfully sleepy as we step out.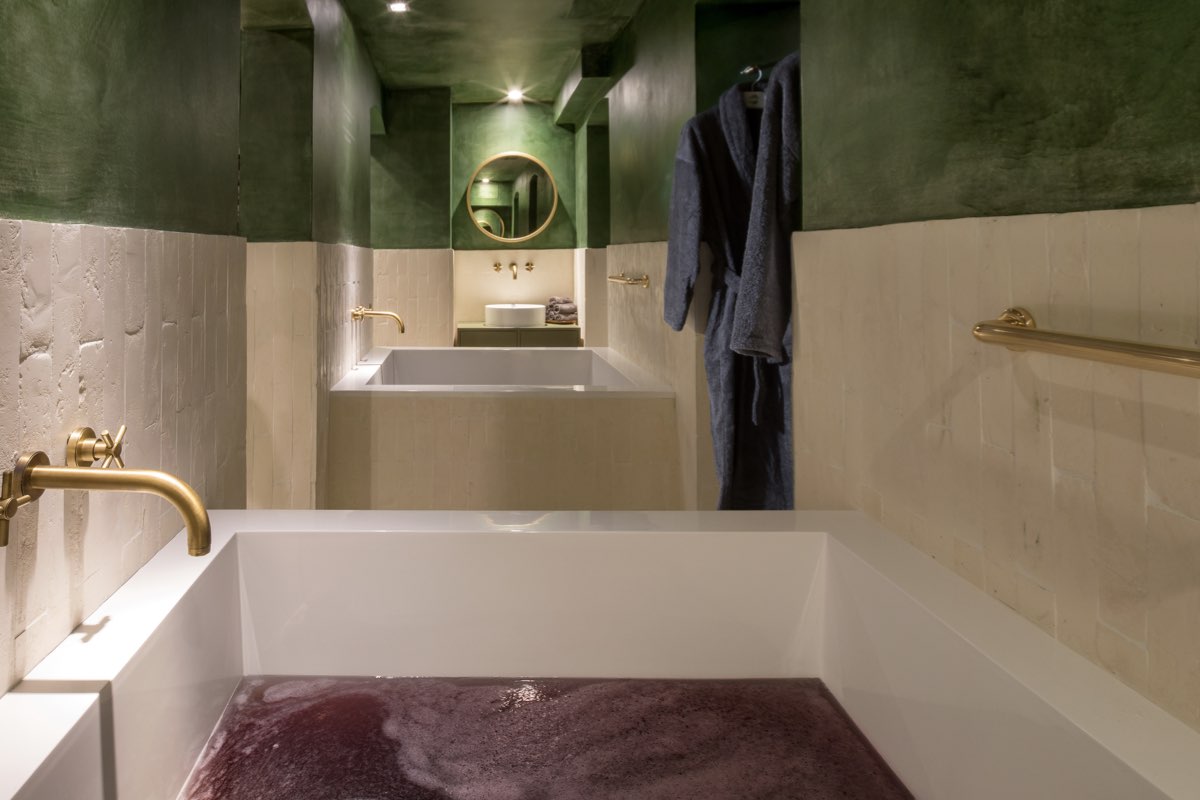 The treatment ends with a massage, which uses grapeseed oil, designed to relax and improve skin elasticity. Yes, please. My skin definitely looks vibrant and is super soft at the end of treatment, possibly because the polyphenol in grapes stimulates circulation. It feels like more than just a gimmick: in a weird way, it makes sense.
This is a great, fun day out. You could do it with girlfriend for a fun pamper session, a boyfriend for something more romantic, or solo as the ultimate healthy hedonist pursuit. Who needs to have their cake and eat it when you could bathe in wine and drink it?