Probiotics are a hot topic right now. Studies suggest they can keep your gut in tip-top shape and affect everything from bloating to your immune system. Sam committed to taking a celeb-loved probiotic supplement every day for 12 weeks and documents her experience…
If you suffer from eczema you'll know how awful it can be. I have had eczema since I was a child. Throughout my life I have experienced bouts of moderate to severe flare-ups on my face, neck and hands. It's been so bad at times that I didn't want to leave the house. I even had to wear gloves to bed to prevent scratching myself to bits in my sleep. I've tried just about every cream and natural remedy going and had allergy tests. But I still can't get to the bottom of what causes my skin to become so dry and sore.
Studies have shown that eczema symptoms may be treated by taking a probiotic supplement. This works by changing the mix of gut bacteria or reducing inflammation in the gut. At the end of my tether, I started researching probiotics and the brand that celebs and influencers seemed to be loving was a water-based supplement called Symprove.
Probiotics
The science
The drink is packed with live and active bacteria that are designed to balance the bacteria in your gut. It differs from some supplements because it doesn't trigger digestion. This means the good bacteria has more chance of surviving the passage through the stomach and thriving in the gut. According to a study by UCL, Symprove was shown to outperform seven other leading products in its ability to survive, thrive and colonise the gut.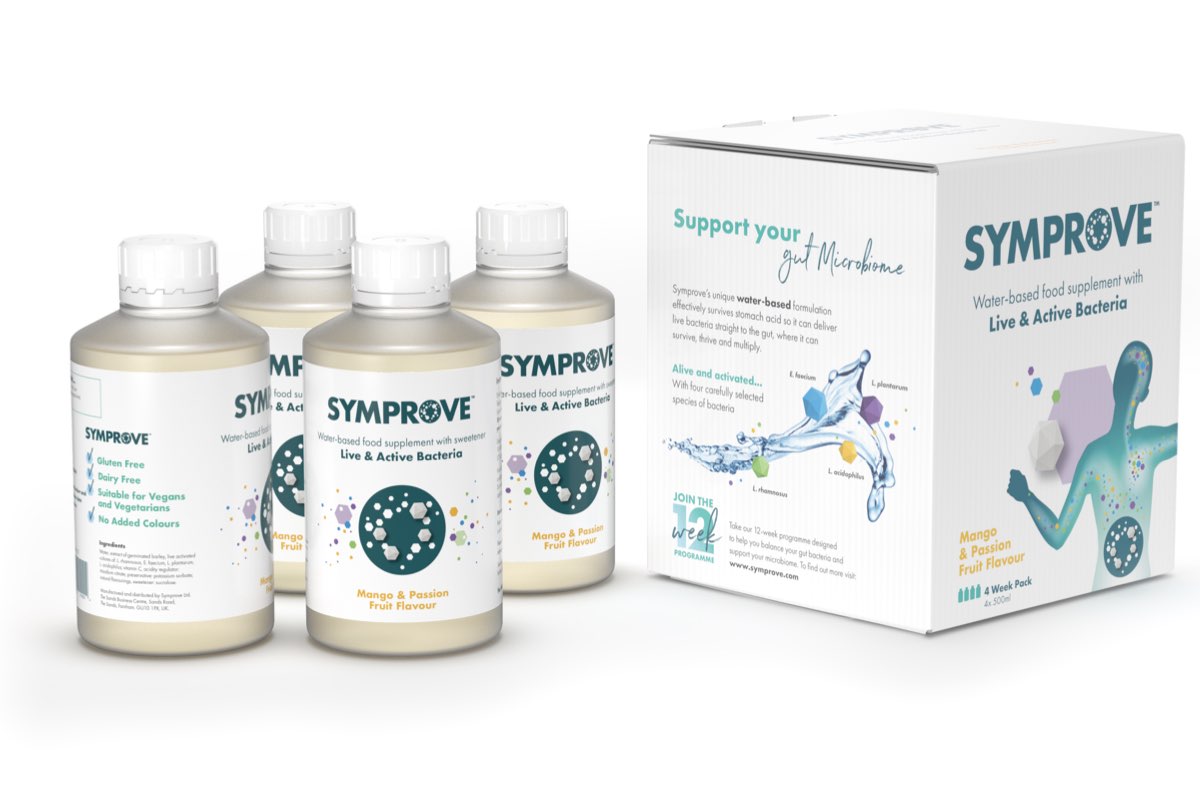 Due to regulatory laws, as probiotics are categorised as food products, the company is not permitted to make health claims. However, as mentioned, studies have shown probiotics maintain balance in the gut and may help treat some skin issues, as well as ease symptoms of IBS and bloating.
It's worth noting there are many types of probiotics each containing different strains of bacteria (Symprove contains four) that may have different effects on the body. Trial and error is often required to find a strain of probiotic that works best for you.
The results
I signed up for the 12-week Symprove course, which is a bit pricy (£158/around £13 per week) but it's advised if you want to get the full effect. The drink comes in two flavours – original and mango and passionfruit – and it's vegan-friendly and dairy and gluten-free. Apparently the natural flavour is a little challenging to swallow (I'd seen fitness influencer Zanna Van Dijk taking it holding her nose), so I chose the fruitier option. I quite liked the taste and had no problem knocking back the recommended 70ml capsule every morning. You have to remember to take it 10 minutes before you eat or drink anything but after a few days, it just becomes part of your morning routine.
It probably took a few weeks for me to see any changes but around week four my skin was noticeably brighter and clearer and people were commenting on how well I looked (which was lovely!). Frustratingly at week 10 I suffered an eczema flare-up on my neck, however, it seemed to calm down quicker than usual – and without the use of steroid cream.
Skin issues aside, I didn't notice any changes in terms of my digestion but I don't really suffer from any tummy issues (except when I overdo it on the kale!). I will say though it felt great to know I was putting good bacteria into my belly, especially as I'm trying to do as much as I can to maintain a healthy immune system during the coronavirus pandemic.
So, will I be sticking with Symprove? Even though I can't be sure if it's improved my eczema, it's a yes from me.
Main image: Shutterstock
Get your weekly DOSE fix here: SIGN UP FOR OUR NEWSLETTER