Alexandra Dudley, author of Land & Sea: Secrets to simple, sustainable, sensational food takes us through her favourite seasonal ingredients for the month of November…
The month of November is cold, dark and wet. Our tan lines have faded and Summer has become a distant memory. The excitement of Halloween has been and gone, but it seems premature to move in the mince pies (this is debatable). I must admit it isn't my favourite month.
I mourn the ruby, gold tree-tones, shuffling my feet through the leafy strewn pavements and waking up to crisp clear mornings. It's now pitch black when I wake and the twiggy trees are so bare I feel cold just looking at them!
There is something that makes me feel better though – soup. Oh and not having be on constant leg hair lookout (whoever created wooly tights is a genius). Humble, warm, and comforting soup is there for me in November.
I love most soups and the greatest thing about it is that most things can be turned into it. The seasonal soup contenders in November are pretty good too; pumpkins, parsnips, potatoes, cabbage may not sound like much as they are but pair them with ginger, cumin, cloves, herbs and it's a totally different bowl game!
One of my favourite soups is my pumpkin, parsnip and almond butter soup. Is there anything that doesn't taste better with nut butter?
With most soups it's a simple case of blending it all together. You can steam or roast the veggies but I prefer to roast them as it gives it a toastier and richer flavor. I like to make the most of my ingredients by roasting the seeds from my pumpkin and adding them as a crunchy topping.
Find a full list of ingredients and method below but as with most of my recipes feel free to adjust as you feel. You can swap parsnips for sweet potato or almond butter for peanut. That's the great thing about soup – there really are no rules.
Note: This recipe makes enough for about 10 portions. I like to freeze half into portion sized amounts ready to defrost as I need.
PUMPKIN, PARSNIP & ALMOND BUTTER SOUP
Ingredients
– 1.5kg pumpkin or butternut squash, seeds removed and reserved, flesh chopped into chunks
– 500g parsnips, peeled and chopped in half about 4 tbsp melted coconut oil or olive oil
–  good pinch of sea salt
– handful of unsweetened flaked coconut
– 1 onion, finely chopped
– 4 garlic cloves
– ó tsp ground cinnamon
– 1 tsp ground coriander
– generous grind of black pepper
– 2 litres homemade chicken or vegetable stock (or organic stock cube)
– 6 heaped tbsp almond
– butter (palm-oil free)
– coriander leaves, to serve (optional)
Method
– Preheat the oven to 180°C/350°F/gas mark 4.
– Tip the pumpkin or squash chunks into a roasting tin with the parsnips, drizzle with the oil and roast in the oven for 40 minutes or until soft.
– While the vegetables are roasting, prepare the seeds and coconut. Give the reserved seeds a good wash under a cold tap to try to remove as much of the flesh as you can. Don't worry if you cannot get rid of it all – the little stringy bits add a wonderful crunch.
– Once the seeds are mostly flesh-free, pat them dry with some paper towel and toss them in a little melted coconut oil and sea salt before roasting them in the oven below the pumpkin or squash for about 15–20 minutes or until dry and crunchy.
– Transfer the seeds to a plate and allow them to cool before sprinkling the coconut flakes over the same tray you used for the seeds and placing them in the oven below the vegetables. Let the flakes toast for about 5 minutes but watch them all the time as they can easily burn. Allow to cool and set aside with the seeds until you are ready to serve.
– Once the vegetables are cooked, heat a further tablespoon of oil in a large pot or pan and add the onion, garlic and spices to soften and leave the flavours to infuse. I like to add a few tablespoons of water to prevent the garlic burning.
– Once the onion is soft, add the stock and roasted pumpkin and parsnips, salt, pepper and finally the almond butter. Bring the temperature to a medium heat and let everything cook for 5–10 minutes before blending with a stick blender.
– If you don't have a stick blender you can transfer the soup into a blender in batches. Add more water if you want to loosen the soup. Heat the soup and ladle into bowls, then serve sprinkled with the toasted pumpkin seeds and coconut.
– If you have any coriander lying around this makes a wonderful garnish, too.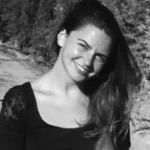 Hettie is the editor and co-founder of DOSE. A keen runner, she's also partial to a blast of high-intensity and hot yoga. A country girl at heart, she divides her time between London and the lush rolling hills of North Devon. When she's not jetting off on her next adventure, Hettie can be found in a candle-lit alcove with a laptop, a spaniel and a full bodied Malbec.