We can always rely on Abel & Cole for a hearty, wholesome recipe like this big pan of warming risotto. Pack in the vitamin C, iron, folic acid, calcium, fibre and vitamin A with purple sprouting broccoli, and maybe after all that you deserve a sprinkling of cheese…
Recipe by Sam Richards | Cooking time 50 mins | Serves 6 people
Ingredients
2 leeks
2 onions
1 garlic clove
200g chestnut mushrooms
1 tbsp olive oil
Sea salt
Freshly ground pepper
1600ml boiling water
1 vegetable stock cube
500g risotto rice
300g purple sprouting broccoli
A handful of flat leaf parsley
A handful of mint
1 lemon
Method
1. Heat your oven to 200°C/Fan 180°C/Gas 6. Trim the roots and top 3cm off the leeks. Slice the leeks in half lengthways and rinse under a cold tap. Thinly slice the leeks. Peel the onions and finely chop them. Peel the garlic clove and crush or finely chop it. Thinly slice the mushrooms.
2. Pour 1 tbsp oil into a large, ovenproof pan or casserole dish and warm over a medium heat. Slide in the chopped leeks, onions, garlic and mushrooms. Sprinkle in a little salt and pepper. Fry for 10 mins, stirring often, till the veg soften.
3. Meanwhile, crumble the stock cube into a heatproof jug. Pour over 1.6 ltrs boiling water and stir to dissolve the stock cube.
4. When the veg are soft, tip the risotto rice into the pan. Stir well and fry for a further 2 mins, till the rice starts to make a slight popping sound.
5. Pour the stock into the pan and stir well, till everything is combined. Slide the uncovered pan into the oven and bake for 20 mins. If your pan isn't ovenproof, simply stir in the stock then ladle the rice, veg and stock into an ovenproof dish.
6. While the risotto cooks, trim the dry, woody ends off the purple sprouting broccoli. Cut the broccoli into bite-size pieces – you can leave the leaves on them stems. Finely chop the parsley, leaves and stalks. Shred the mint leaves.
7. After 20 mins, remove the risotto from the oven. Stir in the broccoli. Return the risotto to the oven for a further 5 mins, till the rice is tender.
8. Grate the zest from the lemon and stir it through the cooked risotto. Squeeze in half of the juice. Fold the chopped parsley and mint through the risotto. Have a taste of the and add a little more salt and pepper if needed. Ladle the risotto into warm bowls and squeeze.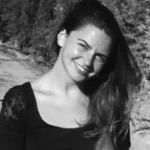 Hettie is the editor and co-founder of DOSE. A keen runner, she's also partial to a blast of high-intensity and hot yoga. A country girl at heart, she divides her time between London and the lush rolling hills of North Devon. When she's not jetting off on her next adventure, Hettie can be found in a candle-lit alcove with a laptop, a spaniel and a full bodied Malbec.