Renaissance Tuscany Il Ciocco Resort & Spa is all about affordable luxury – and there's no compromising on the luxury. Avid traveller Shara takes her first post-lockdown trip…
Renaissance Tuscany: a post-lockdown trip
Getting there
As someone who travels on a monthly basis, spending six months in London has been odd to say the least. So getting on a plane and jetting off to Italy came as a welcome relief. Flights were just £90 return to Pisa with British Airways. Our car hire was £70 for three days, and the flight was only 1 hour 45 minutes. We landed and were in our hire car in 18 minutes flat. Then, a one hour drive from Pisa airport. All in all it was a very smooth journey.
Renaissance Tuscany Il Ciocco Resort & Spa
The hotel
Renaissance Tuscany Il Ciocco Resort & Spa is in Barga, a charming town surrounded by acres of countryside, located high in the mountains. There are incredible views from the rooms and the pool, which is by far the hotel's best asset.
The hotel has made huge steps to work within COVID restrictions – there are socially distanced sun beds and wonderful service. Good wine comes served in in good plastic glasses, which don't feel like we are being shortchanged at all. The hotel was quiet, which was actually enjoyable and felt safe. Our temperature is checked when we enter the hotel and you must wear masks around the hotel and use a oneway system to walk around.
The hotel is huge. It's known for its weddings, and there are lots of charming shops like jewellers, antiques and high end fashion boutiques, but few are open at the moment.
The bedrooms at Renaissance Tucany
Simplicity leads the way here. There are no fancy products but comfortable beds and some bedrooms have small balconies overlooking the mountains and pool. There is a hot power shower and tea and coffee in rooms, along with comfortable robes and slippers.
The spa
There are a selection of treatments available on site. The spa is quite basic in its layout and aesthetic, in keeping with the Italian way to just 'get it done'. Other than a health and wellness form to complete pre-treatment, there is no chat or faffing – it's straight into my scrub and massage. The scrub, which contains grapes, starts quite intensely but after the massage, my skin felt buttery and I left relaxed.
Again, it's Covid friendly – I am lying on plastic and the therapist is wearing gloves. When you lie on your back, you have to wear a face covering.
Activities
There is lots to do here in Tuscany. We opt for active mornings followed by lazy afternoon and indulgent evenings. There are master classes in Italian foods with the chef, or for the energetic, you can try canyoning, canoeing and rafting.
We start with hiking, arranged by the hotel with Agriturismo Pian de Fiume. We climb for three hours early one morning. It was a beautiful, fabulous way to move – especially as someone who lives in London and relies on gyms rather than outdoor activities for exercise. It was also essential, in order to get a head start on burning off some of the excellent Italian food we later consumed.
On our second day we did a two hour e-bike ride. Having become a far more seasoned cyclist during lockdown (haven't we all) I absolutely loved this. The bikes went up to 25mph, and thank goodness for the motor. There is no way my legs would have managed the Tuscan Hills without it. They may be stunning, but they're certainly steep. It's not for the faint hearted – there was lots of off-road cycling, rubbled path and of course, hill climbs.

The food
When out adventuring, we stopped at little local restaurants, which didn't disappoint. Italian style, we had two courses: a Caprese salad or melon and ham to start, followed by freshly made ravioli with spinach and ricotta.
One of the best things about Italy is not really having to think about food – it is good pretty much everywhere. Nowhere was this truer than at the hotel. When we arrived late on Saturday night we were starving, so being able to check in and be at the dinner table 15 minutes later was heaven.
The olive oil set our taste buds on fire and the tomatoes were so much sweeter than those we are used to. Here, they taste like tomatoes, as opposed to British ones which so often taste like nothing.
We ordered a bottle of local wine which was absolutely amazing, and it's the perfect time to visit Tuscany if you're into your wines. September and October mark the annual grape harvest season, so you can really sample some of the finest. You can even try grape-stomping in a nearby vineyard. And when in Italy, Aperol Spritz is a must – they use 80 per cent Aperol here.
Breakfast is basic but tasty. There is a buffet but in these times you can't serve yourself, so a waiter will bring you eggs, bacon, fresh bread, fruit, muesli, yogurt and of course sweet cakes.
Do try the tasting menu one night, but be prepared: portion size is epic, with a serving for one easily enough to feed a hungry four. We tuck into a selection of antipasti, risotto, fresh pasta, soup, beef fillet and more. I have never been so full.
All in all, it's the perfect getaway to escape the last few months. Get some sunshine, have some cocktails and mozzarella and explore the Tuscan hills. What more could you want?
From £125 per night in September. Renaissance TuscanyIl Ciocca Resort & Spa has launched a brand new package – The Tuscan Wine and Culinary Experience. From €305 per room/per night and valid until March 2021, the experience educates guests on the production and tasting process of local wines and delicacies.
Get your weekly DOSE fix here: SIGN UP FOR OUR NEWSLETTER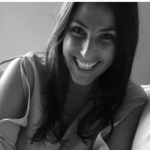 Charlotte is a London girl through and through. She sweats through spin and puffs through Pilates to justify trying the latest restaurants and devouring copious amounts of sweet potato fries, burrata and bread – preferably on holiday. Her favourite destinations include Italy, the Maldives and anywhere where the sun's shining and there's a strong breakfast buffet. She's obsessed with walking, visiting farmers' markets and reading. She's also learning to cook. Wish her (and her husband) luck.