Think W Hotels are synonymous with partying? Think again. DOSE writer Rosie discovers there's a balance between relaxation and indulgence at the W Retreat, Seminyak…
When I heard I would be staying at the W Retreat, I was intrigued. To me, W Hotels are synonymous with a playful, party vibe – so I was curious to find out what their interpretation of a retreat would be. Would we be served juice instead of cocktails at the bar, and would fruit replace pastries at the breakfast buffet?
I figured that there are worse places to be deprived of Cosmopolitans and fries than the sunny beaches of Seminyak, Bali. At least the sun would be shining – and going without a poolside pizza would probably do my bikini body a great deal of good.
As I approached the resort in a golf buggy, I was struck by how happy everyone seemed – whatever this retreat entailed, it seemed to be working.
I checked into my Ocean-Facing Escape Room and my suspicions were soon put at ease – between the huge tray of welcome chocolates and jelly sweets and the fully-stocked minibar, it seemed that this was a retreat less about deprivation, and more about indulging in what makes you happy.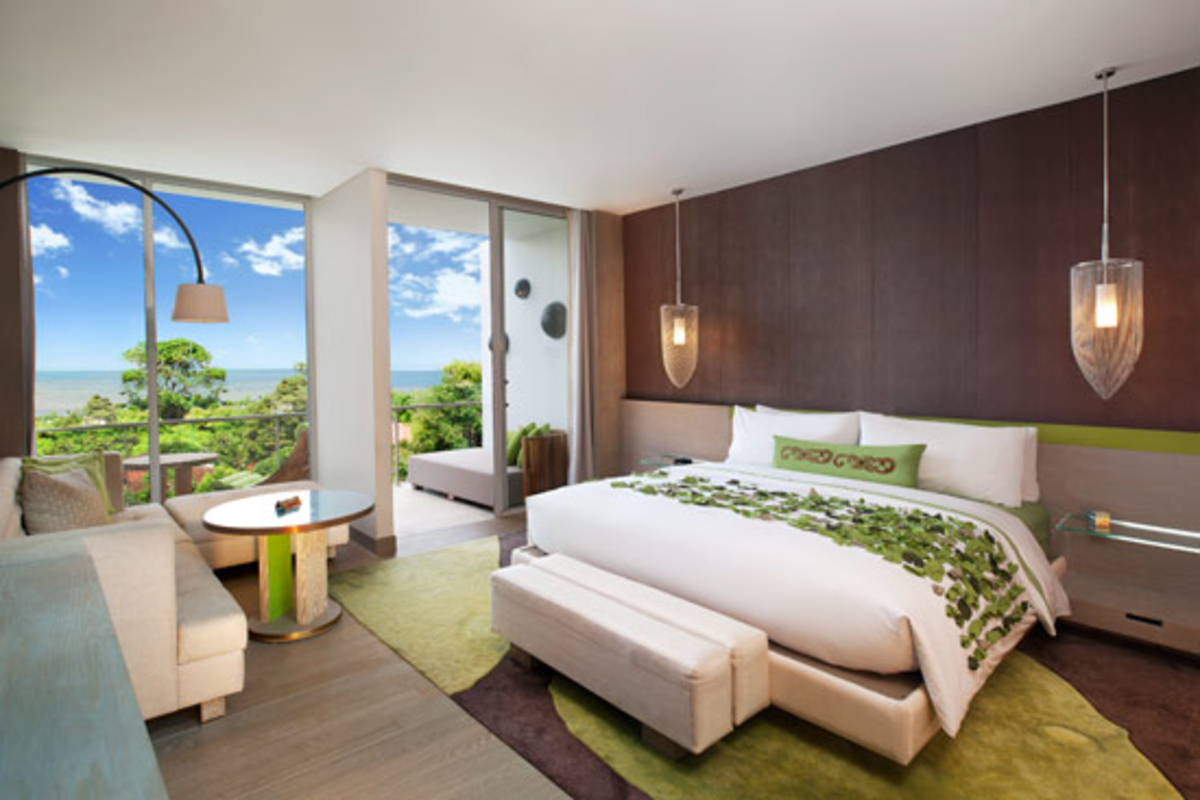 Photo: Garden View Room, W Retreat
Grinning, I popped a chocolate in my mouth and stood on my huge balcony, taking it all in: the buzzing restaurants and bars, the vast expanses of pools and sun loungers, and a little further ahead, the dazzling blue ocean. I'm going to be very happy here, I thought.
I headed straight for the pool and flopped on a giant poolside sofa, stirring every now and then to reach for a strawberry skewer or coconut water shot that were constantly circulated by the friendly attendants.
As the sun began to go down, I moved across to Woobar, where a DJ set had started and groups of sun-kissed people gathered around shisha pipes, sipping from cocktail glasses and enjoying each other's company.
But for me, I sat mesmerised by the sight of the red sky – and before I knew it I had drained three margaritas. Note to self: do not become so distracted by gorgeous sunsets that you lose track of alcohol consumption, especially in hot countries… Realising I needed to sober up, I dragged myself off the day bed and went to get ready for dinner.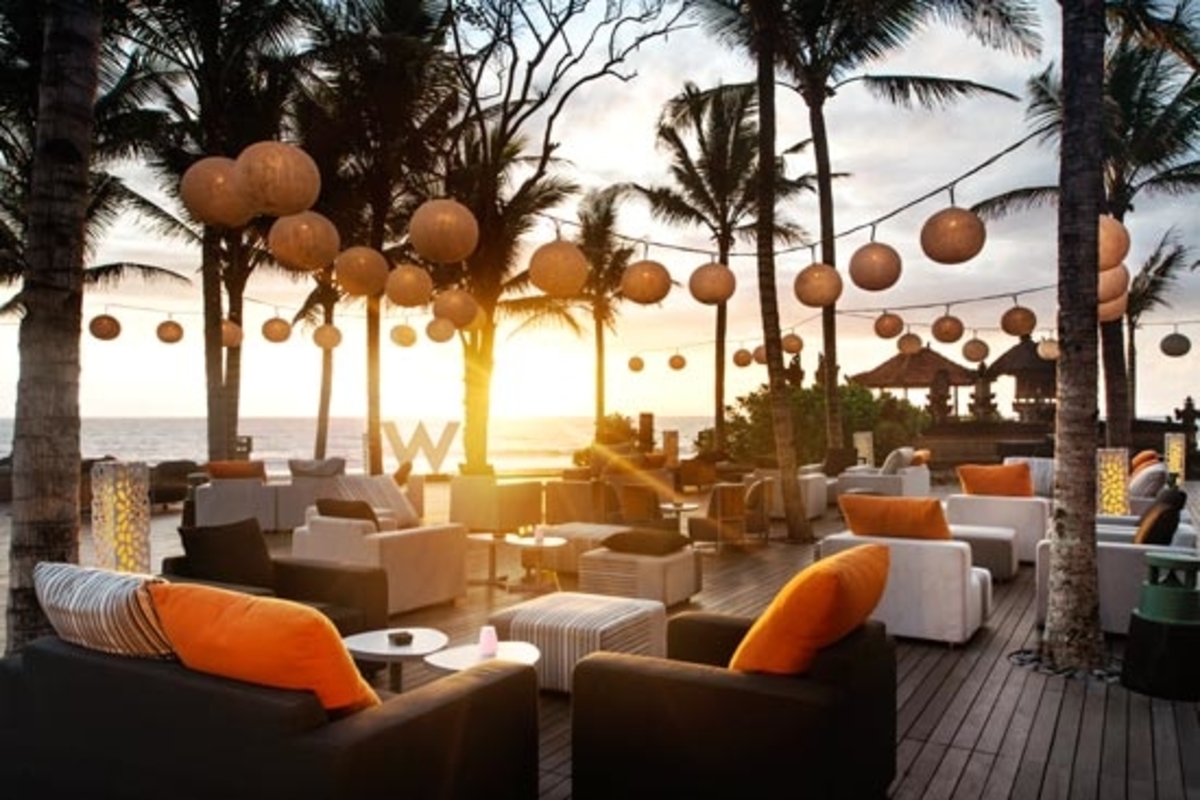 Photo: Woobar, W Retreat
Soon after I was seated at Fire Restaurant, a waiter presented me with a board covered in the different steaks to choose from. Drooling, I picked an Australian tenderloin, while my companion –  who is more suited to the traditional 'retreat' side of things – was spoilt for choice by separate vegetarian and vegan menus.
As I devoured my steak, she tucked into a more virtuous saffron cous cous, but made a concession for the signature chocolate dome dessert – a melting globe of 64% chocolate which encased a scoop of white chocolate ice cream and popping candy. Now I knew why the guests looked so happy all the time.
I slept like a baby that night, and decided to work up an appetite for breakfast by joining a morning boxing class in the resort's fitness studio. Even workouts are given a fun twist – weekend yoga classes are set to special DJ playlists. Suitably sweaty, I showered off in my rainfall shower and then prepared myself for the feast that awaited me at the breakfast buffet.
I never thought I'd be one to feel overwhelmed by choice when it came to breakfast, but I did not know where to begin. From flatbreads to sashimi, dim sum to yoghurt parfaits, French toast to shakshuka, I couldn't think of a single thing lacking – other than my stomach's ability to taste everything on offer. I settled for a three-course affair of coconut chia pudding to begin, avocado and feta on sourdough toast to follow, and a cappuccino donut to finish, accompanied with freshly-squeezed carrot, orange and ginger juice. And I might have also snaffled a few brownies and M&Ms on my way out. Perhaps.
Exhausted by the digestive efforts required of my body, I returned to a floating pillow in the pool and was lulled in and out of a snooze by the ripples of the water. Having had a good few hours to recover, it was time to explore what else the resort had to offer.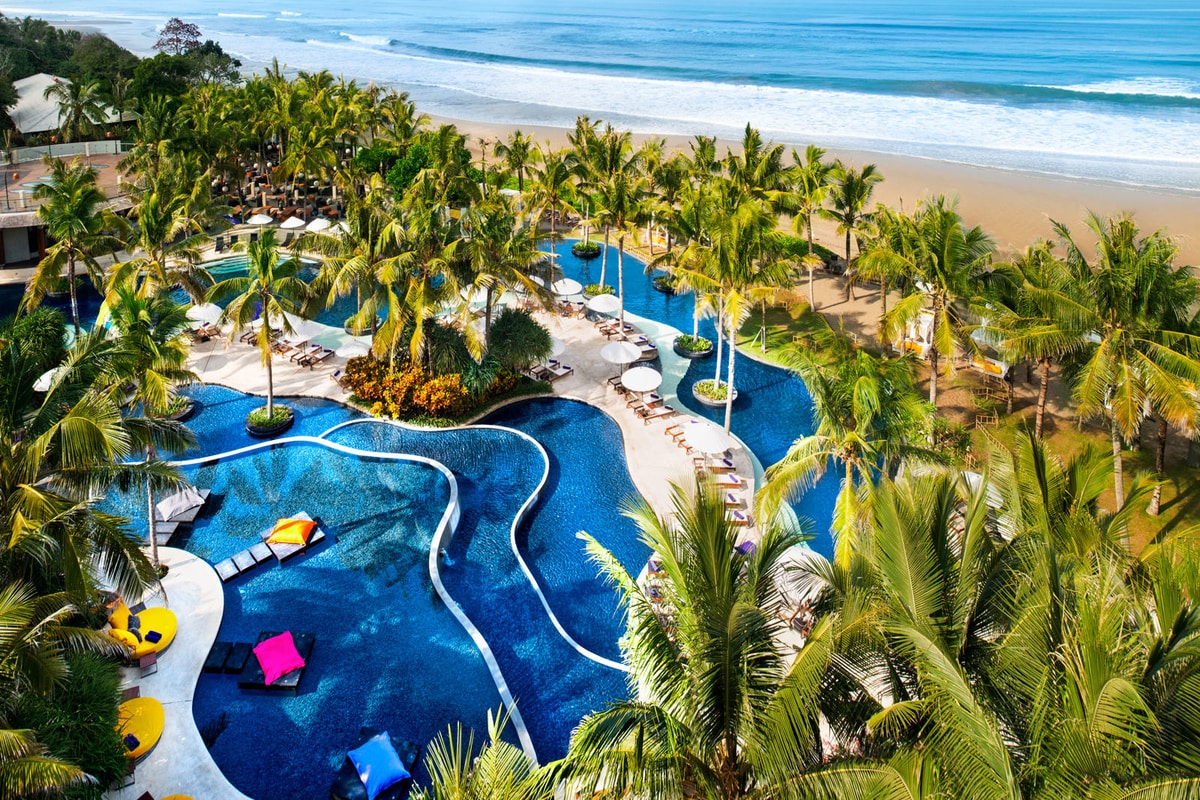 Photo: WET Pool, W Retreat
As I walked through the lobby I was struck by a phenomenal Mad Hatter-themed afternoon tea display featuring the tallest cakes I had ever seen, decorated in rainbow colours. I resisted temptation and grabbed a healthy fruit platter and granola bar from the adjacent Fuel Bar instead, feeling only a little envious of the guests tucking into gigantic slabs of chocolate and red velvet cake smothered in cream cheese icing…
Having indulged my sweet tooth enough, it was time for a different kind of treat: a massage at the AWAY Spa. An oasis in the sizzling heat, I understood now why this place was called W Retreat. The treatment melted away all the tension and stress of the outside world and left me feeling unbelievably relaxed.
I had planned to head out and explore that evening, but the prospect of climbing into my giant bathtub, wrapping myself up in a fluffy robe and watching a DVD chosen from the menu in my room was more appealing. Lying in bed with a glass of wine and a rom-com, this was exactly the kind of retreat I wanted.
Having not known what to expect before I arrived, it was clear that the W Retreat really does cater to every guest's needs, be that healthy food and relaxation, or indulgence and celebrations – or something in between. Looking at myself in the mirror the next day, I realised that I too was emitting that glow I'd noticed in the other guests previously. And with that, I reached for another muffin at the breakfast buffet – for medicinal purposes, of course…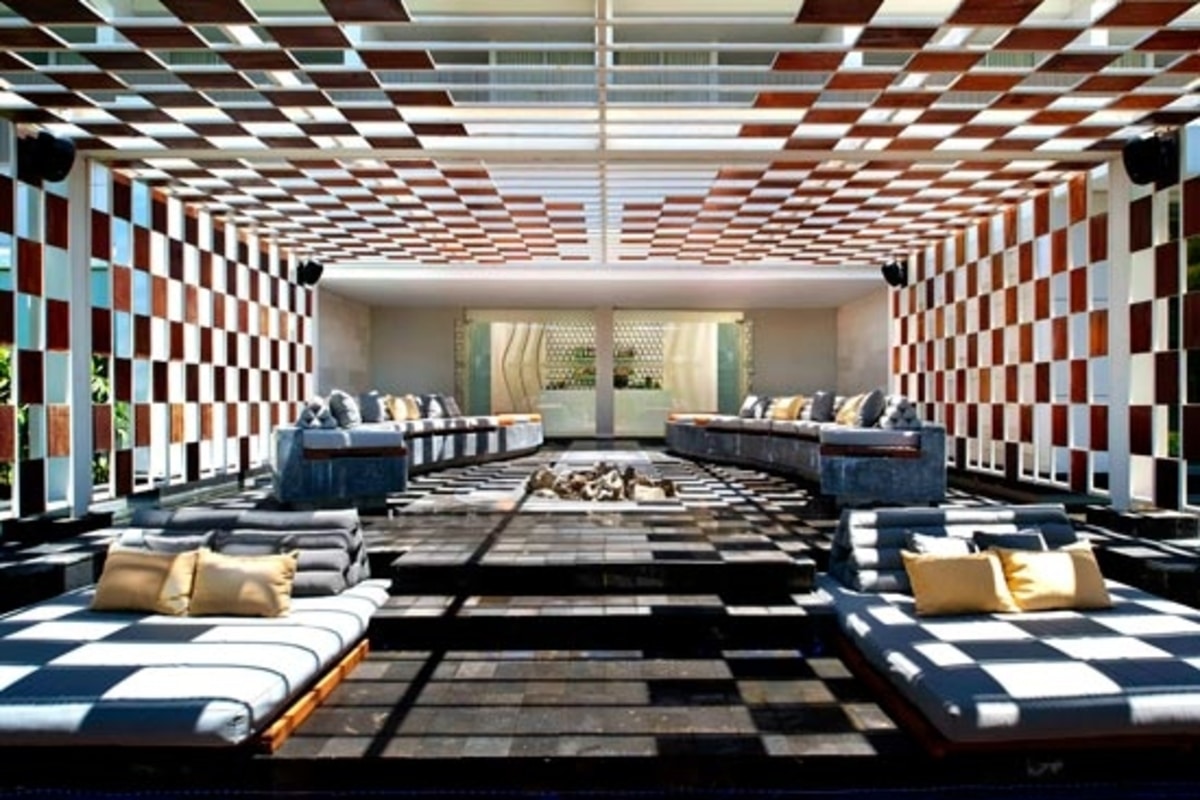 Photo: Chill Bar at AWAY Spa, W Retreat
Rooms at W Retreat start at $360 per night.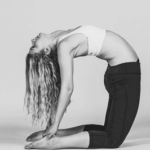 After graduating from Cambridge University with a triple First, Rosie decided to pursue a career in the fitness industry rather than follow the traditional path of her peers in investment banking. Unable to shake off the fast-paced routine she developed in her City job, she achieves balance by winding down in yoga sessions, escaping on fitness retreats, and going for extended brunches that somehow seem to wind up in a hidden gem of a cocktail bar.