Want to learn some self-confidence tips from the first woman to win an Olympic boxing title? Nicola Adams OBE, brand ambassador for E45 skincare, discusses the pressures women face today and how to overcome them. Be prepared, she's going to give it to you straight…
In terms of your career, do you think there are things you have learnt as a boxer that give you a more 'Straight Up' approach in day-to day life?
"Definitely! Boxing has not only helped me to be more focused in day-to-day life, I believe it really has built my confidence, both in and out of the boxing ring. Boxing has also given me the confidence to speak my mind and not be scared of having an opinion. Ultimately, it's taught me a lot about being true to myself."
What do you wish more people were Straight Up about?
"It's worrying in a way to learn that a quarter of British women (from the E45 'Straight Up Skincare' survey stats) ultimately don't feel happy in their skin and wish they could look and feel better.
"I wish women were more confident in their own skin and be proud of who they are.
"People need to be more 'straight up' about how they're feeling and not be afraid to say the truth!
"This is even true of boxing. I think more females should get involved. It really has built my confidence as a female. If it's something you want to try but are too nervous, round up some friends to go along with you and just focus on having a good time. It's great for fitness and a good total-body work out."
What do you think is the biggest pressure placed on women today?
"I definitely think mixed messaging adds a huge amount of pressure to women these days, as you never know what piece of advice to follow because magazines, the internet, social media – they can all say conflicting things!
"I've experienced this – you'll read a magazine one-day and it offers advice and then you'll open another magazine another day and it will be telling you something different, or something conflicting. It's no wonder that females can feel confused."
What is the biggest tip for women when it comes to growing your own self-confidence?
"I'm lucky that I do have a sense of self-confidence however I would say this is a result of surrounding myself with good people. My mum and my younger brother are my perfect example of this advice; not only are they always cheering me on but they are my biggest supporters and have been since day one.
"Therefore I think for females it's really important to surround yourself with people you love that you know only want the best for you. Being around inspiring people is also a great foundation when it comes to building your own self-belief."
Who is your go-to person when you're looking for the best advice? Who do you trust most to give you the best advice?
"My mum is definitely the number one person I turn to when I need the best advice. She is always there for me to turn to and the good thing is, she's never afraid to be honest. Even when I might not always want to hear it, she's tells me exactly how it is and what she thinks!"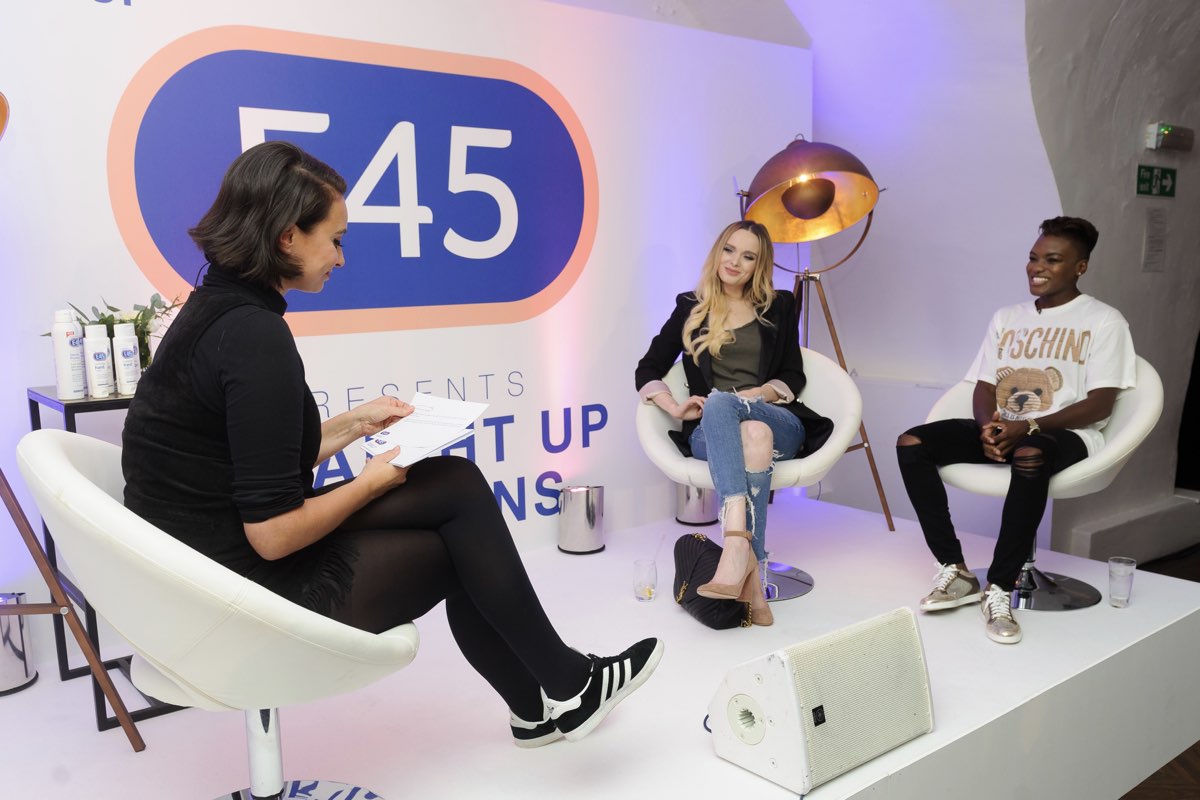 Being an athlete, what's your best tip to looking after your skin?
"My best tip to take good care of my skin, especially as a professional athlete, is to definitely moisturise. My skin goes through some much – I can lose a lot of moisture through sweating it out during training and in the gym. It's really important that you look after your skin by keeping it well moisturised.
"What's more, I've learned now that a balanced diet with lots of green vegetables is a great way to give your skin a healthy boost. It's great to have a cheat day but diet is really important to help with your skincare too."
Which top beauty products can you not live without and why?
1. E45 Body Lotion – it's been a staple in my routine for as long as I can remember.
2. Becca Foundation – it's always in my make up bag.
3. Mac Lipstick – It's a favourite that I like to pick up when I want to dress up.
4. Mizani Hair products – I love all their products. I especially like their hair oils that keep my hair in good condition.
What's your everyday skincare routine?
"I really like to keep things uncomplicated and fuss-free. I just don't have the time to use lots of lotions and products on my skin.
"I like to moisturise as I get ready, throw E45 in my gym bag and get on with my day. I also like to moisturise throughout the day, especially when I'm training or before I get in the ring as my skin can feel a little dry at times."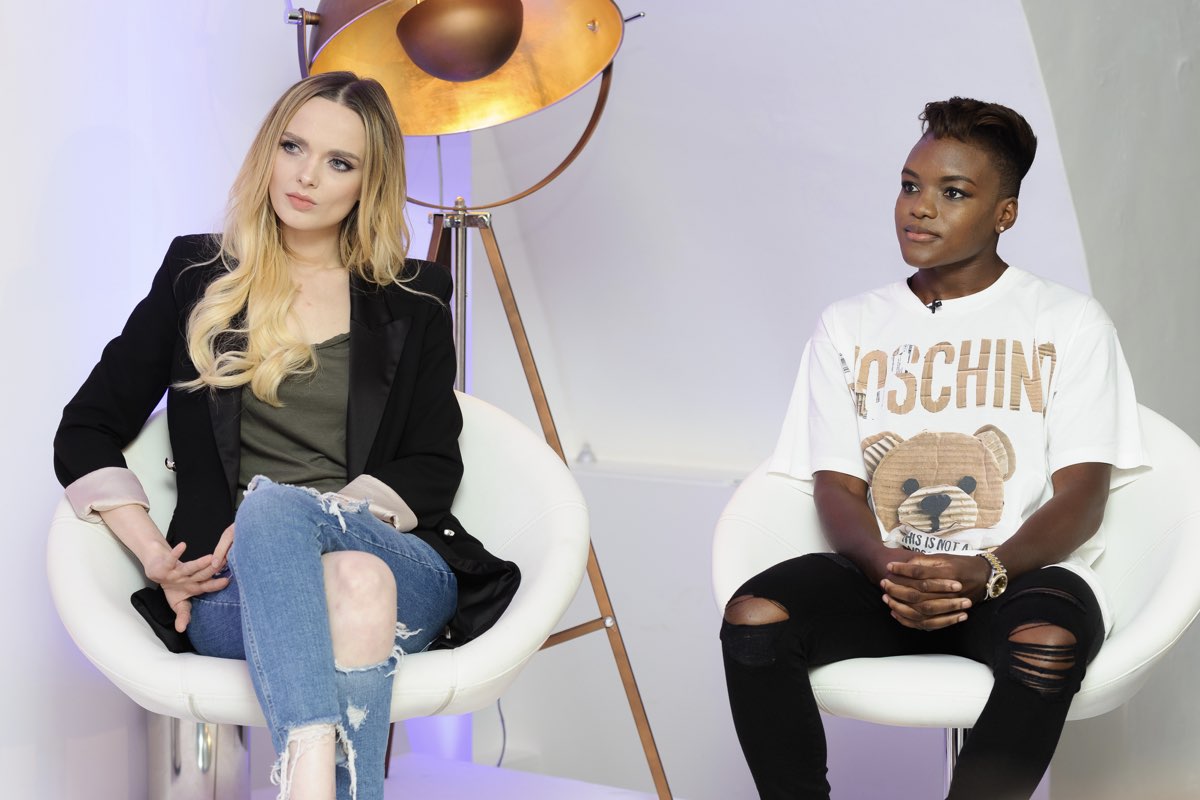 How does being a boxer affect your skin?
"My skin definitely does feel the effects of boxing as it loses a lot of moisture from my daily training.
"I always try to combat this by moisturising before I get into the ring, or start training, so I can make sure it is always in top shape. When my skin looks good, it makes me feel good."
Professional boxer Nicola Adams OBE recently joined chef and writer Gizzi Erskine, and beauty vlogger and influencer Em Ford at an event in London to share their lives and learnings.
The event was organised off the back of recently commissioned research that found that 81% of women feel completely confused and bombarded on a daily basis by conflicting health and wellbeing messages. The event was organised to celebrate E45's new Straight Up Skincare campaign, as they offer customers no fuss, uncomplicated advice, allowing women everywhere to focus on living their lives.
To buy the product visit boots.com for more information
Hettie is the editor and co-founder of DOSE. A keen runner, she's also partial to a blast of high-intensity and hot yoga. A country girl at heart, she divides her time between London and the lush rolling hills of North Devon. When she's not jetting off on her next adventure, Hettie can be found in a candle-lit alcove with a laptop, a spaniel and a full bodied Malbec.