With another heatwave on the horizon, we will no doubt be pouring into our favourite green spaces for picnics and outdoor fun. But in the pursuit of healthier, hangover free living, we'll be swapping our calorie-laden wine for seltzers and carb-loaded snacks for a protein ball or three (get 20% off yours with Swisse Me using the code 'PROTEINDOSE' at the checkout). And what better way to make the most of the sunny weather than with a social distance sports day. We're getting nostalgic just thinking about it. Here are our top 5 challenges…
Social distance sports day: 5 challenges
Egg and Spoon race
A social distance sports day isn't complete without an egg and spoon race. The goal is simple. Participants must balance an egg upon a spoon and race with it to the finishing line. If the egg falls, the player must start again – hence why it's best to play with hardboiled eggs. Or to save you the hassle, swap with protein balls. Skills required: Coordination and balance.
Hula hoop challenge
Hula hooping is an art form, which is never more evident than when it's performed by hoop masters such as Marawa the Amazing. Not to mention it's a great abdominal workout. Whoever can twirl the hula hoop around their waist for the longest time wins! To make the game even more interesting, set players a challenge where they have to answer a quiz whilst performing the challenge. See example here with Jessica Ennis-Hill. Skills required: Coordination and core strength.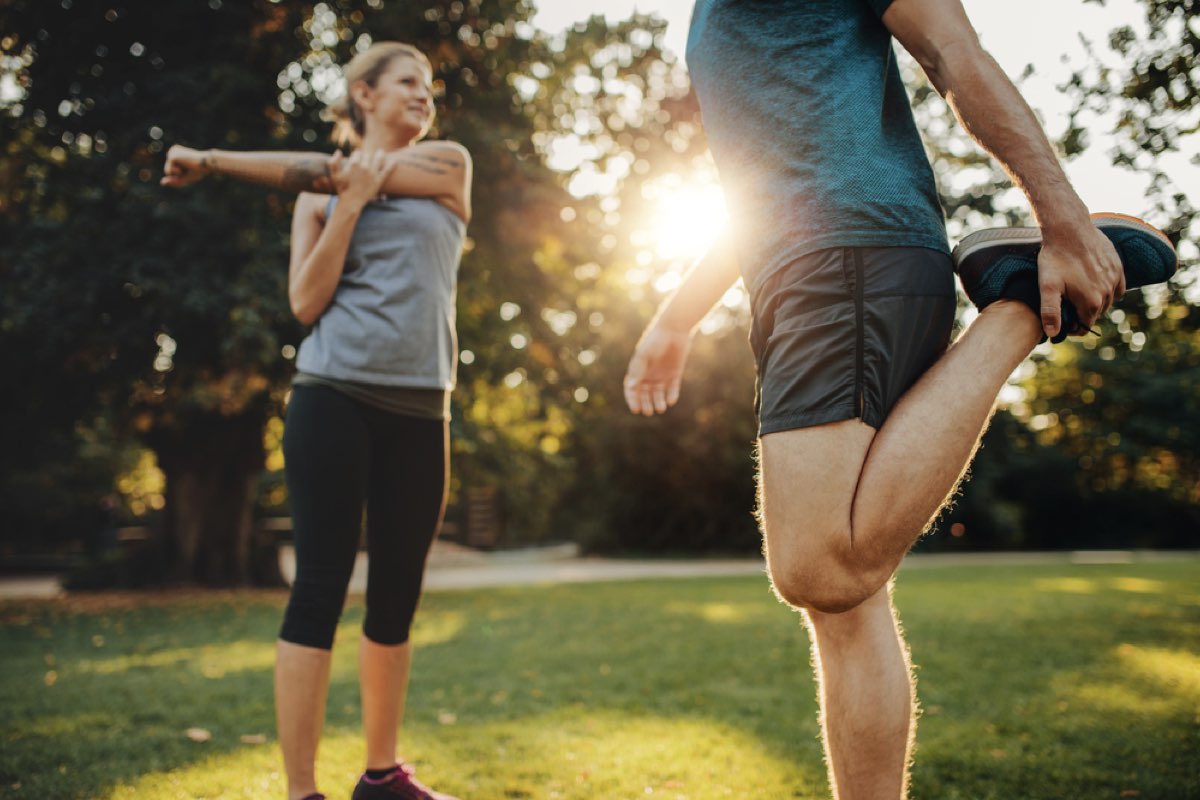 Social distance sports day – Running Relay
A running competition where team members take turns completing parts of a racecourse. The first runner passes on a baton (or use a water bottle if you don't have one handy) to the next runner, while both are running in a marked exchange zone. Team members cover equal distances so you'll have to map out a course in your local park beforehand. Skills required: Speed and endurance (depending how long the relay is).
Social distance sports day – Tug of War
A sport that pits two teams against each other in a test of pure, brute strength. Teams pull on opposite ends of a rope, with the goal being to bring the rope a certain distance in one direction against the force of the opposing team's pull. The strongest team wins! Skills required: Strength.
Social distance sports day – 100m sprint
Channel your inner Usain Bolt with a 100m sprint. Whoever crosses the finish line first wins – simple. Skills required: Speed.
Social distance sports day: fuel with protein
As tempting as it may be to guzzle booze in the sunshine and indulge on sugary, carb-loaded snacks, it will do nothing for your sports day performance – and we want to take this seriously, right? Protein is important in sports performance as it can boost glycogen storage, reduce muscle soreness and promote muscle repair and can be seriously tasty if you choose the right brand.
Swisse Me have recently launched a range of protein balls in delicious flavours such as cinnamon and almond, cacao hazelnut, raspberry chia and matcha cacao. A welcome addition to your summer sports day picnic. Fitness influencers Katie Gray and Nathália Grisard talk to us about how they include protein in their diet, how they can tell when they haven't have enough and how they'll be fuelling their summer sports days…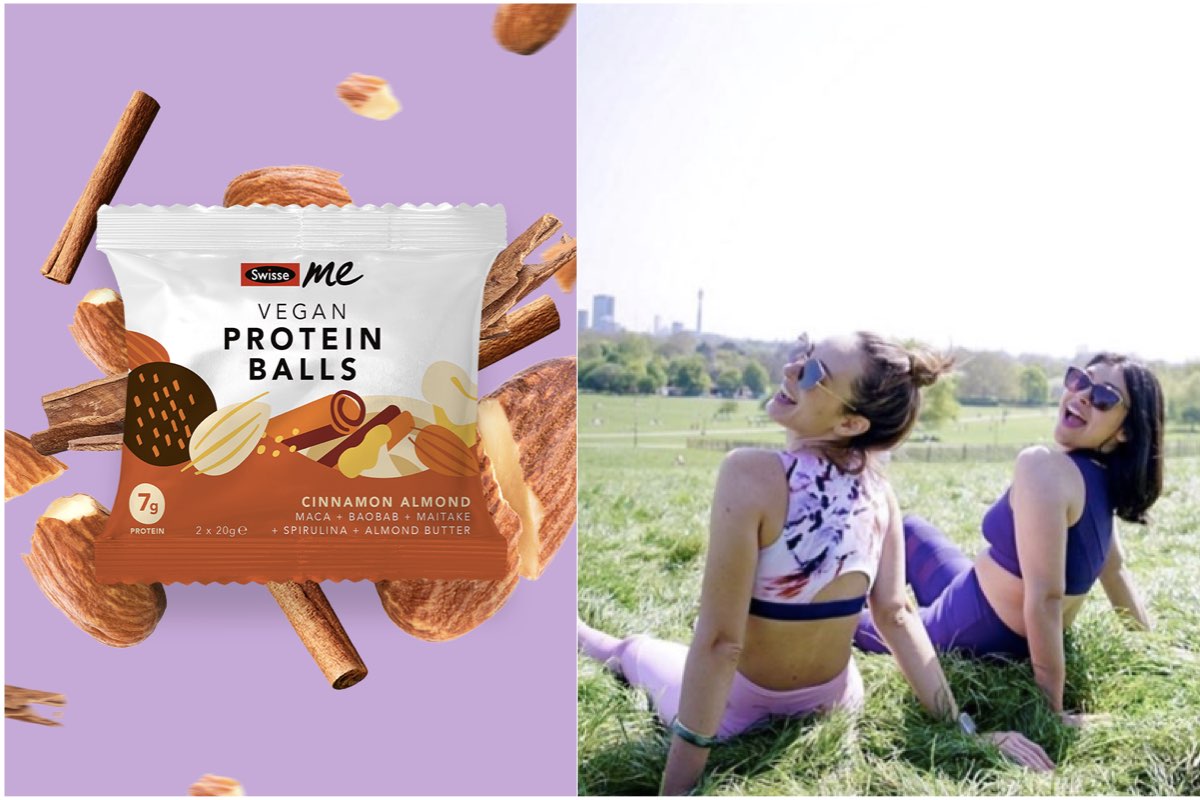 How do you currently include protein in your diet?
Katie: I try and make sure that I get enough protein in my 3 meals and snacks. I tend to have porridge or a smoothie in the morning, which I supercharge with some vegan protein powder (I'm dairy free so whey upsets my stomach). Swisse Me Vegan Protein Powders for mind and body are great. They're fortified with vitamins and live cultures too and have natural flavours, no added sugar plus the packaging is recyclable.
Snacks tend to be a handful of nuts, apple with peanut butter or oatcakes and hummus – all good sources of protein there. If I go meat-free for lunch and dinner, I make sure that I've got some high protein alternatives such as, eggs, chickpeas or quinoa. And if I go for meat I'll always make sure it's organic.
Nathália: I am very active between the walks with my dogs, running my own business and working out twice a day so protein is incredibly important to me. I fuel myself with vegan protein shakes twice a day and pack in the protein with nuts and grains in every meal.
How can you tell if your body hasn't had enough protein?
Katie: I can usually tell if I'm feeling more tired than usual. Or if my nails start to look a bit brittle and flakey.
Nathália: Learning to listen to your body is the best skill you can develop. Your body will cue you with hunger, dizziness, mood swings and dehydration if it hasn't had enough macronutrients in a day! When I miss out on protein, I feel so hangry that my husband even has a name for me, "Marvin"
What outdoor sports do you enjoy the most?
Katie: Now that we can go out on the tennis courts, I'll be challenging my fiancé to a few games. I haven't played for a while, so I reckon I'll be a bit rusty! Especially on that serve.
Nathália: I am a huge fan of yoga though that was not always the case. I grew up having to stretch several times a day as I had issues with my knees and my lower back when I was younger and took yoga lessons as a child, which I told my mum I would never do again. Fast forward 14 years and here I am rediscovering a whole new universe of being zen upside down. I love yoga during warm days as there is so much you can play with – breathing to cool down, strengthening and building endurance, whilst also also working on the mind! It's always a bonus if I am able to do it outside in the sunshine!

What protein snacks will you be taking with you to fuel your energy?
Katie: I am a real fan of Swisse Me Vegan Protein Balls, which are packed with digestive enzymes, fibre and contain superfood.
Nathália: I have recently discovered the Swisse Me protein balls – they were a gift from a friend, as she thought I would love the cinnamon flavour and she certainly wasn't wrong! I have since tried them all and they have instantly become part of my routine. They are perfectly packed with fats, carbs and a healthy amount of protein and I put them in my bag when I am on the go!
What's the event that you would always win on sports day?
Katie: I was incredibly sporty as a kid, so I pretty much entered everything! I even won the victor ludorum in my last year at school. But my strongest events would always be the 100m sprint and high jump.
Nathália: I am extra competitive and have always poured my heart into any challenge. Despite not enjoying long runs, sprinting is probably where I would excel – it is enough of a challenge so I can expend all my energy in one go for the win but also short enough that I don't run out of breath!
Get 20% off protein products at Swisse Me using the code 'PROTEINDOSE' at the checkout.
Main image: Shuttershock
This is a partnership feature with Swisse Me
Get your weekly DOSE fix here: SIGN UP FOR OUR NEWSLETTER