Bored of bog standard Brussel sprouts? Fancy turning your minced pies into porridge? Spice up your Christmas cooking with these mouth watering recipes from culinary goddess Mira Manek, known for her traditional Indian cooking with a healthy twist…
Curried Brussels Sprouts & Cavolo Nero salad
Here's a new slightly spiced and super easy to make Brussels sprouts recipe. I've used the warming blend of spices called garam masala which you can find anywhere – and it's such a wonderful blend to have in your cupboard!
I also love the texture of cavolo nero and love using it at this time of year… so, with the cranberries, walnuts and coconut flakes, there's enough going on but not too much!
150g, around 10 brussels sprouts
120g, around 10-12 stalks cavolo nero
1 teaspoon oil
1 teaspoon cumin seeds
1 teaspoon ginger, garlic, chilli paste (or just grate 1 clove garlic and a little ginger)
3 tablespoons sesame seeds
2 teaspoons garam masala
Pinch turmeric
¼ teaspoon salt
2 tablespoons coconut flakes, or freshly grated coconut
Handful cranberries
Handful walnuts, preferably a little roasted/ toasted*
Juice of ¼ lime
½ avocado, optional
Start by slicing the Brussels sprouts in thin slices and the cavolo nero in 1-2 inch pieces. Now heat the cumin seeds in the oil in a medium pan on low heat and when the cumin seeds are a darker shade of brown, add the ginger, garlic and chilli. Stir this for 30 seconds or so before adding the sesame seeds.
Let them become toasted and brown (another 30 seconds) and then add in the Brussels sprouts, cavolo nero and garam masala. Stir together well and let this cook for around 5 minutes on low to medium heat, then add salt, coconut flakes, cranberries and walnuts.
Toss together and cook for another 5 minutes to ensure it is well cooked. Serve and garnish with a little more cranberries and coconut flakes if you like. If having as a dish on its own, add a few avocado slices to the dish to make it additionally filling and give it that added creaminess.
(You can easily and very quickly toss these in a small pan in advance for a few minutes so they become crisp and a little more brown)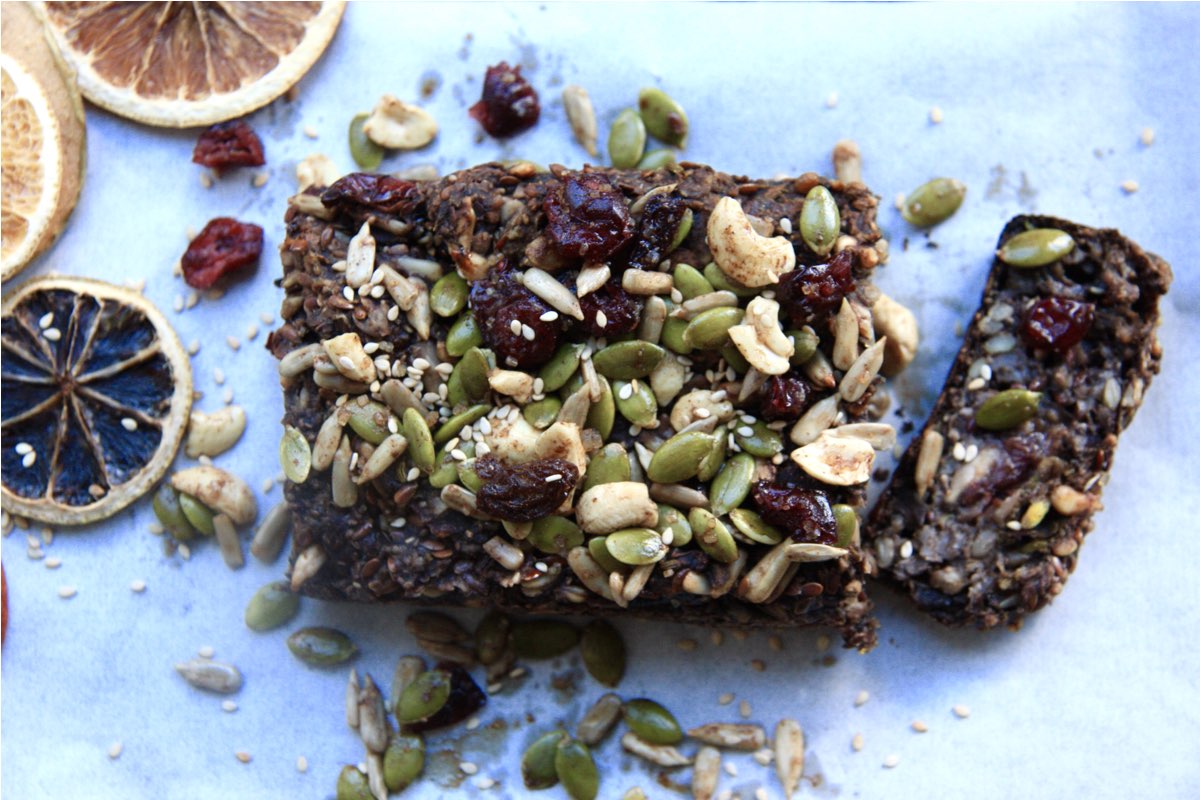 Spiced nut roast
I finally tried to come up with a nut roast recipe and it really is just the tastiest thing, only it's more seeds than nuts, which is great (easier to digest, but still so much crunch) and has a warming earthy blend of mushrooms and masala. I've served it at two events and it was ALL eaten!
I've taken inspiration from various places including a wonderful life-changing bread from mynewroots, hence the psyllium husk which really binds this loaf. Yes Christmas is about indulgence, and this taste plenty indulgent with all the flavour and spice and crunch, but it's just a tiny bit lighter.
Makes 1 loaf
120g sunflower seeds
80g flax seeds
50g almonds or any nuts, broken
150g oats, can use gluten-free oats
2 tablespoons chia seeds
3-4 tablespoons psyllium seed husks (can also use husk powder)
1 teaspoon salt
1 tablespoon maple syrup or agave
3 tablespoons melted coconut oil
600ml water
Mushroom mix
1 teaspoon oil
1 teaspoon cumin seeds
2 teaspoons fennel seeds
3 cloves garlic, grated
½ green chilli, finely chopped, optional
1 stalk of rosemary finely chopped, optional
4-5 medium mushrooms, roughly chopped, small cubes
1/4 courgette, grated, optional
2 teaspoons garam masala
1½ teaspoon salt
3 tablespoons dried cranberries
Garnishings
Maple chilli seeds from Saffron Soul cookbook*
Handful cranberries
*If you don't have maple chilli seeds, toss together in a pan 1 tablespoon each of sunflower seeds, pumpkin seeds, cashews, sesame seeds, a teaspoon of coconut oil and 2 teaspoons of maple syrup or other sweetener for 5-10 minutes with some salt and sprinkle of chilli flakes if you wish.
Combine all the dry ingredients for the loaf in a mixing bowl. Melt the coconut oil (if solid) and stir in the maple syrup (or agave) and water. Stir this into the dry ingredients and mix well until the dough becomes quite thick. Leave this to one side for at least an hour or leave out overnight.
Make the mushroom mix before you bake the loaf (or you can make it anytime). Start by heating the cumin seeds and fennel seeds in a little oil in a medium pan, let them turn brown (around a minute) then add the grated garlic, green chilli and rosemary, if using. Now add in the mushrooms, courgette, cranberries, garam masala and salt. Stir together well and mix this mushroom mix into the loaf mixture.
The consistency should be thick but stirrable (it should not be solid e.g. If you have let the loaf mixture sit out all night it may have solidified, in which case you should heat and soften in the microwave or stove). Now grease your loaf tin with a little oil or butter (so that the bread doesn't stick to the pan) and lay the mix into the loaf tin. Smooth out the top with the back of a spoon.
Preheat oven to Gas Mark 4 or 180° C. Place the loaf in the oven for around 30 minutes, then remove from the oven, take the loaf out from the tin straight onto a tray or baking paper. Place the loaf back in the oven, now upside down, and let it cook for another 15 minutes. Remove from the oven and leave to cool before slicing.
Be careful when slicing, trying not to make the loaf crumble. Sprinkle over with maple chilli seeds and cranberries, or roasted nuts and seeds.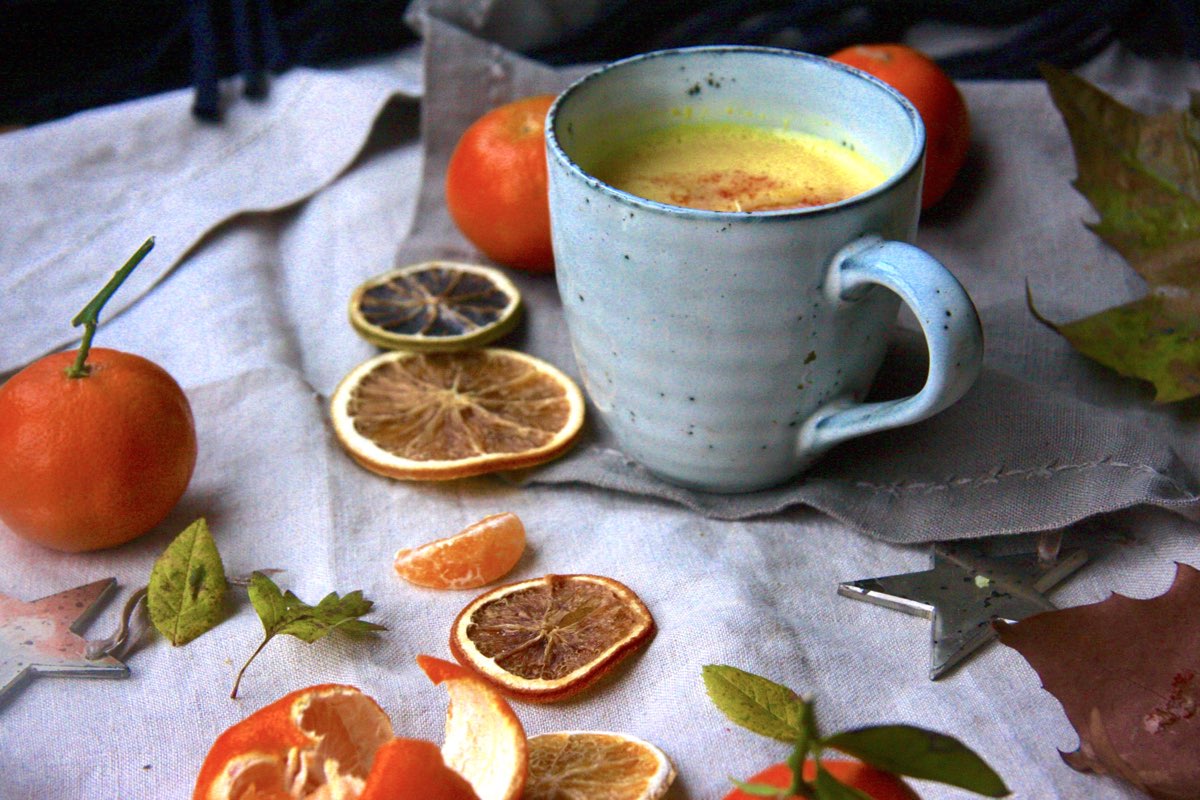 Healing winter Vit C blend
This healing concoction is so easy and so loving! It's great for a burst of vitamin C we all need at this time of year, a pinch of powerful turmeric, some fiery ginger and then touch of manuka honey if you like. Blending it together makes it wonderfully frothy, the extra pulp makes it more substantial and just means it all mixes together really well! Gulp and sip all day long!
1 satsuma
½ orange squeezed
150 ml hot water
¼ teaspoon turmeric powder
1 inch piece ginger grated
1 teaspoon manuka honey, optional
Sprinkle of salt
Blend these together in a high speed blender. Alternatively, if using cold water, you can boil this in a pan after blending. Add the honey after tasting for sweetness. Sprinkle with a little cinnamon and pinch of cayenne pepper.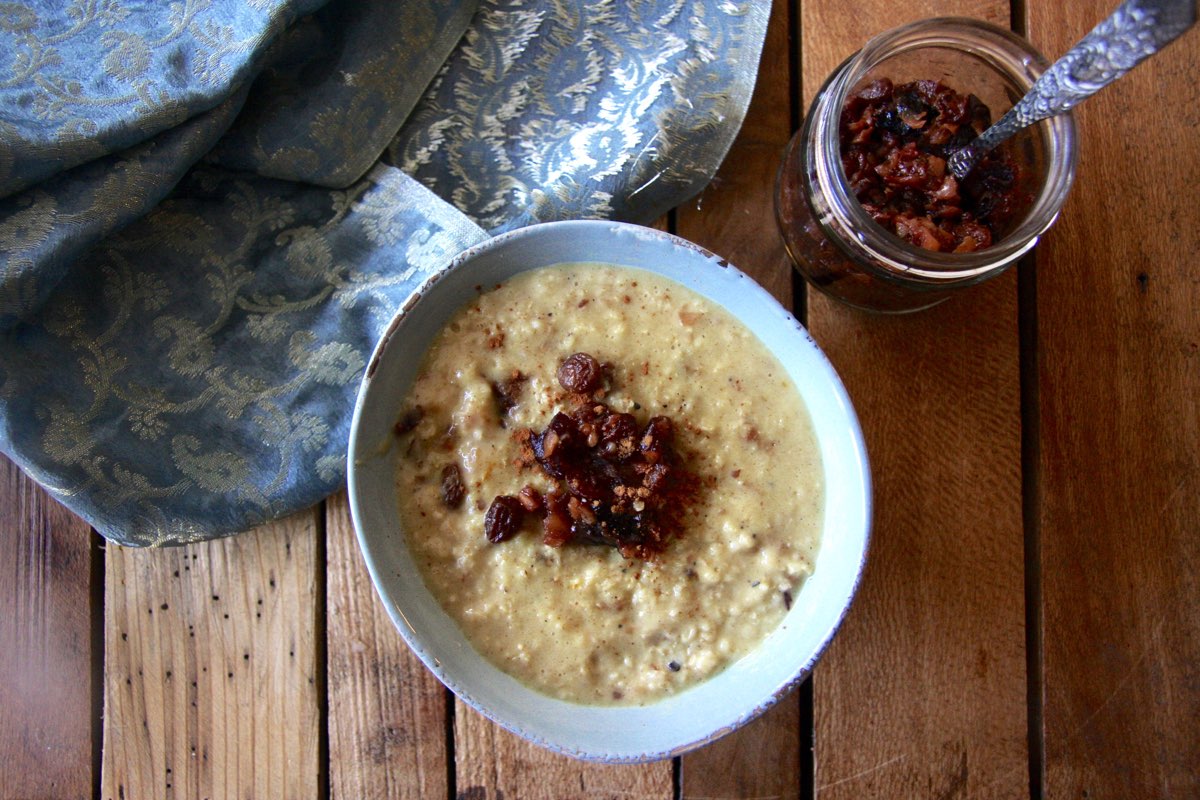 Mince Pie Porridge: Christmas in a bowl
This will literally bring your morning bowl to life with an abundance of christmassy flavour! Make this in advance, keep a jar in the fridge and use a spoon or two daily. It will last over a week. I quite love this as a hearty dessert too!
½ teaspoon coconut oil
2-3 peeled apples
100g prunes, chopped,
100g sultanas
80g cranberries
Juice of 1 orange
Jui ce of ½ lime
Some orange and lime zest
1 teaspoon cinnamon
¼ teaspoon nutmeg
1-2 inches piece ginger grated or juiced
Melt the coconut oil in a saucepan then place the chopped apples in the saucepan and stir. Squeeze the orange and lime and grate some of the orange and lime zest into the pan. Stir and let the apples cook for around five minutes, then add the rest of the ingredients and keep stirring.
Let this cook on low heat for a few more minutes, then let it cool down and fill in a jar. Leave in fridge once completely cooled. Add a tablespoon to a bowl of porridge while cooking the porridge or on top of the porridge once cooked.
Spiced sweet potato & kale salad with tandoori spices
This salad, with its warming and flavourful tandoori spices and heartiness from the sweet potato, works wonderfully for all seasons. It is lightly filling and yet it's a salad. I'm always amazed by how different a salad with the very same ingredients can taste by just altering the spices and dressings and flavours.
This one has a light Indian twist – of course! It's got a kick but not too much. A little of the Tandoori Spice Marinade (I use the one by Patak's) goes a long way, so it's definitely worth getting a bottle of this! I also really massaged the dressing into the kale leaves which adds a whole lot of flavour to the kale and make it a little easier to chew.
Lastly, the crunch from the flaked almonds for that necessary contrast of texture… but you can just as easily add some pumpkin seeds, any other seeds (my favourite seeds mix is the maple chilli seeds recipe from my cookbook Saffron Soul), or even some roasted cashews.
80g, 3 handfuls of kale
1 red pepper
1 small courgette, cut into julienne strips
handful cherry tomatoes, halved
1 spring onion, chopped
For the sweet potato cubes
350g sweet potato cubes
1 tablespoon tandoori masala
2-3 tablespoons yoghurt (for a vegan option, use tahini and water down a little)
sprinkle of salt
For the dressing
4 tablespoons tahini
1 teaspoons paprika
¼ teaspoon salt
1 teaspoon agave
pinch of red chilli powder
juice of half lime
Garnishings
2 tablespoons flaked almonds
1 tablespoon sesame seeds
more tahini to drizzle on top
Optional additions: handful of boiled quinoa or spinach leaves
Start by peeling and chopping the sweet potato into small 1-2cm cubes. Boil or steam for just ten minutes until a little cooked. While they're cooking, mix together the marinade of tandoori spice mix and yoghurt. Once the sweet potato is a little cooked stir in the marinade and taste for spice and salt. Place under the grill for 20-25 minutes until a little chargrilled and cooked.
While these are in the oven, chop up the kale roughly but as small as you can and chop the rest of the vegetables. Prepare the dressing by mixing together the ingredients and massage this into the kale (easiest way to do this is with your hands). You can use a julienne peeler to slice the courgette or can use a spiraliser or a skin peeler.
Once the sweet potatoes are cooked, let them cool down. Arrange everything on a plate or in a bowl, garnishing with the sweet potatoes, almonds, sesame seeds and spring onions. Drizzle some more tahini over the top and sprinkle a little extra paprika.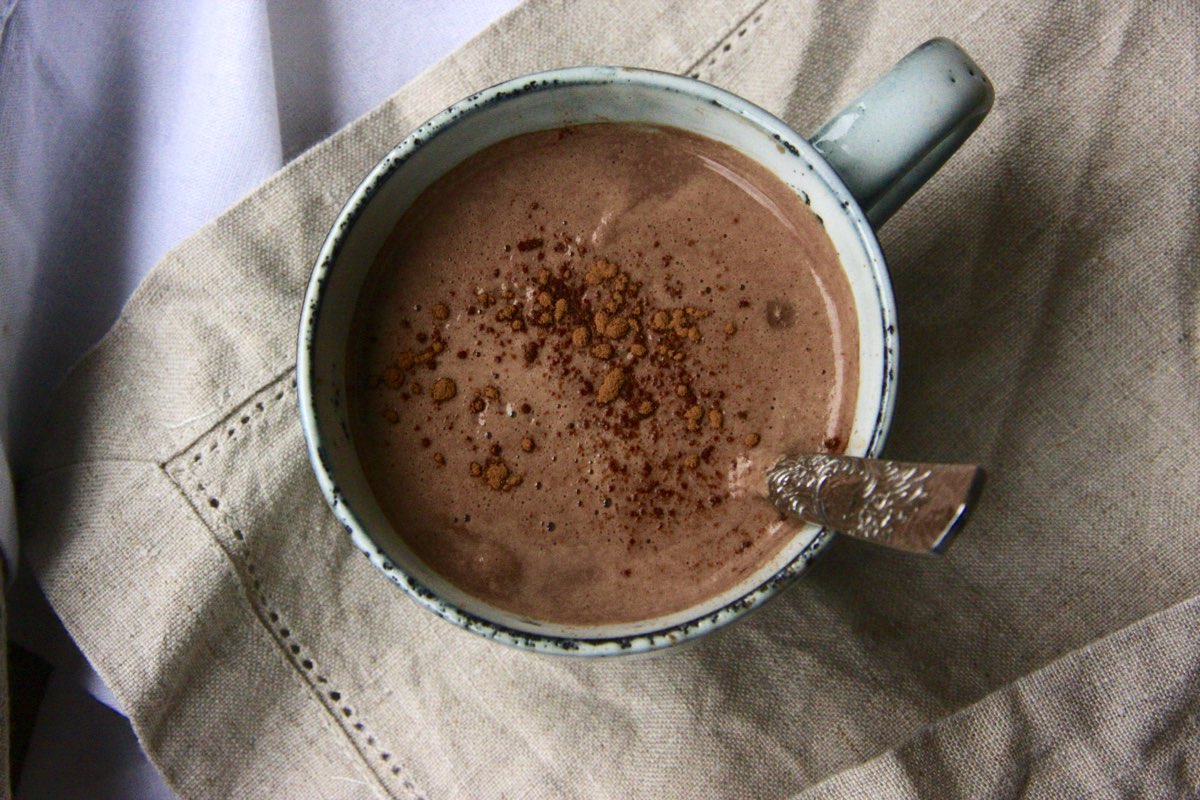 Hot cocoa chai soup
A hearty and warming cup of cocoa that you can slurp from a cup or with a spoon with just enough thickness, a little bite, a gentle crunch and just the perfect amount of spice… just the thing you'll be wanting to curl up with this Christmas, or serve at your dinner party as a dessert.
Enough for 2 cups, bowls
400ml almond milk
1 tablespoon cacao powder
¾ teaspoon cinnamon powder
2 teaspoons grated ginger
few drops or ¼ teaspoon vanilla essence
pinch of saffron, few strands
pinch of black pepper
2-3 tablespoons agave syrup or coconut sugar
1 tablespoon almond butter
½ tablespoon tahini
1 tablespoon chia seeds
Optional garnishing: pumpkin seeds, cranberries, broken roasted hazelnuts and walnuts (or any nuts), fennel seeds
Just stir everything together on low heat for at least 10 minutes so that the spice really melt into the drink. If you don't like chewing the ginger strands, you can just squeeze the juice from the ginger pieces with your hand. Alternatively, use a little ground ginger instead. Taste for sweetness and creaminess and adjust accordingly. Then just pour it into bowls, sprinkle over the garnishing and serve.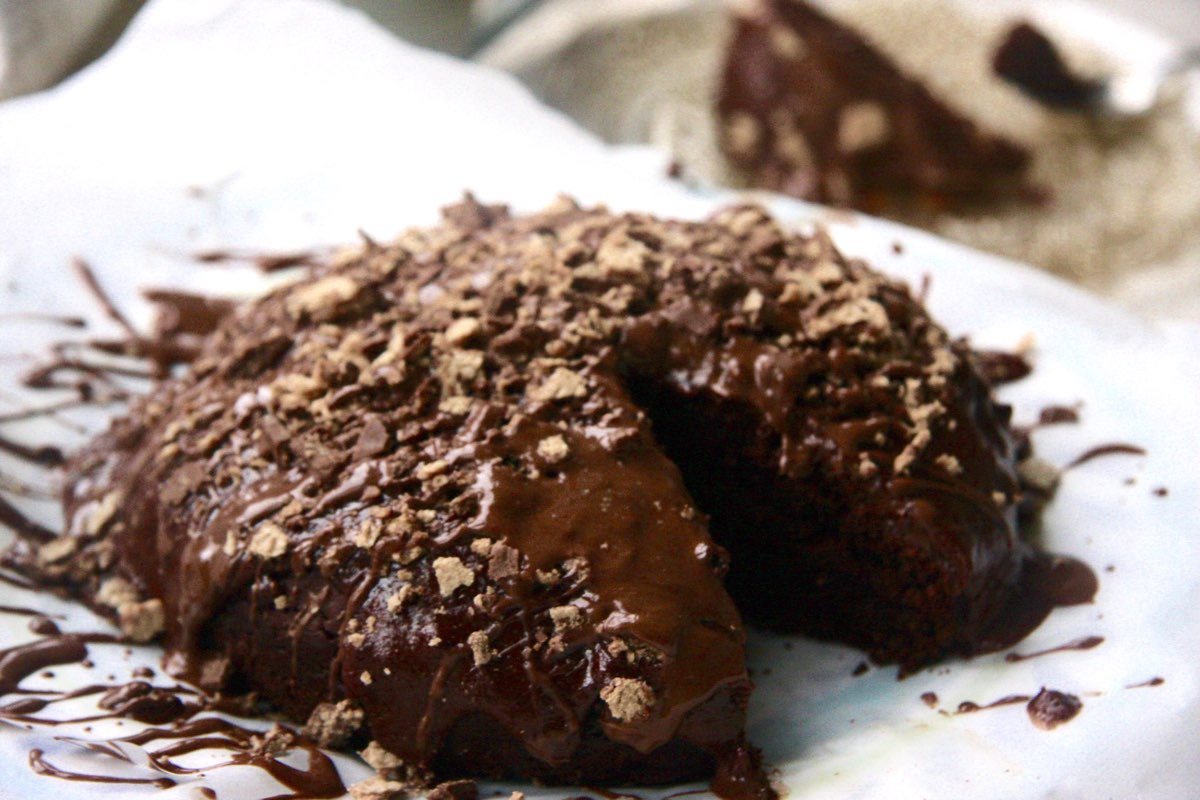 Divine mocha cake with nutmeg and mocha cashew frosting
I do love mocha, so having those flavours combined in a cake – it's so warming and of course energising! This cake is quite the winter treat, especially with the hint of nutmeg. And the frosting – well it's the perfect amount of icing on the cake!
Cake batter mix
20g cocoa powder
150g wholewheat flour
80g coconut or brown sugar
2 tablespoons maple syrup or agave
1 teaspoon soda bicarbonate
1 teaspoon baking powder
½-1 teaspoon nutmeg
1 tablespoon rice vinegar or any vinegar
Warm together in a pan and pour into batter
½ cup coconut oil
150ml warm milk (I use almond or oat but any milk is fine)
2 tablespoons coffee
Cashew frosting
120g cashews soaked for 2 hours or overnight
70g agave nectar (can also use date syrup or maple syrup)
1 tablespoon cocoa powder
Warm together
40g coconut oil
1 tablespoon coffee
Start by soaking the cashews for a few hours (or overnight). When you're ready to make the cake, start by preheating the oven on 160c or gas mark 4 and grease the cake tin with a little coconut oil.
To make the cake, place all the cake ingredients in a large mixing bowl, add the warm blend of coconut oil, almond milk and coffee, and whisk together for 2 minutes, or until well blended. Pour the mixture into the cake tin and level the top. Bake for 35-40 minutes.
While the cake is baking, you can make the cashew frosting. Drain all the water from the cashews and place into a high-speed blender together with agave and cocoa powder.
Warm the coconut oil and coffee in a small pan so that both melt, pour into the blender, and blend together all the ingredients until smooth.
Once the cake it baked, let it cool down before spreading a thick layer of the frosting. Garnish with nuts or coconut flakes – or just lightly sprinkle with cinnamon.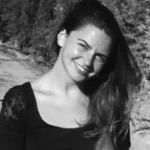 Hettie is the editor and co-founder of DOSE. A keen runner, she's also partial to a blast of high-intensity and hot yoga. A country girl at heart, she divides her time between London and the lush rolling hills of North Devon. When she's not jetting off on her next adventure, Hettie can be found in a candle-lit alcove with a laptop, a spaniel and a full bodied Malbec.