Sophie Everard touches down at the Sublime Comporta Country Retreat & Spa to find out why this decadent, beautifully rustic and chic enclave under an hour from Lisbon is a firm favourite with the capital's jet-set.
A LONG WEEKEND IN "THE HAMPTONS" OF PORTUGAL
With rumours comparing Comporta to Ibiza, Mykonos, even The Hamptons, but in years bygone, I set out to discover Comporta's magic for myself, with a stay at the Sublime Comporta Country Retreat & Spa, a multiple award-winning hotel surreptitiously hidden amongst verdant pine and cork trees. Celebrity fans including Ralph Lauren, Mario Testino and Madonna have long enjoyed clandestine stays in Comporta. Its chilled boho chic is the perfect antidote to the bustle of the Algarve .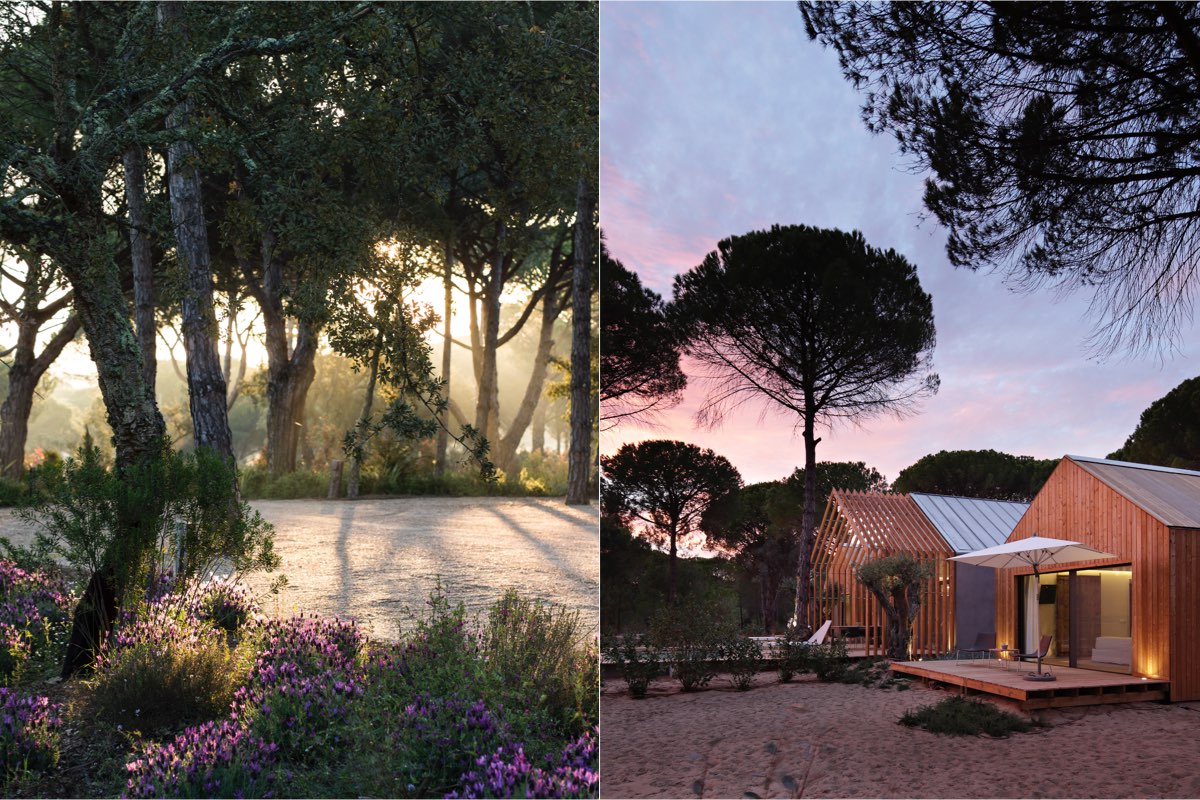 First impressions
After a warm welcome, I was immediately taken in by the impressive, wooden high-ceiling "living room" flanked by its renowned restaurant, Sem Porta. Covid-19 safety precautions are clearly but gently abided by, with all staff in face masks, and sanitisers and masks available. I was handed a warming tea of infusions fresh from the organic garden while my host, Pedro, gave me a whistlestop tour. Sublime has everything from a well-stocked gym, yoga studio, tennis court, multiple restaurants, outdoor and indoor pool and spa, all in an expansive setting, nestled among huge umbrella pines. It's an intoxicating secret garden-esque nirvana, and the immediate sound of swaying trees and bird song set the tone for a stunningly relaxing weekend.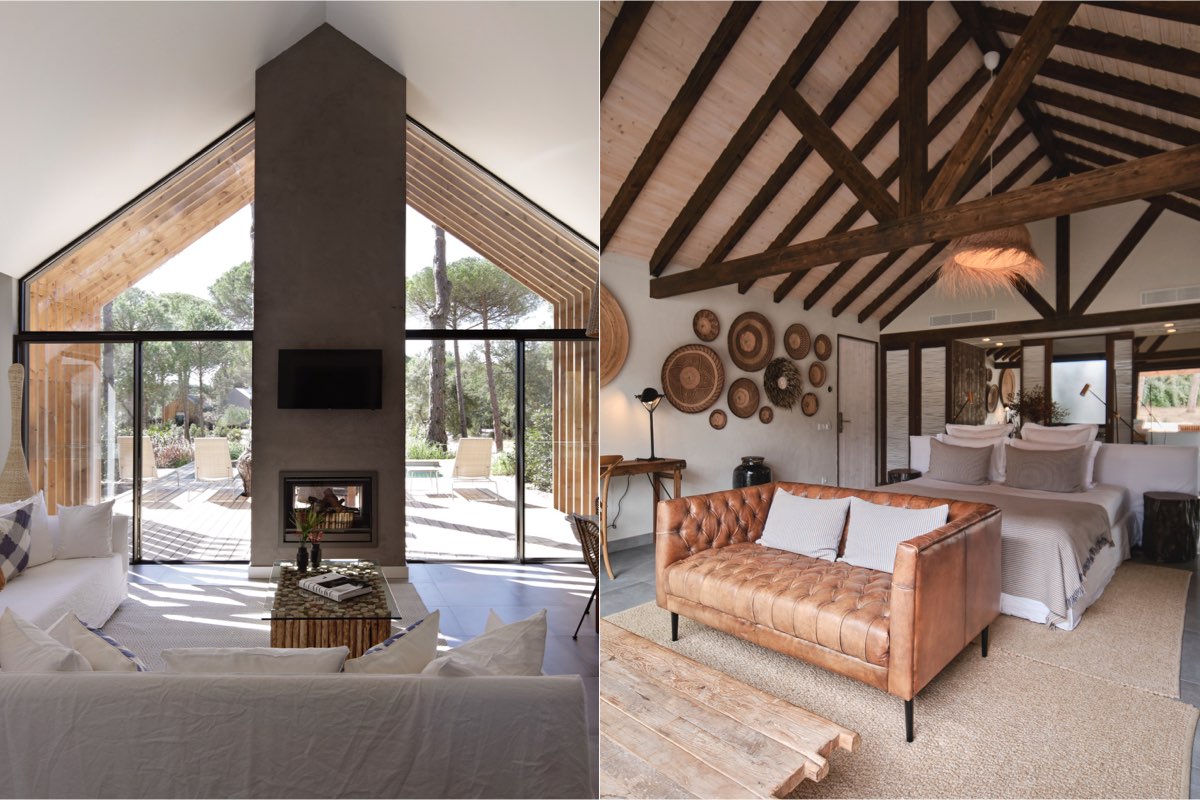 The room
"Comporta style" design and architecture are renowned, and the layout of Sublime, with its multiple rooms, villas and cabanas dotted amongst the grounds, play true to this architecture style. A connection with nature is key to this, and all rooms have floor-to-ceiling windows, and to avoid cutting trees, some of the villas even include trees inside. As of 2019, Sublime Comporta was granted the Biosphere Certification, a certificate given to properties which guarantee an adequate long-term balance between the economic, socio-cultural and environmental dimensions. A great consideration if more sustainable holidaying is at the forefront of your mind when booking a trip.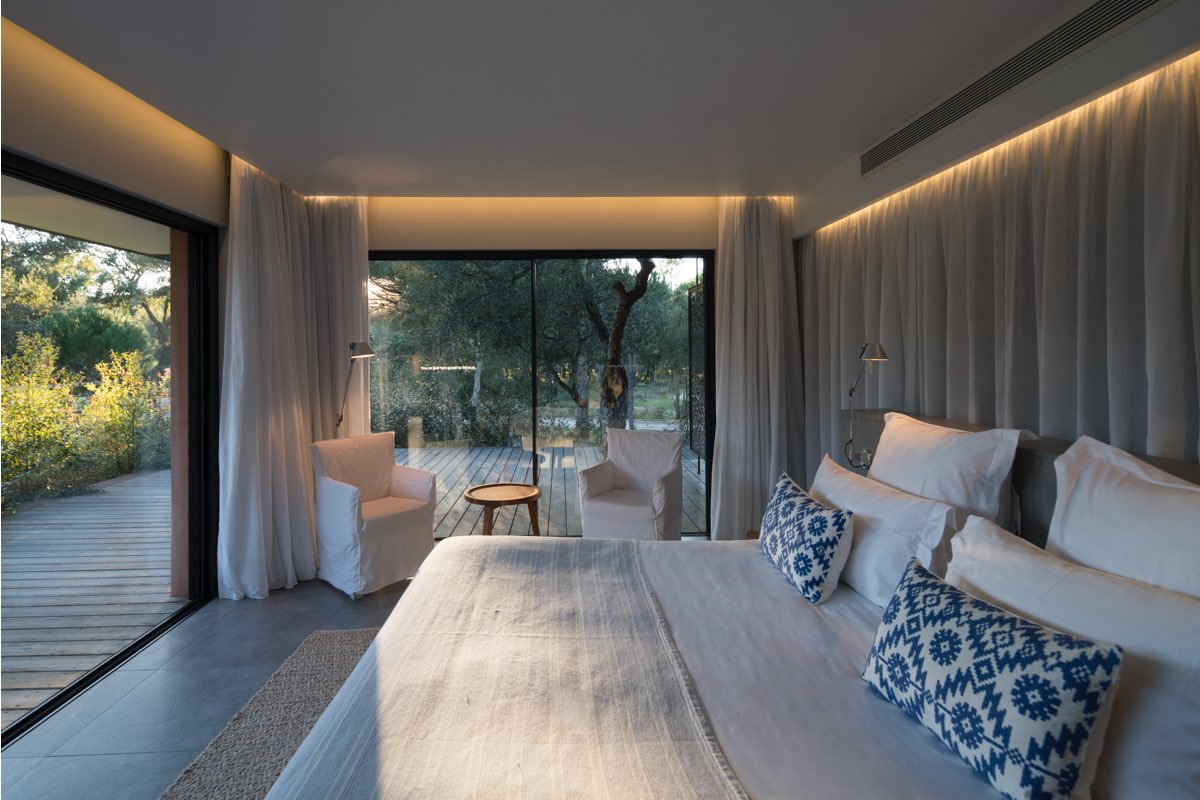 Our room overlooking the outdoor pool was a beautifully designed nest, with large bathtub, fireplace, white, gauzy drawn curtains, expansive balcony, and a well-stocked bathroom with an array of locally made cosmetics, plus a COVID-19 essentials washbag complete with sanitiser and masks.  Two thumbs up  given to the eco-friendly dental kits with bamboo toothbrushes.  If you find yourself in a bio-pool suite room, you'll be bedding down in a stunning suite built on stilts, inspired by the artisanal fishing port of Carrasqueira developed by local fishermen. Perched on the impressive biological swimming pool (one of Europe's largest), all rooms have a private terrace to dive from, and keeping with Sublime's sustainable approach, the water is treated through aquatic plants only, and no chemicals are used.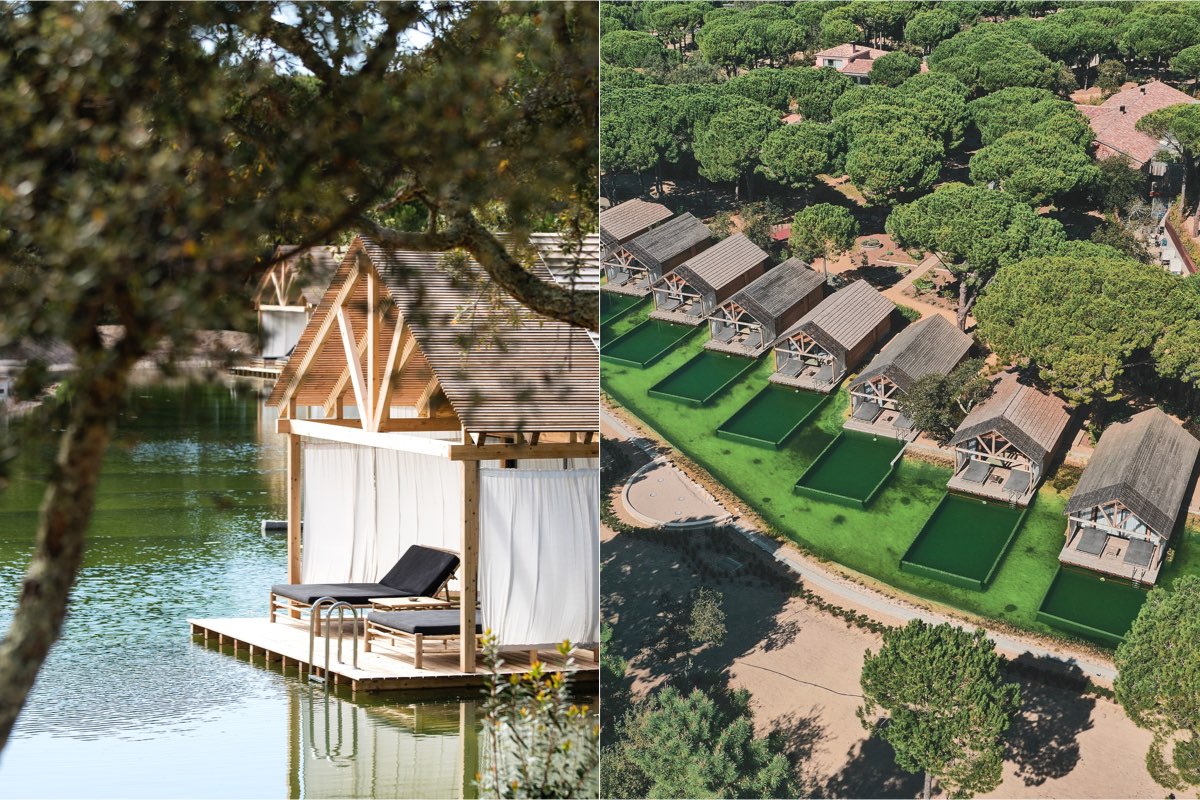 Facilities
Finding a quiet nook, whether cosied-up beneath a lush pine tree, sitting next to crackling log fire inside or out, is easy. The serene spa comes with a heated indoor pool, three treatment rooms, sauna and steam bath (both closed due to COVID-19) plus knowledgeable therapists working with local ingredients including rice, sea salt, freshly harvested whole plants (sustainably cultivated and grown in the organic garden). With limited numbers (5) in the yoga and pilates classes, plus tennis available on site, social distancing plus keeping fit is easily manageable.
Dinner at Sem Porta
The restaurant (and site of breakfast) is a decadent affair. An aperitif in front of the fire with the well-versed bar staff recommending selections from the Sublime wine cellar warmed us up for a remarkable meal at Sem Porta . The focus, as with all facets of Sublime, is on local produce: freshly caught fish, vegetables and herbs from their garden, and local specialities including black pig. After a few tasty amuse-bouche to begin with, a sumptuously divine meal of pork belly, slow-cooked beef rib with bone marrow, black truffle-infused sauce, charred kale, tender stem broccoli and Jerusalem artichoke purée, washed down with more local red wine, made for an indulgent and delicious dinner. The unique flavours and tastes of the region take centre stage at Sem Porta, and with serving staff incredibly knowledgeable, the restaurant is an experience and entity in itself, and unsurprising that diners make the pilgrimage to Sublime just for Sem Porta.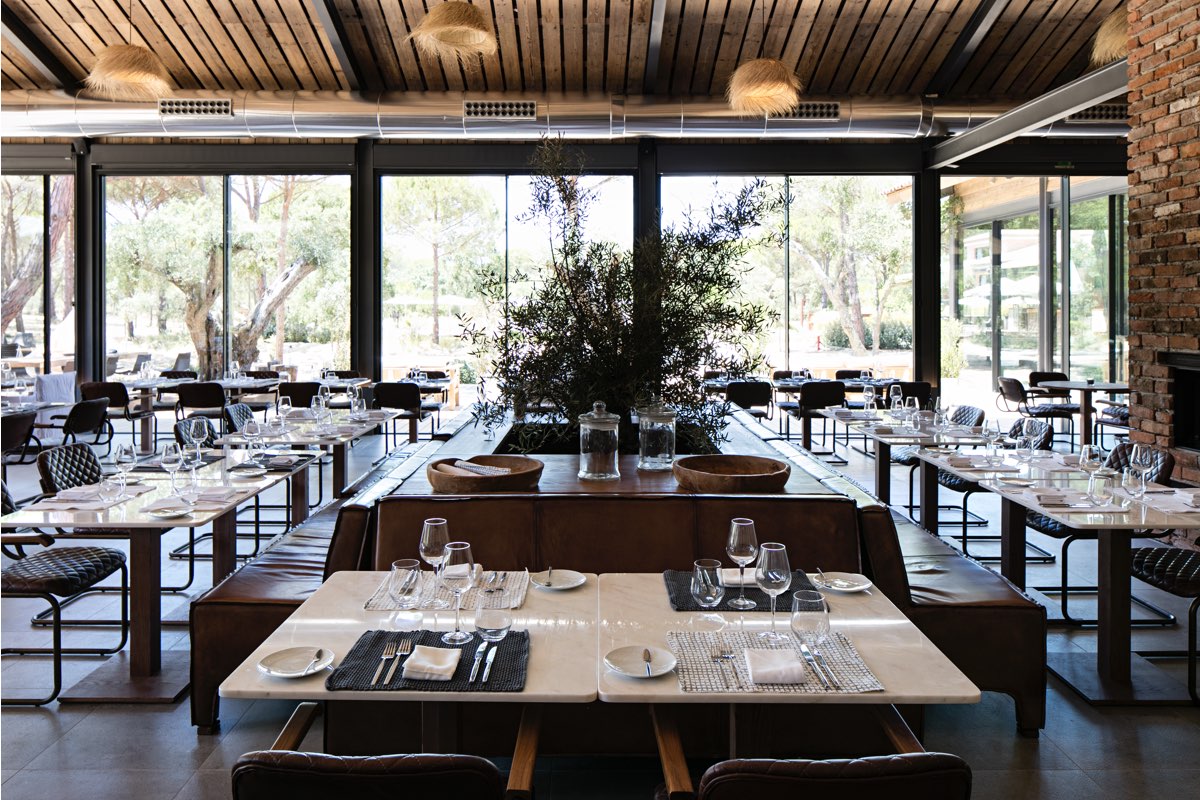 The beaches
With over 60km of pristine white sand beaches, the landscape of Comporta is wholly unique, which makes comparisons to the Hamptons or Ibiza redundant: Comporta has its own DNA and that is clear from the get-go. The Troia Peninsula's natural beauty is incomparable, and Comporta, known for its rice paddies, huge sand dunes and under the radar chic, is one of those rare finds: unspoilt, quiet, with enough space to find your peace. Exactly what I was after. The thatched, Comporta-style architecture is found in the cute beach-shack restaurants nestled up and down the coast, with plenty of delicious eateries to sample local fresh fish and a good glass of rosé under the sun. The crashing waves of the Atlantic make for a beautiful backdrop, and with horseback riding on the beach available, dolphin spotting common and beach picnics an option prepared by Sublime Comporta, a long day on the beach is the ultimate in chill-out.
What to do in Comporta
Luxurious, laidback, boho-cool Comporta town is a perfect stop to wile away a morning or afternoon but be warned: the incredible stores, packed with beach, design and local artisan wares and treats, will have you reaching for your credit card. Favourites including the beach-babe mecca of linen dresses, kimonos and Mayan-style décor Manumaya, and the incredibly stocked Lanvanda with more kaftans, silk slip-dresses, swimwear and espadrilles than you can shake a stick at, will make whittling away hours window shopping easy. Dotted on the road leading out of Comporta, expect outdoor furniture and design stop-offs with well-priced goodies that wouldn't look out of place at an East London high-priced interiors store.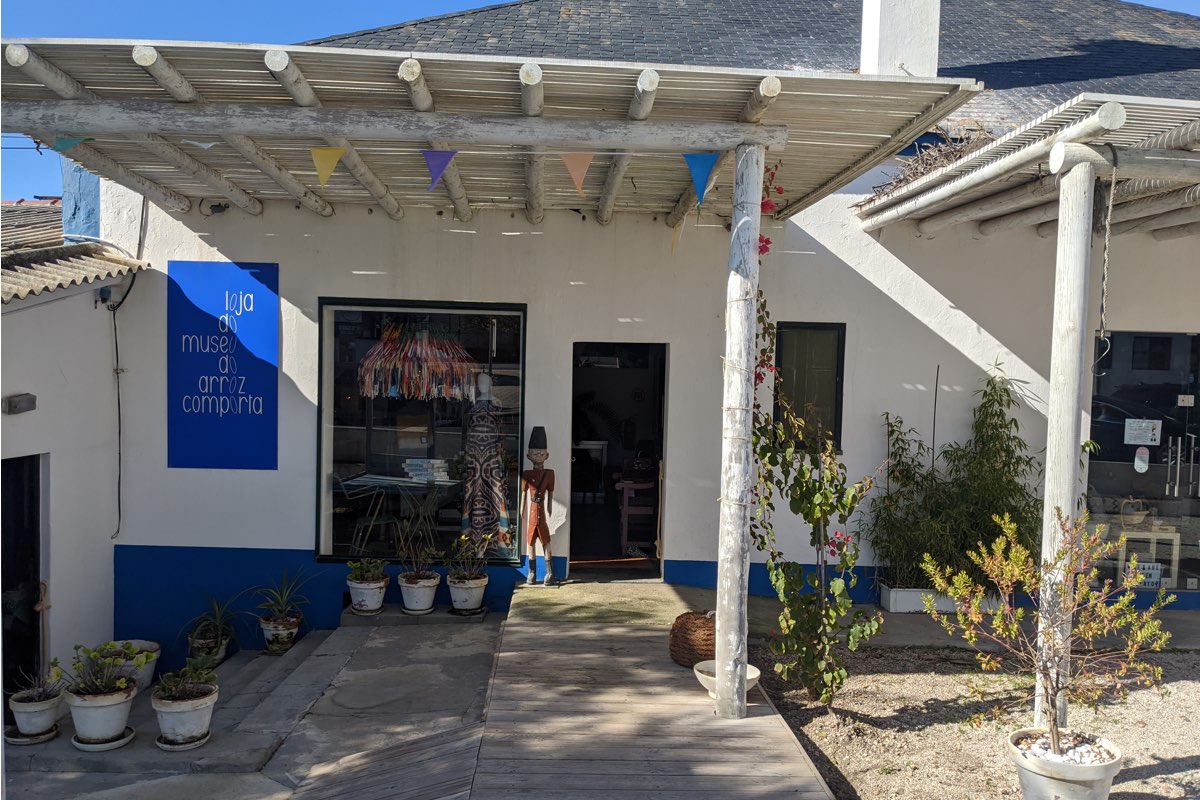 The Sublime Comporta Beach Club
Just 10 minutes away, The Sublime Comporta Beach Club, found hugging the stunning sand dunes of Carvalhal Beach, is a must-visit.. Think classical beach club, but better: loyal to the Portuguese Comporta style of design and food fare, outrageous views of the azure waves breaking, mini beach store with everything from Missoni to Maje, and stand-out staff service. Washing down a glass of bubbles recommended by effusive barman Filip, we took our place at our outdoor table, listening to the recommendations and going with them: the flavours of the region and ingredients sing at the Sublime Comporta Beach Club, the juicy, unctuous prawns, fresh and tangy tuna, deliciously tender octopus and juicy tomato salad making for a stunning beach-side meal.  It's easy to spend hours at Sublime Comporta Beach Club, and with the food, service, setting and ambience all genuinely, standout, our lunch here was a true highlight of our trip. After taking some time to digest, I couldn't resist running into the surf , picking up a board from husband and wife team Ana and Daniel from Surf In Comporta, and catching a few waves in the setting amber sun skies.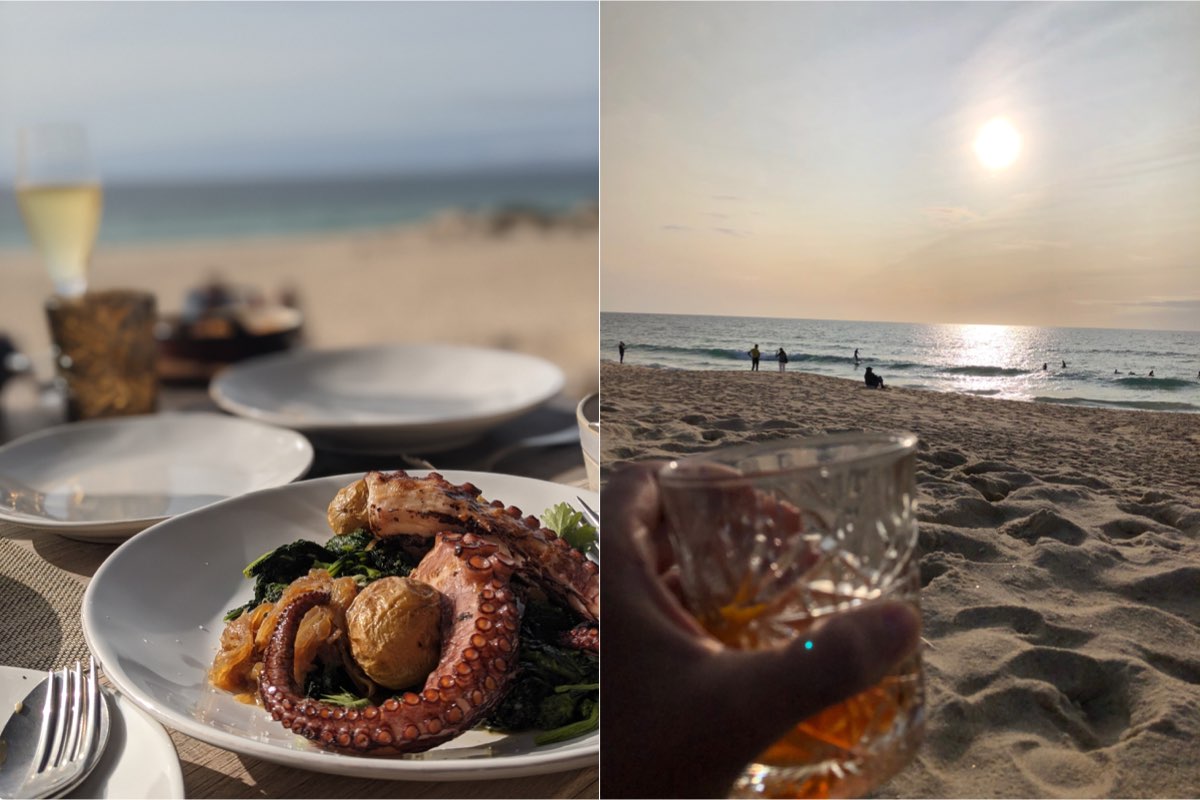 IN A NUTSHELL
It's almost hard to share the magic of Sublime Comporta Country Retreat & Spa and Comporta, such is its bewitching charm.  It feels like some of the world's chicest hideaways before they become infamous and well-trodden. Sublime Comporta Country Retreat & Spa is a one of a kind experience, and if you are after an extremely luxurious getaway where you are set at peace instantaneously by the outstanding natural beauty of the property and region (and totally one of a kind), sustainable focus, brilliant staff (shout out Sofia and Pedro), sumptuous décor and rooms and a treasure-trove to explore within 10 minutes, this is the place for you. Just don't let the secret out…
Get your weekly DOSE fix here: SIGN UP FOR OUR NEWSLETTER