Next on the DOSE podcast, we welcome Fiona Lensvelt – a journalist who has written for The Times, the Spectator and The Mail on Sunday among others and side hustles as a tarot card reader! She co-founded Litwitchure, a literary tarot cabaret and consultancy that she has taken to events and festivals to create unusual, delightful, and surprising tarot performances that let everyone experience the magic of the cards. We talk about the rise of the modern mystic, what's driving people to get in touch with their magical side and how a tarot card reading can help us cope with difficult situations or traumas that we've been through, and help us to find our voice. She even walks our host through a tarot for beginners exercise so you can get a sense of what a tarot reading involves…
[otw_shortcode_button href="https://podcasts.apple.com/gb/podcast/rise-modern-mystic-journalist-tarot-card-reader-fiona/id1454406429?i=1000526588817″ icon_position="left" shape="square" color_class="otw-black" target="_blank"]SUBSCRIBE ON ITUNES[/otw_shortcode_button]
[otw_shortcode_button href="https://open.spotify.com/episode/4JCiVK1FGmpqCRUaX7lVKa" size="small" icon_position="left" shape="square" color_class="otw-black" target="_blank"]SUBSCRIBE ON SPOTIFY[/otw_shortcode_button]
[otw_shortcode_button href="https://play.acast.com/s/dose/theriseofthemodernmysticwithjournalist-tarotcardreader-fionalensvelt" size="small" icon_position="left" shape="square" color_class="otw-black" target="_blank"]SUBSCRIBE ON ACAST[/otw_shortcode_button]
On Why Tarot Reading Is Having A Resurgence
"Having been reading for a while now, I've seen a real burst of interest certainly over the past year, but really over the past few years. What you could say about this period of time is that it has been quite difficult for a lot of people in lots of different ways. When you look back to periods in the late twentieth century when there's been a resurgence of interest in Tarot, they have been fairly difficult times. Today's most popular Tarot deck came out in 1909, in the run up to the war. A very tumultuous period in our history at the turn of the Century. Back then you had a lot of people dabbling in the occult.
Tarot decks can be seen in various forms whether it's for games and playing or divination purposes for the past 500 years or so. They're still being used because they are working for people in some way. People tend to gravitate towards them during times of uncertainty when they are looking for something to hold on to, to give meaning and context to strange situations. The Tarot offers that by giving you these narratives to hold on to. The understanding that there are universal stories and struggles that we've always gone through that will help us when we have our readings to relate to others and see our problems at large.
Tarot As Storytelling
I am really interested in the storytelling aspect of the Tarot. When you offer someone a Tarot reading it's a way of telling a story about their lives. Often how we cope with difficult situations or traumas that we've been through, we start to find our narrative with it. It can help put as back at the centre of our own stories, to contextualise what has happened to us".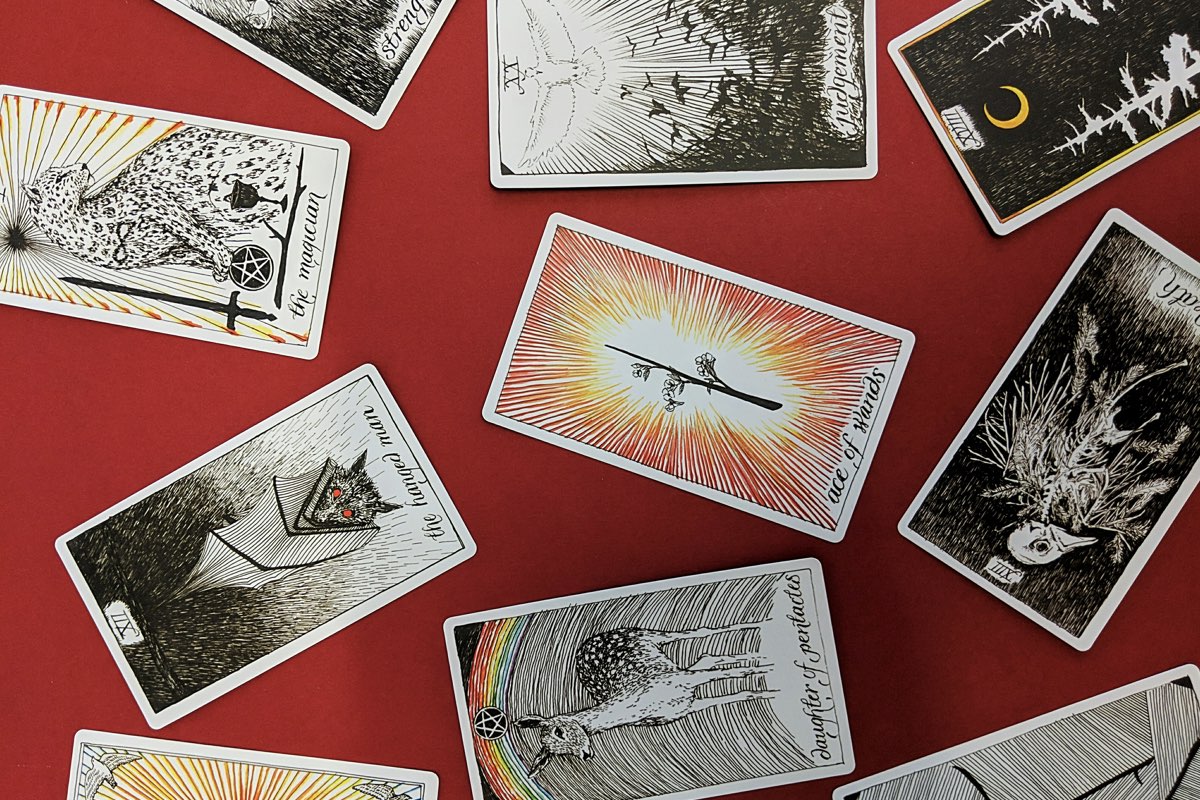 Tarot For Beginners – A Wellness Practice
"The most important thing at any Tarot card reading is not really the telling, it's now about what I tell you about your life. I can't really tell you anything about your life because I can't read your mind. It's more about how we engage with each other. A really good Tarot reading is about active listening. We don't get a lot of that in our everyday lives. It's actually very rare to have that opportunity to be heard, for someone to listen really carefully to what you're saying, to ask you about it, ask lots of questions and engage with whatever difficult feelings are being brought up".
Trend: The Rise Of The Modern Mystic
Pinterest Business identified The Modern Mystic as one of the biggest trends for 2021. With manifestation journals on hand, pinners are getting in touch with their magical side as alternative spirituality goes mainstream. This trend is all about grabbing protection crystals, checking your horoscope and building a fantasy map for 2021.
Trending search terms include:
Protection crystals
Manifestation techniques
Fantasy map making
Visualise your highest self
Zodiac sign facts
Liked this episode on 'Tarot For Beginners & The Modern Mystic With Litwitchure's Fiona Lensvelt'? Listen to more DOSE podcasts here.
Get your weekly DOSE fix here: SIGN UP FOR OUR NEWSLETTER