A threesome might be a popular fantasy, but it's also the least likely to turn out well. Lockdown has paved the way for a new kind of ménage à trois that is far less tricky to pull off…
A threesome is often touted as the most common sexual fantasy. In his book 'Tell Me What You Want', sex researcher Dr Justin Lehmiller details a survey of 4,175 individuals aged 18 to 87, where 95% of men and 87% of women said they had fantasised about sex with multiple partners. His research also revealed that threesomes were "the fantasy that was least likely to turn out well" – not least because all three individuals involved might have had very different expectations.
In their article 'Threesome Tips From 13 Real Women Who've Had One', Glamour magazine details real women's experiences of threesomes. Some report it to be an empowering experience and a great way to explore their sexuality. Others say that it didn't live up to their fantasy or put pressure on them to perform, whilst one added that it shouldn't be a replacement for what you really want in a relationship.
A new kind of threesome
If you're looking to bring you and your partner closer together, consider inviting a third party into the bedroom that poses far less risks and complications.
Whilst a new report conducted by We-Vibe revealed that a threesome is the top fantasy for (26%) of Brits, females (40%) prefer the idea of having a sex toy join them in the bedroom. Lockdown has paved the way for this new kind of threesome – that let's be honest, is far less tricky to pull off.
Johanna, Head of Sexual Empowerment for We-Vibe, says: "There is a real appetite to add excitement to the bedroom with a new addition but despite the fantasy another person is not the right answer for most couples. Sex tech is the perfect solution for those wanting to explore without the worry of jealousy".
This boom in interest in sex tech is good news for most, as while 1 in 3 (33%) of all Brits said they would feel most comfortable introducing a toy into their relationship, only 16% would be comfortable welcoming another person. Those in a relationship are most likely to try sex toys, more than half (58%) of those in a relationship said they would enjoy this addition to their intimate lives.
Sales data for sex toy brand Womanizer shows global data has seen a 50% surge on original forecasts and the UK alone saw a 13% sales increase from January to February. While downloads for the We-Vibe, We-Connect app were up by 33% from the first to the last week of March.
Almost all of We-Vibe's toys can be controlled via the app, it creates closeness and intimacy – in an intuitive, secure way, from anywhere: whether your partner is in the next room or across a continent.
The new We-Vibe Chorus™ is a couple vibrator that is worn by the woman during sex and stimulates both partners at the same time. Thanks to app controls, an intuitive Squeeze Remote and unprecedented Touch-Sense Modes, Chorus is the smartest couples vibrator on the market.
Chorus has individual fit, which adapts to every woman thanks to the flexibility of the product. One half of the vibrator is inserted, creating vaginal stimulation, and the other half is secure, outside the body, providing clitoral stimulation. The product is so small that the woman can wear it during sex with a partner, who also benefits from the vibrations.
So are you ready for a threesome or what?
Get your weekly DOSE fix here: SIGN UP FOR OUR NEWSLETTER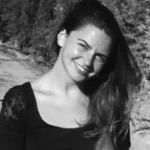 Hettie is the editor and co-founder of DOSE. A keen runner, she's also partial to a blast of high-intensity and hot yoga. A country girl at heart, she divides her time between London and the lush rolling hills of North Devon. When she's not jetting off on her next adventure, Hettie can be found in a candle-lit alcove with a laptop, a spaniel and a full bodied Malbec.