If you're familiar with flavoured water, you know most of it is packed with sugar or sweeteners, it's the ugly truth. But Ugly isn't dressed up to look pretty, it's intentionally unsweet, with nothing to hide. Just sparkling water infused with natural fruit flavours.
We chat to Ugly Co-founder Hugh Thomas about revolutionising the 'unsweet' soft drink category and keeping active with a 5-a-side game…
Why UGLY?
We think too many food and drink brands over-promise with marketing and branding and under deliver in their ingredients and nutritional content. We tell the Ugly Truth…Ugly is beautiful on the inside and Ugly on the out. Ugly is 100% natural with no sugar, no sweetener, no calories and no artificial ingredients.
Describe a typical day at the office…
There is no such thing as a typical day at the office. Each day is different but generally starts early with emails and team meetings to make sure things are progressing and everyone is well aligned. We're a small team so we cover a lot of bases from opening new stockists, book-keeping, running the social media and socialising together…there's a lot to do, but we love the journey!
Tell us about the product…
Ugly is a range of 100% natural fruit-infused sparkling waters. Currently available in two flavours; Lemon & Lime and Grapefruit & Pineapple, the drink is the perfect alternative to traditional fizzy drinks. Ugly contains no sugar, no sweetener, no artificial ingredients and no calories. It's just sparkling water with the essence of fruit to bring it to life.
UGLY is best served…
Ice cold…at anytime of day. We find it works well as a great alternative to that mid-afternoon can of fizzy pop…it's the cold can moment…but without any of the guilt!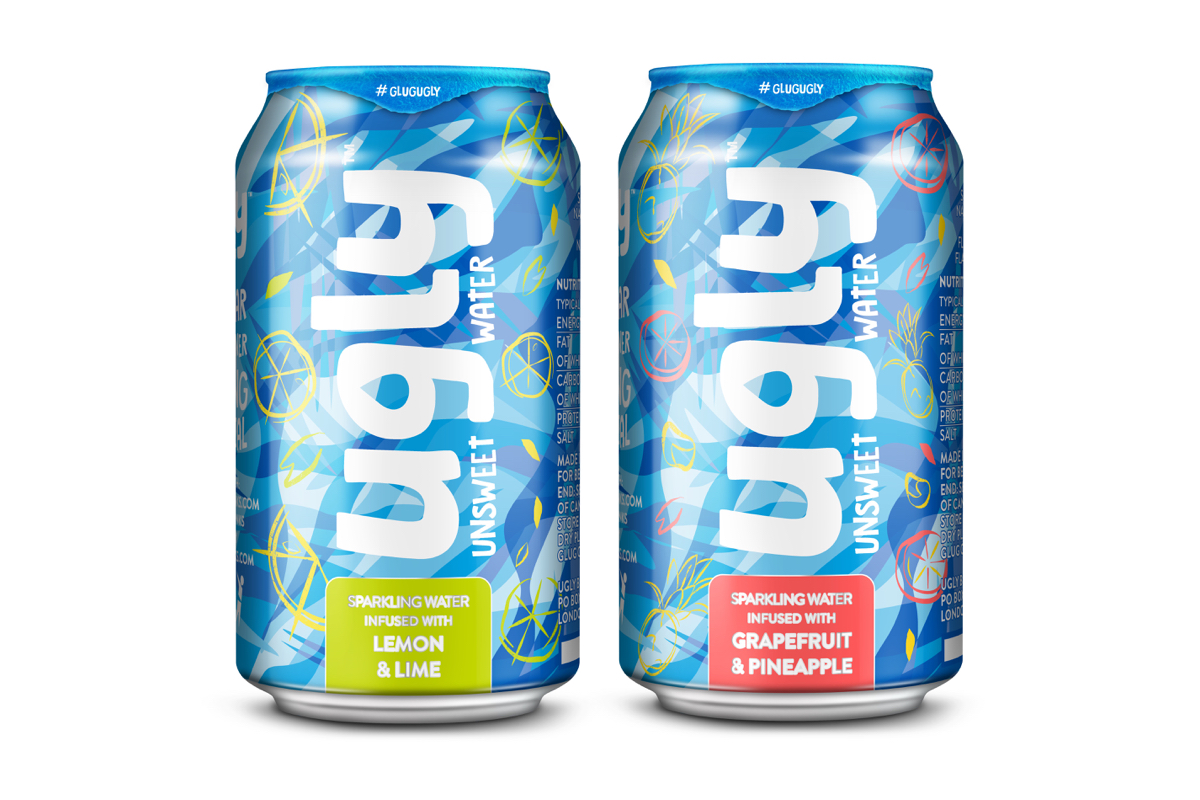 Where can we buy it?
Right now, Ugly is available across the UK in Holland & Barrett, Whole Foods Market, Planet Organic, As Nature Intended and Selfridges alongside almost 1000 great independent shops.
You can also pick up cases of Ugly at uglydrinks.com. Simply add cases to your basket and use the code 'UGLYDOSE' (unique for Dose readers) which gives you 20% off your order until 30.06.17.
Any career highs and lows along the way?
There are plenty of both!
In terms of a high…we definitely get a great rush anytime we've spotted someone 'in the wild' drinking a can. Both Joe & I will cross the road and chat to anyone we spot drinking a can….the feeling is unbelievable and will never get old.
In terms of a low…we had some challenging times in the early days when we had shelf life issues on an early version of the product. We generally find that the obstacle is the way and you learn more from the lows than anything else…so we try and use the moments as learning challenges.
Plans for the future?
We started Ugly to make healthy drinks accessible and approachable to as many people as possible.
This means we want to make Ugly in available in as many stores as possible at a price point people can afford. Right now, our RRP is £0.99 for a can and we're driven to make sure we are as available as possible in more stores across the UK this summer.
Our goal for the future is to add more flavours to the line up, so there is something for everyone…and place our cans on more shelves across the UK…and doing it with a smile on our faces along the way!
Favourite restaurant in London?
So many to choose from…but my favourite two would be; The Eagle in Farringdon…and St. John Restaurant at Smithfield Market.
Do you like to work out. If so how?
We definitely try and stay as active as possible…despite the demands of running the business. Probably my favourite way is the food & drink 5-a-side game we have on Tuesdays…It's a great group of people and the post game hydration is always on point…!
Peace and happiness is…
Looking forward to going to work in the morning…! I love what I do…and love the people I do it with.
Life mantra?
The Obstacle Is The Way.