London's wellness culture is all about finding a balance of what makes you feel good to get those happy hormones firing! At DOSE, (which literally stands for dopamine, oxytocin, serotonin and endorphins), we believe that this is achieved through mood boosting activities such as workouts and fun dining experiences, as well as mood calming rituals such as yoga, massage and meditation. A balancing act we like to call "healthy hedonism". From wine, workouts and fries to yoga and holistic highs. It's about balance, right? With this in mind, we bring you the buzziest boutique fitness studios, along with places to enjoy brunch and bubbles or a zen moment. Our ultimate London wellness guide will help you to feel your best and create an experience around your workout, to be enjoyed solo or with friends…
London Wellness Guide: North London
Fitness in North London
Fitness hotspots in North London include Barry's Central on Euston Road, a sergeant drill style high intensity interval training workout comprised of treadmill sprints and weights to leave you with a major endorphin rush. Metabolic London is an open plan functional training space with no unnecessary frills. The Fore – one of London's slickest studios offering HIIT, Yoga, Boxing and TRX. If it's feel good fitness you're after with Frame King's Cross is your best bet with classes for every mood, goal and fitness level. Or if it's a gruelling workout your after, head to 1Rebel Angel for a blast of Reshape.
Self-care in North London
For a spot of rest and relaxation there's Dr Stretch Therapies, where you can improve your recovery time post-workout, as well as preventing and reducing your risk of injury with their wide range of treatments. Salon Savant is a great option for relaxing day spa. Swing by Galaxy Nails for a mani or head over to FaceGym in Coal Drop Yard and St John's Wood for a face workout like no other. The Fore Wellness also offers cupping and acupuncture!
Eating out in North London
As for dining, brunch favourites include Granger & Co and Caravan in King's Cross. Mildred's is a great option for the vegan, gluten and dairy free conscious. If you love mezcal cocktails and tacos head on up to Decimo at The Standard.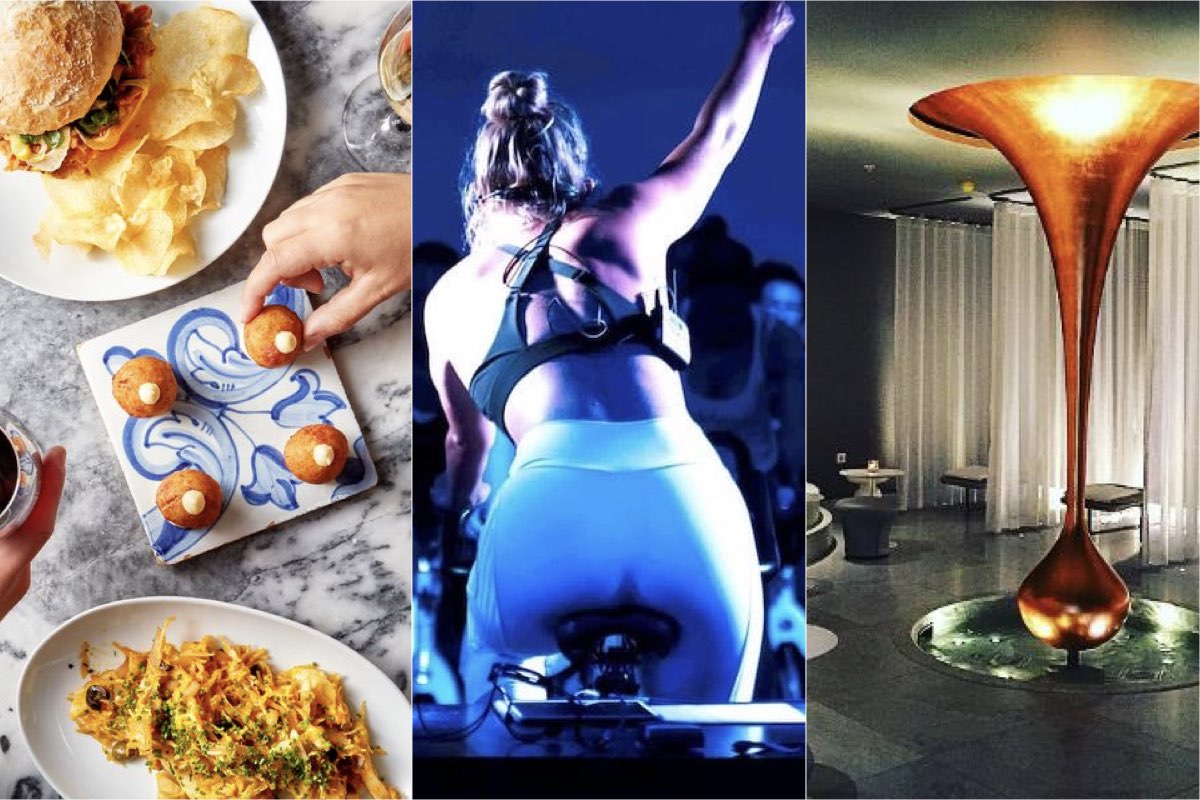 London Wellness Guide: South London
Fitness in South London
Fitness hotspots in South London include 1Rebel Southbank; ride to banging beats and feel the burn with a short hand weights sequence to get that full body workout. Or head over to Boom Cycle Waterloo which puts the fun factor into getting your sweat on, the ultimate party on a bike! Check out the award winning Foundry Vauxhall, 'one of the best gyms in the world'. If you're looking for a no gimmicks approach to fitness, the Manor in Embankment is for you. Level Six and Yogarise, both in Peckham, offer the ultimate zen zone for all you yogis out there. If you like your yoga hot, visit Fierce Grace in Brixton to sweat out all your stress. Oncore in Clapham is a crowd pleaser offering Spin, Strength & Conditioning, HIIT, Pilates, Yoga and Barre. Find your mindful magic at Mojo Studios, featuring reformer pilates, yoga and barre classes. Want to learn how to lift? Visit Lift Studio London and surround yourself with a community of like minded women, working together to build strength and confidence. Or spin your way to success at the Spinworks.
Self-care in South London
Sea Containers hotel is home to the beautiful Agua spa for a spot of pampering post 1Rebel. Linnaean in Nine Elms is another great day spa option with a medi-spa hair and beauty services plus a cafe. Melt stresses away at Floatworks Vauxhall.
Eating out in South London
Mercato Metropolitano in Elephant and Castle is worth a visit to try some of the City's best street food. Head to Lyaness at Sea Containers on Southbank for a swanky evening with cocktails. For vegan, flexitarian, gluten-free and dairy-free dining, visit Linnaean's cafe. Bar Douro London Bridge offers traditional Portuguese sharing plates and a fun vibe. For Middle Eastern fare head to Bala Baya or you can't go wrong with brunch at Caravan – both in Bankside. Peckham Levels is also a fun street food and cocktail hub. Or look out for Lantana Cafe, if you're into artisanal wines, house blend coffee, and the tastes and flavours from Australia's multicultural cuisines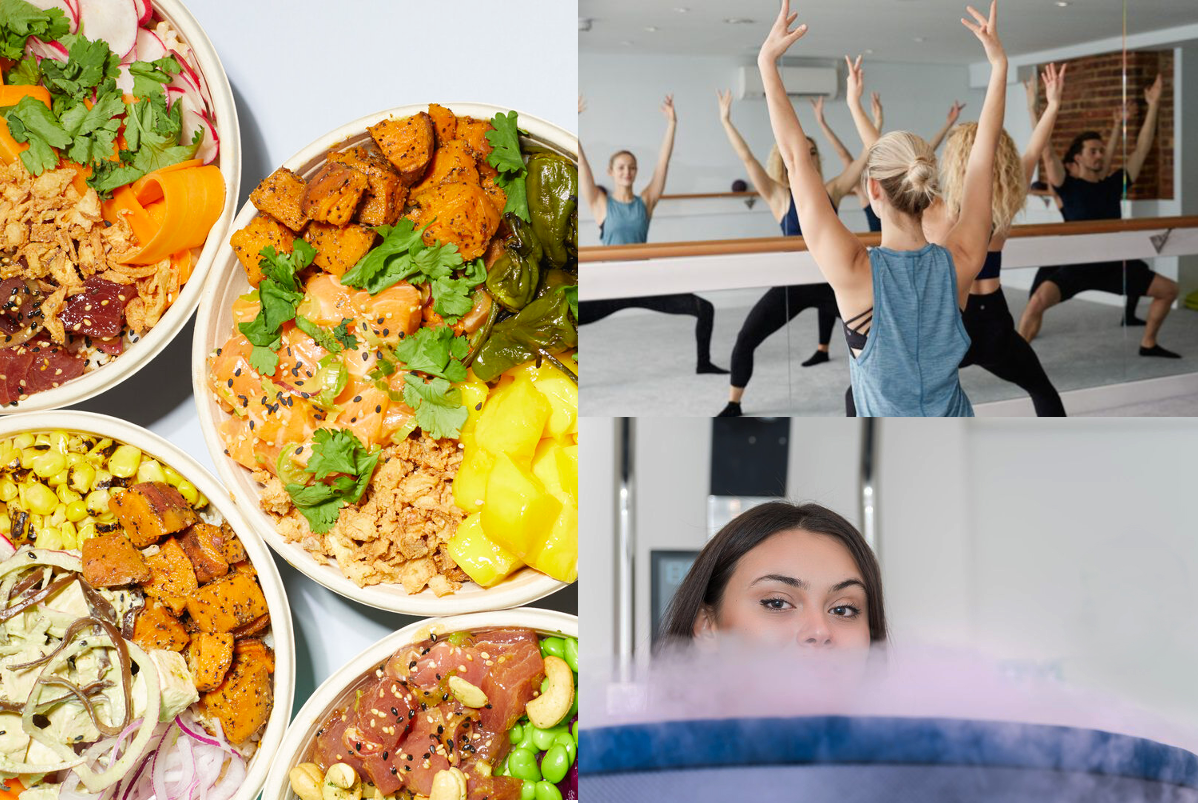 London Wellness Guide: East London
Fitness in East London
Hip hoods such as Hackney and Shoreditch are brimming with fitness studios. From feel good workouts at FRAME Shoreditch, to every class your heart could possibly desire at BLOK, with its edgy industrial luxe aesthetic. There's Fierce Grace for hot yoga with attitude and The Foundry – one of our favourites for strength training with top trainers like Laura Hoggins. Manor offers a great boxing class and Barry's East, 1Rebel Broadgate and 1Rebel St Mary's Axe are your go-to for a blast of high-intensity. Barrecore is a premium barre class to sculpt and hone your limbs, which is adjacent to Digme with its competitive indoor cycling class. Fly Ldn offers yoga with cinematic visuals on a giant screen backdrop to transport you into another world. Boom Cycle offers the ultimate party on a bike experience helping you to let loose.
Self-care in East London
For the ultimate detox, indulge in a cocktail of vitamins at Get A Drip. Worn out by life? Beeja Meditation offers individually tailored techniques for all. Pop n Rest provides pods dedicated to daytime naps. Head to Baliga Ayerveda to heal the harmony between your body, mind and spirit. For the authentic Russian bath experience, Banya No 1 is the one for you. Famously coveted by A-listers and beauty aficionados, Face Place is the place to go for fewer wrinkles and firm skin. Fancy a CBD aroma massage? Head over to Deep Flow Therapy, offering classical massages for a contemporary lifestyles. Feeling brave? LondonCryo is a bespoke biohacking experience designed to elevate one's health, wellbeing and beauty. Regenerate your body and mind at the Mondrian Agua; a spa playground that creates a distinct social hub and treatment destination.
Eating in East London
Spitalfields market is a hub of good grub including Ahi Poke, Dumpling Shack, Yum Bun and Dirty Bagel. Pachamama is a Peruvian spot on Great Eastern Street in Shoreditch – perfect if you're vegan, vegetarian, or gluten free. Go from Barre to Bad Egg – London's ultimate weekend brunch spot. Looking for a luxurious late night nibble? The Duck & Waffle is the highest 24hour restaurant, serving delectable dishes from sunrise to sunset. Vegetarian, vegan or gluten conscious? Sushi Samba has you sorted. Island Poke Shoreditch offers a poke fix straight from the beaches of Hawaii. Did someone say brunch? Lantana Cafe's smashed avocado served on sourdough with poached eggs and chilli jam is a must. Beany Green provides good vibes Aussie coffee, creative cocktails and craft beer; what more could you ask for? We love Gloria Trattoria; a 70's Capri-style & all-day long Trattoria in the middle of Shoreditch. You have to try the oozing pesto heart burrata, Osso Buco Ravioli, and you can't leave without finishing the meal off with Gloria's Incomparable Lemon Pie – an Insta-famous dessert.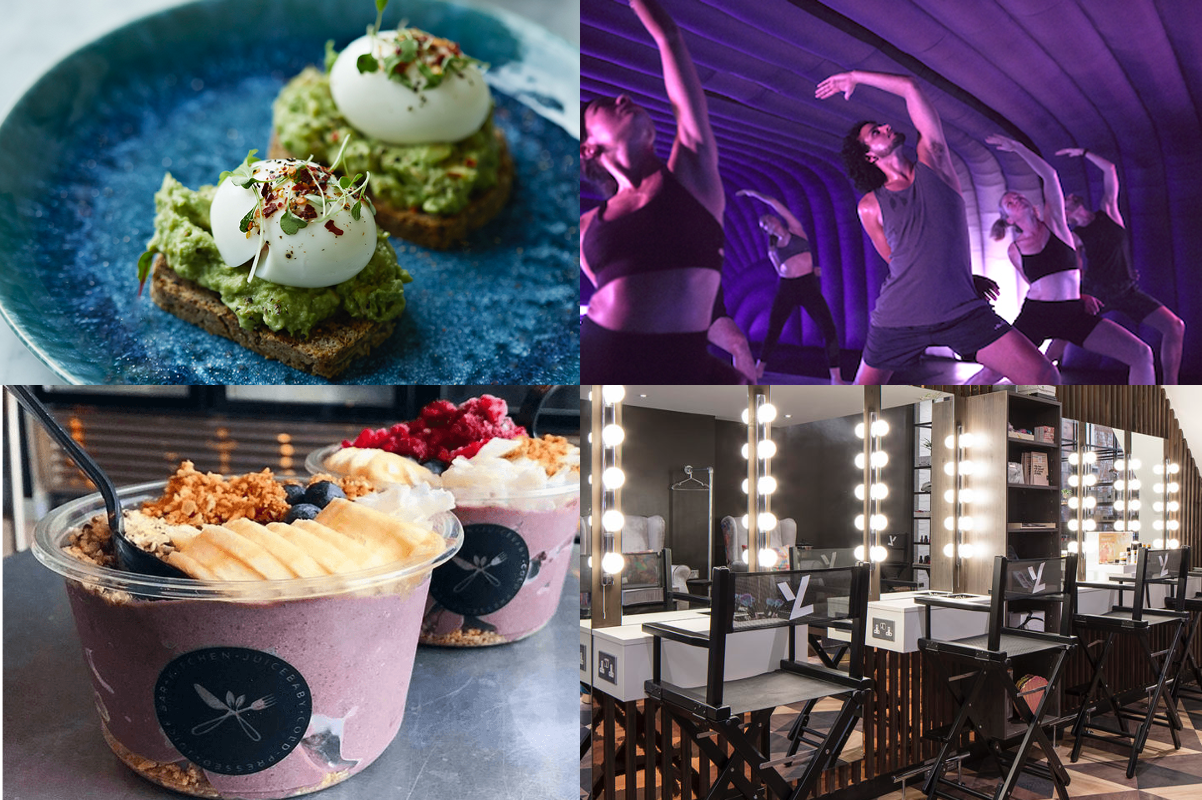 London Wellness Guide: West London
Fitness in West London
Whether you want to build strength, sweat, sculpt or stretch, Core Collective offers classes for all. Recharge with a post workout smoothie like the Colada Beach Dream, packed with vitamins, protein and CBD. Head to the king of gyms, 1Rebel for some endorphin inducing HIIT or Box Clever Sports for a bad ass boxing workout. Transform your body at the award winning boutique studio Form, combining core-challenging Pilates and cardiovascular fitness simultaneously. Want to sweat like a supermodel? Barrecore is loved by the likes of Jourdan Dunn, Poppy Delevingne and Claudia Schiffer, with ballet inspired classes to lift and tone your body. Karve transformer Pilates classes capture New York's infectious energy and tailor them to London lifestyles. Mix things up with Psycle, offering 4 unique classes to match whatever mood you're in. Heat things up with Hotpod Yoga, an otherworldly cocoon of glowing lights, heady aromas and enveloping soundscapes, taking you a million miles from the everyday.
Self-care in West London
The LED lounge at Young Ldn is the ultimate quick fix for a busy cosmopolitan life. Feeling run down? Get A Drip! The Life Centre offers yoga for all, from slow yin to vigorous vinyasa. A Place To Heal provides an escape from the fast-lane of everyday life to reflect, learn, commune and find inner calm. At Cloud Twelve is a one-of-a-kind wellness and lifestyle club featuring an interactive play and learn zone for families with children, indulgent spa, luxury salon, nutritionally focused brasserie and a holistic wellness clinic, all under one roof! Spend a self care Sunday at Bodyism, with skincare specialists and holistic sessions to revitalise your mental and physical state. Or visit the Cowshed Holland Park, offering natural therapies from the heart and soil of Somerset.
Eating in West London
For an easy-going gastronomical experience go to Granger & Co – the ricotta hotcakes with honeycomb butter are a highlight. Who said plant based has to be boring? Farmacy offers a menu of seasonal specialties, suitable for vegans and vegetarians alike. Built on the foundations of health, wellbeing, and the planet, Redemption provides vegan cuisine within an instagrammable setting (yes, you know it! Those well renowned angel wings). Kickstart your weekend with Cocotte, serving up succulent, spit-roasted chicken. Feeling wholesome? Head to Beam – a family run bunch spot, famous for its French patisserie selection. Fancy dining amongst the likes of Kate Moss? Farm Girl is the hotspot for you! Featuring London's best healthy food & coffee all under one very stylish roof. When you're in the mood for a gulp of goodness, seek out a health shot or smoothie at Juice Baby.
The Shed offers farm to fork dining in Notting Hill, so you know exactly where your food is coming from. What better way to cure a hangover than eggs? Eggbreak and Eggslut are our go to favourites – Shakshuka's, Turkish, Benedict, or Mexican, you can't go wrong.  Ready to recharge post workout? The Bodyism cafe has curated a menu heaped with healing superfoods that don't  compromise on flavour. Or head over to Jusu Brothers and rejuvenate your soul ; a pan-asian eatery that offers a wide range of organic bites and juices. Head from spin to the streets for a bottomless brunch at Bondi Green, you won't regret it! Or if you fancy taking your meal onto the water, Darcie & May have transformed barges into a vibrant and buzzing all-day dining destination.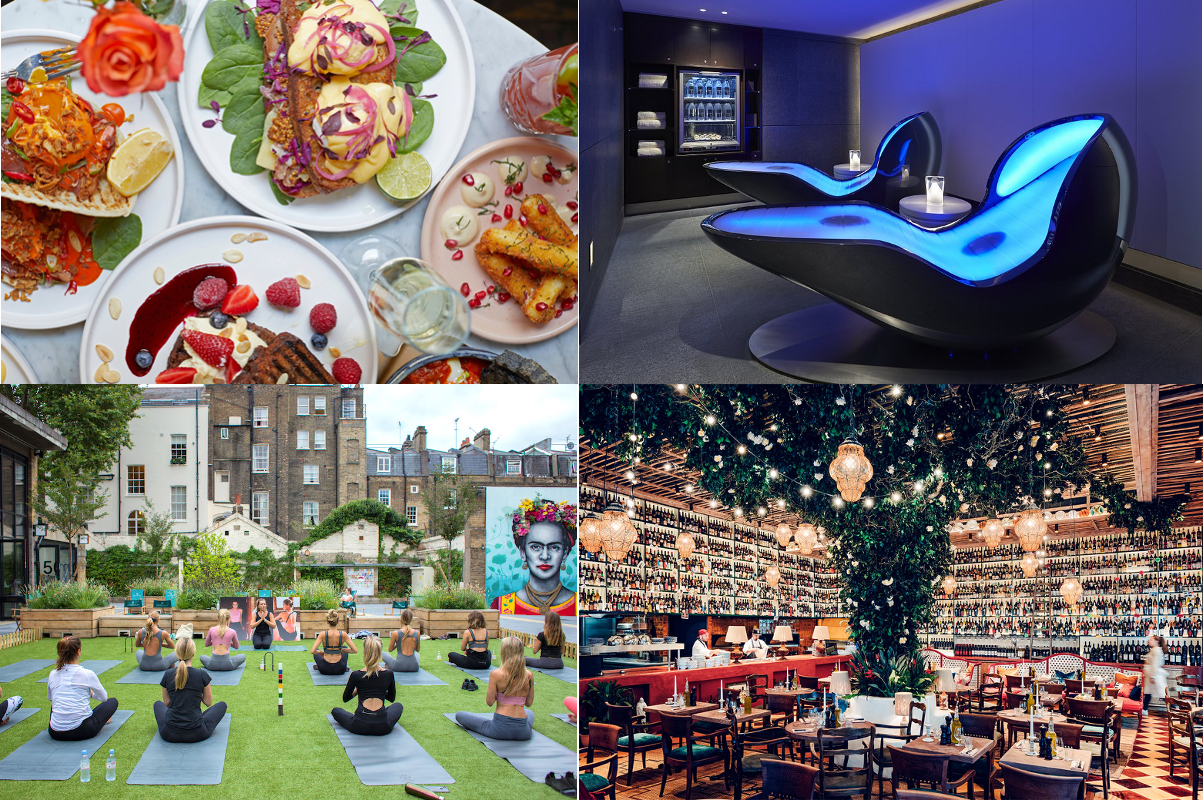 London Wellness Guide: Central London
Fitness in Central London
Whether you're needing to balance out your ying or yang, Psycle studios have your back. At Digme Fitness you can ride to rocking rhythms or melt away into your yoga mat. For a challenge, head to F45 featuring high-intensity group workouts that are fast, fun, and results-driven. Feel the burn at 1Rebel, rumble, reshape or ride your way to victory. Feel good at Flow Ldn, with their reformer pilates and barre classes. Or visit  Ashley Verma at Define London for a non-stop, head-to-toe strength and conditioning workout. With their bespoke training plans, Six3Nine promises to get you fit while fixing any aches and pains. Enjoy themed sessions at Boom Cycle, from #ridewithpride to Calvin Harris. Have your booty whipped into shape at Barry's Bootcamp Soho. Or unwind and sweat away stress at Hot Pod Yoga, Eccleston Yards.
Self-care in Central London
Balance your body and mind at House of Wisdom. Inner Space is a London oasis of calm and insight, offering guided meditation and personal development classes. In the pursuit of pure pleasure? NoMad Covent Garden provides a hedonistic hideaway for indulging in de Mamiel skincare, uniting science and the soul. Or head to the Mandarin Oriental, a diverse range of treatments; from traditional Chinese medicine, Bastien Gonzalez renowned manicures and pedicures and anti-ageing Nescens facials. Or retreat to Triyoga Soho to escape the bustle of urban life.
Eating in Central London
From Bombay with love, Dishoom dishes up delectable delights. You can find croissants, baked goods, sourdough sandwiches, healthy salads and house roasted craft espresso & filter coffee at Caravan Fitzrovia, all ready to take out if you're on the move! Ahi Poké Fitzrovia works with the seasons, selecting the best ingredients from land and sea and serving them up Hawaii-style. Or try out Island Poké Fitrovia, for a poké bowl bursting with flavour. For an informal funky setting, head over to Riding House Cafe. Or why not visit their sister restaurant Rail House Cafe, for comfort food and cocktails.
Fancy Froyo? Daisy Green Marylebone serves up gourmet frozen yogurt and healthy bites in a quirky, vibrant cafe. Health is wealth at the Good Life Eatery, featuring cold pressed juice shots, smoothies and a seasonal menu. For a famous bottomless brunch, Scarlett Green Soho and indulge in a truffle and cheese doughnut. Have a Mexican fiesta in Mayfair at Ziggy Green Hedon Street, and enjoy watermelon margaritas, yellowfin tuna or vegan ceviche. A casual brunch spot by day, Timmy Green transforms to a buzzing bar and restaurant by night. For a romantic Italian meal under a starry ceiling, Circolo Popolare Fitzrovia is the place to go, featuring chubby burrata filled with decadent truffle cream, to Cacio e Pepe served in a pecorino wheel.
If you liked 'The Ultimate London Wellness Guide According To DOSE', why not explore 'The Best Luxury Gyms in London 2021′?
Get your weekly DOSE fix here: SIGN UP FOR OUR NEWSLETTER
FAQs
What kind of information can I find in the guide?
The guide includes detailed information on the best fitness studios, healthy eateries, and wellness events in London, as well as tips on how to live a healthy lifestyle in the city.
Is the guide suitable for tourists visiting London?
Yes, the guide is perfect for tourists visiting London who want to stay healthy and active during their trip.
Can I access the guide online?
Yes, the guide is available online and can be accessed from anywhere in the world.
Is the guide updated regularly?
Yes, the guide is updated regularly to ensure that all information is accurate and up-to-date.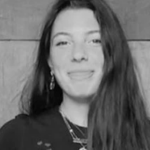 Born and bred in London and an avid vegan, Demi has explored most of the hidden vegan spots in London and is on a mission to try them all. Her experience working for wellness and vegan startups has enhanced her passion for health trends and vegan food. Her time is mostly spent in vintage stores, painting or cleaning her growing sneaker collection. Her next goal is to earn her scuba diving license and hopefully explore oceans all around the world.