Is the man in your life in need of a spot of pampering? Book him in to the Four Seasons Hotel London at Ten Trinity Square, to try out their new Men's Urban Retreat Package. Naturally, we packed DOSE contributor Ian off to investigate…
Last week something truly mind blowing happened. I woke up 40 years old. How on earth can this have happened? It feels like only yesterday that I was guzzling down Mad Dog 20/20 and pretending to enjoy smoking Marlborough reds with my mates in the park after school. Admittedly I have grown up a little bit (I now drink G&Ts and smoke Marlborough menthols) but I, in no way, consider myself to be a bone fide adult. I can't be trusted to keep a goldfish alive let alone another human, and I still giggle when anyone says "moist". I live in constant fear of being exposed as an adult baby. So it comes as no surprise to me that the term "Imposter Syndrome" was first coined in 1978, the year of my birth. Coincidence? I think not.
But whilst my mind has stubbornly refused to keep pace with my years, my body has gladly romped along in unison with them. "Hang on, he's just had another birthday. Move all the fat from his bum to his lower back and start stretching out those testicles. And clamp down on that urethra! Someone pissing at his age should have to force it out so hard they accidentally farts." Yes, when my inner self stares at my outer self in the mirror he sees a middle aged man with crows feet looking more like pterodactyl claws but, embarrassingly, still wearing skinny jeans.
What I needed, said my inner self, to my tired, sagging outer self, was a bit of pampering. A chance to recharge those warn out, rusting double As and freshen up that booze dried skin. Perhaps even, dare to change up the hairstyle I've been rocking since my GCSE's? So off I went to the Four Season Hotel London at Ten Trinity Square, to try out their new Men's Urban Retreat Package.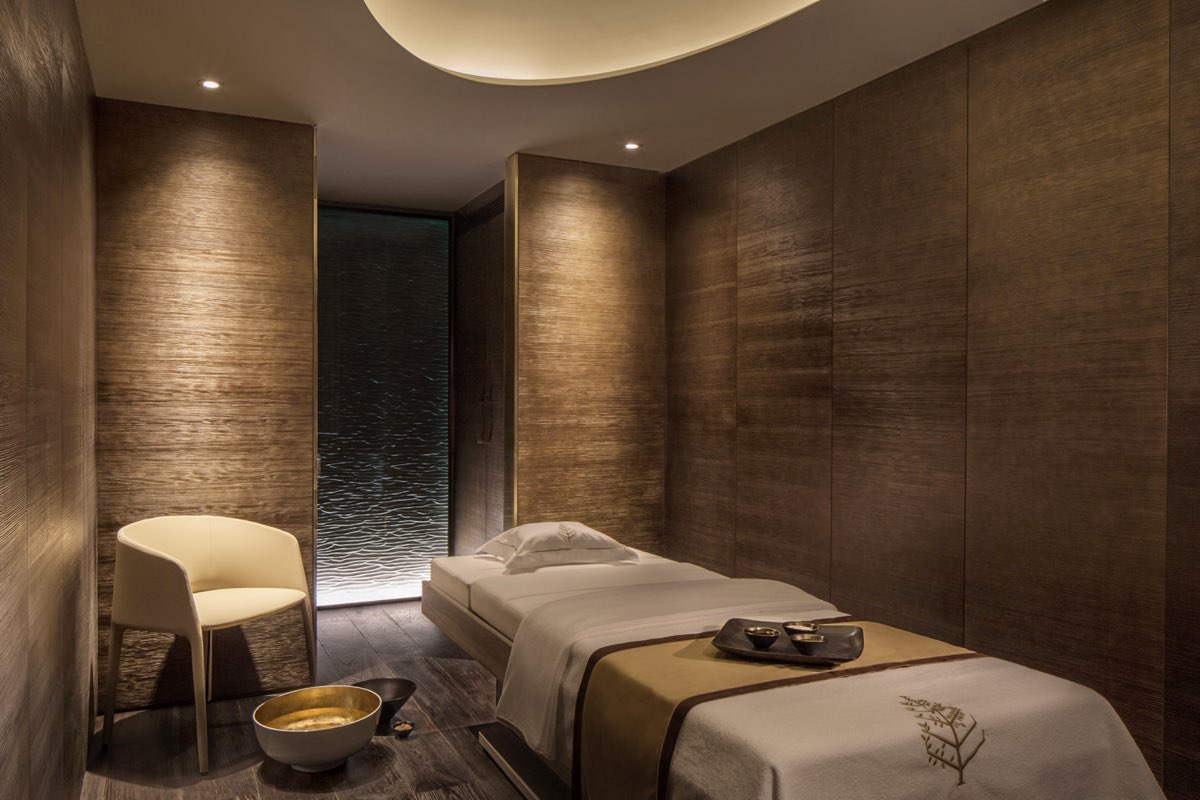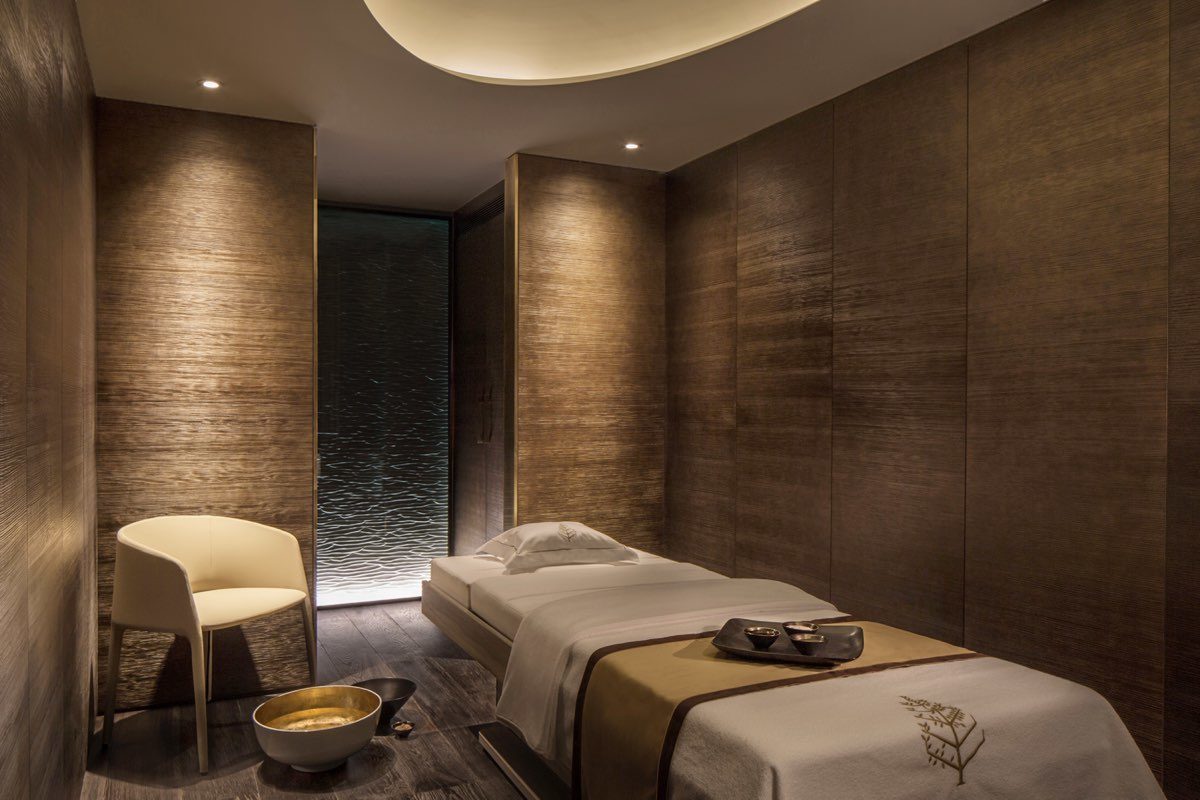 First up was a Muscle Reviver massage with head masseuse Maxime at their glittering sumptuous spa. After changing into some disposable pants, so smart I considered walking off with them, I headed to the treatment room. Maxime talked me through the products that we would be using and asked me to choose from a range of scented oils. Product lines here include Maroc Maroc, Dr Burgener, Amala, and ESPA depending on which treatments selected. I then laid down on the massage bed. More comfortable than any bed I've ever slept in, it came complete with duvet and a bowl of hot water below my face gently streaming scented oils into the air.
Maxime began massaging me, still under the duvet. Pushing down and stretching out my legs, backs and shoulders and building up the heat in my body. He then drew back the duvet cover and began working on the focus areas we had agreed on earlier, my lower back, shoulders and neck. It was at this point that I thought some more people must have snuck into the room. The way his hands moved, it felt like three people. That or Ganesh, the multi armed Hindu God, had taken up massage therapy.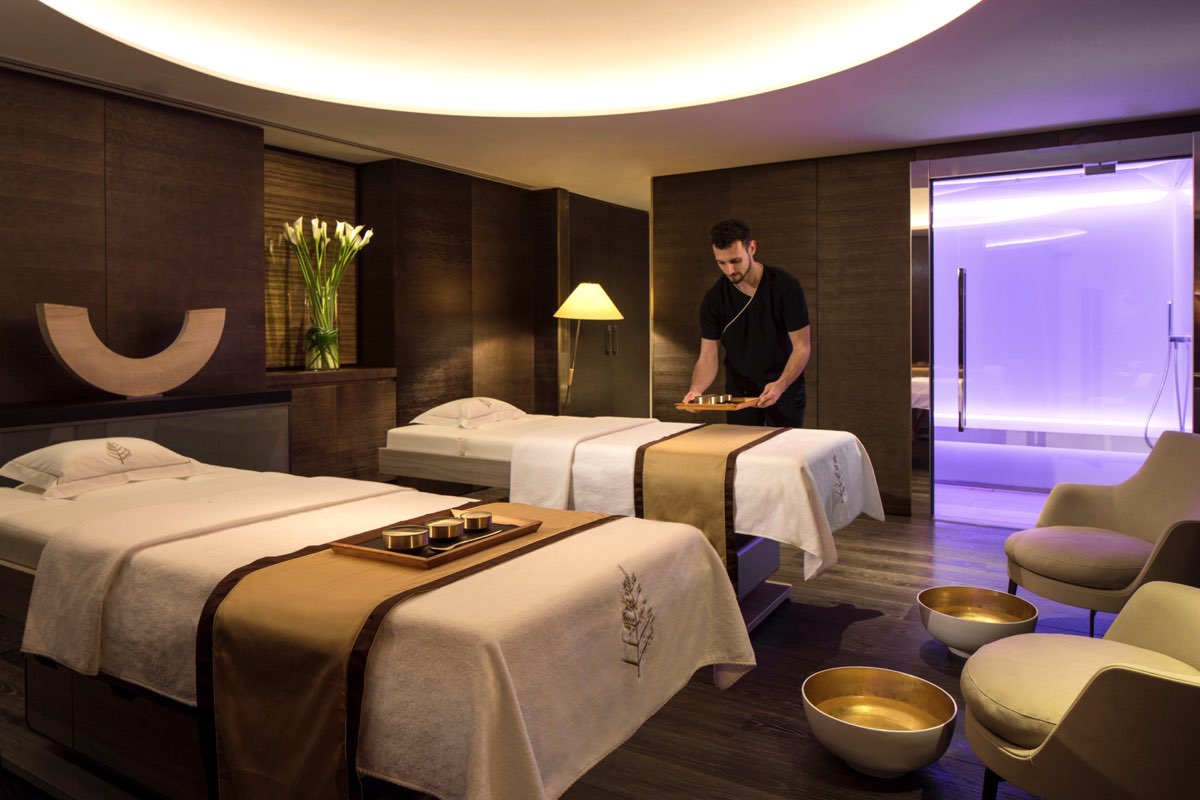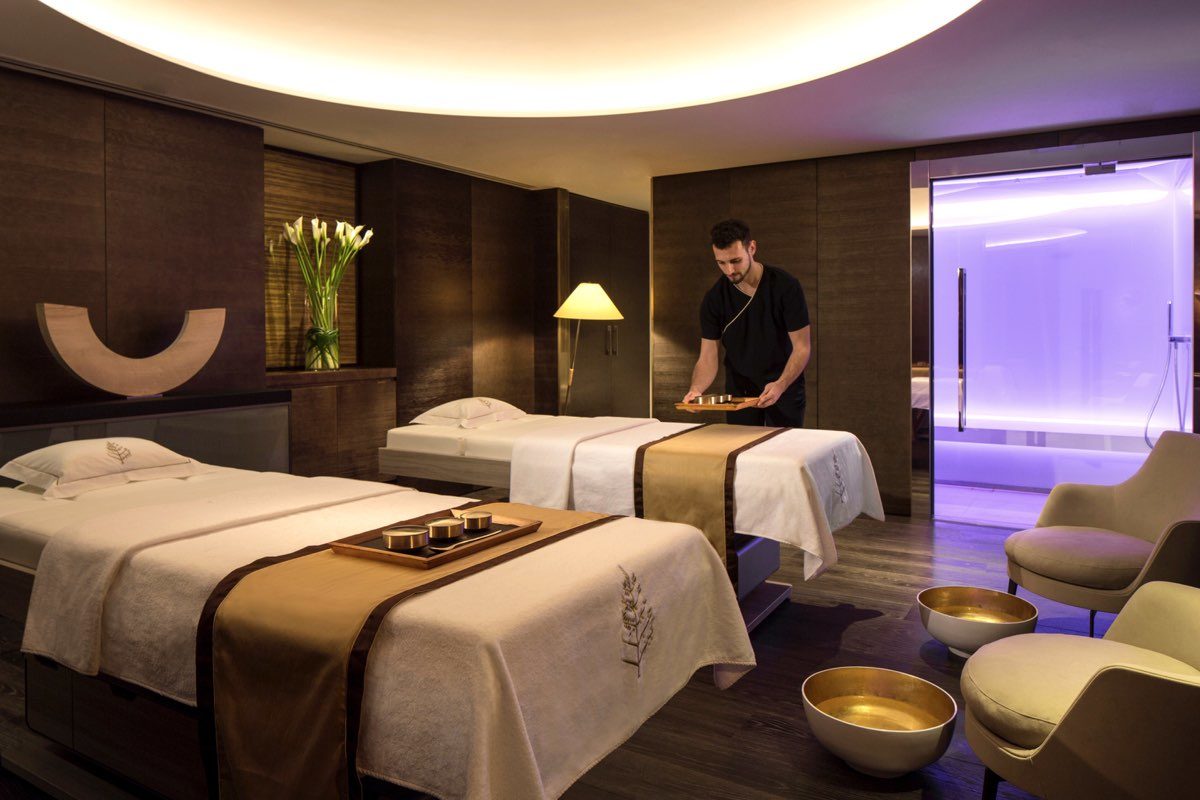 The tension and stress flowed from my body as his thumbs worked their magic. All too soon it was time to turn over and finish with a dangerously orgasmic head massage and facial, complete with hot towels. Maxime then left the room and allowed me to linger a while longer in that space between total relaxation and sleep. It took all my willpower to peel myself from that bed and leave the room. Maxime was waiting for me with cucumber water and fruit to let me know that they had pushed back my haircut with Carmelo at Gielly Green to allow me to take my time, use the fitness studio or pool or simply lay back down. What I actually did, was use this time to take selfies in the mirror. I'm not sure how they did it but the lighting in their changing rooms is so good it could turn Alan Carr into Alan Ritchson (check him out ladies). I thanked Maxime for the best massage of my life, and meant it, and headed off to Gielly Green's new studio on the ground floor of the hotel. "He's going to make you look like George Clooney", said Maxime as the elevator doors closed.
Carmelo Guastella, Head Grooming Director, was waiting with a glass of champagne for me. Good start. Great start in fact. Although, at some point between leaving the spa and arriving at the salon I had chickened out of ditching the grade two around the sides, quiff on top 90s favourite, and asked for a "tidy up". Carmelo, who has just sent off the entire England Squad to Russia with fresh new cuts, gently offered up his alternative suggestion. Of course he said this in a much kinder way, but basically he told me that my Ricky Martin slash Jedward haircut wasn't doing me any favours.
Its been a while since I went for a haircut that includes a hair wash, let alone champagne, so I decided to put my faith in Carmelo and let him snip away at my greying temples. After a lip bitingly wonderful hair wash and head massage, where I spent the entire time mourning the end, I returned to the chair where I was blow dried, tousled and preened to perfection. As Carmelo deftly swirled a hand mirror around showing me his handwork from all angles, I said goodbye to my adult baby quiff and welcomed in, not quite George Clooney sadly, but certainly a fresher, better version of myself ready to take on the next 40 years.
Mens Urban Retreat Package at the Four Seasons Hotel London at Ten Trinity Square – £185
Includes a spa treatment, hair cut at Gielly Green and access to the hotel's pools, gym and thermal facilities
Hettie is the editor and co-founder of DOSE. A keen runner, she's also partial to a blast of high-intensity and hot yoga. A country girl at heart, she divides her time between London and the lush rolling hills of North Devon. When she's not jetting off on her next adventure, Hettie can be found in a candle-lit alcove with a laptop, a spaniel and a full bodied Malbec.