One of nature's richest sources of citrulline (the amino acid revered by athletes for its ability to aid recovery), helping improve blood pressure, increases our tolerance to intense exercise and accelerates lactic acid removal. Packed with vitamins A, B6 and C, it is also a valuable source of potassium. The wonders of watermelon are almost endless!
For some watermelon on the go, try RESET+ from Botanic Lab – a blend of watermelon, 30mg caffeine from green tea for a gentle caffeine boost and Sichuan for a peppery kick. If you fancy making a watermelon poké bowl (or a mojito) instead, try these tantalising recipes…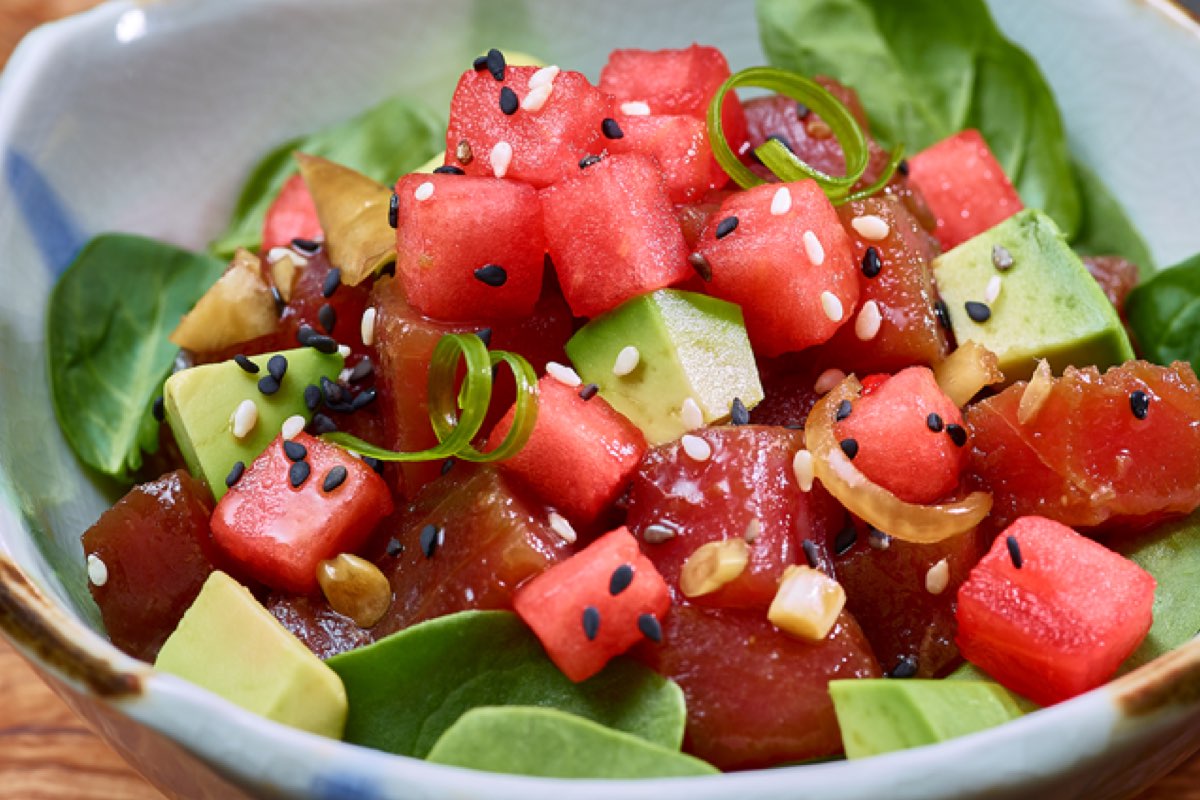 Watermelon Poke Bowl
Servings: 4 cups
This raw fish salad is one of the best of Hawaiian cuisine. It is also rich in the omega-3 fats that are good for your brain and heart. The word "poke" comes from the Hawaiian word for "slice or cut."
Ingredients
1/4 cup low-sodium soy sauce
1/4 – 1/2 cup watermelon juice
1 teaspoon sriracha chili sauce
1 teaspoon sesame oil
2 green onions, cut on the diagonal with whites and greens separated
3 medium cloves garlic or 2 large cloves garlic, minced
1/2 tablespoon minced ginger root
1/3 white onion, thinly sliced
3/4 pound ahi tuna, cut into 1/2 inch cubes
1 small avocado, diced
2/3 cup diced watermelon
1/4 teaspoon sesame seeds
serving pickled ginger (sushi ginger or gari)
Instructions
In a medium bowl, mix soy sauce, watermelon juice, chili sauce, oil, the white portion of green onions, garlic, ginger root and onion. Add tuna, toss and refrigerate for 30 minutes.
10 minutes before serving, add avocado and return to refrigerator.
Plate as *desired and top with watermelon and green onions, then sprinkle with sesame seeds. Serve with pickled ginger.
* Watermelon Poke Bowls can be served as individual portions over rice (seasoned with a touch of rice wine vinegar) as a main dish, in small serving bowls as an appetizer or side dish, or on a large platter for a buffet. Garnish with dried seaweed for extra Hawaiian flare.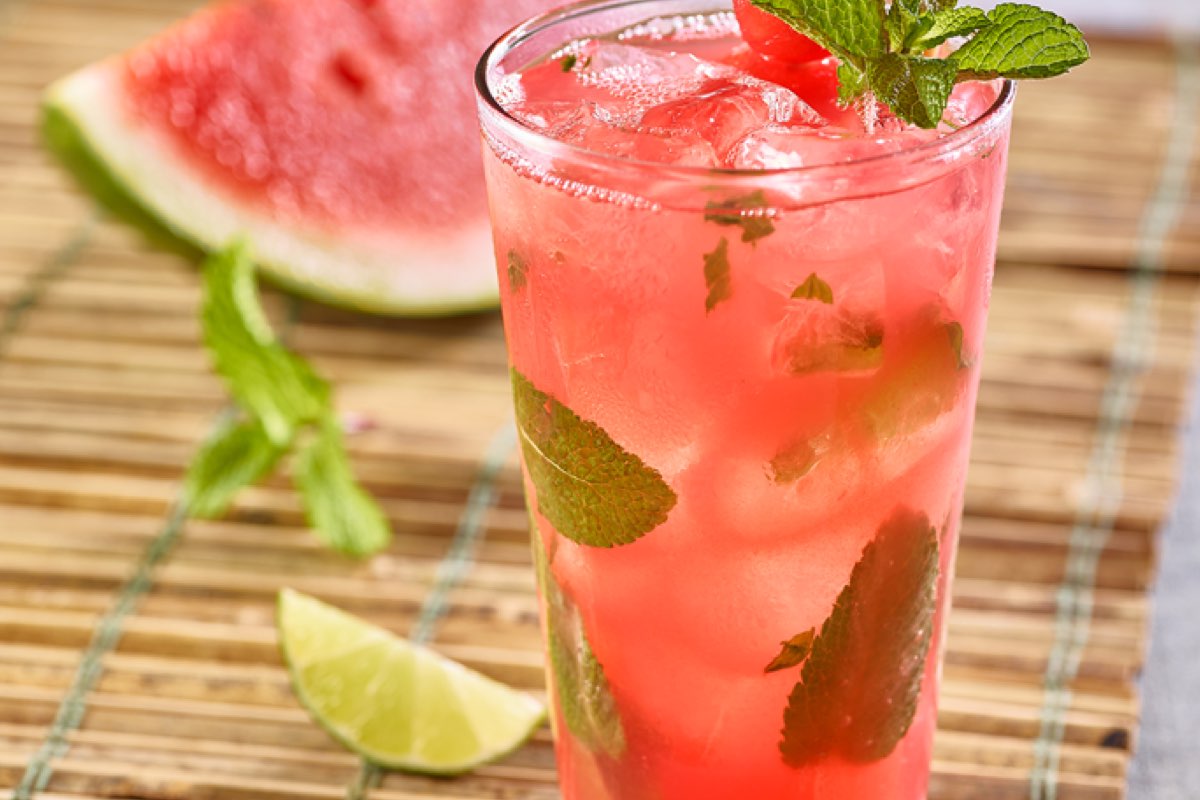 Watermelon Mojito
Servings: 2 drinks
Adding watermelon to your mojito will add a bit of adventure, taste, and refreshment. It also is just really pretty!
Ingredients
30 mint leaves
1 large lime the juice and some pulp is needed
2 cups ice
4 fluid ounces white rum
1/2 cup liquified fresh watermelon
1/2 cup club soda
serving diced watermelon (optional)
serving mint leaves and small slices of watermelon
Instructions
Place mint leaves, the lime juice and pulp in a medium pitcher. Use a muddler to crush the mint and blend the juice.
Add the ice, rum, watermelon juice, and club soda.
Stir, taste, and add more lime to taste. Add a few diced watermelon if desired and garnish each glass with mint and a thin slice of watermelon.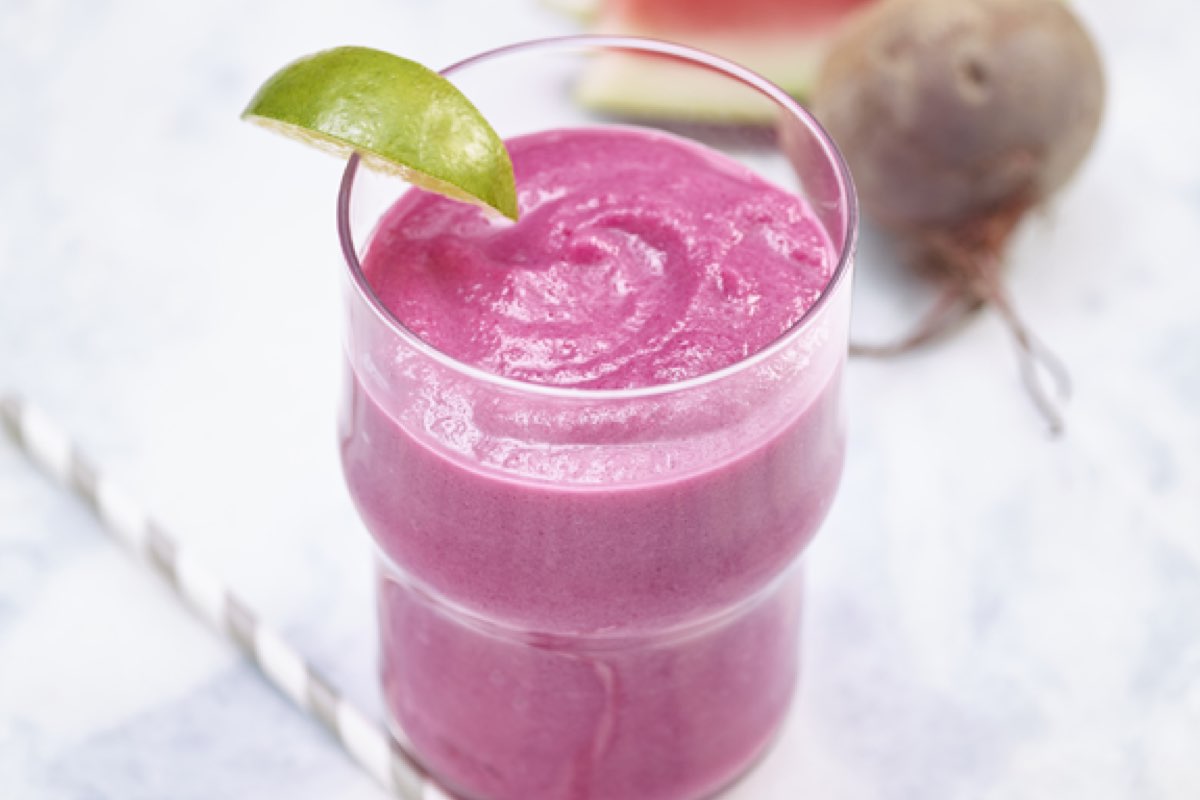 Watermelon Beet Post Workout Smoothie
Servings: 2 two-cup servings
This post-workout smoothie will help you refuel with protein (to repair and build muscle) and carbohydrates (necessary to restock glycogen stores). It also comes with nutrients that repair tissues including vitamin C, calcium, iron, magnesium, and B vitamins.
Ingredients
1/2 medium beet, chopped
1 cup chopped watermelon
1 banana, peeled
1/2 cup coconut water
1 cup nonfat, plain kefir
1/2 lime, peeled
2 tablespoons honey
1 teaspoon vanilla extract
2 tablespoons vanilla protein powder
Instructions
Place all ingredients in a blender and blend until smooth.
View more recipes at the Watermelon.org website
SaveSave