Want to know what May*, a 27 year-old health consultant spends on her wellbeing? "Class Pass, and some pay-as-you-go. I'm a big fan of barre and Pilates at Heartcore and Louisa Drake". But what's the most extravagant thing she's ever done for her wellbeing…
How much do you earn?
£45K
Gym membership, pay-as-you-go classes or both?
Class Pass, and some pay-as-you-go – I'm a big fan of barre and Pilates at Heartcore and Louisa Drake on Mortimer Street.
How much do you spend on your wellbeing per month?
£105 on Class Pass
£35 on supplementary pay-as-you-go classes
£30 a month on a pedicure
£20 a month on collagen powder
£50 per month on facials
£100 per month on physio for back pain
£20 on waxing
£60 on make up/toiletries
£20 on prescriptions and supplements (omega-3, evening primrose oil, pain relief)
Total: £450 per month
What is the most extravagant thing you've ever done for your wellbeing?
Spent £500 on Skin Laundry facials – I had some serious chin acne going on and I would have paid anything at that stage!
If you don't work out regularly and eat healthily, how do you feel?
If I've had a weekend of not exercising and eating too much/unhealthy foods, I often wake up on Monday morning with a lack of energy and feeling very guilty!
Is health the new wealth?
In some respects, yes, I feel so much more positive when I am working out and eating right. However, I do recognise that too much emphasis can get placed on it, and it can become somewhat obsessive.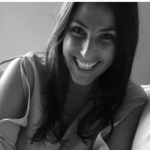 Charlotte is a London girl through and through. She sweats through spin and puffs through Pilates to justify trying the latest restaurants and devouring copious amounts of sweet potato fries, burrata and bread – preferably on holiday. Her favourite destinations include Italy, the Maldives and anywhere where the sun's shining and there's a strong breakfast buffet. She's obsessed with walking, visiting farmers' markets and reading. She's also learning to cook. Wish her (and her husband) luck.