Here at DOSE, we're all about balance. A green juice for breakfast, a glass of wine (or two) at happy hour. Giving ourselves a hit of exercise endorphins at the gym when we need it, alongside accepting when it's too much of a struggle and it's not going to happen.
But sometimes, all you need to take you from the former to the latter is a little bit of motivational wisdom from those in the know. We know we feel better when we're less sedentary – it's just about getting there and finding a routine that works. We wanted words of advice from the powerful women who seem to always look and feel great, and who put it down to kicking ass in the gym.
With that in mind, we asked Rhian Stephenson, CEO of spin chain Psycle London, why she works out.
"I see working out as one of my non-negotiables. Whether it's mentally or physically, it gives me everything I need and it is one of the most important tools I have to influence how I feel.
"When I was in my 20's, I was still swimming competitively for Canada, so exercise meant something very different for me then. But once I retired, I realised how integral it was to living the life I want to lead.
"Now that I'm my 30's, exercise is my release – it gives me head space, freedom, energy, confidence and a sense of accomplishment that helps me in everything I do. I love the physical benefits of course – feeling strong, balanced and confident in my body is important to me.
But the main reason I work out is because it makes me a stronger, happier and more fulfilled person."
We know it's true – sometimes we just need reminding. That's our hump day motivation right there.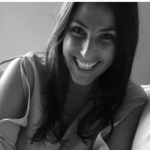 Charlotte is a London girl through and through. She sweats through spin and puffs through Pilates to justify trying the latest restaurants and devouring copious amounts of sweet potato fries, burrata and bread – preferably on holiday. Her favourite destinations include Italy, the Maldives and anywhere where the sun's shining and there's a strong breakfast buffet. She's obsessed with walking, visiting farmers' markets and reading. She's also learning to cook. Wish her (and her husband) luck.