Need a little breath-filled timeout? Whilst Christmas can be a jolly time of year, it can bring its challenges. From the endless expense to the over-indulgence – topped off with prolonged periods of family time (much as we love them); it's no wonder that scientists identify it as one of the most anxiety-inducing times of the year. But instead of reaching for the Marlboro lights or numbing yourself with another glass of wine, steal five minutes of time for yourself, to step back and simply breathe…
Breathe It All In is a series of guided mindful practices created by a variety of experts from lululemon's collective around the world. Each guided practice offers listeners a different breath experience and outcome – from finding a quiet moment to create peace and calm, to connecting with the world or others around you…
https://open.spotify.com/user/lululemon/playlist/1XAntkcxqQ7bpbBHKkcOFl#_=_
Breathe in Peace: Emmanuel Jal – Emmanuel Jal's start in life was in the war-torn region of Southern Sudan as a child soldier. He's now an acclaimed recording artist (working with the likes of Nelly Furtado) and peace ambassador.
Breathe in Generosity: Paige Elenson – Co-Founder and Executive Director of Africa Yoga Project, Paige has built her life and career around giving back through yoga.
Breathe in Connectedness: Xavier Rudd – A multi-talented musician, Xavier Rudd's ability to connect with people is his most powerful gift.
Breathe in Calm: Gabby Bernstein – #1 best-selling author and meditation teacher, Gabby shares a five-count breathing exercise.
Breathe in Nothing: Ryan Leier – Co-owner of One Yoga studios and creator of Vinyasa Yoga for Youth, Ryan has a simple gift for you, the gift of nothing.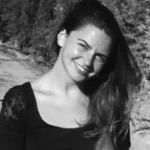 Hettie is the editor and co-founder of DOSE. A keen runner, she's also partial to a blast of high-intensity and hot yoga. A country girl at heart, she divides her time between London and the lush rolling hills of North Devon. When she's not jetting off on her next adventure, Hettie can be found in a candle-lit alcove with a laptop, a spaniel and a full bodied Malbec.