Ethical activewear is having a big moment right now, and that means you're spoilt for choice with workout wear that is both comfortable and kind to the planet. According to 2019 Wellness Trends, from Global Wellness Summit, the fashion industry spews 1.2 billion tons of greenhouse gas emissions a year and if nothing changes, the fashion industry will use up more than 25 percent of the world's entire carbon budget by 2050.
As we move from an age of conspicuous consumption to an age of "conspicuous conshumanism," which brands are really worth trading your traditional workout favourites in for?
Stacey plunged in to find the best of the best and tested all the kit – so you don't have to!

Alice Asquith started this UK brand in 2002. Her goal? To create flattering activewear which "makes you feel good inside and out". All products from this brand are made using an ethical production process, from sustainable fabrics, for women of every size and shape. They're one of the only brands with an extended size range, and all their clothes are designed to be multi-functional and work both in class and out. It's Oeko-Tek certified and everything is made from sustainable fabrics. 
What I tried: Conquer Cami and Flow With It Leggings
How they performed: Well, let me just say that the Conquer Cami is my new best friend – not just because of the very OTM shade of berry, but because it actually made me look a size slimmer whilst feeling incredibly comfortable. It's a super-feminine, ultra-strappy silhouette that reminds me of my ballet leotards. There are no bulges anywhere – the cami has spaghetti straps that lie completely flat and the band of the bra is not at all constricting (one of my pet peeves). It also stays in place through a spin class and a yoga class – huge benefit. The leggings are comfy and fit well, if a bit shiny. However, they have no pocket anywhere and wow, I'd really love one in these. That said, they're a great basic black legging and are completely opaque. One note – it does take a while to hang dry (as with all bamboo pieces) – so don't expect to wash and wear. But otherwise, they're great and I love the ultra chic logo on the pieces.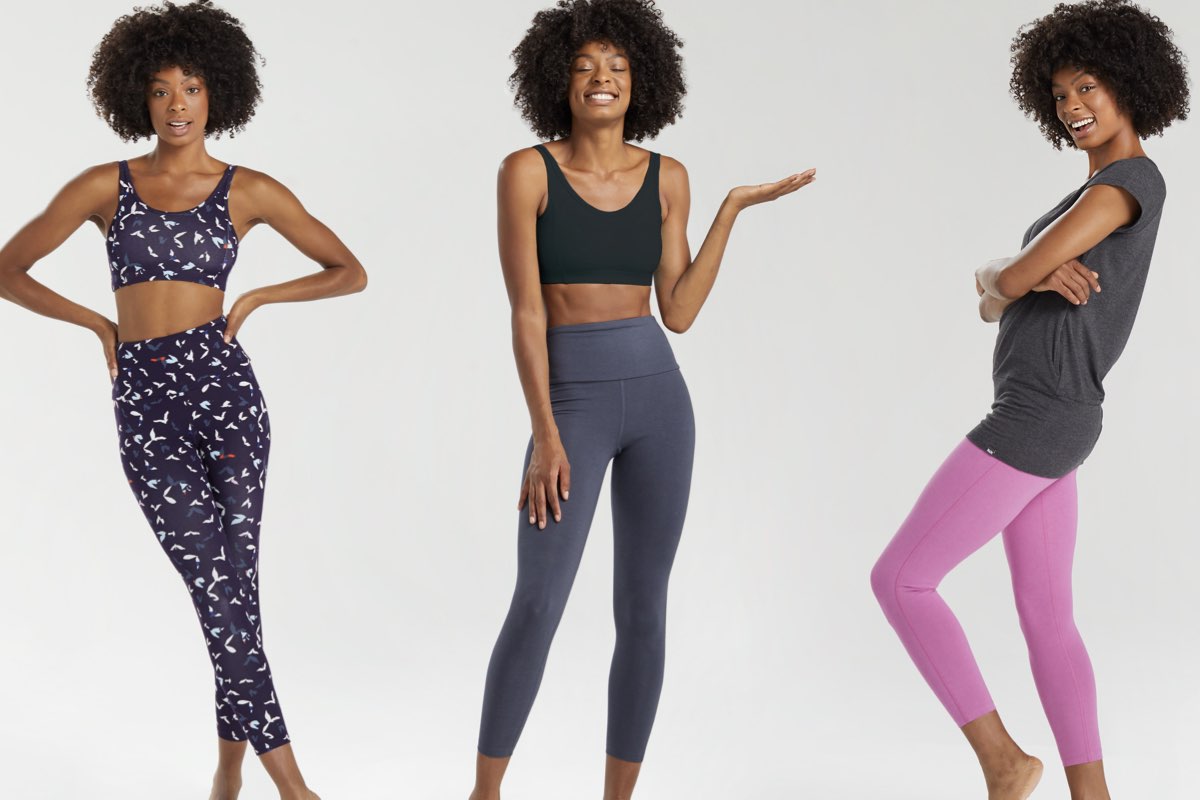 Everything is bamboo in this activewear line, because bamboo is both a highly sustainable plant and a popular alternative to cotton, particularly for those with allergies and sensitive skin. BAM launched in 2006 in the UK when founder David Gordon believed he could start the "holy grail" of business: where everyone wins – socially and environmentally. 
What I tried: Women's Scoop Back Crop Top and High Waist Enduro leggings
How they performed: First, let me just say this was one awesome print (Tidal Wave Navy) – I got a ton of compliments on my way to the studio. From random people at the bus stop all the way to the gym – the print catches the eye! I love the softness of the bamboo fabric, and it had just the right amount of stretch for me. The leggings held everything in nicely, and even had a waistband pocket, and were just the right side of high waisted. They didn't roll down at all – even in a yoga class – and felt nice without squeezing. The bra is really just stretchy, one-ply fabric, so I had to double up with another bra underneath to get enough support during a spin class. That said, it would be perfect for an A/B cup. Both the bra and the leggings waistband were soaked after class as well, but I love the look and feel of this set.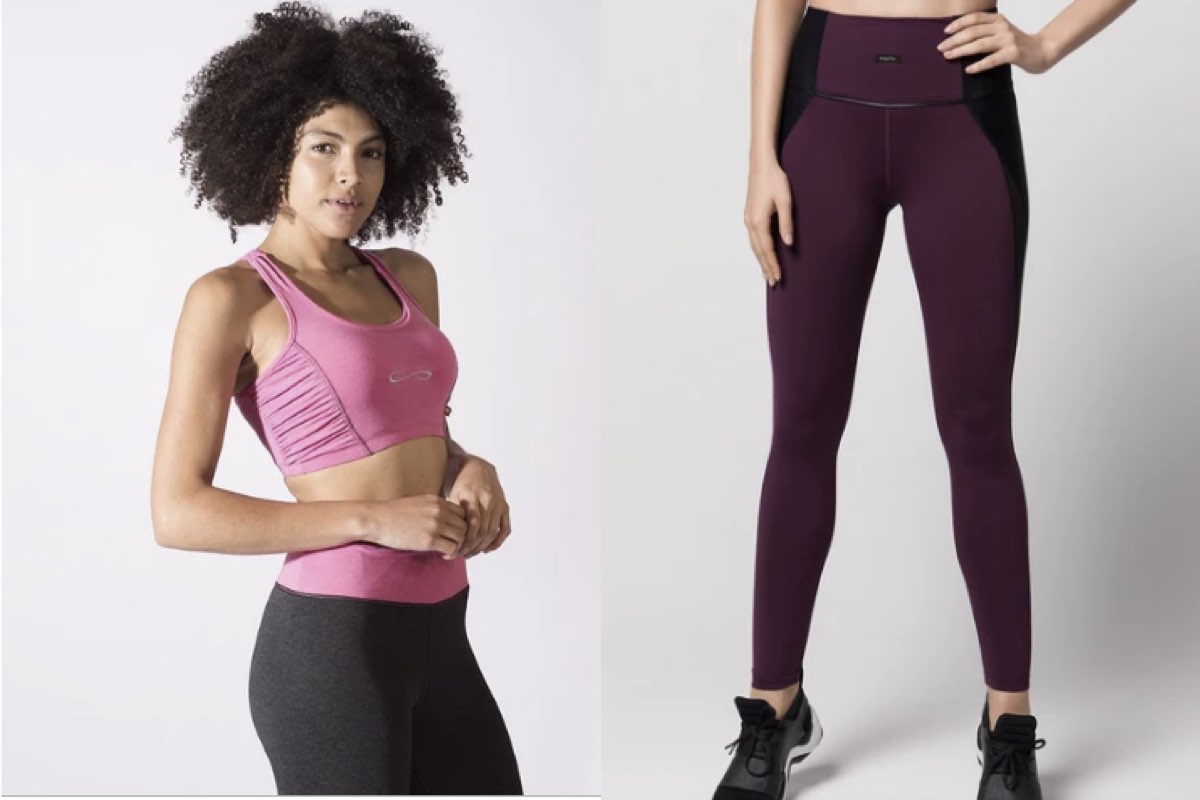 Carrot Banana Peach is a UK-based organic plant-based clothing brand. The brand began its journey with a yoga-focused collection in 1999, initially made with organic cotton, and now offers bamboo yoga clothing, banana fitness clothes, soybean yoga retreat wear and the more recent launch of its aloe vera clothing and accessories.
What I tried: Bamboo ventilation hot yoga bra and high-density bamboo cycle shorts
How they performed: The colour of the bra got me tons of compliments – it was a perfect rosy pink. And I liked the way it was lined with sheer mesh fabric. But it just didn't provide enough support by itself. I would want to wear it doubled up in future, but the colour is lovely. Note – the fabric immediately soaked up perspiration and stayed wet during class, and it didn't dry for the full two hours post class (bamboo is notorious for slow drying once fully wet). I would definitely bring something to change into next time. Same for the shorts – the light heather grey unfortunately showed all the damp patches in my intimate areas. They were a perfect length, however.  I would definitely get these in a dark colour way, because it's hard to find fitness shorts that are just above the knee and not super short. 
Daquini's motto is "Make good things happen. Do no harm." To that end, their high-end technical fabrics come from ethically, socially and environmentally responsible suppliers and everything is Oeko-Tex® certified and also bio-degradable. And it's really gorgeous design. But there's a catch: right now, their clothes line only goes up to a size large (EU 40/US 10/12). Daquini explained that they're planning to extend their line beginning this autumn, so I asked my DOSE colleague Maneesha to try them on instead. Here's what she found, in her own words:  
What Maneesha tried: Round One Bra Tank, Breeze Tank, Velocity Leggings and the Omega Leggings (in size large)
How they performed for Maneesha: "The Round One Bra tank is great for women with band size significantly smaller than cup size, and is ideal for low to medium impact workouts. The winner was the Breeze Tank, which is super lightweight, dries fast, and the semi-shiny fabric is super flattering. It worked for Barry's and Pilates, with no issues. I also tried the Velocity Leggings and the Omega Leggings. They're great looking, but neither fit my body right with the ultra-high waist. I love the mesh panel on the Velocity Leggings and the Omega Leggings have the kind of compression I've been searching for, but they don't work. They'd both be better on someone over 6 feet tall. I'm fairly tall and have long legs but the fabric on these still bunched around the back of my knees. In terms of functionality? They're good. They just didn't look great on me."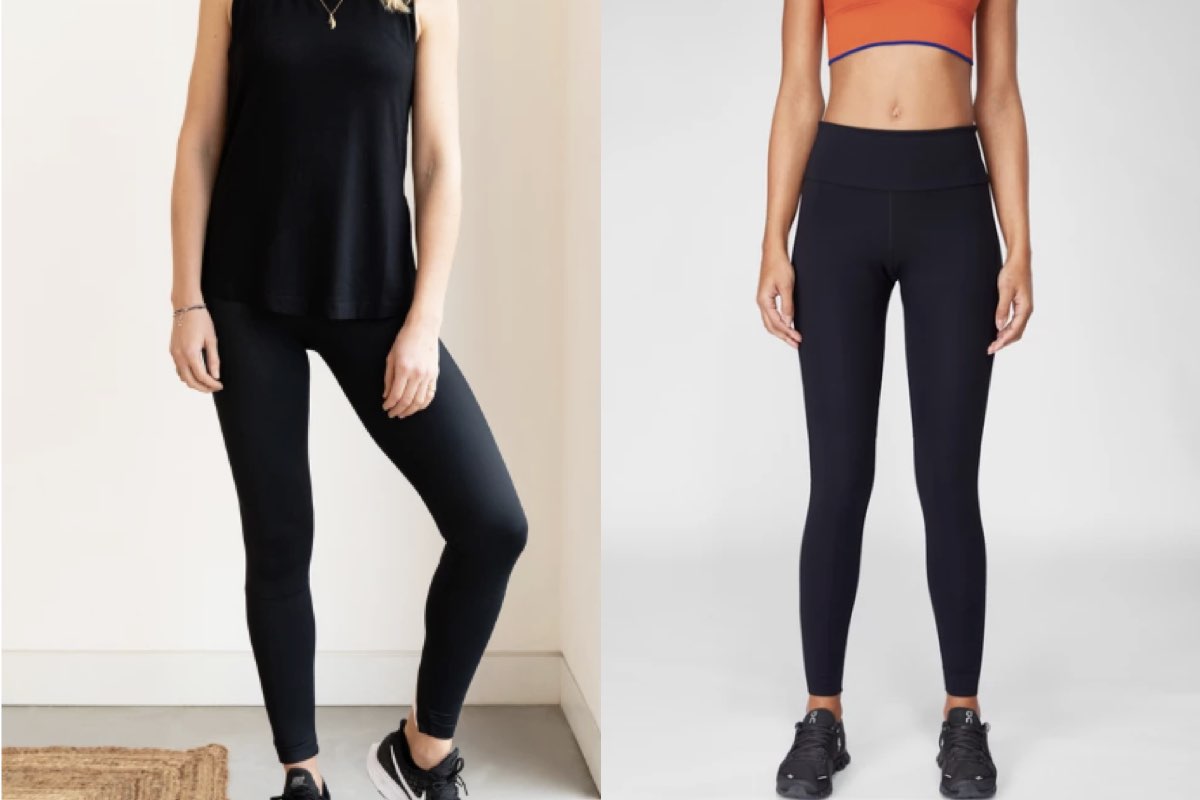 Designed in London, Evveervital incorporates both ethical footprint and fabrics that minimise waste (recycled fibers, including plastics, feature heavily in the line). The brand's founder, Katrin Schneck, focuses on creating high-performing athleisure apparel with innovative materials. Eveervital also uses ethical sourcing and responsible manufacturing processes. 
What I tried: I tried the Abbey Sports Bra and Cinnabun leggings, both in size large.
How they performed: This was honestly my favourite of the brands I tried in terms of overall performance and look; they're beautiful, with high-quality fabrics. These leggings take tugging, but after some work, they fit beautifully and sculpt everything with only a few wrinkles in the back of the knee. They even have a pocket, though it was a bit fiddly. I didn't think the bra would be as supportive as my DD boobs need. Surprise! The bra was perfection and super comfortable. It didn't feel or look soaked when I taught, and I loved the burnt-orange colour. Although this kit is on the pricey side, I'd definitely spend the money, because it all performed so well. It's my first non-structured bra that properly supports and lifts. (I've actually ordered a second one already). Even better? Several people in class said I looked really toned, which is always a plus in my book. It dries fast after washing, so I'm wearing them OTR and immediately put in an order for more. 
Evamoso believes that sustainably sourced clothing should be a given, not a speciality. "We believe you shouldn't have to look hard to buy comfortable, stylish, everyday clothes, created with their footprint in mind. To put it simply, we want to make sustainably sourced clothing the new norm," says Evamoso founder Jenny Thiel. Evamoso will also be adding larger sizes through the autumn season (my curves say THANK YOU to that one). 
What I tried: I tried the Tie-up Vest and the Moso Legging, both in size large. 
How they performed: The leggings, in a beautiful and OTM forest green with Evamoso's signature rose quartz insert at the ankle, have clearly been designed for someone taller than me, but other than the wrinkles at the back of the knee and ankle, they fit nicely. The fabric is a unique blend of organic cotton, bamboo and elastane, and is fairly thick. Huge bonus? No wet patch. Even better? The high waistband did not budge at all during the workout. Not one bit. My only criticism is that there's no pocket anywhere. The vest is super soft and covers everything nicely, feels great and honestly? I'd wear it over jeans as a regular top or even as a sleep top, it's that soft. It also kept me cool during a sweaty ride and stretch. Note – if you're on the larger size bust-wise, it will fit VERY closely and not loosely, so size carefully.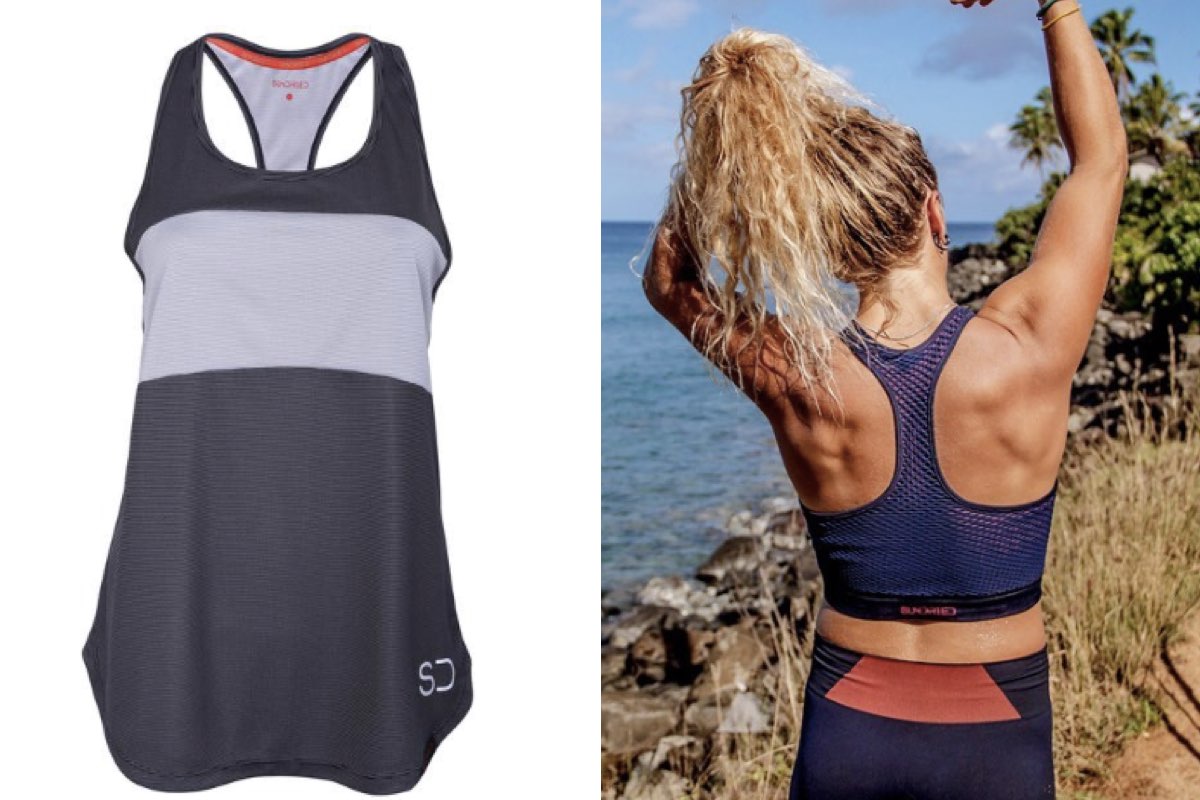 Sundried believes that clothing should be of a high quality and last you a long time, instead of being cheap and disposable. "Wouldn't you rather buy the best pair of running leggings you've ever owned and wear them for years than pick up a cheap pair which fall apart after a few uses?" Sundried offers activewear collections with 100% recycled materials: Eco Core and Eco Charge. 
What I tried: I tried the Women's Yoga Vest (made of recycled bottles!), the Ruinette Leggings and the Breithorn bra. (vest and leggings in XL, and the bra in L)
How they performed: The tank is the big winner here. It looks great and keeps me cool throughout the workout. It's also dry enough post-workout to leave on and not have to change out my top. The bra needs an extra layer for me to make it work for a high-impact workout. The leggings are very sporty, with great reflective side stripes and ankle zippers with a swish logo at the ankle. I'll wear them for night runs, and am excited to see they have a great side pocket for keys. The big drawback? They're really the right length for someone about 6 feet tall. But they fit great otherwise, and stay completely dry through the sweat session. All pieces also dry fast right out of the wash, and are relatively inexpensive for the quality.
Get your weekly DOSE fix here: SIGN UP FOR OUR NEWSLETTER
By Stacey
Main image – Sundried