Egg yolks, cream and melted butter are the main constituents of hollandaise – best served, in our opinion, slathered over poached eggs on a hot buttered muffin. Which is fine as a treat now and then BUT if you're looking for a slightly healthier alternative, try this recipe from Kimberly Parsons, author of The Yoga Kitchen…
Ingredients
For the hollandaise sauce:
• 50g activated nuts, raw cashews
• 30g canned artichoke heart, tough outer leaves removed, water reserved
• 1 tablespoon nutritional yeast
• 1/2 teaspoon ground turmeric
• pinch sweet paprika
• 1 lemon, Juiced
• 1/2 teaspoon sea salt, to taste
For the eggs:
• 2 eggs
• 2 tablespoons distilled white vinegar
For the vegetable layers:
• 2 tablespoons turmeric
• cauliflower steaks & kale sundried tomato pesto
• 1 ripe avocado, peeled, stoned and sliced
• 25g spinach, washed and blanched
• 8 asparagus spears, trimmed and blanched
Method
1 For the hollandaise sauce, blend all the ingredients in a high-speed blender or small food processor until completely smooth.
2 If the sauce is too thick, add more reserved artichoke water to reach a desired consistency.
3 To poach the eggs, heat 4cm water in a deep frying pan over a low heat until just simmering. Add the vinegar and use a wooden spoon to create a whirlpool. Crack each egg into a small mug and then slip into the water.
4 Poach the eggs for 3−4 minutes, then remove with a slotted spoon and drain well.
5 To assemble, put a spoonful of tomato pesto on each serving plate, then layer avocado slices, blanched spinach and blanched asparagus onto the plates.
6 Top each with a poached egg and a dollop of hollandaise sauce. Sprinkle the plates with a little dukkah, if desired. Serve immediately.
Recipe courtesy of Kimberly Parsons, extracted from The Yoga Kitchen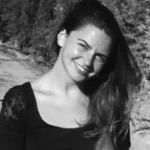 Hettie is the editor and co-founder of DOSE. A keen runner, she's also partial to a blast of high-intensity and hot yoga. A country girl at heart, she divides her time between London and the lush rolling hills of North Devon. When she's not jetting off on her next adventure, Hettie can be found in a candle-lit alcove with a laptop, a spaniel and a full bodied Malbec.