Are you hungry for a retreat with a relaxed bohemian vibe where health meets a little hedonism? Check in to Vila Monte Farm House in Portugal, where barefoot chic meets Algarvian splendour. With an al fresco cinema, sommelier-recommended wine and a wellness programme fusing full moon hikes, yoga, Pilates, reiki, pottery making and a "shamanic voyage", you're bound to leave feeling revived, as DOSE writer Sophie Everard did. Frazzled from the peaks and troughs of the last year, she reports back on a magical stay, that left her feeling at peace, revitalised (and newly engaged) after a 3 night stay…
Arrival at Vila Monte Farm House
Vila Monte Farm House, the unassumingly clandestine 5* hotel just 25 minutes East of Faro Airport, is surely one of the Algarve's best kept secrets. The finca-style property nestled amongst lush carob, fig and pine trees, dressed with tumbling bougainvillea, wild flowers and herb gardens, has a wellness-hued feel, where the use of local ingredients in it's restaurants, well-planned offerings including yoga and Pilates programmes enticed me in, hungry for my own decompressing escape.

First impressions
The swaying calm of verdant trees, widely spaced white and bright interiors and gentle sounds of birdsong and views across the valley makes for an intoxicatingly beautiful setting that immediately sets you at ease. A calm but clear COVID-19 safe protocol including on-site tests if needed at check-in (if not vaccinated) sets mind at rest, and the welcoming reception staff clearly outlined everything to discover across their lush ground.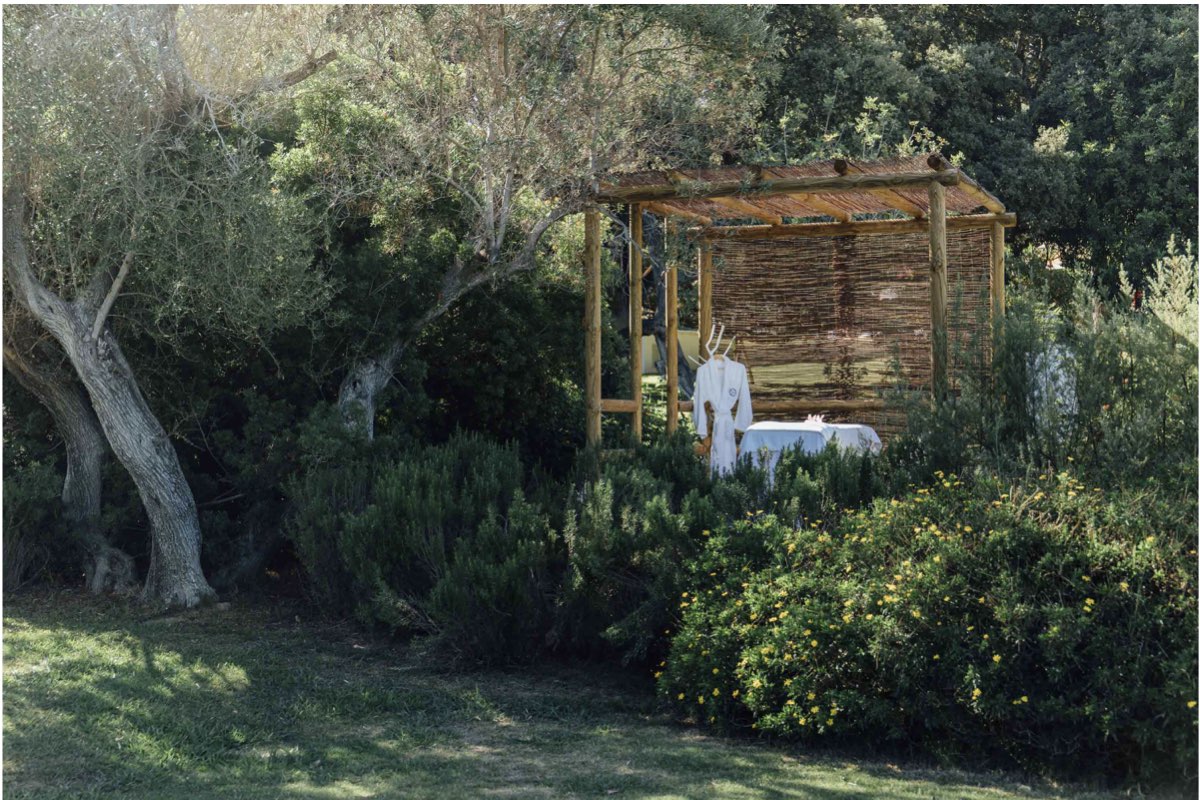 With both a family-welcoming kids pool area with toys and pool bar, the opposite adults only pool is perfectly peaceful; lying pool-side harks back to Slim Aarons-esque images of 70's poolside chic, just order an aperol spritz and bask in the calm.
The hotel grounds include many a hidden find of tennis court, hammocks, cool seating and beds for lounging under the stars at night or wiling away the hours with a book (a cute library available onsite), plus a nightly "popcorn time" al fresco cinema offering.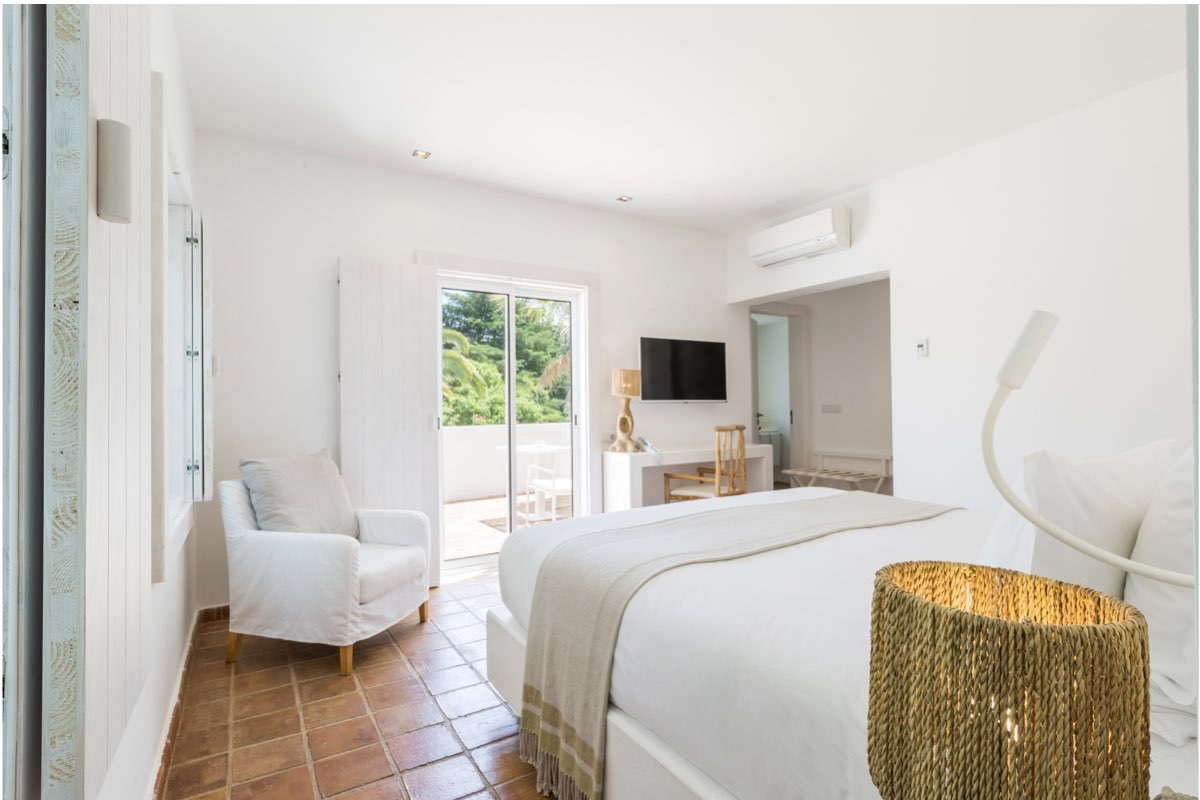 The room
Our junior suite was a spacious and cool antidote to the sultry heat of the Algarve summer: beautiful whites, a large bath, and thoughtful touches including straw hats and beach bags are readily available in your room. Waking up to the peace of the sun-dappled hills in front was something to look forward to everyday, slowly waking up with a coffee (a Nespresso machine in the room) and breathing in the scent of local flowers. 
With family suites, singles and a larger villa offering, there is truly something for everyone, and we enjoyed seeing the mix of clientele, from happy young families to couples, solo travellers and families of all ages.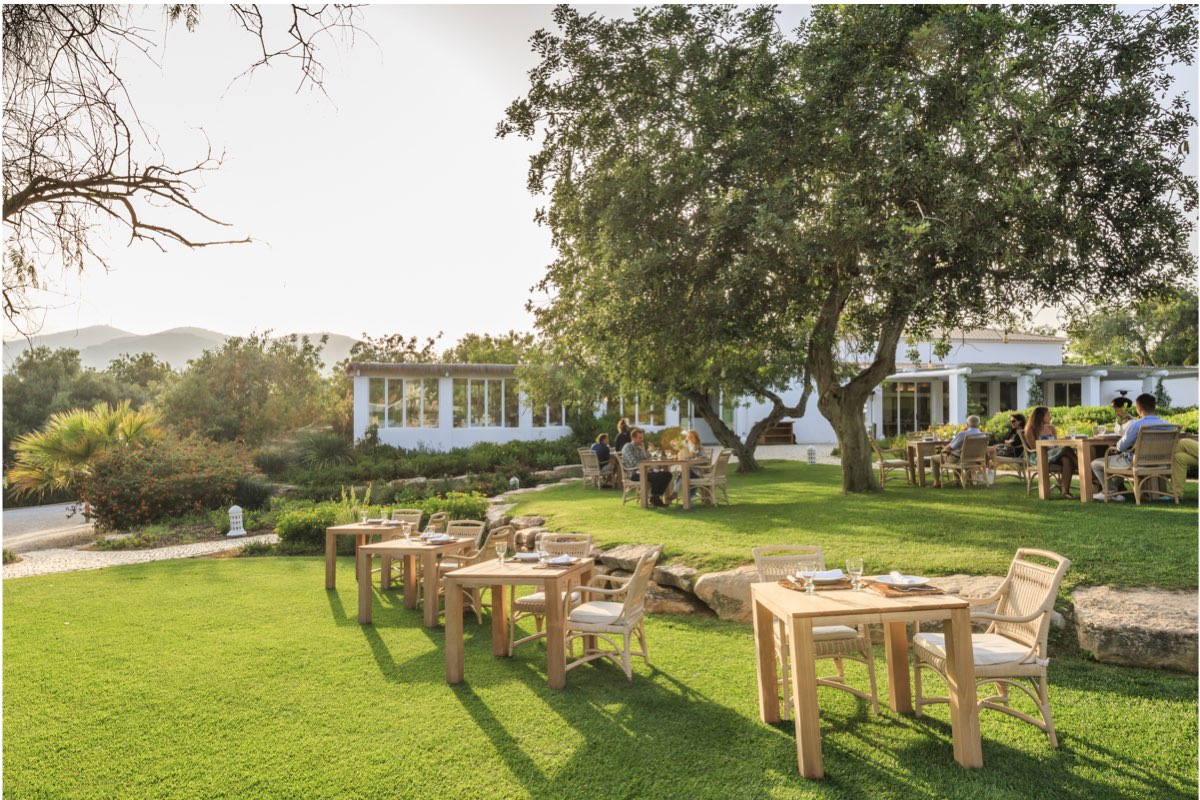 Restaurante À Terra – Vila Monte Farm House
The fantastic food at Vila Monte is a clear standout and also took centre stage. With the onsite "A Terra" restaurant working with local ingredients including seasonal fruit and vegetables plus mouth-watering freshly baked bread daily, relaxed lunches and dinners of sumptuous yet simple seafood including Portuguese favourites "percebes" (gooseneck barnacles, trickily prised off rocks by hardy fisherman), boiled prawns and juicy clams dripping with garlic and wine, oven-fired pizzas, freshly caught fish from sea-food centre the little town of Olhao and steaks with sommelier-recommended wine made for headily romantic nights under star-strewn skies. 
Snag a snack from the restaurant-side grocery which handily stocked small salads, sandwiches and treats in case you're heading out, plus pottery and token beautiful artisan gifting. One of the best hotel breakfasts I've had yet was made all the more so by the sense of calm: no jam-packed hustle and bustle to snag the last pastel de nata here, amply spaced tables, a tranquil ambiance and an incredibly full and furnished buffet setting of local specialities including in-season figs, gooey large honeycomb, local goats cheeses, baked favourites including croissants, crispy and creamy pastels and bolinhas, eggs every way and local juices made for the perfect start to the day.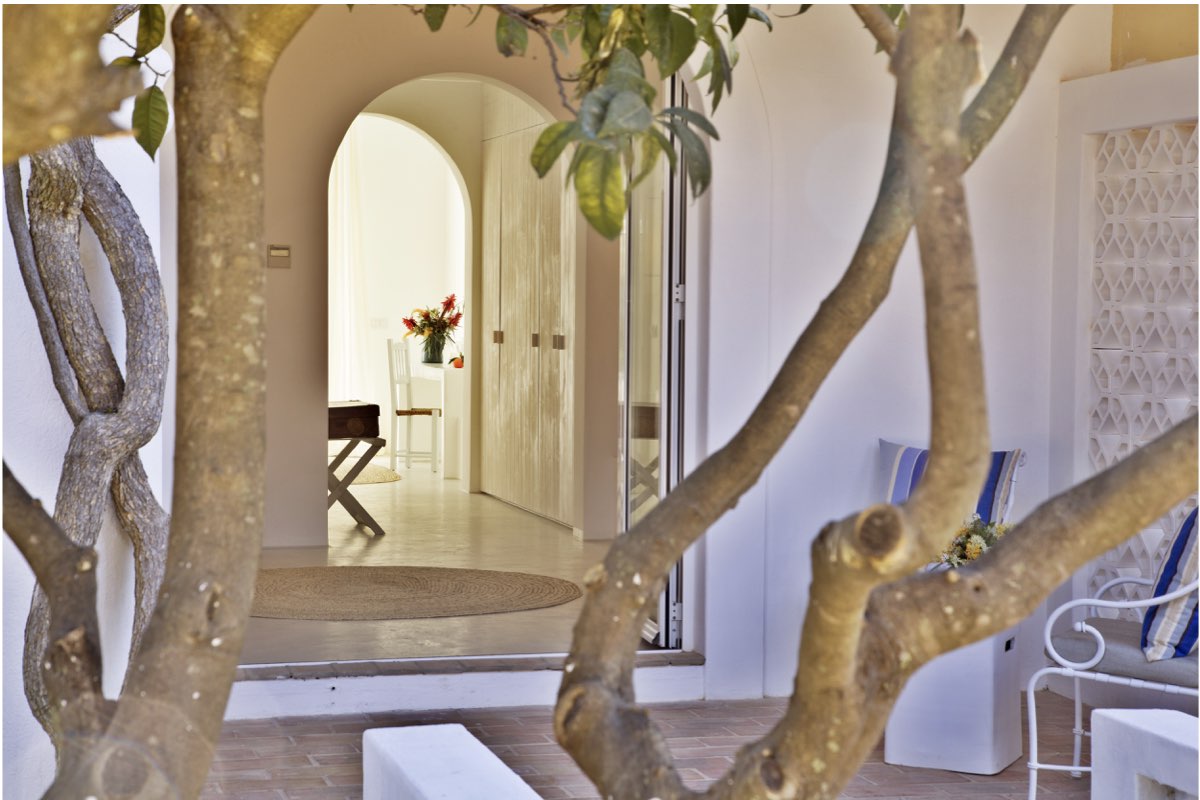 What to do at Vila Monte Farm House
A resplendent "experiences" offering has everything from full moon escape hikes to massage, reiki and 1-1 yoga classes, a "Lunch at the chef's table" private dining experience for foodies, horse riding on the coast, private sunset Catamaran cruises, cave exploring and picnics on deserted beaches, plus plenty for the little ones to be entertained: pizza making, a day at the farm, pottery making, or an excellent baby-sitting service on site. 
If you find it hard to step away from your favorite wellness and fitness routines, Vila Monte is amply stocked with all that you could need (including a gym), plus something that you may not have considered (a "shamanic voyage" available onsite), meaning wellness takes centre stage, and it has the feeling of your own bespoke retreat, where you can cherry pick the best of what you need.
We opted for the day trip to Fuseta, where a seamless pickup at the hotel and drive to Fuseta harbour where a private Vila Monte boat awaited took us to a hard-to-believe stunning island, akin to the white-sand islets of the Caribbean.  Fuseta is truly breathtaking, with crystal clear aqualine waters that I'm told seahorses are its most infamous residents.  Picnics of varying luxury are available, with umbrellas, towels and cold water already waiting for us. Pristine sands and mind-blowing vistas became the backdrop to a surprise engagement, and upon return to the hotel the Vila Monte staff were waiting for us with champagne and a kind congratulations, our excited transfer driver had touchingly shared our news en-route.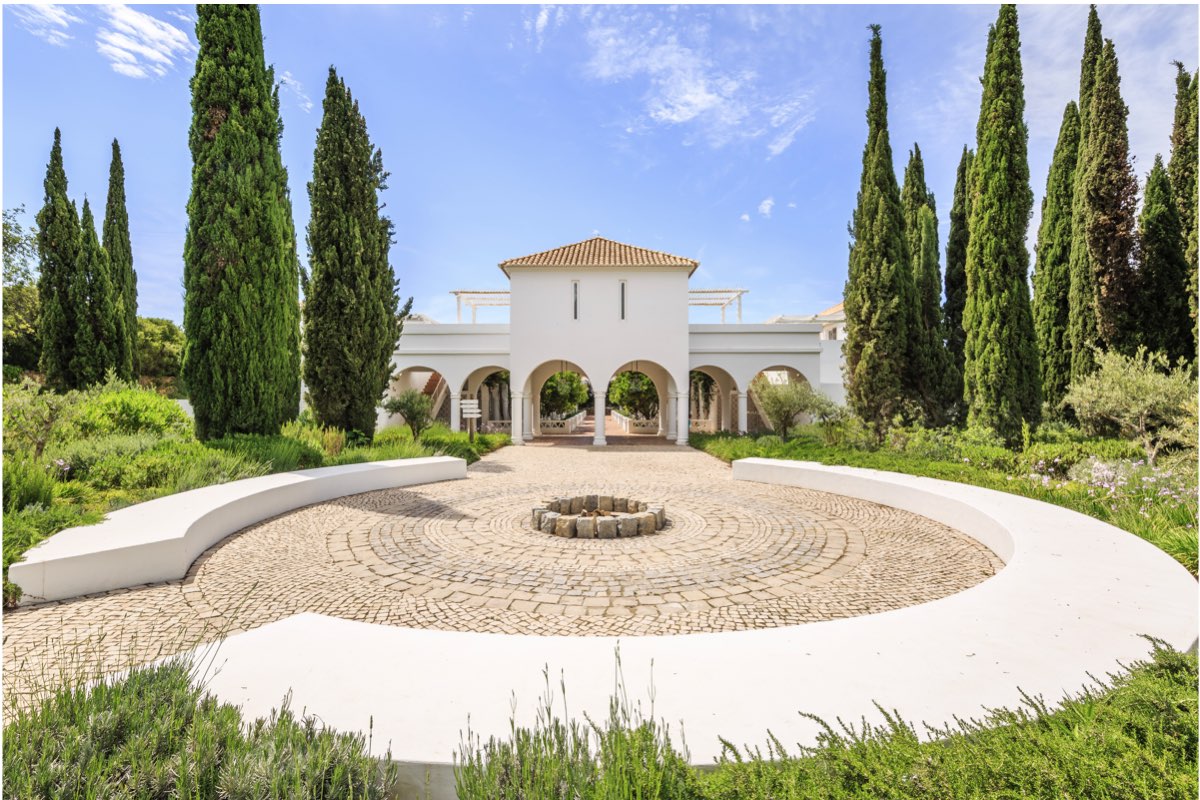 In a nutshell
The magic of Vila Monte lies in the truly effortless and hard to capture feeling that accompanies throughout it's DNA.  Even though we were told the hotel was at near capacity, we didn't feel once that it was too busy, noisy or anything other than a tranquil oasis. Arriving frazzled from the peaks and troughs of the last year, I was amazed to find myself quickly transported to a true and much desired feeling of peace, revitalised (and newly engaged) after a 3 night stay.  The staff are so genuinely warm and considerate to your needs, it almost feels like a no-brainer that I might plan my wedding at Vila Monte, and return to my newly acquired Vila Monte family…
Get your weekly DOSE fix here: SIGN UP FOR OUR NEWSLETTER