With lockdown 2.0 upon us, we might not be able to dine in at our local Wagamama but we can recreate their famous Katsu Curry Recipe at home with this simple, step by step guide.
Wagamama has released a series of online videos "Wok From Home", with instructions on how to make some of the most popular meals at the restaurant. Here is how to make their famous katsu curry dish:
Wagamama Katsu Curry Recipe
Ingredients
For the sauce (serves two)
2-3 tablespoons of vegetable oil
1 onion, finely chopped
1 garlic clove, crushed
2.5cm piece of ginger, peeled and grated
1 teaspoon of turmeric
2 heaped tablespoons of mild curry powder
1 tablespoon of plain flour
300ml chicken or vegetable stock
100ml coconut milk
1 teaspoon of light soy sauce
1 teaspoon of sugar, to taste
For the dish (serves two)
120g rice (any type of rice you would like)
katsu curry sauce, made from ingredients above
2 skinless chicken breasts
50g plain flour
2 eggs, lightly beaten
100g panko breadcrumbs
75ml vegetable oil, for deep-frying
40g mixed salad leaves
Method
To start making the katsu curry sauce, place the onions, garlic and ginger in a pan on heat on the hob and stir them as they soften.
Next add the curry mix, before then adding the turmeric and continue to stir as the strong flavours are released.
Allow the mixture to sit on a low to medium heat for a minute or so.
Then add the flour, which will help to thicken the sauce, continuing to mix for a minute as it combines with the spices.
After watering down your chicken or vegetable stock, start slowly adding it to the mixture. Add a little bit at a time, stirring as you do so.
Once the chicken or vegetable stock as been added and stirred in, you can start to add the coconut milk. Although the recipe says to use 100ml, it is up to you how much you would like to use. The more you add, the creamier it will be. Just as with the stock, add a little bit at a time as you stir.
Next, add a little bit of a sugar and small amount of soy sauce to finish off your sauce.
Moving on to the rest of the dish, split your chicken fillet in half before turning it over in a bowl of flour, then in a bowl of lightly beaten eggs, and lastly in a bowl of panko breadcrumbs.
Once the chicken fillet has been coated in breadcrumbs, you need to deep fry it in vegetable oil, turning it over with tongs to achieve a golden colour. Executive chef Mr Mangleshot recommends being very cautious at this stage to make sure you do not burn yourself.
Before serving your dish, strain the curry sauce to ensure it is as smooth as possible.
Cook the rice, which can be any type you would like, and pour it on the serving plate.
Once your chicken is cooked, remove it from the pan with your tongs, slice it diagonally and place it on the plate next to the rice before adding mixed leaves as well.
Finally, drench your dish in the famous katsu curry sauce for the finishing touch.
Liked this Wagamama Katsu Curry Recipe? For more information on Wagamama's "Wok From Home" classes, click here.
Get your weekly DOSE fix here: SIGN UP FOR OUR NEWSLETTER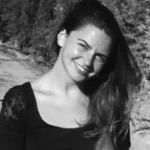 Hettie is the editor and co-founder of DOSE. A keen runner, she's also partial to a blast of high-intensity and hot yoga. A country girl at heart, she divides her time between London and the lush rolling hills of North Devon. When she's not jetting off on her next adventure, Hettie can be found in a candle-lit alcove with a laptop, a spaniel and a full bodied Malbec.