The Brow Gal aka Tonya Crooks is an eyebrow artist, known for shaping the brows of top Hollywood A-listers. She was in town to launch her cosmetics range in Selfridges. Our editor booked an appointment to see to for herself. Spoiler alert: if you want Megan Fox Eyebrows, you're in the right place.
This article was originally written in 2017
The Brow Gal In London
I'm still recovering from a botched brow job. The work of some department store hack that coupled with overzealous brow raising in my youth (Xtina style!), has left me looking permanently perplexed. My goal? Megan fox eyebrows and I am in need of a true expert. Luckily for me Tonya Crooks is in town…
Known on the celeb circuit as the "Brow Gal", she's in London promoting her eponymous line of products in Selfridges. Fans include Mila Kunis, Megan Fox and Eva Mendes – just saying.
On Working With Megan Fox
"I never wanted to go down the product route", she says while unpacking her box of tricks. "Megan came to me years ago after shooting the first Transformers movie and asked what colour I used to perfectly match her brow colour to her hair".
She gazes at me intently eyeing up my facial symmetry with a pencil. Her raven locks are tied into neat buns with a severe fringe framing perfectly sculpted brows.
"I hand mix all my colours so I didn't have an answer for her. That is how our #2 pencil was born. I was unhappy with what was on the market and found all the products to be too creamy or soft and the colours didn't match perfectly"
She begins heating up the wax, prepping her artillery of tools consisting of stainless steel scissors, eyebrow shaping pencils (with built-in sharpeners made in Germany) and tweezers made with triple pounded steel by an Italian knife company. The sleek black design has been considered to appeal to men and women.
She laughs recalling the day she caught her ex packing his pink Tweezer Man into his wash bag.
"That was something of a turn off", she says. "We're still on good terms though. He now sends his girlfriend to see me."
"I could've made the whole process a lot easier for myself by getting all my tools made in one place, but I'm a perfectionist the details are everything" – and it shows, though I wouldn't expect anything less from a Royal Academy of Arts trained artist.
Everything from the sharpness of the blades to the density of the wood has been considered meticulously. The tweezers even come with sharpening pads, like you'd find on a box of matches.
She uses tiny strips of wax to shape my brows first before clipping and tweezing away the strays. Now for the piece de resistance…
She pulls out a water resistant eyebrow pencil (#2 just like Megan…), gels, highlighters and a powder/pomade duo and gets to work on the right side. After five minutes, she hands me a mirror for the before and after.
The Brow Gal – Results
The results are staggering. One side is a perfectly formed sleek and structured brow, confident and strong in its appearance – the other is a straggly wallflower which frankly is letting the side down. She smiles at my reaction and gets to work on the other side.
We discuss my threading habit which she tuts at in dismay."Threading is the worst, it damages your hair follicles leaving you with bald patches that won't grow back!
Everyone's brows are unique though. I don't believe in a cookie cutter shape – stencils don't work, there is no such thing as a universal colour and an arch is not always right for everyone".
She hands me the mirror for the final reveal. Frankly, i'm shocked by the results. My brows appear thicker and bushier with defined arches. Miraculously, even my facial symmetry appears to have improved.
There's certainly more to brows than meets the eye. Though i'll need something a little stronger to counterbalance the overactive muscle that despite her mastery is still making my face look a little skewiff. (Starting to regret raising my eyebrow quite so much).
She packs me off with a tool kit so I can keep her with me in my bag at all times. It includes a "Second Chance" serum with patent-pending "green" Restoplex technology to help enhance and strengthen brow hair. I am to apply it with a vibration brush that supposedly increases circulation to the area and delivers product to the root of the hair for faster results. She recommends I use it daily to combat all the threading and can expect to see results in as little as four weeks.
The Brow Gal – The verdict
Everyone should carry the Brow Gal in their beauty arsenal. A few simple strokes of the pencil (that comes in six blendable shades for blondes and brunettes) defines the shape, while the double ended highlighter gives a shimmer to accent. The matte end covers hair regrowth and doubles up as a great concealer! The gel sets everything in place. It's also sweat and water resistant – great when you're on the move or on a treadmill.
I wiped around them the first night but eventually they succumbed to a wash leaving them a shadow of their former selves, which got me thinking… A lot of this is smoke and mirrors. It really boils down to the artistry and quality of the make up.
If you need to make an impression before a big meeting or night out, keep this gal in your handbag but you might want to learn how to use her products first.
To learn the basics, visit the Brow Gal UK website
Liked this article on Want Megan Fox Eyebrows? Book In With The Brow Gal? Read more beauty articles.
Get your weekly DOSE fix here: SIGN UP FOR OUR NEWSLETTER
By Hettie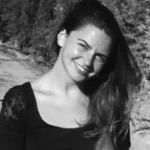 Hettie is the editor and co-founder of DOSE. A keen runner, she's also partial to a blast of high-intensity and hot yoga. A country girl at heart, she divides her time between London and the lush rolling hills of North Devon. When she's not jetting off on her next adventure, Hettie can be found in a candle-lit alcove with a laptop, a spaniel and a full bodied Malbec.