Welcome to Marbella. Offering more than just a TOWIE scene, Shara does a girls weekend and finds there's a luxe side too…
Why Marbella?
Picture the scene. It's October and London is grey and raining. Where can you go that's a three-hour plane ride away, has amazing weather, great food and great hotels? Yes, exactly. That's why Marbella. My sisters and I went for three days and two nights and it was a perfect length of time.
Where to stay
The Kempinski Hotel in Bahia is just outside Marbella. A 45-minute drive from the airport and located on the beach, it's a perfect base.
The main interiors were Moroccan-esque, a possible nod to Spain's Moorish history, and felt both warm and intimate. Rooms, however, are sleek and modern and utterly comfortable.
The hotel has three great outdoor pools (including one that is child free) and one indoor heated pool. The spa here was silent and restorative, and I found the Signature Treatment so relaxing, I fell fast asleep. You could also try a mani pedi from the famed Bastian Gonzalez range.
There is of course a state-of-the-art gym in the hotel. We almost – almost – made it there to try the complimentary yoga class, but found the GM cocktail hour was calling instead.
There's a golf course round the resort, and beautiful historic towns like Seville are an easy drive away.
Where to eat
The hotel has three restaurants, including a dedicated breakfast area and bar, El Mirador. We start each day at the heaving buffet, choosing from fresh smoothies, eggs made to order, Andalusian specialities, pancakes and everything else you could imagine.
We had dinner at Baltazar Bar & Grill, which overlooks the beautiful gardens. The sommelier was wonderful at helping to match our wine to food choices. Of course, cava is a winner in Spain, and the Prawn Pil Pil was fantastic. That said, the specialty dish here is the octopus, straight from the josper grill.
Fresh fish at Spilers Beach Club was incredible – do try the sea bass. It's supplied by local farmers and fishermen and showcases amazing products. Be sure to soak in the views, too.
What to do
One day, we went for a coastal run to burn off all the indulgence. It was a beautiful path taking us all the way to the local town Estepona. It was so quiet and peaceful, we were able to truly relax into the moment.
Don't skimp on the watersports: the hotel can organise the likes of jet skiing and also volleyball on the beach.
Do visit Estepona at sunset, for a real local feel. Should you wish to cycle there instead of walking for an hour, the hotel will happily lend you bikes and scooters.
There's plenty to do in Marbella, but not too much that it's overwhelming. Really it revolves around the beach and food – even in October. What's not to love about that?
Get your weekly DOSE fix here: SIGN UP FOR OUR NEWSLETTER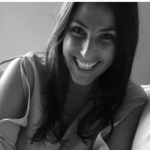 Charlotte is a London girl through and through. She sweats through spin and puffs through Pilates to justify trying the latest restaurants and devouring copious amounts of sweet potato fries, burrata and bread – preferably on holiday. Her favourite destinations include Italy, the Maldives and anywhere where the sun's shining and there's a strong breakfast buffet. She's obsessed with walking, visiting farmers' markets and reading. She's also learning to cook. Wish her (and her husband) luck.