Comparing REM stats has become the new pillow talk… but what if your Fitbit could help you get pregnant too? Meet the versatile wellness companion that monitors more than just sleep, steps and calories…
Just when I thought I couldn't love anything more than my Blackberry, along came an iPhone, a puppy, then a Fitbit. A rewarding combination that helps me to stay on top of emails, whilst racking up my 10,000 steps. I look forward to its congratulatory burst of fireworks as eagerly as praise from a client. Apart from when it decides to take the piss. "You didn't just climb 75 floors… you climbed a Ferris wheel!" Patronising much? I'm not four. Who writes this stuff anyway? But when you grow tired of collecting imaginary badges, counting steps and calories, what then?
Just as Apple keeps us hungrily awaiting its iOS updates, Fitbit leaves us hanging for its next wearable in the same way. Except, we're less concerned with storage and camera quality, more how accurately it measures our sleep. Now seen as more important to our wellbeing than exercise and diets, according to neuroscientists. Whilst sleeping with an iPhone is linked with cancer and infertility, sleeping with ones' Fitbit is so positively encouraged that comparing REM stats has become the new pillow talk.
It's a nifty fitness buddy too, thanks to its special Coach feature. But this rather pales in comparison to the Apple Watch Nike+ dubbed "the perfect training partner". So what does Fitbit do? It launches a limited edition of its Ionic in partnership with adidas that's what! Its breathable strap and sporty watch face, leaves me looking and feeling like a pro, which I suppose is kind of the idea when you're representing Fitbit at the Semi de Paris.
I have run marathons before. When I say marathons plural I mean, two. The first I took relatively seriously. The second, took place during a weekend jaunt to Paris with my sister, somewhere between a bottle of Château Margaux and a box of Pierre Hermé that earned me a deservedly average place. This same sister is now pregnant – in labour at this very moment actually, just as I am setting off with the Fitbit team. A mix of seriously sporty influencers and athletes. No pressure!
If it wasn't for the urgency of this imminent arrival (along with a cracking 90's playlist) I may not have wangled such an impressive PB. It helps that my new chum can keep track of my pace, distance and split times throughout. By mile 10 I have crept up from an average of 7-8 minute miles to 10. I whack on "Dirty Diana" and charge forwards. Nothing spurs you on quite like the influx of dopamine, oxytocin, serotonin and endorphins and the anticipation of a new-born nephew at the finish line. Except maybe a glass of champagne. I practically run home to London, via a smooth ride on the Eurostar, all the way to the hospital. My Ionic faithfully recording my steps as I go.
After getting acquainted over the next month, I surmise that while it fits my sporty self to a T, it's a little square and cumbersome for day-to-day. I grow tired of its breathable teal strap that leaves me feeling a bit like Aquaman, just as the rose-gold iPhone 6s left me feeling like Barbie. I also find myself slipping it off rather regularly when it runs out of battery or clashes with an outfit. So i'm thrilled when Fitbit unveils its lightest, most fashionable model yet with 4+ days battery, designed for everyday life…
Fitbit Versa is less bothered about your workout, more your lifestyle around it. It provides the same fitness stats, exercise and sleep summaries, 24-hour heart-rate tracking, and motivational messages, but also helps you stay on top of your cycle. Menstrual cycle. You can log your headaches, acne and cramps and even when to expect your period using a cycle algorithm that gets smarter and more accurate the more you log. With many of its female customers already using fertility apps, integrating one into Fitbit seemed like a no brainier, explains Tim Rosa, Fitbit's Chief Marketing Officer. I'm at Le Méridien Ra Beach Hotel & Spa in Spain getting to grips with Versa's technology between windswept HIIT classes and beach runs with Urban Gorillas.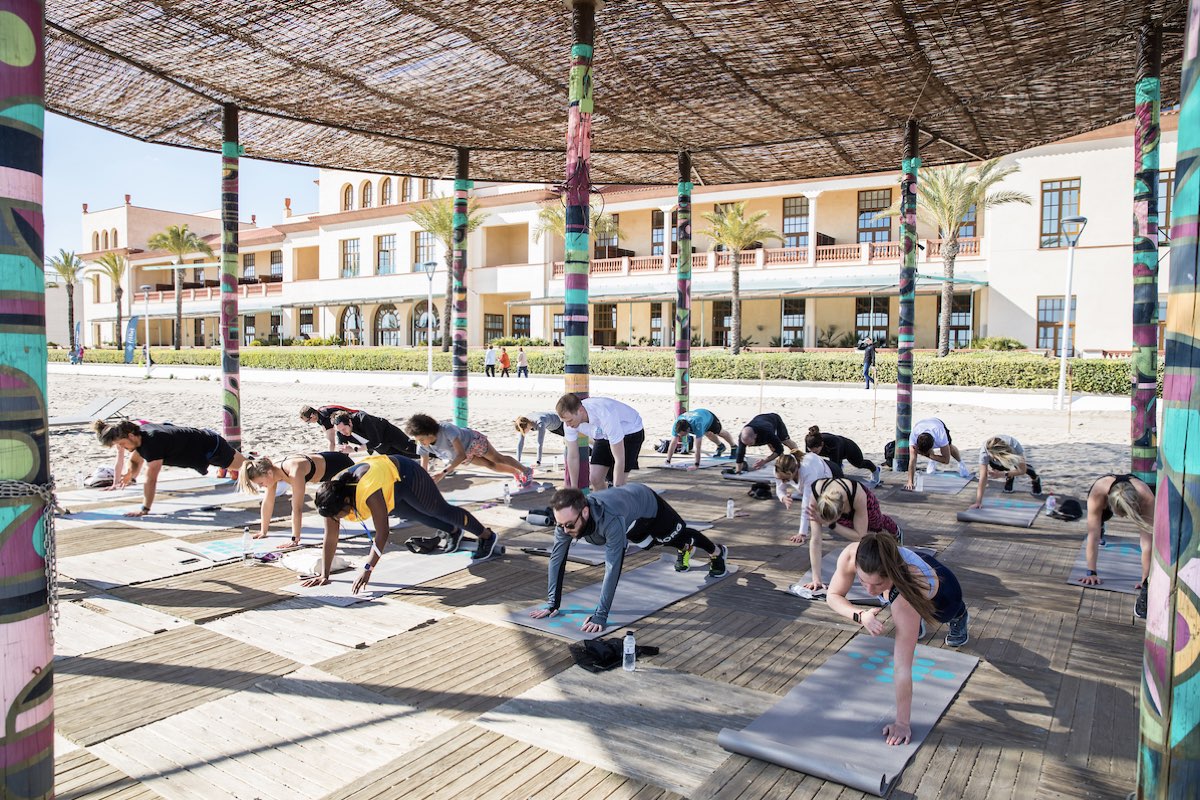 While I might be surrounded by some of the fittest people in Europe who are effortlessly racking up their 10,000 steps before breakfast, Dawn Harper, our next speaker (of Embarrassing Bodies fame), stresses that we are in the minority.
"6 million adults do not do a monthly brisk 10 minute walk. That's 4 out of 10 (41%) adults aged 40 to 60 in England walk less than 10 minutes continuously each month at a brisk pace". By encouraging them to walk 10 brisk minutes per day we can "reduce their risk of premature death by 15% and heart disease by 40%. It's a small investment for a massive gain". She thinks all patients who are struggling to lose weight should be prescribed Fitbits. "It gives us a good picture of what's going on. Fitbits don't lie". Aside from obesity, her other concern is stress. "It doesn't just go away when we run over the hill fleeing a mammoth".
Nothing beats stress in my experience quite like time with a four legged friend. But for those who aren't ready to commit, there's "Titan". One of four virtual pets available in Fitbit labs that depends on you for its happiness. All you have to do is walk enough to feed it at least eight treats per day (1 treat = 10% step goal), otherwise it will "leave you the next day to find someone else who will".
To keep the mind active theres a "Think Fast" game based on context switching to help you measure the effectiveness of sleep on mental performance. Parents will now also be able to use their Fitbits to set reminders about nap times and feeds that also ties in with their schedule. And there's even a Fitbit for kids in the pipeline that has all the makings of a Black Mirror episode with settings that allow parents to control what their kids see.
Whatever incentive you need to get you moving more, there's a Fitbit for every stage of your journey. Given my past history with chargers, i'm pleasantly surprised to find my Versa still going strong after nearly 5 days of use. It's so light that I forget I even have it on and the silicone strap transitions seamlessly between health and a little hedonism. Did I mention that it comes in periwinkle and peach?
Fitbit Versa is available for £199.99. Shop here.