Floatation therapy is also known as sensory deprivation, but it's a lot less scary than it sounds. Could it help with your anxiety?
What is it
For floatation therapy, picture an egg-shaped pod full of water that you climb into and lay on your back. It's got half a tonne of epsom salts in it, so much so that you float with ease. You shut the lid of your pod and lie back in the pitch black, utterly weightless. It works to activate the nervous system and slow down our heart rate, for an incredibly relaxing experience.
Where to do it
Floatworks – which has just opened a new site in Angel – is a place I can happily recommend. You don't need to bring anything with you, you have your own room with a pod, shower and fluffy towels, and there's a relaxation room for afterwards with an array of teas and books. Staff are lovely and the whole experience is well thought out and enjoyable. My favourite thing was that you control the pods yourself, rather than them being controlled mechanically from the outside. It means if you do feel claustrophobic or want to get out early, you simply lift the lid from inside, which is reassuring to know. You can also turn a light on inside the pod, if the darkness gets too much.
How it feels
It is definitely less claustrophobic than I expected it to be. The pods at Floatworks are big – 8ft5 x 5ft5 – which really helps. Being weightless was unbelievably relaxing, and it's enjoyable and relaxing in a surreal way. Floatworks recommends you float for an hour, which I found a bit long – maybe because it was my first time and I was a bit nervous and couldn't fully switch off. But it is deeply soothing and designed to feel womb-like – it's an odd sensation I've never had before. The water is heated to the same temperature as your skin, so you feel totally at one with it. You really do effortlessly float, not having to do anything other than just lay back.
The benefits
Supposedly, floatation therapy (which is just, floating) encourages relaxation, better sleep, reduced cortisol levels, lowered blood pressure and reduces anxiety. The epsom salts alone would be good for you too – AKA magnesium sulphate, they have a host of beauty and wellness properties including improved moisture for the skin and reduced muscle pain.
People get addicted to floating. My one experience was positive, and it's hard to find a downside.
So float away…
Get your weekly DOSE fix here: SIGN UP FOR OUR NEWSLETTER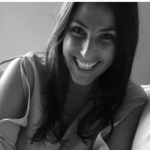 Charlotte is a London girl through and through. She sweats through spin and puffs through Pilates to justify trying the latest restaurants and devouring copious amounts of sweet potato fries, burrata and bread – preferably on holiday. Her favourite destinations include Italy, the Maldives and anywhere where the sun's shining and there's a strong breakfast buffet. She's obsessed with walking, visiting farmers' markets and reading. She's also learning to cook. Wish her (and her husband) luck.