Whilst many spend summer frolicking around Italy's popular hotspots, there's something endearing about going against the crowds to explore the path less travelled. DOSE writer Aimee embarks on a tour of Trentino and picks up that la dolce vita feeling along the way…
DAY 1
Trentino is home to some of Italy's most diverse terrain: endless Alpine woodlands, green valleys, idyllic lakes and olive groves. Despite this knowing, there was no way I could have prepared for the magic that was to come.
First up was the London Gatwick check-in desk before our flight to Verona. While most opt for hand luggage for short haul, when the itinerary teases you with vineyard tours and olive oil tastings, you know a slice of this heaven is coming straight home with you. So prepping for this initiation with extra baggage space was, of course, a necessity.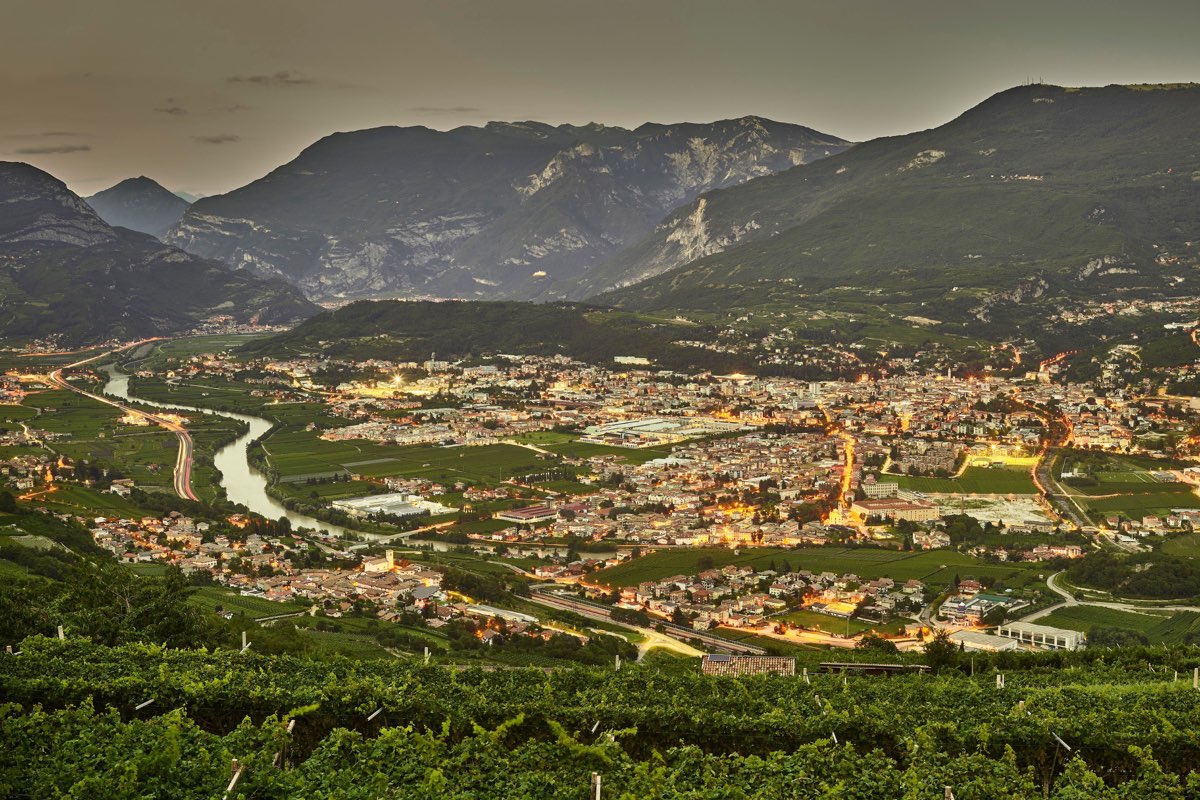 It took just moments upon stepping out of the airport for the magic to begin unfolding. It's not often a taxi journey itself brings such joy. But ours served up the most spectacular views of acres and acres of vineyards. With the most exquisite sights of the Dolomites (a UNESCO World Heritage Site).
I didn't quite know where to look. It was a kind of sensory overload. But in the best way. After only visiting Italy once before, I'm certain this moment alone was showing off some of its best spots.
TRENTINO'S SECOND LARGEST CITY, ROVERETO
Being centrally located, Rovereto is the perfect base from which to explore the best of Trentino. It's also priced much lower than other cities in the region, but without compromising on quality, style or comfort.
The pastel coloured façade at Hotel Leon d'Oro was so typically Italian it left me in a state of bliss. Located in the heart of Rovereto's historical centre, the hotel was effortlessly elegant. And with carefully executed finishing touches like a mirrored ceiling at reception and Venetian-inspired lion statues, it felt so luxurious. Double rooms start from £80 per night.
At check-in, I quickly noticed an Honesty Bar across from the lobby saying 'take what you like and leave a note'. While a foreign concept to a Londoner, I suddenly felt very at home. And I was already liking the sound of the Rovereto crowd.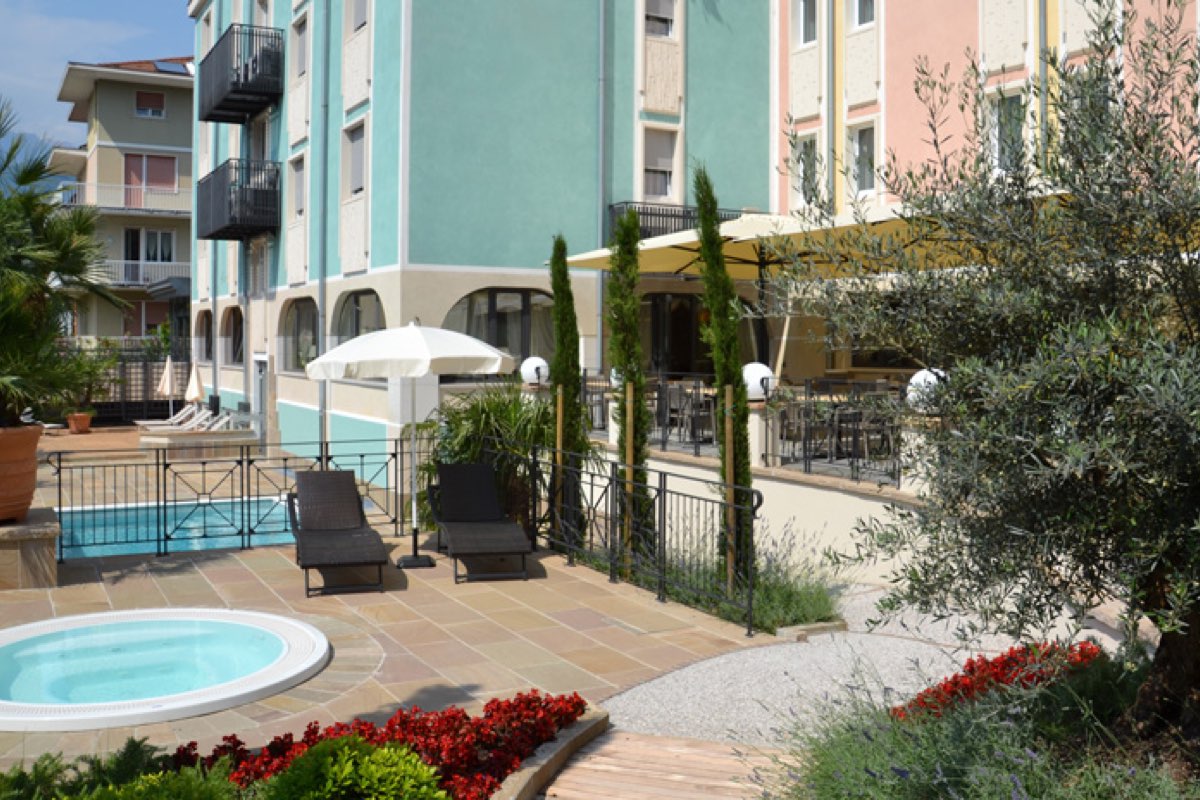 THE ROOM AT HOTEL LEON D'ORO
An abundance of natural light flooded my room, thanks to the big wide windows. The room itself, not to mention the extra king size bed, was very generously sized. I quickly turned into a kid in a candy shop when pulling back the curtains to unveil the most spectacular mountain-views. From not just my bedroom, but my bathroom too. Not your everyday shower views. Sandwiched between some of Mother Nature's finest spots, I knew I was in good hands here.
THE OUTSIDE TERRACE
Our pre-dinner meeting spot at the hotel's outside terrace coincided perfectly with the early evening sun and proved to be the most divine suntrap. Nestled within a mini paradise of exotic trees, the perfectly placed pool appeared delightfully sunkissed, giving me the urge to dive right in there and then. But with places to be, tomorrow it was.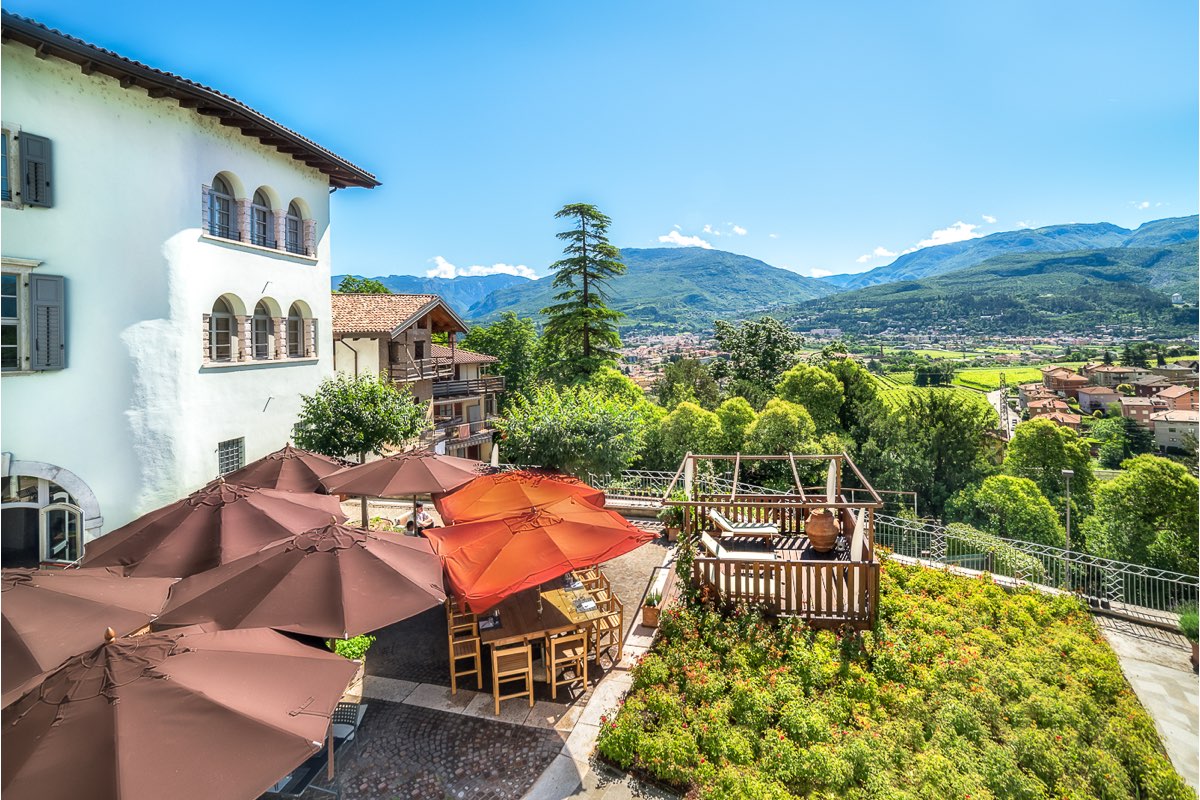 Dinner was at Michelin starred Casa Del Vino located in Isera, a pretty wine suburb just 10 minutes outside of Rovereto. Translating to 'House of Wine', it was clear there was no beating around the bush here. Suddenly, I felt very thirsty.
Luckily it wasn't long before our first sip of the all-famous Trentodoc – Italy's finest (and most awarded) sparkling wine. A bottle of Balter Rosé sat at a mere £20. With grapes grown in the mountains and a maturing process that can take up to a decade, you could literally taste the thought and care poured into each bubble. Beautifully crisp, smooth and citrussy.
Sat above the Vallagarina Valley, dinner here felt truly special. The cobbled stone floor, rustic brick walls and even vintage piano at the entrance brought an authentic, relaxed wine-cellar feel, setting the scene for the charm to come.
DAILY CHANGING SET MENU
The four-course set menu (£40pp) changes daily so you can always expect fresh, unforgettable dishes blending typical Italian flavours with recipes of mountain traditions. For a physical menu – not one in sight. We had no choice but to hand our food destiny over to the pros. With the simple task of choosing my food kindly taken off my plate (pardon the pun), my mind was already enjoying the extra headspace. Think: deep fried local cheese on a bed of finely sliced apples. The creamiest, most delicious risotto known to man. And for the meat-lovers, rabbit wrapped in crispy pancetta. And with everyone enjoying the same dishes? Not an ounce of food envy in sight.
DAY 2
After a night encased in the fluffiest duvet, I woke up on cloud nine. A feeling I'm sure was aided by sleeping in such close proximity to the (healing) mountains. I wondered how I may feel after two more nights of this type of recharge.
There was no time for snoozing. I was up and ready to dive into the all-important task of testing out the hotel breakfast buffet. Something I don't take lightly. Consisting of a range of delicious continental delights and local produce, including Trentino Apple juice, I, of course, stacked my plate high with goodness for my day ahead. We learnt 80% of Italy's apples are grown in Trentino, so I went in for some extra fuel.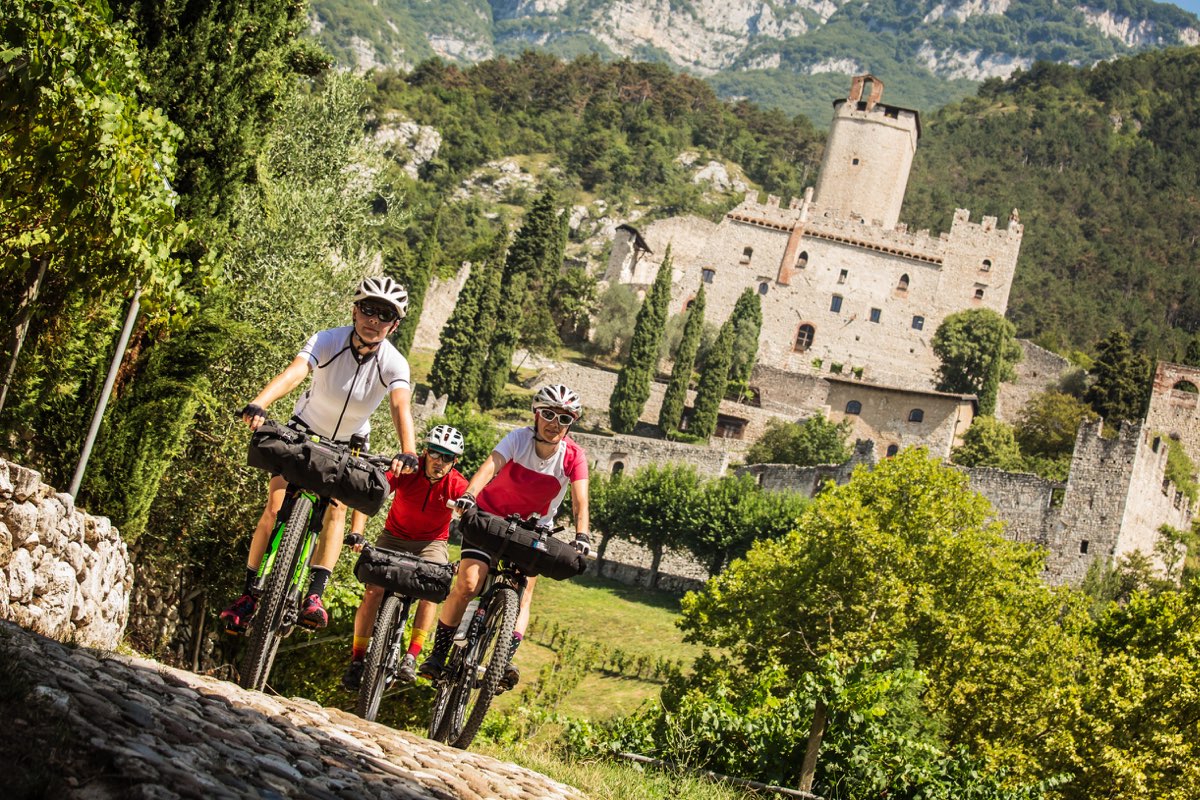 We were met swiftly by Linda, our eBike tour guide (eBikes are easily available to hire for around £25 per day). With cycling a popular mode of transport here, I was excited to live like the locals and breathe in some of that fresh alpine air. And wow did the air feel fresh. So fresh that every leg of the tour saw us surrounded with so many butterflies. A nod to how free this place felt.
Cycling along through vineyards felt so easeful (thanks to the extra eBike gas). Whilst by this point we'd seen a fair few vineyards, the views did not tire. Nor did the smell of blossoming flowers. My nervous system felt nicely in check. Something that doesn't come so easily in the London rush.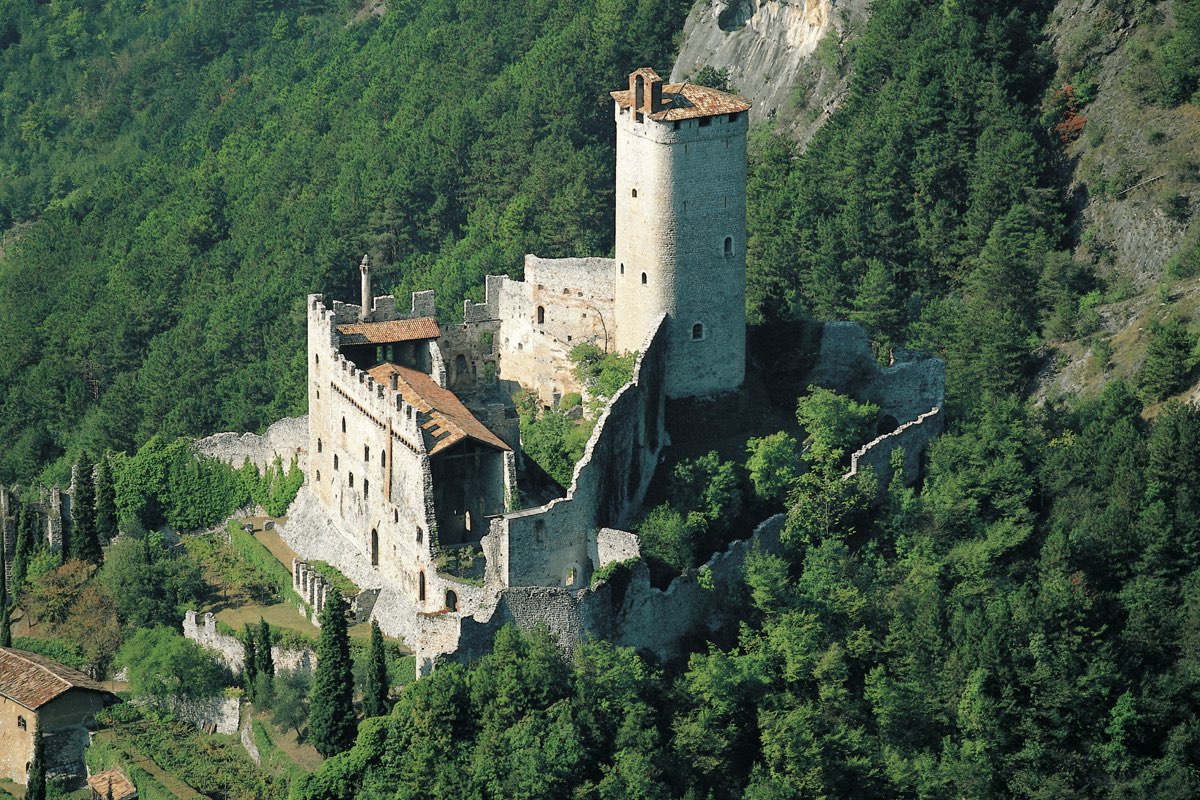 DISCOVER ANCIENT CASTLES OF AVIO
Entering the streets (or shall we say *steep* hills) of Avio, I suddenly felt even more grateful for my eBike. The town was so chic, dotted with brightly coloured villas (so delightfully dopamine dressed).
Castello di Avio (tickets are around £7) is one of the ancient castles that protected the valleys of Trentino centuries ago. Our intense hike to the top gifted us with panoramic views that were worth every single (sweaty) step. And earned us our on-site lunch. This consisted of nettle pesto pasta and a traditional dish named 'The Strangled Priest', a gnocchi-style pasta that back in the day, gluttonous clergymen would supposedly eat so much of they would choke. It certainly went down a treat for us.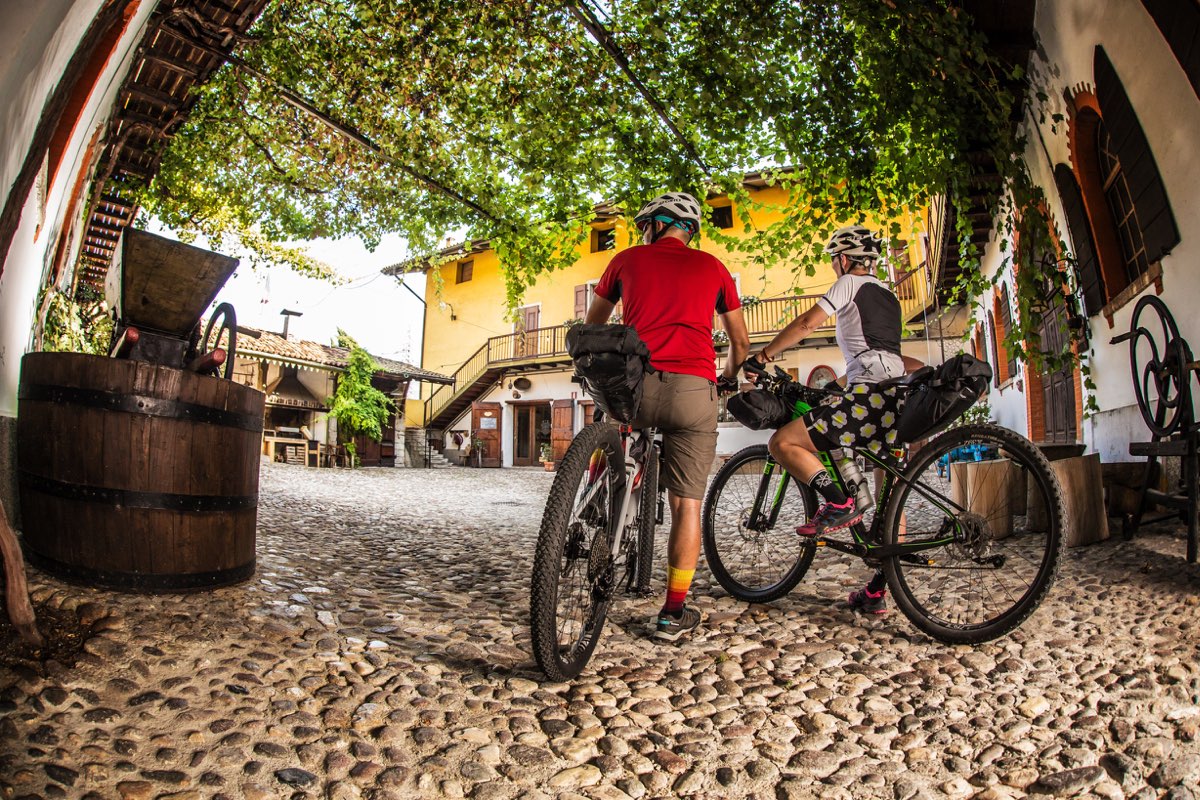 It was straight out of lunch and through the gates of the magnificent San Leonardo Vineyard. In ownership of the Guerrieri Gonzaga family since the eighteenth century, the passion and love from generations could be felt when simply stepping foot on the grounds (300-hectares of it).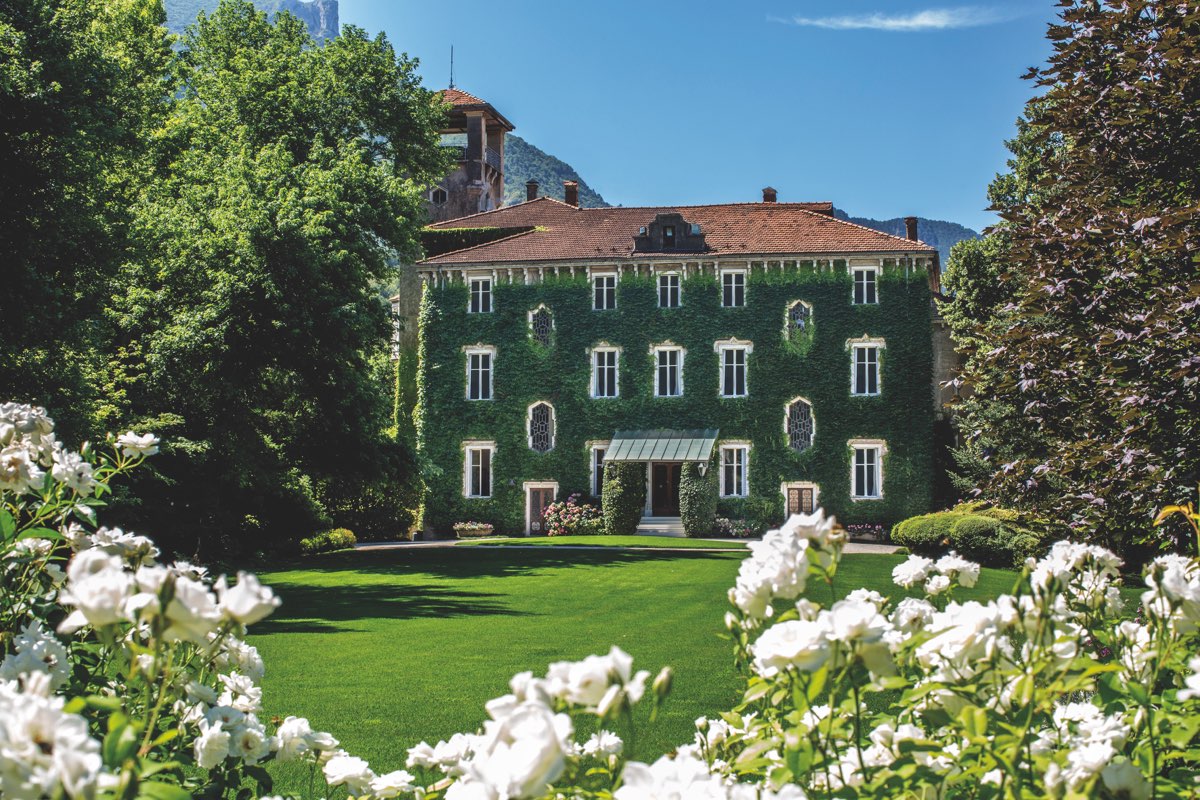 They say 'the earth is the soul of our profession'. And this comes to life not just through the thriving vineyards, but the well-kept gardens, budding cherry trees and vibrant rose garden where our wine tasting took place. You can tell the land is treated with such care and kindness. And so are the people, with many of them being born and raised in the ancient village of San Leonardo, having inherited the knowledge and art of working with the land from their ancestors. With a foundation so strong, it's no surprise the estate's award-winning wines have been enjoyed by names such as Barack Obama and the Pope. But there was still a real humbleness, making the wine taste even better (if that was possible).
THE TASTING
Our tasting consisted of five delicious wines of all price points (and colours), ticking every. single. box. This included their newly launched Gemma Rosé, named after Gemma de Gresti Guerrieri Gonzaga who was born on-site in 1873. The perfect tipple to sip on just across from the most vibrantly coloured rose garden you could imagine.
On the way out we swung by their shop (the chicest roadside shack) to pick up a few bottles of our favourites. A bottle of Terre and Villa Gresti for me. That extra baggage space was coming in handy.
San Leonardo really is the vineyard that has it all. And an absolute must-visit. Tours are priced at £75pp.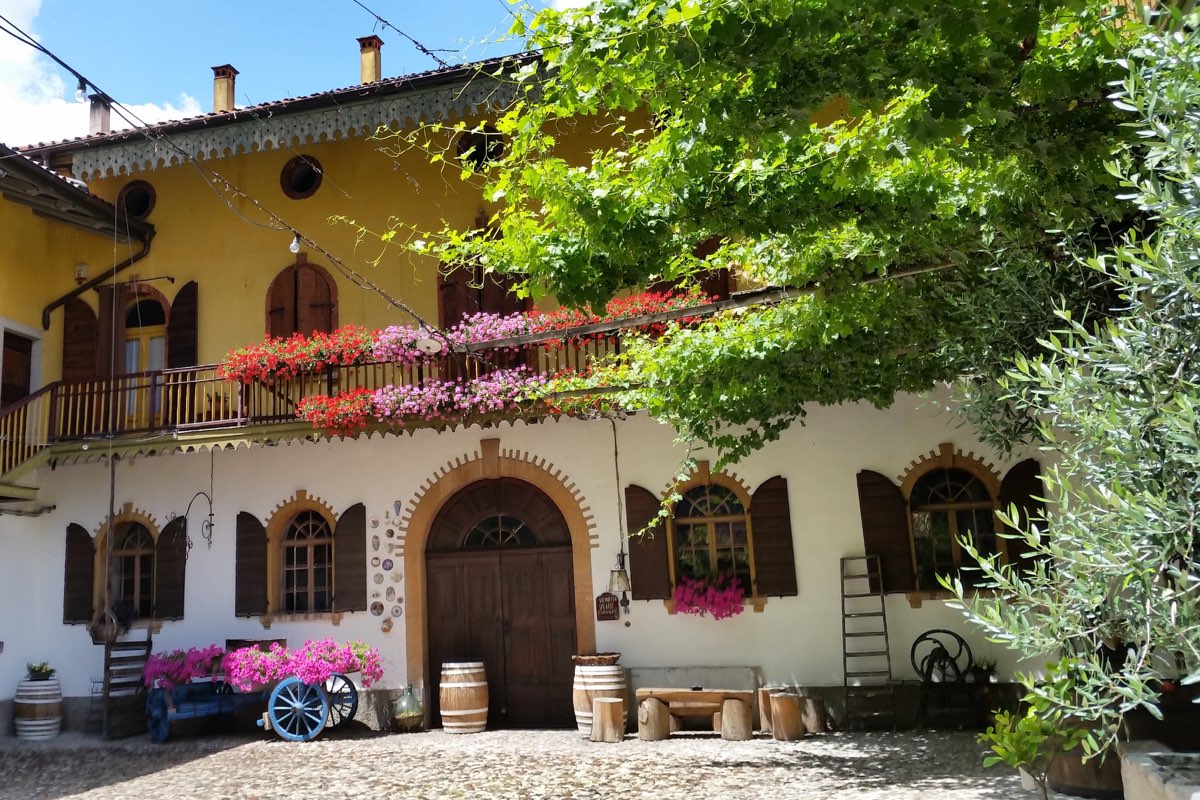 A laid back dinner at enchanting Vineria de Tarczal was just what we craved after a back-to-back day of exploring. I was enjoying the continual theme of menus in Italian only. Whilst you may have had to work a little harder for your food, it's always a good sign if you're brushing shoulders with the locals.
Sat amongst the green centuries-old trees whilst making my way through another 3-course meal, I enjoyed a mouth-watering Apple Strudel to finish off the day. Holidaying in the Italian Alps means dishes influenced by bordering countries, which brings a nice variety.
Our fairy-lit path out was the perfect end to a magical day.
DAY 3
SET SAIL ON THE SHORES OF LAKE GARDA
I jump out of bed and straight into our final day of adventure. Feeling pumped to hit the shores of Lake Garda, Italy's largest lake, we arrived to be greeted by our hosts. Who, like everyone else we'd come across on our travels so far, had what I can only describe as a real aliveness to them. An infectious energy that translated as a life being genuinely well lived.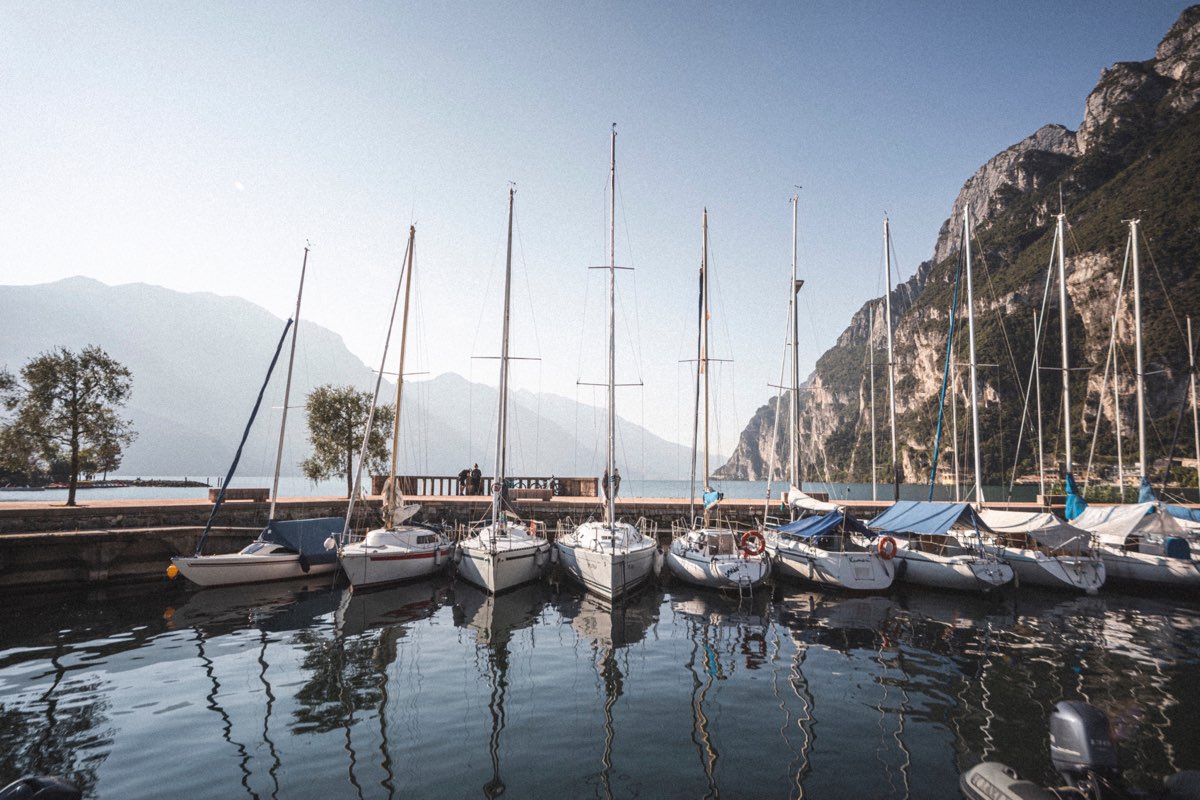 We jumped aboard and in true Trentino-style, it wasn't long until our next meal was served. Or until that all-familiar sound of a cork popping, this time, Ferrari Trento. Served up with the most delightful box of sweet and savoury gourmet treats.
CRYSTAL CLEAR WATERS
While cruising along, I soaked up views of the crystal-clear waters and pastel-coloured villas dotted along the shore, feeling a cool breeze that was not only fuelling the bustling water sports business here, but my soul too. Boasting a balmy Mediterranean climate, Lake Garda is the prime spot in summer for water sports, thanks to the strong winds that blow across its waters at least five days a week.
Hearing that motor boats are forbidden on the lake felt in utmost integrity to the slow way of life here. And to the unspoken belief that there really is no 'need' to rush anywhere (apart from, in my eyes, to your next sip of Trentodoc).
Book the Gourmet Aperitivo sailing experience for £76pp (for up to eight people) and enjoy an aperitif on the lake at sunset.
If you prefer to be on dry land, the town boasts an array of cycling tracks, via ferratas and climbing walls. Or for a simple spot of relaxation and shopping, the laid back town of Riva is the ideal spot. Whatever your idea of adventure, you'll be sure to find it here.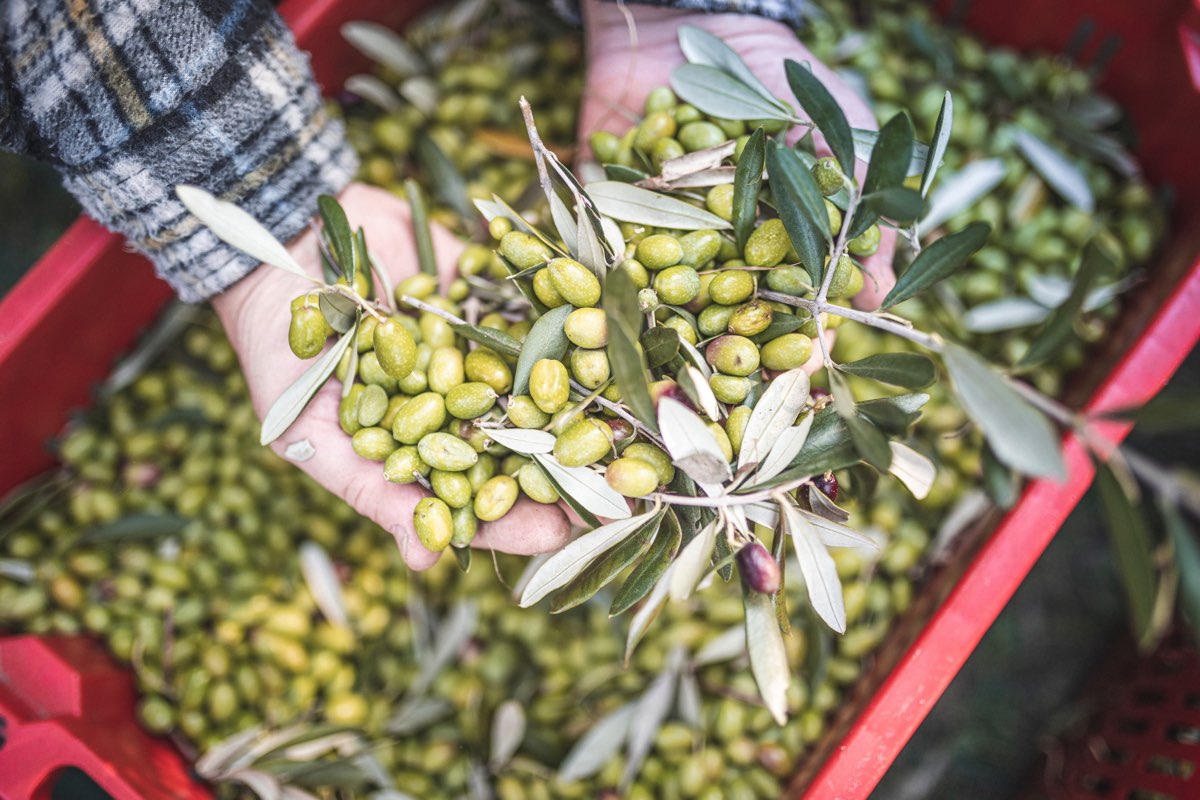 The micro climate of both Alpine and Mediterranean elements is the foundation for the award winning olive oil here. We were told a good olive oil is – "spicy, bitter and strong". When sampling it, I understood exactly why olive oil is not just a dressing here, but the star of the show (what a kick).
With views of olives being grown a matter of metres away from us, we enjoyed juicy beef carpaccio (from the valley) with a side of fluffy asparagus and local cheese soufflé.
The restaurant owner shared that when retiring to Trentino, her life-long neck problems magically disappeared, just like medicine. Nature seemed to be the glue that holds everything together here – from the economy to the people. I wanted a piece of whatever they were having.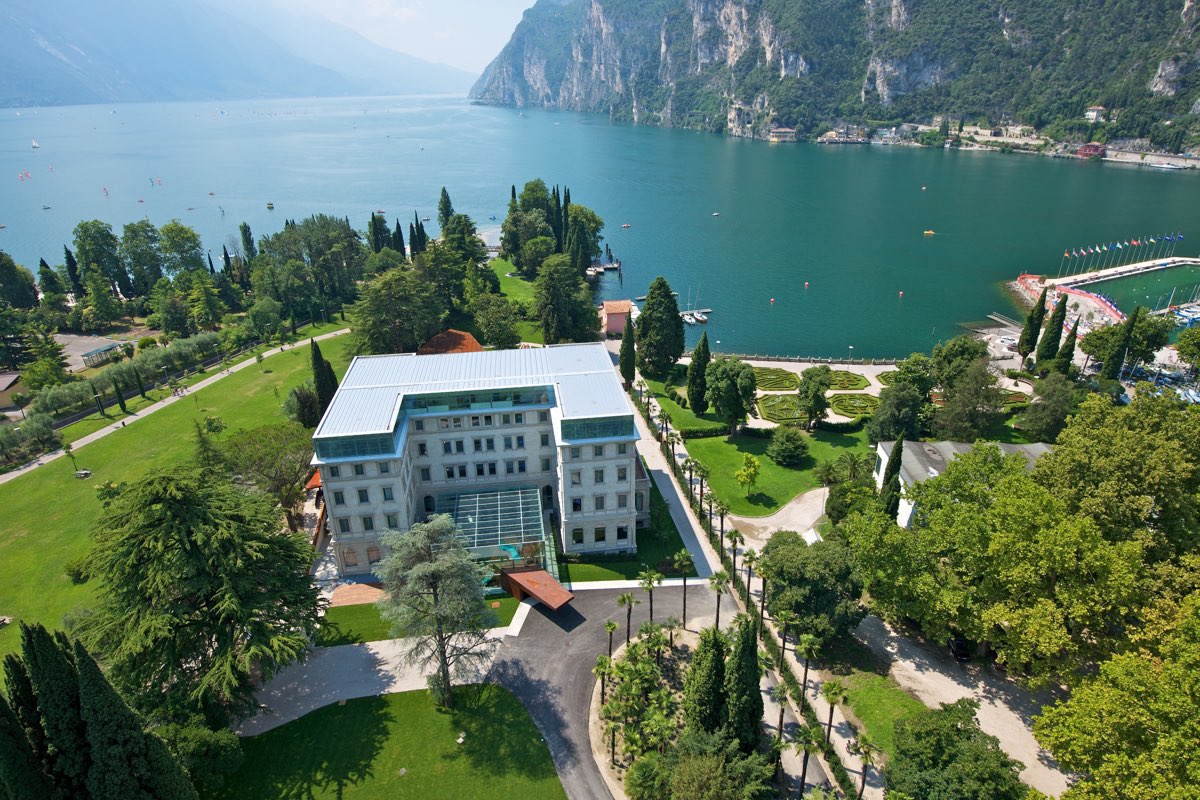 We landed nicely into the hands of the friendly staff at the Lido Palace CXI Spa, ready for our full body massages. In a tranquil room set away from the hustle and bustle, the masseuse worked wonders to iron out any adventure-induced knots, letting me sink blissfully into my inner world (as one of the leading hotels of the world it was no surprise). In my post-massage bubble, I lay in awe surrounded by glistening water, rocky cliffs and palm trees, while sipping on my apple and honey tea infusion. It felt like a breath of fresh air.
Basic access to the spa starts from £45.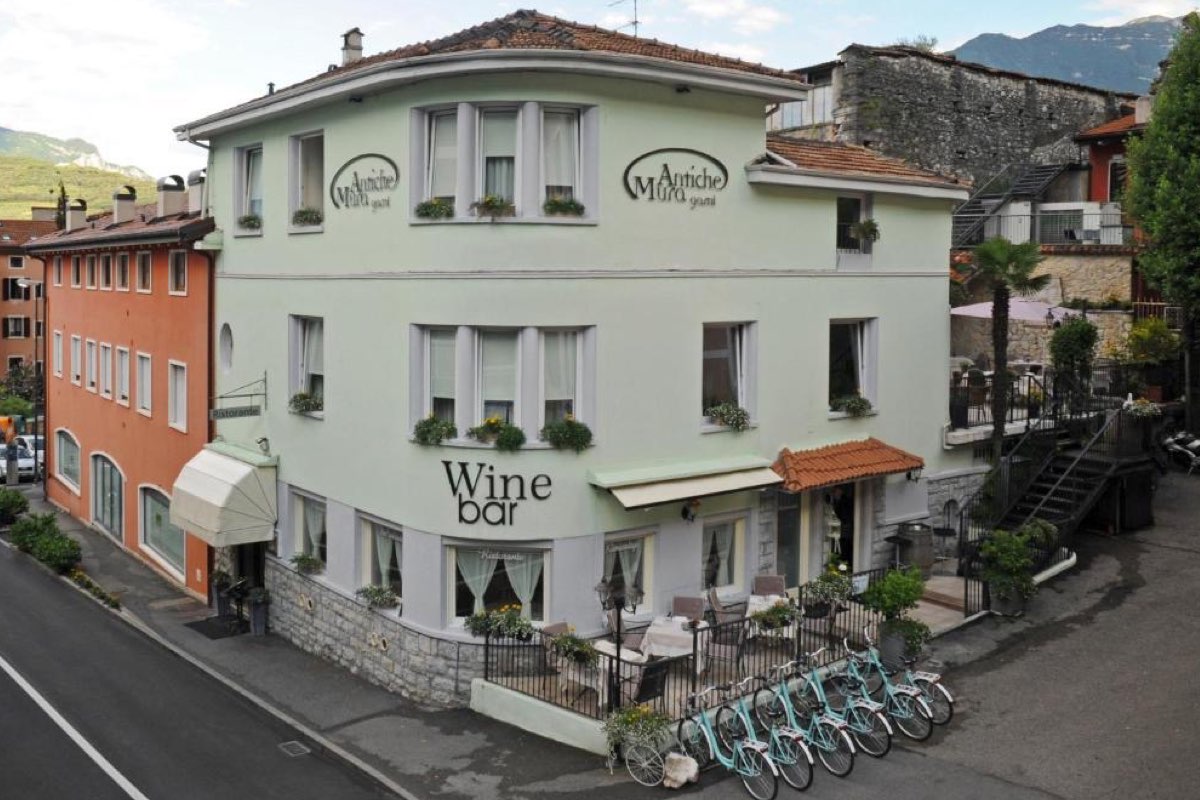 We went out with a bang for our last supper. Each course was impeccably presented and cleverly executed. Located within the medieval walls of Riva del Garda, my creamy tagliolini pasta topped with black truffle shavings was paired with more mind blowing mountain-views in the moonlit sky.
The background sound of soft birdsong created the most serene atmosphere. And a sound I had gotten used to. I left feeling a real stillness, paired with that type of buzz you get from a really good restaurant. An interesting combination of emotions that can only be put down to the restaurateurs of genius.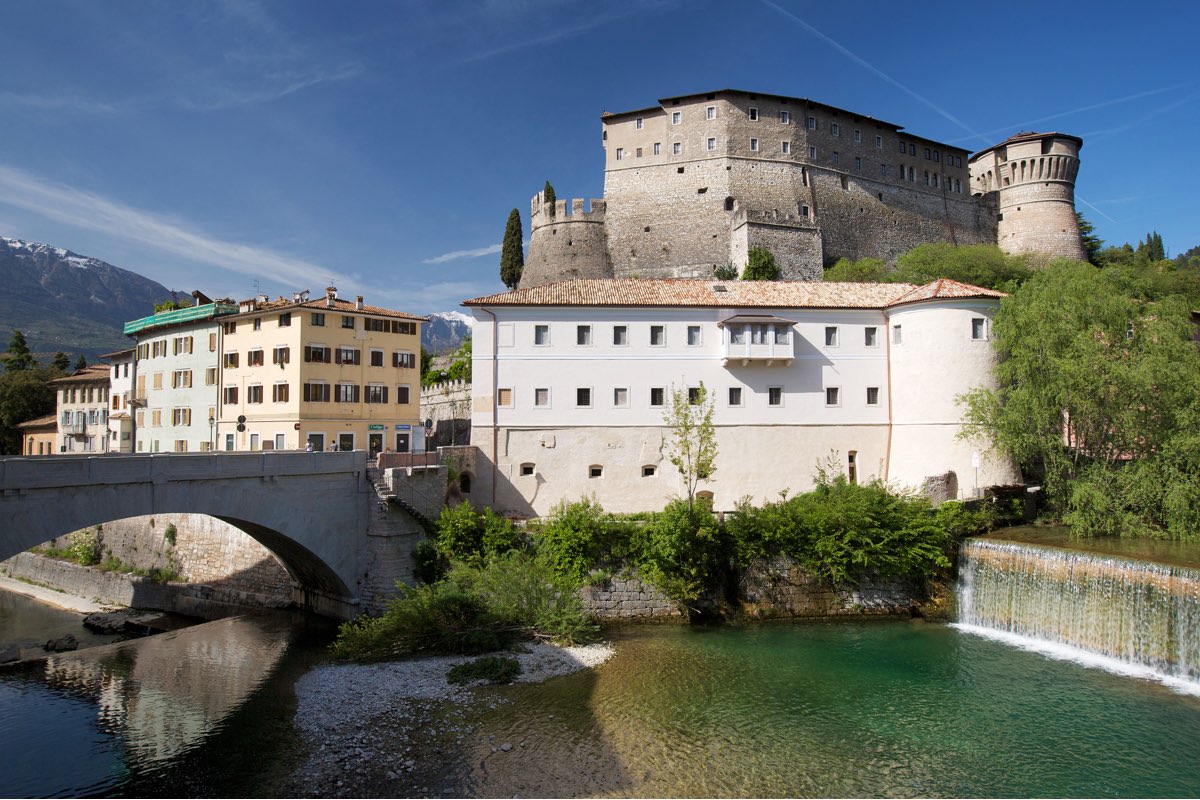 DAY 4
ROVERETO, THE CITY OF PEACE
Rovereto is a city off the beaten track, but offers the perfect dose of Italian charm. Without the tourists flooding in (or sweltering heat), its so peaceful, allowing you to really switch off from the daily grind (it is named the City of Peace after all). Its rich history and Venetian influence comes alive around every corner of its windy ancient streets and there is something for everyone:
Into art? – journey through the rooms of the famous and immersive MART, museum of modern and contemporary art (tickets around £10pp).
Coffee lover? – get your fix at Caffe Bontadi, Italy's oldest coffee roasting company, set in the heart of the charming Piazza Cesare Battisti.
Music your thing? – get up close and personal with Mozart's House, where he played his first ever Italian concert.
After many days of what could have easily have been classed as excessive consumption, after eating and drinking our way through Trentino, something just felt different here. Everything was done right and all in moderation. The true meaning of balance. I'm almost convinced the produce here is medicinal.
This trip reminded me of the simple pleasures of life and that the biggest joys really can be found on our doorstep: in nature. At our fingertips, everyday.
So there we have it folks: Trentino, Italy's best kept secret. But shh, don't go spreading the news too far. Let's try and keep a piece of that Trentino magic just for ourselves.
To find out more about Trentino or to plan your own tour, head to the Visit Trentino website or browse @visittrentino, @visitrovereto, @gardatrentino on Instagram for more inspiration.
By Aimee.
Get your weekly DOSE fix here: SIGN UP FOR OUR NEWSLETTER