Earlier this year I went to Thailand on a vegan yoga retreat. It was the first time (probably in my life) that I didn't eat meat for two whole weeks. Did I feel deprived? Absolutely not, the food was amazing. The zero alcohol policy on the other hand was a little more testing. Who goes to Thailand and doesn't try a Mai Thai?
When I got back to the UK, it was a matter of days before I resumed familiar eating patterns. Blame it on a busy social calendar and work schedule but eating nothing but plants takes quite a bit of planning. And unlike Joe Wicks, 'prepping like a boss' evidently wasn't my forte…
But I have since found a solution with Fresh Fitness Food. A smart food delivery system that does all of the work for you and delivers to your door.
They offer loads of different plans depending on your goal whether you're trying to lose weight, build muscle or stick to a vegetarian diet. There's even a specialist package for athletes who need to prepare for competitions.
A nutritionist and chef carefully develop the menus and each is packaged, prepared and delivered through the night whilst you're tucked up in bed sleeping.
I chose the "Fat Loss" package that came packed inside a cool bag, left neatly on my doorstep. I wasn't surprised to see a ketogenic style menu with green vegetables, limited starch and sugar and plenty of meat. In fact on a couple of occasions I didn't manage to finish the meal it was so big!
The best part was how inventive the menu was. Packed with interesting flavours, designed to not only give you the necessary nutrition but taste great.
To celebrate the launch of their new menu, Fresh Fitness Food have shared one of their recipes for you to try at home. (Packages start from £20 per day).
I might not be able to transport you to a tropical beach in Thailand but here's a little something to whet your appetite…
GAENG OM BEEF CURRY WITH BOK CHOI (SERVES 4)
For the Curry
4 red chillies
4 lemon grass stalks
5 cloves of garlic
5 small onions
4 kaffir lime leaves
1kg diced beef
4 tbsp fish sauce
1/2 bunch dill
1/2 bunch thai basil
2 tbsp olive oil
2.5 L vegetable stock
500 ml coconut milk
• Peel the lemongrass and place in a pestle and mortar, or in a blender along with chillies, shallots, garlic, and kaffir lime leaf. Blend until a paste is formed.
• Add the fish sauce to this and then pour over the diced beef.
• Leave the beef to marinate for 1-2 hours
• Place a pan on medium heat and add half of the olive oil
• Add the diced beef and fry the meat until it is coloured on all sides
• Add vegetable stock and cook for 1 hour on a low heat
• Add coconut milk and cook for a further 30 minutes until the beef is soft
• Finish with chopped dill and Thai basil
For the Sauteed Bok Choy
5 Bok choi
1 x 1 cm Ginger
1 clove of Garlic
small handful of edamame
1 tbsp oil
• Chop the garlic and ginger into small dices
• Place a pan on a medium heat and add the remaining olive oil
• Add the ginger and garlic and briefly fry, for 1-2 minutes until the ginger and garlic become aromatic
• Add the bok choi, and sauté for a further 2-3 minutes
• Add a splash of water and cover for 2 minutes
• Finish with a small handful of edamame and serve.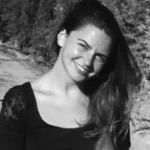 Hettie is the editor and co-founder of DOSE. A keen runner, she's also partial to a blast of high-intensity and hot yoga. A country girl at heart, she divides her time between London and the lush rolling hills of North Devon. When she's not jetting off on her next adventure, Hettie can be found in a candle-lit alcove with a laptop, a spaniel and a full bodied Malbec.