If you like amaretto, almonds and chocolate, look no further than this vegan marzipan recipe from Lazy Cat Kitchen. Her marzipan truffles are an indulgent treat that are sure to satisfy any sweet tooth. Read on for her recipe that includes a traditional and refined sugar free version…
MARZIPAN TRUFFLES RECIPE – 2 WAYS
INGREDIENTS
MARZIPAN – REFINED SUGAR FREE VERSION
300 g blanched* almonds or 300 g / 3 cups almond meal
10 tsp / 50 ml maple syrup
8 tsp / 40 ml amaretto
1 tsp lemon zest form an unwaxed lemon (optional)
MARZIPAN – TRADITIONAL VERSION
300 g blanched* almonds or 300 g / 3 cups almond meal
10 tsp finely ground sugar or icing sugar**
3 tbsp / 45 ml amaretto
7 tsp / 35 ml almond milk or water
2 tsp / 10 ml lemon juice
OTHER INGREDIENTS
175 g vegan dark chocolate
50 g vegan milk chocolate, for decorating (optional)
handful of raw almonds, finely chopped (optional)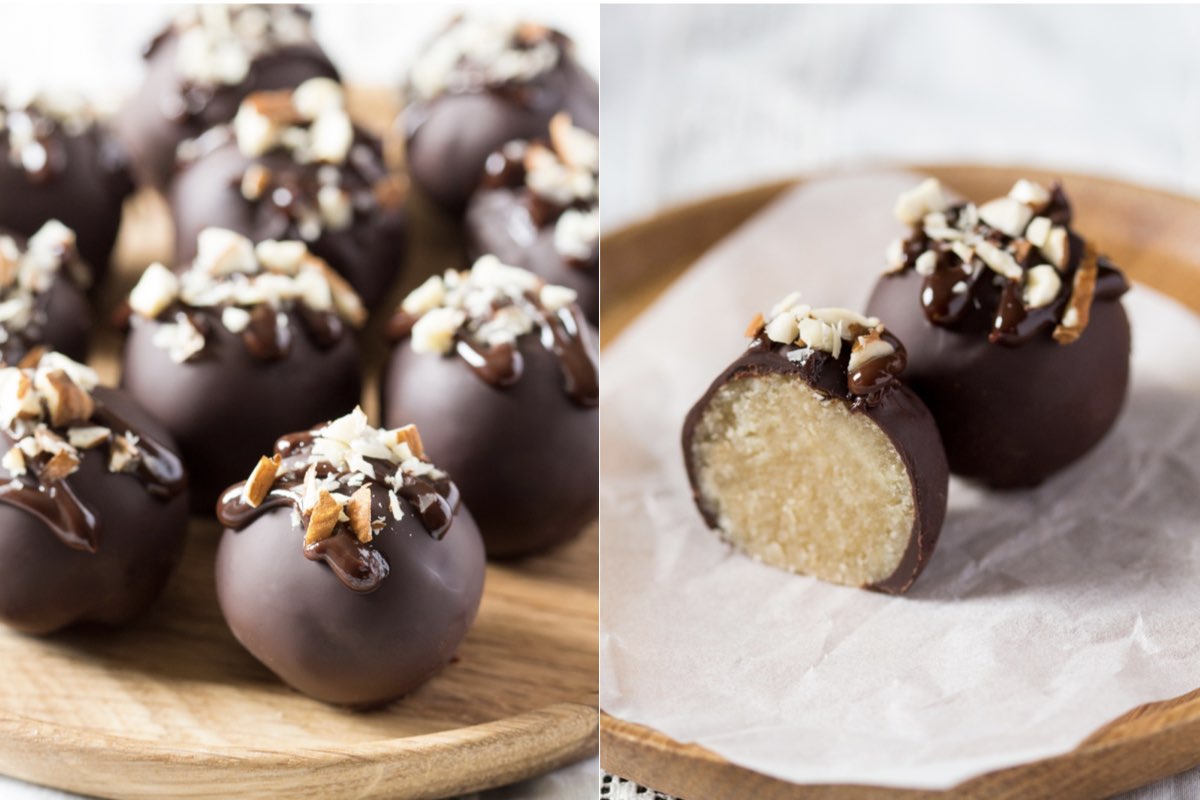 METHOD
Place almonds in a coffee grinder or food processor and process until you get fine almond meal. Do not push it too far as eventually almond meal will start turning into almond butter.
Transfer almond meal into a bowl and add lemon zest (if making refined sugar free version) or icing sugar (if making traditional version). Mix well.
Mix amaretto and maple syrup (for refined sugar free version) or amaretto, lemon juice and almond milk (for traditional version) in a separate bowl.
Turn almond meal mixture out onto a clean work surface and drizzle wet ingredients over it. Knead the mixture briefly, just long enough for it to come together. Wrap in a piece of cling film and chill in the fridge.
Break chocolate into small pieces and melt it gently over a bowl of boiling water (bain marie). Make sure the water does not touch the bowl with chocolate. You can also temper your chocolate as it gives it a nice shine, makes it less sensitive to heat and gives the chocolate shell a nice crunch. I followed the method detailed in this article.
Take marzipan out of the fridge. Pinch small pieces of marzipan and roll them into equal size balls. Use kitchen scales if you want to be exact (my truffles were 15 g each before dipping in chocolate).
Dip marzipan balls in melted chocolate and place them on a drying rack for the chocolate to dry. Place in the fridge if you want to speed up the drying process.
Melt milk chocolate over a bain marie and drizzle the truffles with it once they are completely dry. Sprinkle with finely chopped almonds.
NOTES
*Traditional marzipan uses blanched almonds, but for those of you who are keen on wholefoods, unblanched (lightly toasted) almonds also work. The flavour is more pronounced and marzipan made this way has tiny specks of brown but it tastes just as nice. You can also take skins off unblanched almonds by soaking them in boiling water for 10-15 minutes.
**Most icing sugar these days appears to have cornflour / cornstarch added in so I would recommend making your own icing sugar by grinding regular sugar in a coffee grinder until you get a fine powder.
Visit the website for more recipes 
Get your weekly DOSE fix here: SIGN UP FOR OUR NEWSLETTER