At DOSE, we are huge advocates of women who never stop pushing boundaries. Women who show the sort of ruthless determination, focus and motivation that make us want to smash our own goals and be the best versions of ourselves. We recently recorded a podcast with one such woman. Stephanie Case – ultra marathon runner and human rights lawyer, who uses running to offset the stress of her job and to create a positive impact on the lives of women and girls living in areas of conflict.
In the art world, we're getting inspired by Miramar Muhd. The Amman-based Iraqi artist and activist who uses her art on a personal level to cope with her mental and physical health but also as a way to celebrate female empowerment and solidarity.
Miramar describes the act of making her large scale murals as "the toughest physical exercise" akin to "climbing a mountaintop". "Sometimes, when the wall is so big, I have to stretch before otherwise I will get sore muscles the next morning!" she says. 
Street art murals are just part of the scene in places like Shoreditch, but in Jordan they are still rare, and rarer still to be created by women. In this interview, we speak to Miramar about what it means to be a female in modern Arab society, how her art helps her to cope with BPD (borderline personality disorder) and the women she looks up to the most…
Miramar Muhd – a woman pushing boundaries in the art world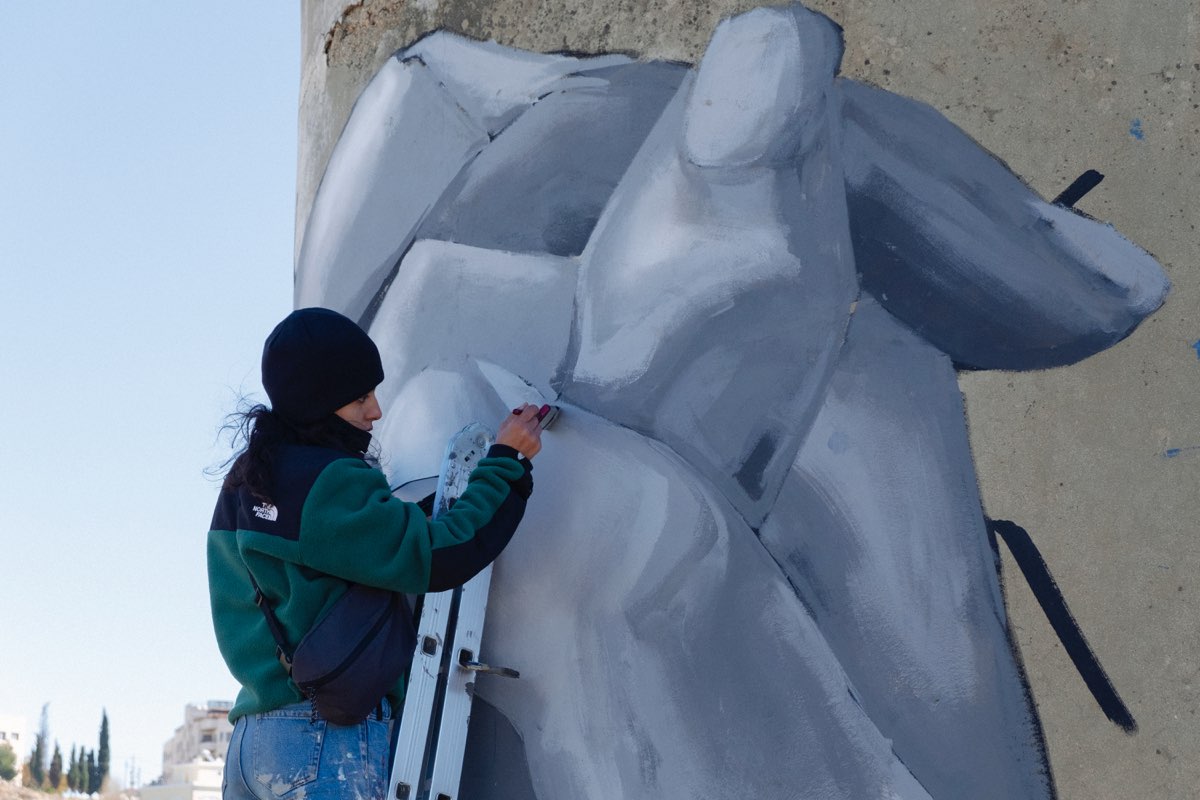 You were born into an artistic family. What impact did this have on you growing up?
Having been exposed to art in childhood gave me a way to experience the vast potential of what art can do on a personal level from an early age. This has strengthened my connection with art and even myself. Also, I'm so glad my parents never forced me to learn their artistic techniques or methods. While I learned so much from observing them painting or sculpting, they allowed me to discover my own intuitive and natural ways of creating art.
In your teenage years you acquired a love for visual art and forms of nonverbal expression. What inspired you down this route?
I never thought of becoming an artist until I graduated from high school. I think my emotions were becoming more and more intense with time, and art was the nearest tool at hand to help me express them. I was diagnosed with BPD (borderline personality disorder) and making art felt like a therapeutic experience to me. Besides, I've always loved the ability art has to share and communicate thoughts and feelings, and I wanted to exploit that. Which is why I started working on street art. Art has helped me to understand myself better and explore parts of myself that I didn't know existed before.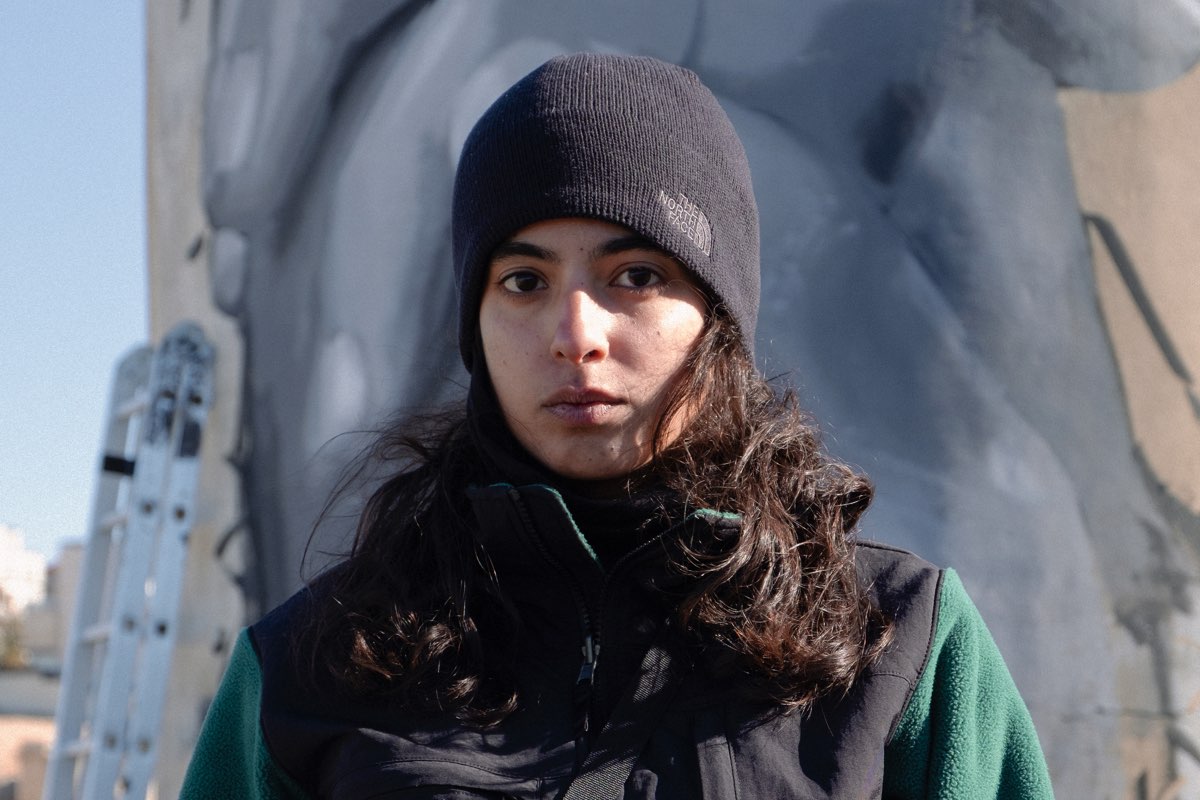 What does it mean to be female in a modern Arab society?
Women are extremely marginalized on so many levels and their lives are constrained by gender discrimination, restrictive social norms, and unfair legal frameworks. The fabric of Jodanian society is way too complex for me to outline in one go, but the one thing I'm absolutely sure of is that being a woman in modern Arab society is a revolutionary act in itself.
What do you hope women will achieve in the next 5 years
I want to see more women in leadership and decision-making positions. I want to see more women in all corners and folds of society being treated equally and with respect.
Why have you chosen murals as your medium?
It started with small scales, and gradually I found myself working on bigger and bigger ones. With time, I became aware that the bigger the scale is, the lighter I feel. The bigger the mural I work on, the freer my thoughts and movements. On a certain level, making a large scale mural is like climbing a mountaintop.
There's a surrender and a control, a lightness and a heaviness, too. Accepting these two opposing states and feeling them at once is, to my mind, total freedom. Socially speaking, working on my pieces in public feels communal rather than individual. I believe art is a necessity in society and I love the fact that street art is not confined by the walls of the gallery. It's for everybody.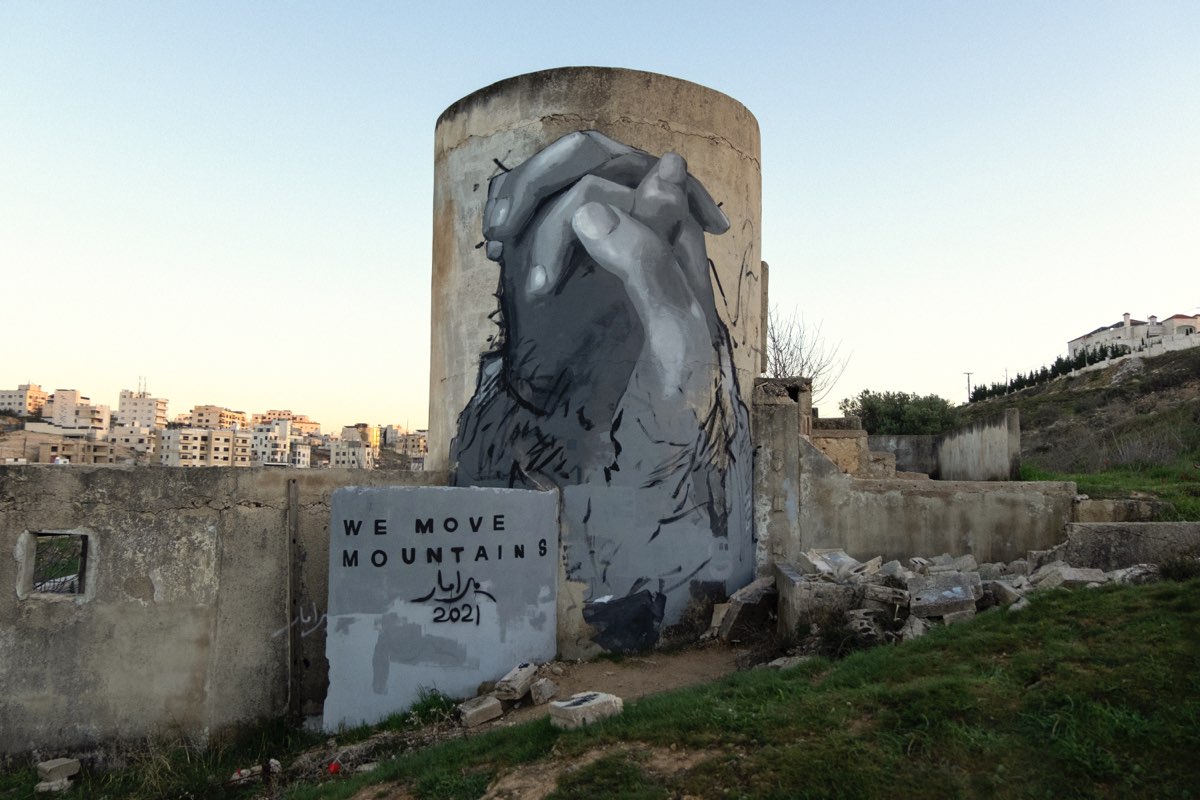 How do you look after your physical, mental and emotional health?
My practice of creating art in the studio is a tool that allows me to reflect and to remain mentally and emotionally stable. I try to eat healthily as much as I can. My favourite hobby is to go and hike in nature away from the city. Also, not to mention that creating a mural in itself, for me, is the toughest physical exercise! Sometimes, when the wall is so big, I have to stretch before otherwise I will get sore muscles the next morning!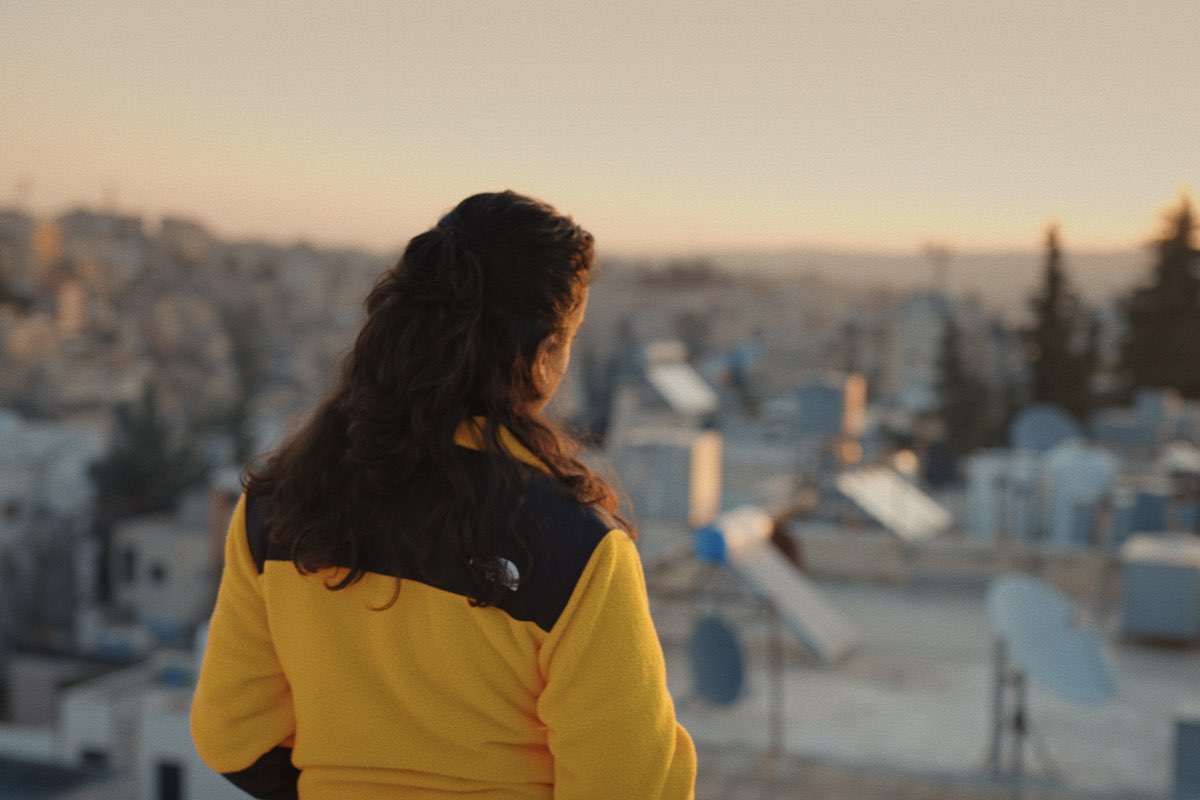 When not painting, what are some of your hobbies?
I sculpt and sometimes I practice on my violin and recently on the piano. I like exploring new places and meeting new people.
Which female icons do you look up to most and why?
For me it is unbelievably important to see someone from a group usually crushed by norms and prejudices acting in defiance of them. The Iraqi architect Zaha Hadid was and is still one of the greatest examples of this. I first got to know about her and her work at the age of 15 years old at it made an impression on me. She is a self-made powerful woman and I admire so many things about her. The fact that we both come from Iraq makes me feel very connected to her story and leaves me full of hope.
Why does The North Face 'never stop' philosophy resonate so strongly with you?
For me 'never stop, is like a synonym for believing in oneself, and 'believing' is simply the main thing that pushes me to be who I am and to achieve my dreams.
This is a partnership feature with The North Face. Made by women, for women, the We Move Mountains collection features the unique artwork of Miramar Muhd, a Jordanian artist and activist, who, like the women that produce this collection in Jordan, inspires others to push boundaries. Her artwork featured on the collection celebrates female empowerment and solidarity through International Women's Day.
Get your weekly DOSE fix here: SIGN UP FOR OUR NEWSLETTER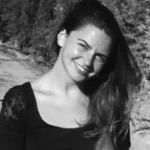 Hettie is the editor and co-founder of DOSE. A keen runner, she's also partial to a blast of high-intensity and hot yoga. A country girl at heart, she divides her time between London and the lush rolling hills of North Devon. When she's not jetting off on her next adventure, Hettie can be found in a candle-lit alcove with a laptop, a spaniel and a full bodied Malbec.