Sports recovery is a growing 2022 fitness trend with the global compression therapy market size projected to reach USD 4.51 billion by 2026. Why it's high time you invested in a pair of compression boots. These odd-looking garments may leave you feeling more "Michelin Man" than gym bunny but they will help your body recover from exercise – fast, while you multi-task on other things. We round up some of the best on the market…
What are compression therapy boots?
Compression therapy boots sequentially compress the legs to flush out metabolic waste and bring fresh, oxygenated blood back to the area. This increase in circulation helps reduce muscle soreness and fatigue in the body.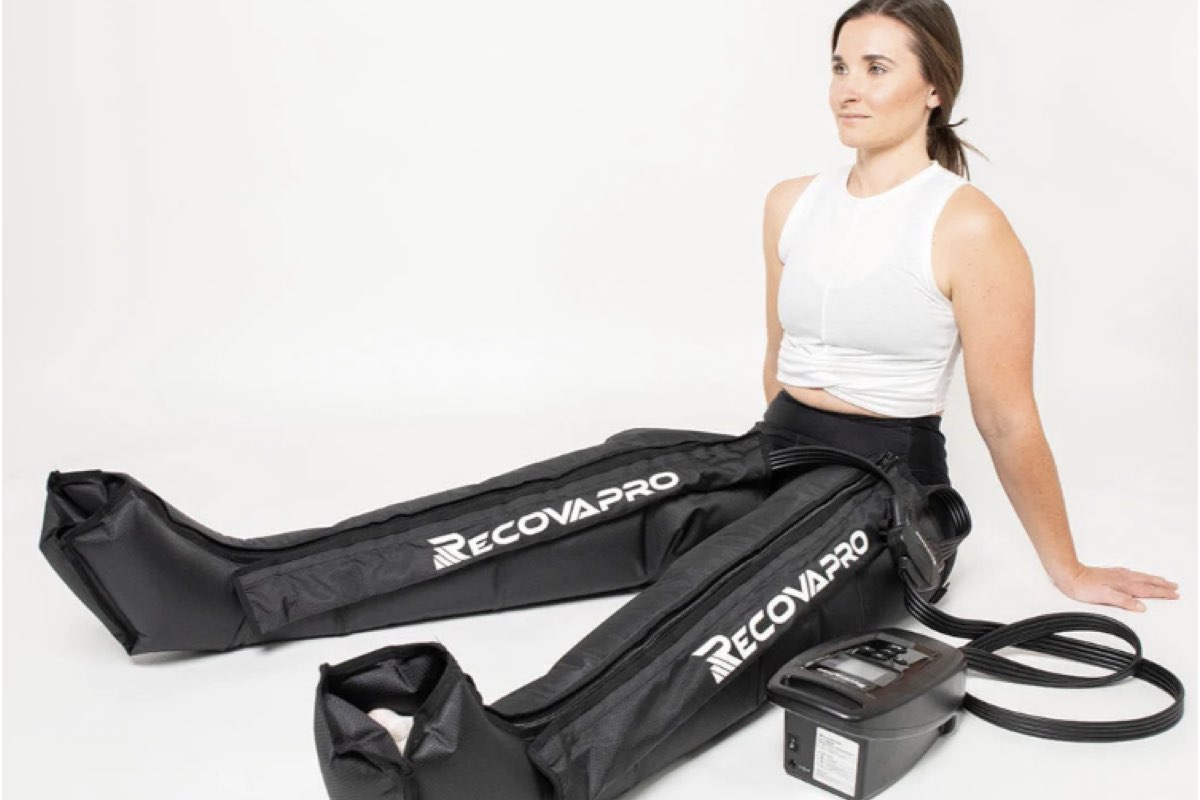 Recovapro Air
Ready to recover like a pro? Recovapro is trusted by Premier League footballers, personal trainers, physiotherapists, ex-Special Forces soldiers, cyclists, skiers, climbers, rugby players, boxers, tennis pros, MMA fighters, and athletes who will be competing in the next Olympics. All of these people want to train harder and recover faster.
Recovapro Air is a fully customisable pneumatic compression system. The FDA type II Medical compression device applies the pressure required to flush out toxins from the cells in your body. This allows for fresh oxygenated blood filled with nutrients to enter and nourish the cells. The pressure also prompts the release of endorphins, which act as natural painkillers, thus relieving fatigue and delayed muscle soreness after exercise, promoting the discharge of lactic acid metabolism, which helps athletes recover faster after exercise or after training.
HyperIce Normatec Pulse 2.0
Possibly the most popular, particularly in the States who have football teams with rooms set up for Normatec-enhanced recovery. Its patented compression sequence has been cleared by the FDA as a treatment for muscle pain, soreness and improved blood circulation. Choose from seven levels of intensity, set the treatment time and a specific chamber to "boost" compression in a certain area.
Therabody RecoveryAir
With a smooth and full massage cycle that doesn't miss any areas and high-quality pressure application thanks to its four overlapping air chambers, it's no wonder RecoverAir is getting everybody so excited. The control unit allows you to control massage time and pressure intensity. It's easy to clean and comes in three sizes. If you're looking for localised recovery, this isn't the best but the massage makes up for it.
Rapid Reboot
These boots come in five different sizes and are sturdy. You can adjust the pressure to 10 different levels, set timers and activate or deactivate certain chambers which is great for localised recovery. They're easy to clean too.
MyoAir Leg Recovery System
Thanks to its four precise inflation chambers, you can target each section of the leg – ankle, calf, knee and quad, allowing you to pinpoint the areas that need most attention. The waterproof material makes them easy to clean.
Get your weekly DOSE fix here: SIGN UP FOR OUR NEWSLETTER
How do compression boots help with sports recovery?
Compression boots help to reduce inflammation, improve circulation, and speed up the recovery process after intense physical activity.
Are compression boots safe to use?
Yes, compression boots are generally safe to use. However, it is important to follow the manufacturer's instructions and consult with a healthcare professional if you have any concerns.
Can compression boots be used for other purposes besides sports recovery?
Yes, compression boots can also be used for medical purposes such as treating lymphedema, deep vein thrombosis, and other circulatory issues.