Meet Laura Fullerton, CEO of Monk – a new cutting-edge holistic health tech company, poised to launch the world's first smart ice bath and guided breathwork app. Monk is on a mission to make cold water therapy accessible. Their aim is to help everyone to take conscious control of their mental, physical and emotional health with cold water in the comfort of their own homes. DOSE caught up with CEO, Laura Fullerton about the Monk smart ice bath and app launching soon and the benefits of cold water therapy…
Monk – the world's first smart ice bath
What's been your journey to finding cold water therapy?
I've always been big on health and biohacking, and I was invited to a breathwork and ice bath workshop. I was slightly terrified of the ice bath because I've always hated the cold, but afterwards I felt an incredible sense of accomplishment.
The flood of endorphins got me hooked, and then the more I learned about cold water therapy through podcasts, books, and people I respect in the health world, the more I understood its long-term health benefits which kept me going. I'm a big fan of personal development, and ice baths really tapped into that. I felt resilient, strong, and this mindset rippled out into all areas of my life.
Why is cold water therapy having such a moment?
Because it's an incredible tool to help people take control of their mental, physical, and emotional health. Given what's happened in the last two years, combined with soaring rates of depression, anxiety, and stress, it's no wonder that it's rippling into the mainstream.
While it's an ancient practise and dates back over 5,000 years, I think the ever-growing body of scientific research is also fuelling its popularity. It's scientifically proven to boost immunity and metabolism, improve mental health, and speed physical recovery. Right now, there's incredible research in progress at the University of Cambridge, showing that it is protective against neurodegenerative diseases like Altzeimers, which is just amazing.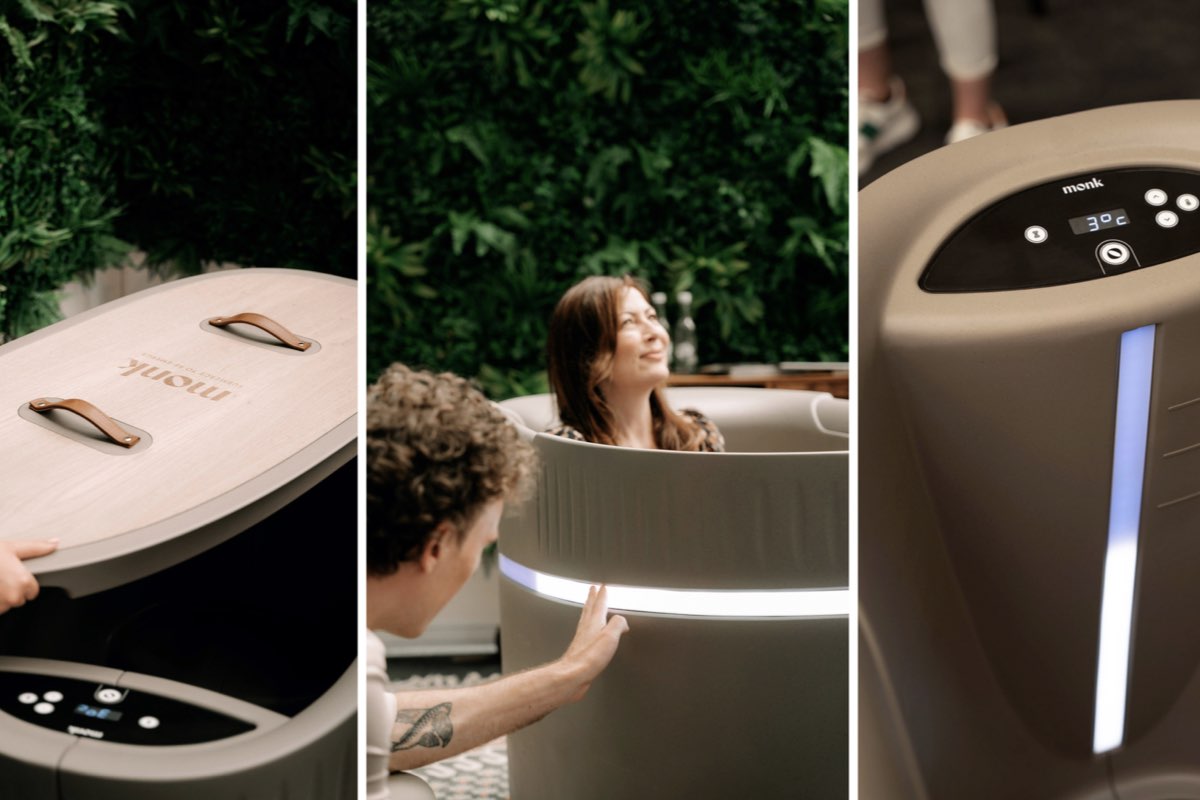 Why did you decide to launch the Monk smart ice bath and app?
I fell in love with cold water therapy, after it had such a positive impact on my mental, physical, and emotional health. But the issue I encountered is that it's just not accessible. I've filled dustbins with cold water, jumped into frozen horse water troughs, broken into Hampstead Heath ponds at night during winter, and bought endless bags of ice to throw into my own bath (not eco-friendly or practical!).
When I discovered that tens of thousands of people were transforming chest freezers into their own DIY ice baths, I knew that there had to be a better way, and I set out to create it.
How is the Monk smart ice bath different to other ice baths?
Monk is the first smart ice bath, and it teaches you how to use CWT safely and effectively. Our companion app creates a personalised programme that takes you on a journey combining breathwork, guided therapy, and more. Whether you're a beginner, looking to accelerate your recovery, or improve your mental health, Monk will help take you there.
Plus, the bath itself has brilliant features, like self-cleaning ozone filtration (no chemicals like chlorine needed!) its internal light guides you how to breathe so you're in control, its temperature controlled at the touch of a button, and much more.
It's under wraps for now, but it really is a revolution in cold water therapy. The Sunday Times called us "The Peloton of the recovery world," which alludes to what we do quite nicely.
Will Monk roll out across spas/gyms or is it for home use?
We designed Monk for homes and hotels alike. You'll find Monk in spas and gyms, and I'm really excited about the premium partners we've got lined up!
So often companies design products for commercial use, then discover they're too big, bulky, and unattractive for home use. We specifically designed our bath to fit through house doorways (it sounds silly, but it's often overlooked!), and looks beautiful in people's homes or gardens.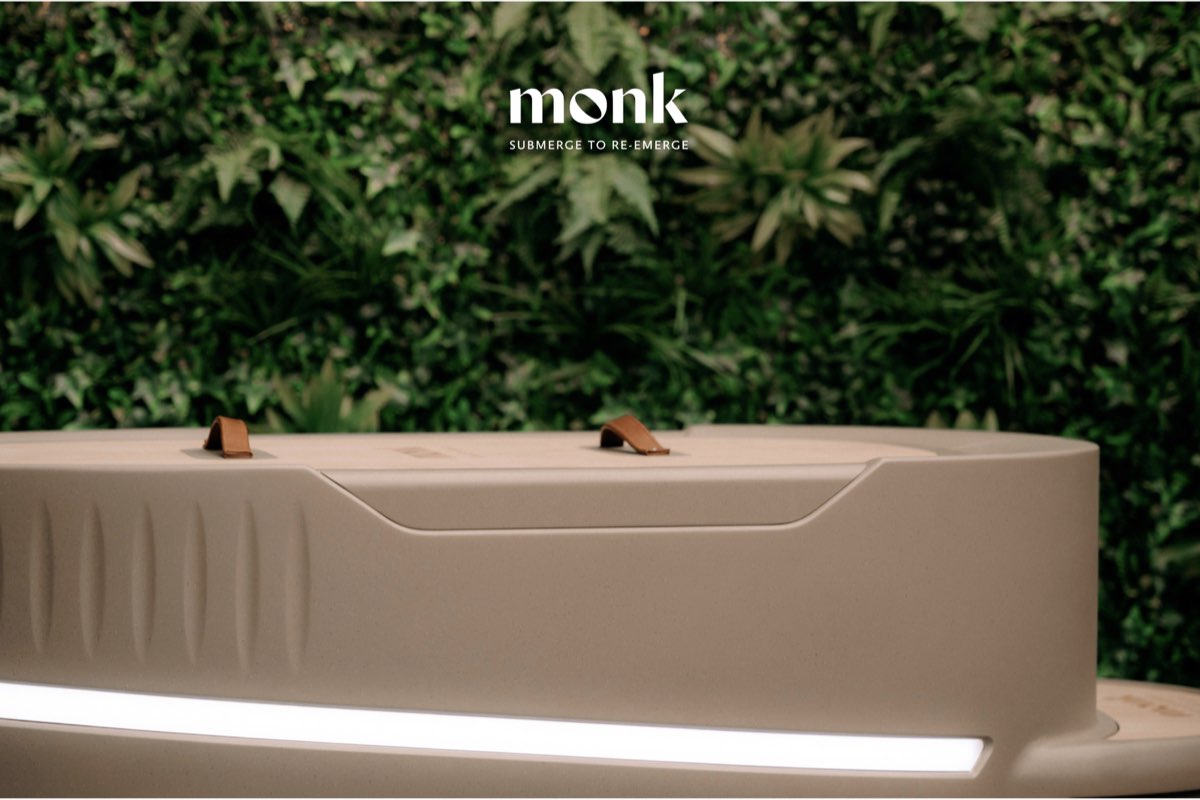 What are some other biohacking services that you rate to upgrade human health?
There's loads of brilliant tech, services, products, and supplements out there, but I think people often use these as their first port of call, rather than nailing the fundamentals – like optimising sleep, nutrition, sunlight, cold and hot exposure, and exercise. This is where you will find the greatest impact.
However, three things I rate right now are 1) IV drips and hyperbaric oxygen therapy (in that order). It gives me incredible mental clarity! 2) Omnos – it's a unique health data testing platform which offers various tests (genetics, gut, hair and minerals etc) and correlates all your data together and gives you great recommendations. 3) Methylene blue – it's a supplement that improves your mitochondrial performance and helps you use energy more efficiently. It gives me extra mental performance, energy and focus, especially when paired with red light in the morning.
Infrared sauna or Finnish sauna?
That's a tough one! Infrared is my go-to for the therapeutic benefits (I use it around four times a week). I find that Finnish saunas are more of an experience, particularly if it's at a traditional banya spa or shared with friends.
Red Light Panel or Red Light Bed?
Panel – much more convenient at home! I use a red light panel in the morning and evening (unless I'm abroad and can get the real thing by watching the sunrise and sunset – not so easy in London!).
How do you get your DOSE (fix of dopamine; oxytocin, serotonin and endorphins)
Doing cool sh*t with cool people, in nature! I've just returned from an incredible experience in Croatia, hanging out with 200 awesome and inspiring founders & CEOs, and spending a lot of time in the sea. For me, nothing beats that!
Fave gym/spa in London and why?
White City House. The gym is incredible, and I love using the sauna after or reading by the pool. It's my zen space.
What else is in the pipeline?
Loose lips sink ships! All I will say is that right now we're focused on bringing the world's first smart ice bath and cold water therapy app to market…
What are you most excited about in wellness right now?
Largely that it's becoming "cool" to be healthy! It's definitely becoming more socially acceptable to not want to get drunk and spend weekends hungover. There are more health spots to hang out popping up, like biohacking clinics, as well as wellness festivals, and events from soundbaths to breathwork and brunch. Don't get me wrong: I like to party, but I also like to recover quickly!
By Hettie
Get your weekly DOSE fix here: SIGN UP FOR OUR NEWSLETTER