It's your last chance to take advantage of the Government's Eat Out to Help Out scheme, offering diners a 50% discount on food or non-alcoholic drinks to eat or drink in (up to a maximum of £10 discount per diner) every Monday, Tuesday and Wednesday in August. We've rounded up our favourite restaurants that are participating in the scheme, as well as their must-try dishes to take advantage of the discount.
Eat Out to Help Out
British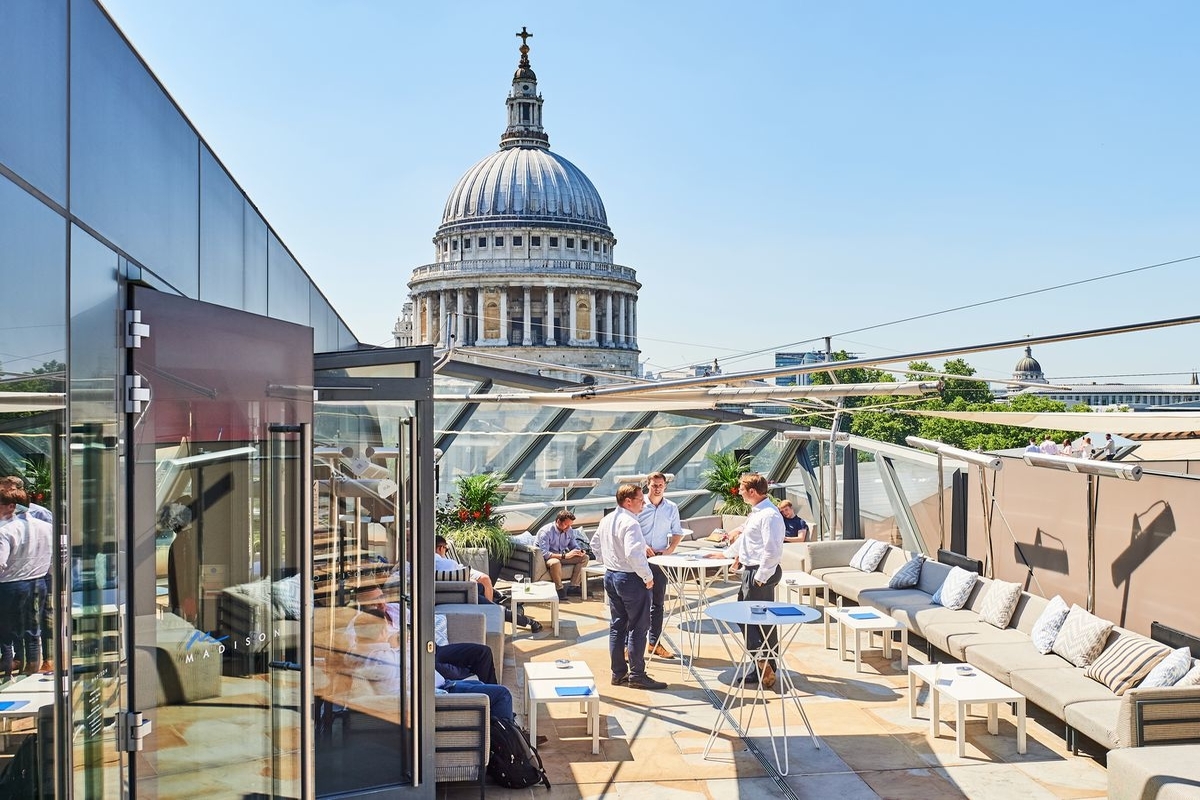 With stunning views of St Paul's on its roof terrace, Madison is offering two different Eat Out to Help Out menus: a £20 3-course lunch menu and a £30 3-course dinner menu available from Monday to Wednesday. Tuck into dishes such as Watermelon and Feta Salad, 250g British Grass Fed Sirloin from the Josper Grill, Gnocchi al Forno and a warm Chocolate Fondant with Salted Caramel Ice Cream to finish.
Also offering amazing City views, Darwin Brasserie inside Sky Garden is offering diners the chance to get 50% off dishes such as the Darwin Beef Burger or charred cauliflower from Monday to Wednesday.
Widely recognised as one of the best steak spots in London, Hawksmoor has finally reopened several of its locations – and under the Eat Out to Help Out scheme, a 400g sirloin steak can be snapped up for just £22 with discount from Monday to Wednesday.
If seafood is more your thing, Mayfair institution Scott's on Mount Street is one of London's most sophisticated restaurants with its coveted outdoor terrace and open plan dining room. With 50% off up to £10 per diner from Monday to Wednesday, that's a whole lot of extra oysters you can treat yourselves to.
28°-50° Wine Bar & Kitchen in Covent Garden, is welcoming guests to enjoy refined and delicious food in both the restaurant and on the newly opened sun dappled terrace at an extremely accessible price point.Riding House Cafe in Fitzrovia are offering a 6 course tasting menu for just £10, with a supplementary wine flight.
British-Australian eatery Hām in West Hampstead, the stunning 50 Cheyne in Chelsea and Modern Coffee Specialists Watch House Coffee are all also participating in the offer, with 50% off their full menus.
French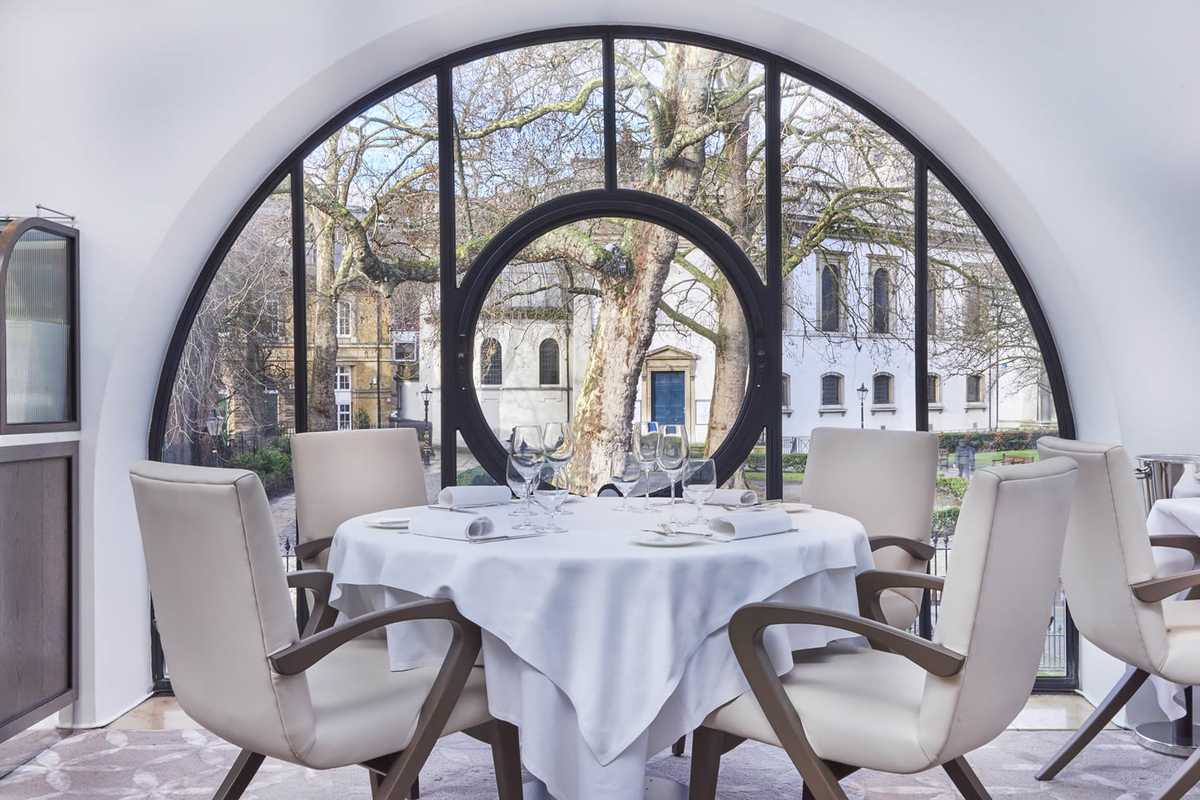 Le Pont de la Tour is offering a special 3-course EOTHO menu for £20, featuring classics such as steak tartare, followed by grilled plaice, heritage potatoes, coastal herbs and hollandaise sauce, concluding with a Marquise au chocolat, strawberries, pistachio and milk ice cream – all overlooking spectactular views across the Thames.
Over at Orrery, 3 courses of fine dining can be had for only £30 – think dishes like beetroot tartare with d'agen prunes to start, poached salmon, caviar, potatoes, cucumber dill, fromage blanc to follow and Valrhona Manjari chocolate cremeux with orange sorbet to finish.
City favourite Coq d'Argent comes into its own in summer months with its fabulous roof terrace – and now diners can enjoy 3 courses of classic French cuisine such as loup de mer, escargots de Bourgogne and saumon fumé, topped off with a delicious crème brûlée or fondant au chocolat noir – all for just £20 from Mon-Weds.
If French patisserie is more your thing, Dominique Ansel bakery in Belgravia is also participating in the scheme: think half-price cronuts, or their iconic Fruit and Vegetable afternoon tea that celebrates the freshest produce and seasonal harvest with savoury and sweet bites such as sweet English peas, just-picked strawberries, and tiny honeybees transformed into a playful menu that's full of charm, finished with warm fresh-baked scones, homemade fresh berry jam, and clotted cream – priced at just £29 from Monday to Wednesday under the scheme.
Italian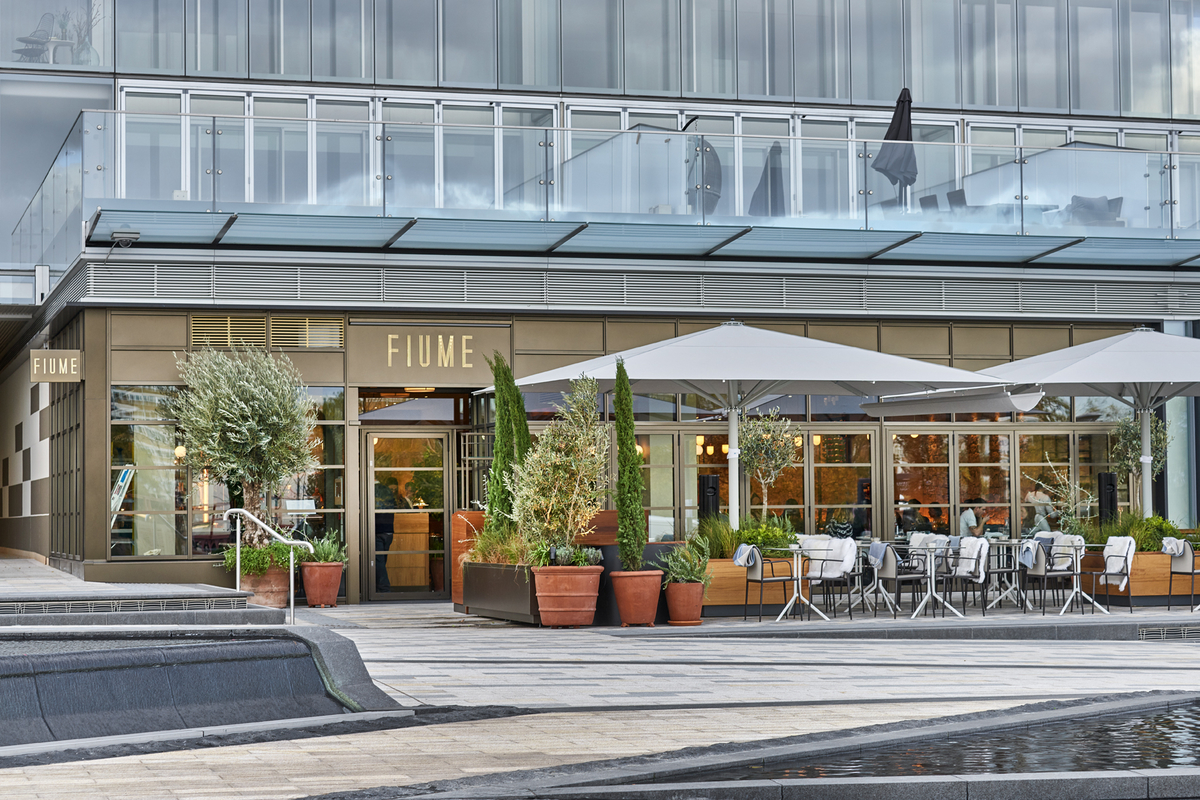 Chef Francesco Mazzei's special EOTHO menu at Fiume starts with Vitello tonnato, leading on to an Oven roasted gilthead bream with saffron guazzetto, and ends with a creamy Panna cotta with wild berries – a steal at £20 per person.
Restaurant Daphne's in South Kensington offers seasonal menus with something to please everyone, with a robust choice of staunchly Italian food balanced with a lighter offering of seasonal salads and a selection of carpaccio dishes. Summer favourites include Roast Fillet of Cod with Fregola, Crab & Zucchine, just £14.5o with £10 off under the scheme.
Enjoy views over Tower Bridge from the terrace at Cantina del Ponte, where a special three-course Eat Out to Help Out menu is only £10 from Monday to Wednesday. Think Italian classics like caprese di burrata, spaghetti all'arrabbiata, and classic tiramisu or panna cotta to finish.
European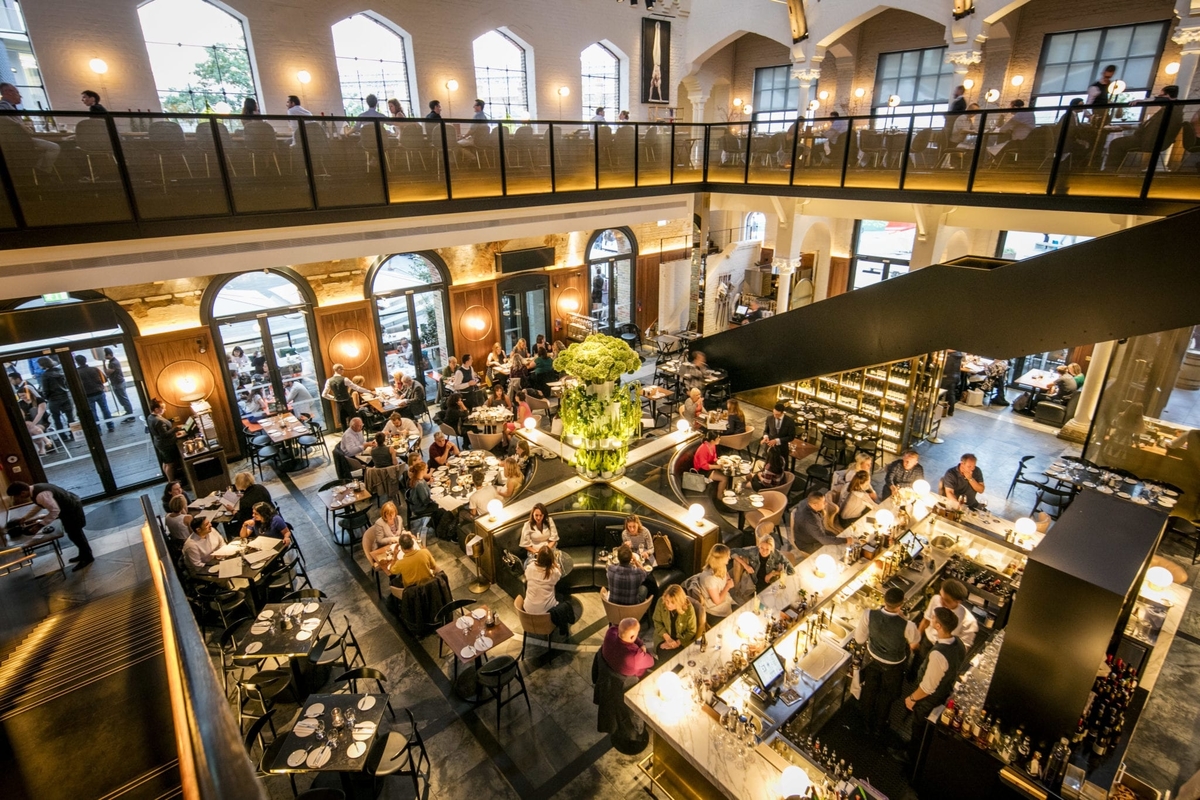 The stunning German Gymnasium in King's Cross is offering a special Eat Out to Help Out menu of three decadent courses for just £20. Enjoy classics such as chicken schnitzel with rocket, beans, sundried tomato, sweet potato fries and red wine jus followed by apple strudel with vanilla sauce in the striking Grand Café setting.
Over in Marylebone, XR pays homage to seasonal produce sourced from organic farms across the British Isles with dishes such as grilled harissa chicken with spinach, peppers and lime mayo (normally £18, now £9 under the EOTHO scheme) and autumn black truffle pasta (reduced from £30 to £20 under the scheme). Their outdoor terrace is the perfect spot to soak up summer sunshine with a cocktail.
Michelin-starred spot Aquavit offers fine dining at exceptional value for money with their signature Swedish meatballs with creamy mashed potato, velvety sauce, mushrooms, pickled cucumber and lingonberries just £10 under the Eat Out to Help Out scheme. With the restaurant reopening on 24th August, it's worth booking in to take advantage of the discount before the scheme ends on the 31st.
If tapas is more your thing in the summer months, Barrafina's signature Octopus with Capers is usually £17, now £8.50 from Monday to Wednesday. Or if you're up for trying something new and different, Zima Russian Restaurant's famous hand made Russian dumplings called Pelmeni Sibirskiye can be had at half price (£5.50) – the perfect excuse to try both the beef and chicken varieties for the price of one, right?!
Indian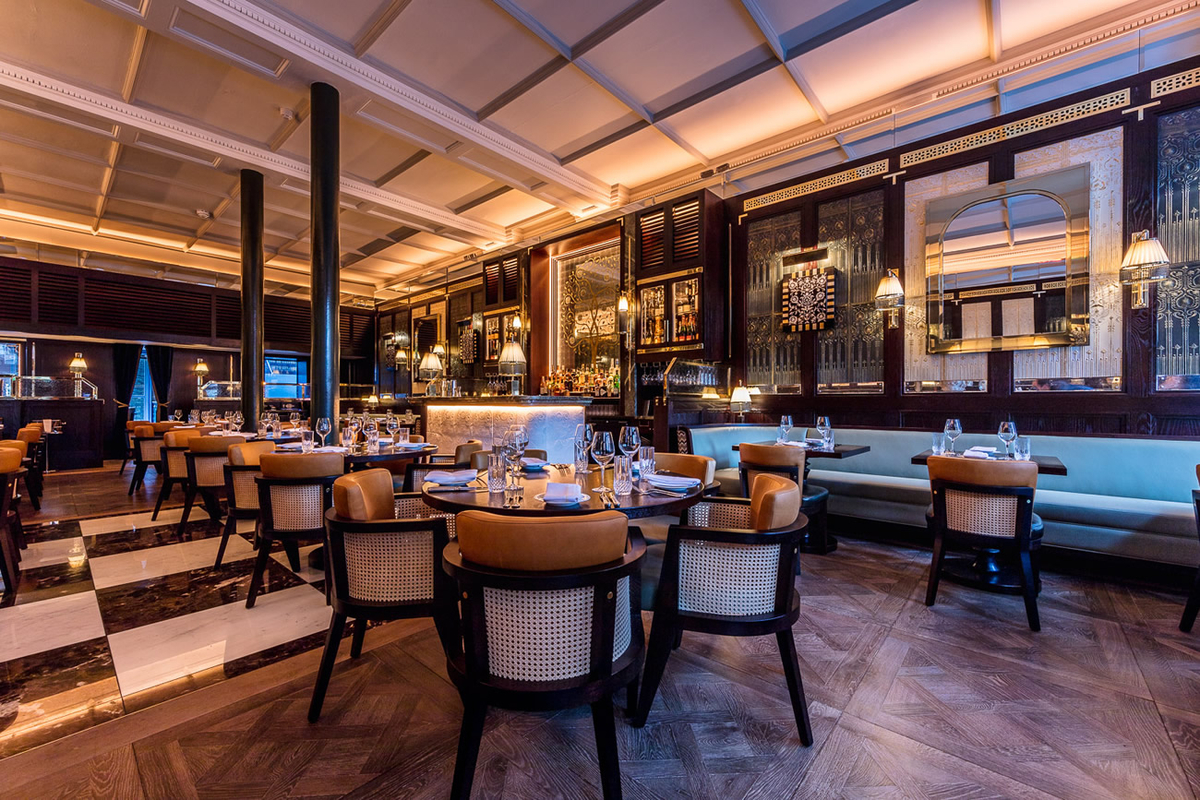 Michelin-starred Quilon, part of the fabulous Taj Hotel in St James, is the perfect choice for a delectable dining experience showcasing the best of South West-Coastal Indian cuisine. Think a heavy focus on seafood and vegetarian dishes, best enjoyed sharing-style with fellow diners. And given that the government scheme offers up to £10 off per diner, there's now an even greater incentive to invite friends for a special meal out.
Also served at the Taj Hotel is a fabulous Alice's Queen of Hearts-themed afternoon tea, featuring beautifully designed pastries and scrumptious savoury treats inspired by the foul-tempered monarch from the beloved children's classic Alice in Wonderland. A trip down the rabbit hole is reduced by £10 for those booking afternoon tea on Mondays to Wednesdays in August.
Mayfair institution Benares is offering a Thali lunch set throughout August at just £23 per person under the Eat Out to Help Out scheme on Tuesdays and Wednesdays. Dishes include tandoori machi – a herb-marinated grilled seabass – and tari wala gosht – slow-cooked lamb in whole spices, served with saffron-spiced aromatic rice.
Exceptionally popular Sri Lankan restaurant Hoppers is offering a special 'Early Week Feast' menu – an entire tasting menu with smaller portions, reduced from £20 to only £10 per person on Monday-Wednesdays in August.
Dishoom, our favourite Mumbai-inspired restaurant has also joined the scheme. Get 50% off your entire bill, no matter how much you spend. Pretty amazing, right? We're salivating at the prospect of those Bacon Naan Rolls already! Available across all Dishoom's locations including Carnaby, Shoreditch and King's Cross.
Chinese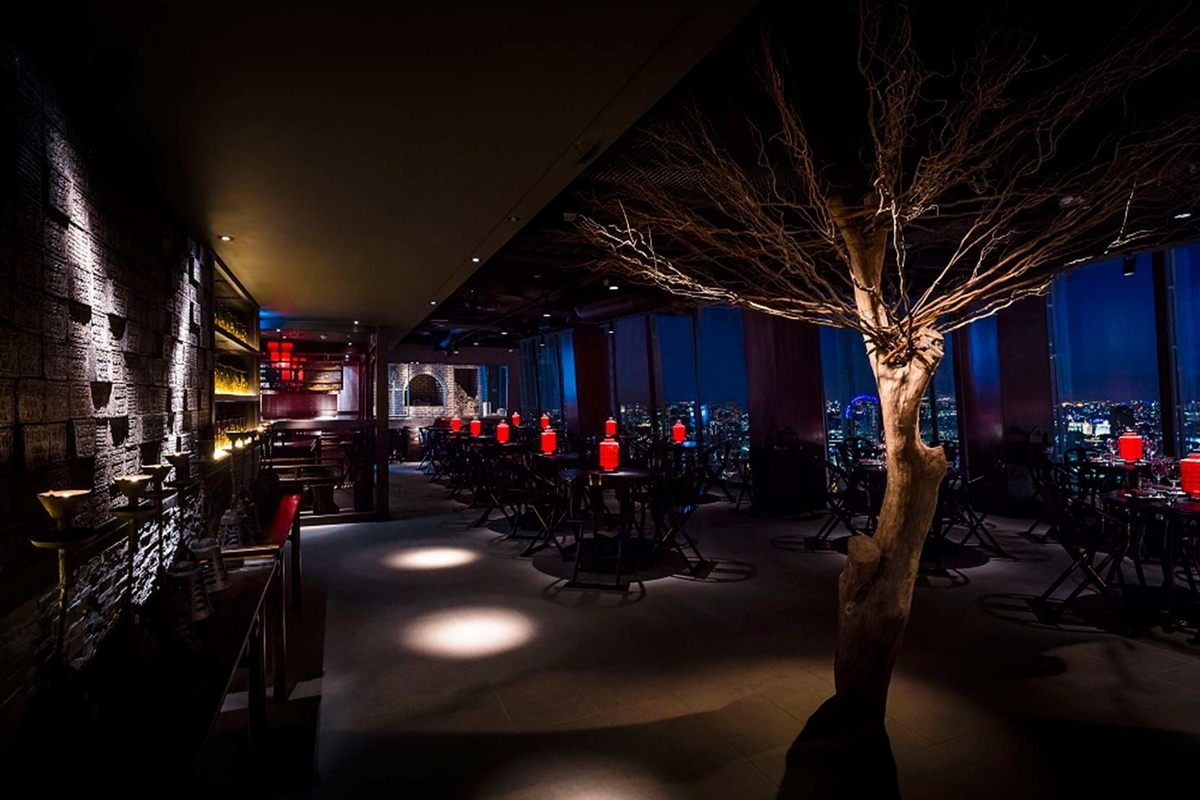 Aqua Restaurant Group is taking the Eat Out to Help Out scheme a step further by not only offering guests up to £10 off food, but also £10 off a bottle of wine priced over £40 when dining on Mondays, Tuesdays and Wednesdays throughout August. Enjoy the fabulous views from Hutong in the Shard, where the Experience Lunch Menu is reduced from £35 to £25 on Mondays to Wednesdays.
Not your typical Chinese restaurant, diners at Hunan are expected to tell the chefs what they don't eat and how spicy they like their food, then allow themselves to be surprised, with small tapas-size portions of food shared among the table. Under the scheme, from Monday to Wednesday this unique dinner experience costs from £64.80 per person.
London's first Xi'an restaurant, Murger Han, is taking part in the Eat Out To Help Out initiative by launching an incredible value menu consisting of starter, main, dessert and soft drink for only £10 (after discount). Start with their signature murger – the Chinese equivalent to the Western hamburger or meat sandwiches – then take your pick of any of the 25 hand-made noodle dishes on the menu, such as biang biang noodle with spicy braised pork, tomato, egg sauce and chilli oil, and finish with ice cream mochi.
Japanese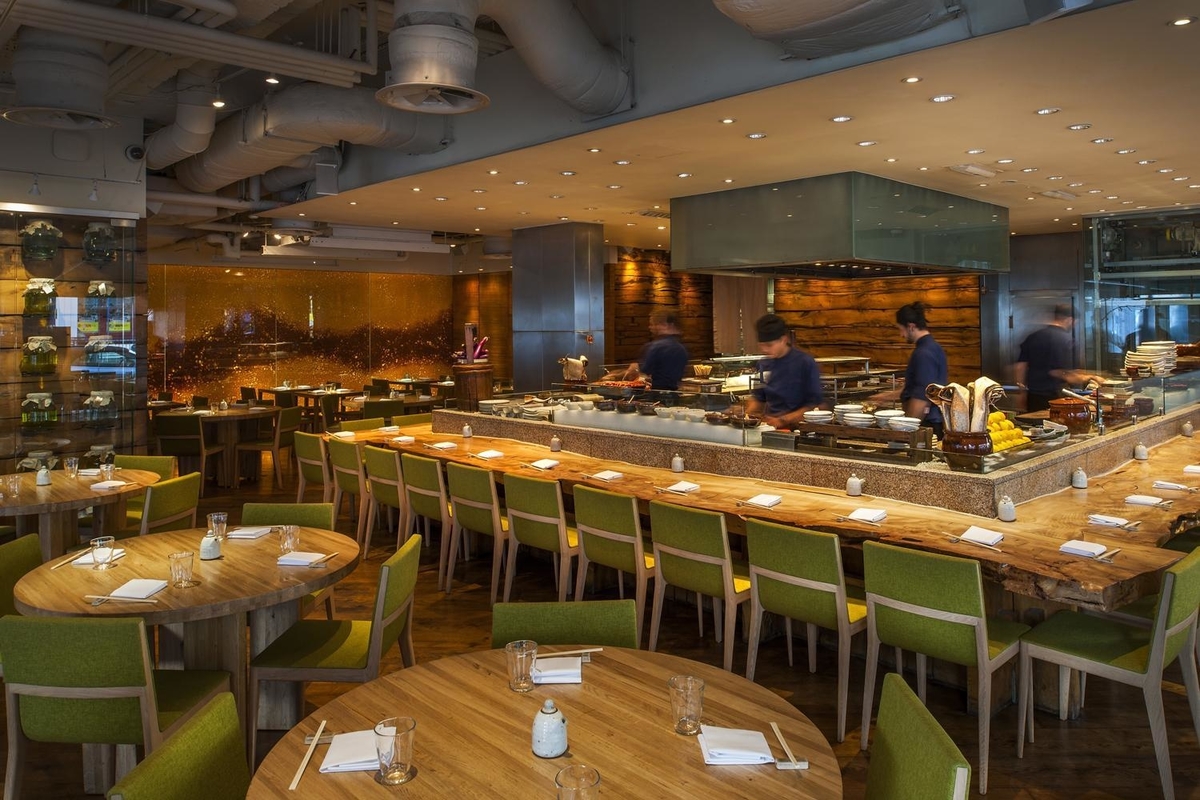 With a wide-ranging menu that includes sushi and sashimi as well as robata grill dishes, ROKA is offering 50% off from Monday to Wednesday up to £10 per diner – think dishes like sake to avocado maki with raw salmon, avocado and asparagus with wasabi tobiko and tenkasu reduced from £9.75 to just £4.88.
Widely recognised as one of London's best ramen spots, Tonkotsu is participating in the 50% off scheme, taking its signature Tonkotsu Ramen dish from £11.50 to £5.75. If noodles are more your thing, Koya's famous Katsu Udon can be had at £7.90 instead of £15.80.
Yauatcha Soho and Yauatcha City, whose Taste of Yauatcha menu will see 4 authentic courses served for £15.For more Asian inspiration, read our round-up of London's best Asian restaurants here.
Peruvian
COYA Mayfair and COYA Angel Court are offering modern Peruvian dishes from Monday until Wednesday.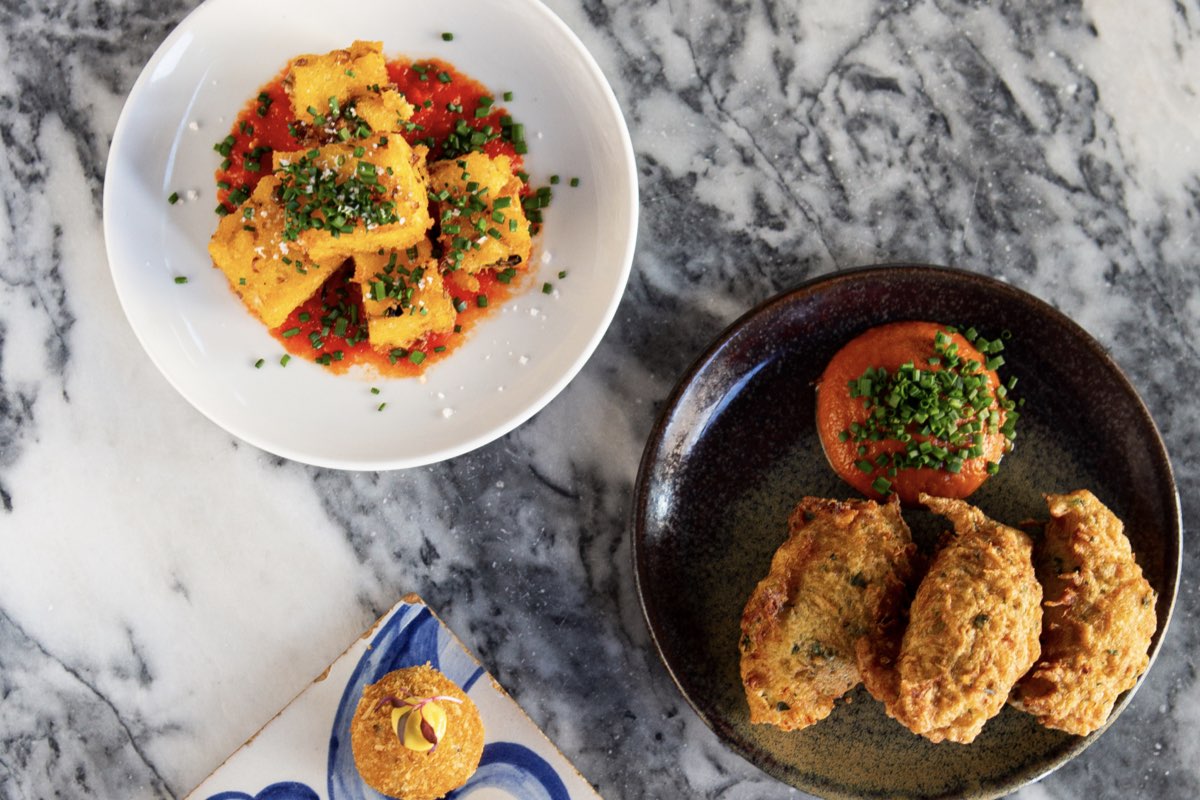 Portugese
Tapas restaurant Bar Douro in London Bridge is taking part in the Eat Out To Help Out initiative.
Mexican
Authentic Mexican restaurant Santo Remedio in London Bridge is taking part.
Eat Out to Help Out – September Extension
Restaurants, eateries and cafes across Mayfair and Belgravia are extending the Eat Out to Help Out scheme throughout the month of September. Grosvenor Britain & Ireland is supporting its tenants by funding the scheme where participating restaurants will be offering half price meals, up to the value of £10, every Monday to Wednesday throughout September. The likes of The Mayfair Chippy, Comptoir, Popina, Roka and NAC will be participating in the scheme.
By Rosie
Main image: Le Pont de la Tour
Get your weekly DOSE fix here: SIGN UP FOR OUR NEWSLETTER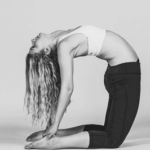 After graduating from Cambridge University with a triple First, Rosie decided to pursue a career in the fitness industry rather than follow the traditional path of her peers in investment banking. Unable to shake off the fast-paced routine she developed in her City job, she achieves balance by winding down in yoga sessions, escaping on fitness retreats, and going for extended brunches that somehow seem to wind up in a hidden gem of a cocktail bar.