Don't let one friend having a baby have a negative effect on your friendship. It happens surprisingly often, so it's important to be aware and prepared.
When one person has significant life changes, it's natural to expect that some friendships may change, and not always for the better. Divorce and death can change relationships, and one huge factor is one friend having a baby when the other friend is miles away from it. It can be hard to relate to and leave both parties feeling isolated. People are all over the place in their 20s and 30s. There's no wrong and right, but a friend who is single, clubbing and working hard may feel increasingly far apart from her stay-at-home mum friend with two kids who is immersed in the world of play dates.
But when you care about a friendship, it is worth making sure you know exactly how to maintain it, allowing for change without letting it tear you apart.
Milla Lascelles is a holistic life coach. "Bringing a baby to the world can be a moment full of joy, but can also be stressful for the parents. It can also affect the relationship the new mum has with her friends as they tend to spend more time indoors, trying to adapt themselves to a new routine and the baby's sleep. This can lead to post-partum depression and anxiety and I see lots of patients overcoming this kind of difficulty. That's why, you have to deal with the friendship in a sensitive way. Here are some of my main points to take into consideration."
Avoid body image topics within your conversation
"If you meet her for a coffee, try to avoid topics related to body appearance (she might be hating her body at the moment) and try to support her during this period; becoming a good listener is very important. Instead, you should talk about your shared interests and help her feel valued for the things you've always loved about her… try to maximise the time you spend together and take the most of this quality time together."
Be flexible with the times and frequency of meetings
"Being more flexible in timings and the frequency of the meetings is also very important. You will probably be used to seeing each other every week but with the new baby this might change. When you think about the severe lack of sleep and new demands on everyone's time, it's no surprise that so many friendships break at the early stages of the baby's arrival. You can also be proactive and offer to babysit or help with some of your friend's errands whilst you spend time together  – for example, bring lunch over, be happy to go for a walk in the park and ditch those cocktails for at-home pampering session together whilst the baby is asleep."
Be present
"Try not to look back at the past and embrace this new stage of your friendship. Stop talking about how glorious were the days pre baby (eg… the night outs, how fit she was, how much time she had to look after herself) as she might start feeling isolated. Just be supportive and don't underestimate the power of a nice girls' talk and just 'being there' for her."
Danielle Brooker is a life coach, who also has advice for us. "What's important to remember is that life itself is seasonal.We're all constantly growing, evolving, and moving through different phases of our lives. That could look like having kids, moving cities, new jobs, or even just catching up after a particularly busy few months. If you're feeling worried about your friendship being at a new phase, I'd first ask yourself what it is you're really afraid of."
Look to yourself
"When we find ourselves getting frustrated with others, a lot of the time it can be a clue for something that needs adjusting or shifting in our own lives. Maybe it's really that you miss the company, or you're worried you won't have any support in your life. When you know what you're really afraid of, you're more in control of finding solutions."
Communicate
Friendships, as with all relationships, rely on open communication to truly thrive. We have so many unwritten rules we set for others in our lives without even realising it. Maybe you've set some standards around how often you'd like to see your friends, or how important it is to you that you talk regularly – but have you ever shared that with them? And, why's it so important to you?
Instead of focusing on what you're not getting in the friendship or how much things have changed, go back to why it matters so much to you. What is it you love so much about this person? What is it about them that means they've stayed in your life?
Finally, if you're feeling a change, they're probably feeling it too. Your friend is also moving through a new season of their life and finding their rhythm again. Maybe they're also feeling worried or unsure how to get support. Why not reach out to them and check in with how they're doing? By doing so, you might just see things from a whole new perspective and feel much more connected in the process."
Get your weekly DOSE fix here: SIGN UP FOR OUR NEWSLETTER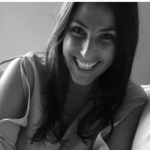 Charlotte is a London girl through and through. She sweats through spin and puffs through Pilates to justify trying the latest restaurants and devouring copious amounts of sweet potato fries, burrata and bread – preferably on holiday. Her favourite destinations include Italy, the Maldives and anywhere where the sun's shining and there's a strong breakfast buffet. She's obsessed with walking, visiting farmers' markets and reading. She's also learning to cook. Wish her (and her husband) luck.