It's official, after years of "will-they, won't-they?", SoulCycle has arrived in London. The global fitness phenomenon has more than 90 studios and counting across the US and Canada and we've known people to fly over for 'the weekend' to get their fix. Really.
To give you an idea of its popularity, more than 20,000 riders take SoulCycle classes every day. Fans include Beyoncé, Ciara and Michelle Obama to name a few. But will the experience translate well overseas? We sent our resident spin guru Shara to find out…
SoulCycle arrives in Soho
Located in London's bustling Soho at 3-4 Great Marlborough Street, the slick studio beckons like an elusive fortress I have been waiting to step inside for years. And it doesn't disappoint.
From the moment I walk in, I am met with flawless customer service – something SoulCycle prides itself on that sets them apart from the competition.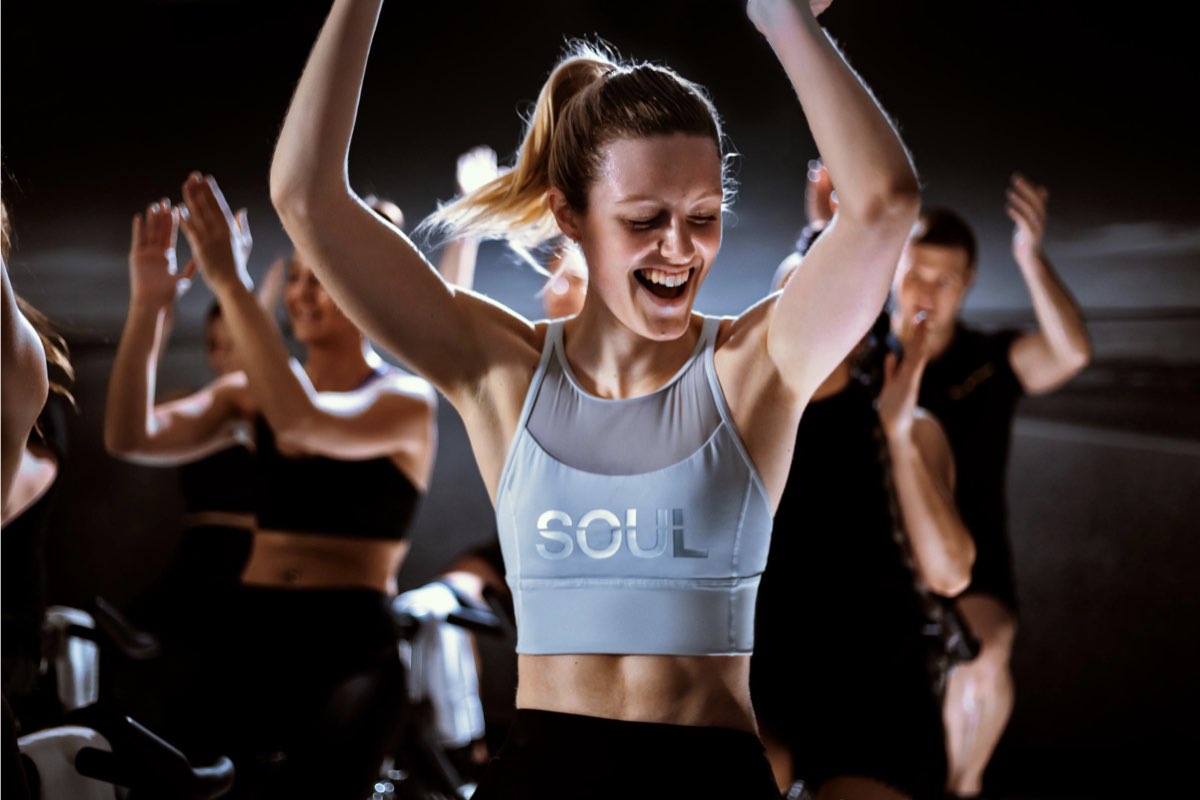 "We are only as good as our last ride", explains CEO Melanie Whelan in our podcast, "and so the hospitality and the connection that we try to create in our lobbies is really how we differentiate ourselves". It shows.
"Hi Shara, welcome back!", says a smiley receptionist, beaming at me from the front desk. I have taken SoulCycle classes before in the US, so all my details are saved on the system, which makes for a slick and seamless check in process.
Listen now on the DOSE podcast
The retail shopping experience features SoulCycle's in-house line of performance and lifestyle apparel – Soul by SoulCycle. It has been designed specifically for riders with tops and tights that rise higher to prevent sweat from pooling at the back.
On how SoulCycle retail was born, Whelan says: "It's [SoulCycle] a little like Disney. You go on the rollercoaster, have lunch with Mickey and want to take a little piece of it home with you. You get home and you're like 'I've been to Disney four times, and I bought another pair of mouse ears? You do that because you want to take a piece of the experience away with you. From the beginning, we partnered with great brands like Lululemon and Nike and branded all our retail so that our tribe could take a piece away with them and self-identity as part of SoulCycle".
As I move through reception I see the little silver bag that Whelan likens to "a badge of honour" adorning the chiseled shoulders of London's fitness community.
"People like to carry them and say, I ride at SoulCycle, you ride at SoulCycle – there's a little wink or a nod that happens when they meet in the street".
The cleats are custom made in Japan (best to go up a size). The changing rooms are perfect with the crème de la crème of pampering paraphernalia from Dyson hairdryers to Drunk Elephant serums and face wash.
Now to the studio
The 60-bike studio room is slick, dark and moody with flickering candles and an amethyst crystal called 'Winston' that gleams from the centre to send riders good vibes. But don't think about capturing all this on your Insta feed. Phones are strictly banned in "the room". You'll have to make do with the neons and motivational quotes in the lobby.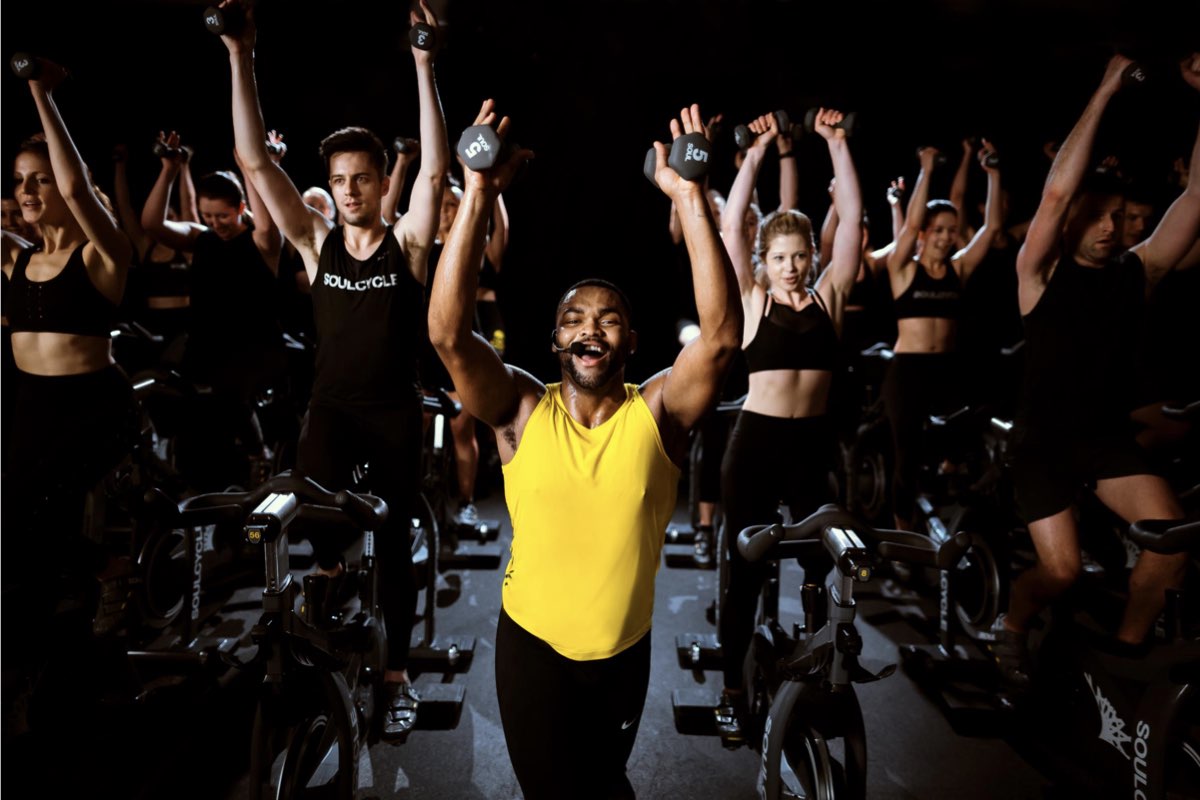 "Technology doesn't have a place in the room", explains Whelan. "Because we're tethered to our phones 24/7, the beauty of SoulCycle is that you come in, charge your phone in the locker and experience the workout tech free. The mental clarity that comes with that is exceptional. It's a gift to not let anyone reach you for 45 minutes."
The workout
In SoulCycle speak, the bike is a "vessel for change". People stay for the "breakthrough on the bike" and leave feeling stronger and more inspired. They don't call it therapy on a bike for nothing – hence the coaching moments woven throughout the class.
"Connect your mind and body to the music, feed your soul", preaches our instructor. This is what SoulCycle is all about. A community, a tribe, a family. Let's feel the love".
The workout itself is tough, fast and very much out of the saddle with moderate choreography and a lot of tap backs thrown in at speed. It's not for the faint hearted but there are modifications to stay in saddle if it's all getting too much.
The language is VERY American with lots of clapping, whooping and high-fiving – though not nearly as much as you'll find in the US. That's Brits for you.
During one track we lift weights for an upper body burn. Make sure you pick up the heavier ones pre-class, as 1kg does nothing if you're strong and want a challenge.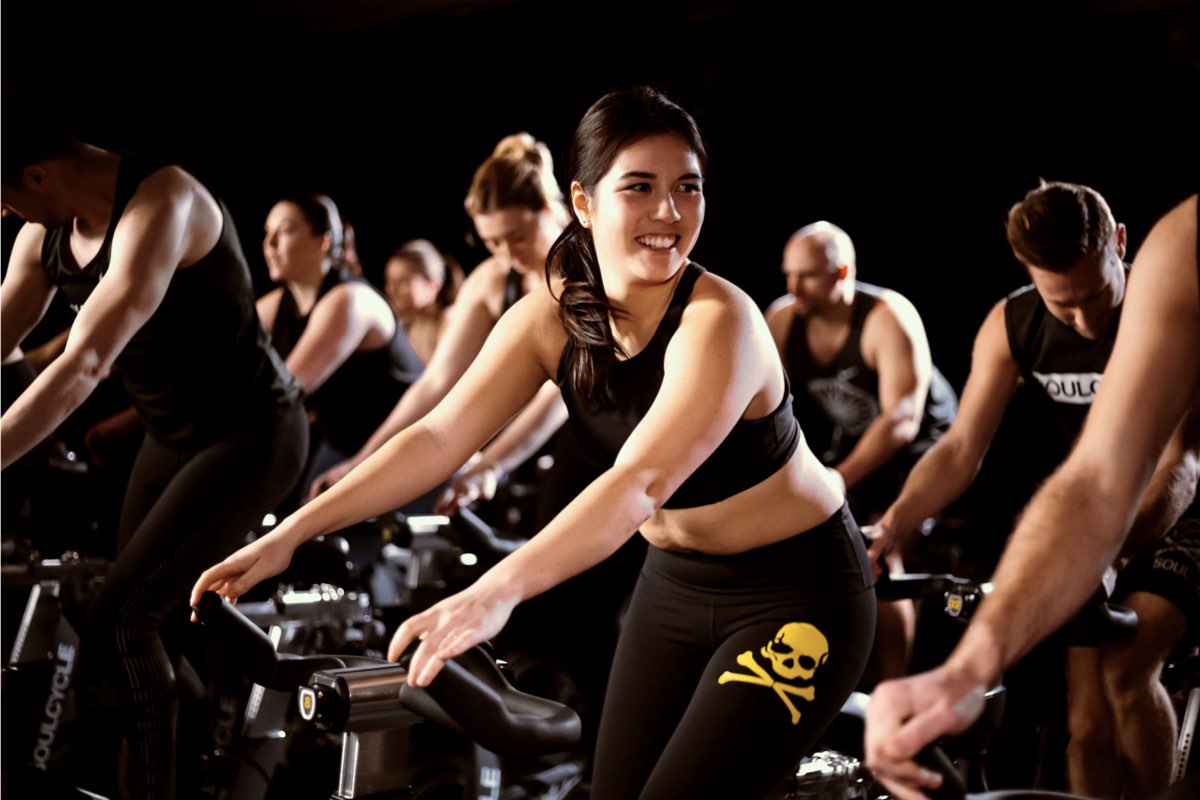 The verdict
As a regular spinner and someone who has launched a spin studio or two in my time, I notice everything.
The mics and sound system were epic and flawless. The bikes were great. The lighting timed nicely with crescendos of the music. The music was less recognisable than I expected for the first half but when Destiny's Child and Rudimental kicked in, the atmosphere was electric.
Two instructors taught this class. I personally prefer one, as it allows you to focus more. I've heard that Master Trainer Marvin (SoulCycle's Head of Talent) is in town for a month so I'll be going back for his class ASAP. As for post-workout fuel, Good Life Eatery couldn't make for a better partner.
Did I leave feeling emotionally stronger than when I walked in the door? I'm not one to get emotional about my workouts but for me, the endorphin rush is everything – and I did leave with one that lasted for hours.
Look out for SoulCycle's signature concert series, Sound by SoulCycle with live artists and performers that will be coming to London very soon!
By Shara
Visit the SoulCycle website for more information
Get your weekly DOSE fix here: SIGN UP FOR OUR NEWSLETTER