Ibiza – the party capital of the world, where young hedonistic teenagers with nothing more than a bikini and a liberal attitude packed in to their 15kg EasyJet cabin bag descend each year.
Don't get me wrong. I have been that girl and have also had my fair share of raucous hen parties in Ibiza. This time however I wanted to experience a different side to the white isle…
[smartslider3 slider=83]
In the 60's, Ibiza was full of freedom, happiness, peace and love. Today's Ibiza has grown into a far more sophisticated destination attracting people from all over the world.
Wellness retreats, yoga holidays and bootcamps are popping up every year, so much so that if you wanted to completely avoid the bright lights and boozy nights you can escape to the hills, bask in the sun and recharge.
We visited Aiyanna in the north of the island, tucked away in a pine forest overlooking the ocean. They offer early morning group yoga sessions where the only passers by are dog walkers and early morning swimmers.
An hour of yoga in the salty sea breeze is followed by a healthy homemade breakfast buffet and fresh juices. Nothing beats early morning beach yoga. It's not our first time and won't be our last.
There is no doubt that dancing the night away in one of Ibiza's superclubs is probably the most popular (if not unintentional) exercise you can do. However if you wanted to sweat out your toxins with some of the islands best trainers then The Workout Club is a must.
They offer drop-in group sessions on many of Ibiza's beautiful beaches designed to tone, strengthen and work up a sweat whilst watching the sun go down.
Check out the timetable and book yourself in. The next basket of Pan y Alioli wont be so guilt ridden…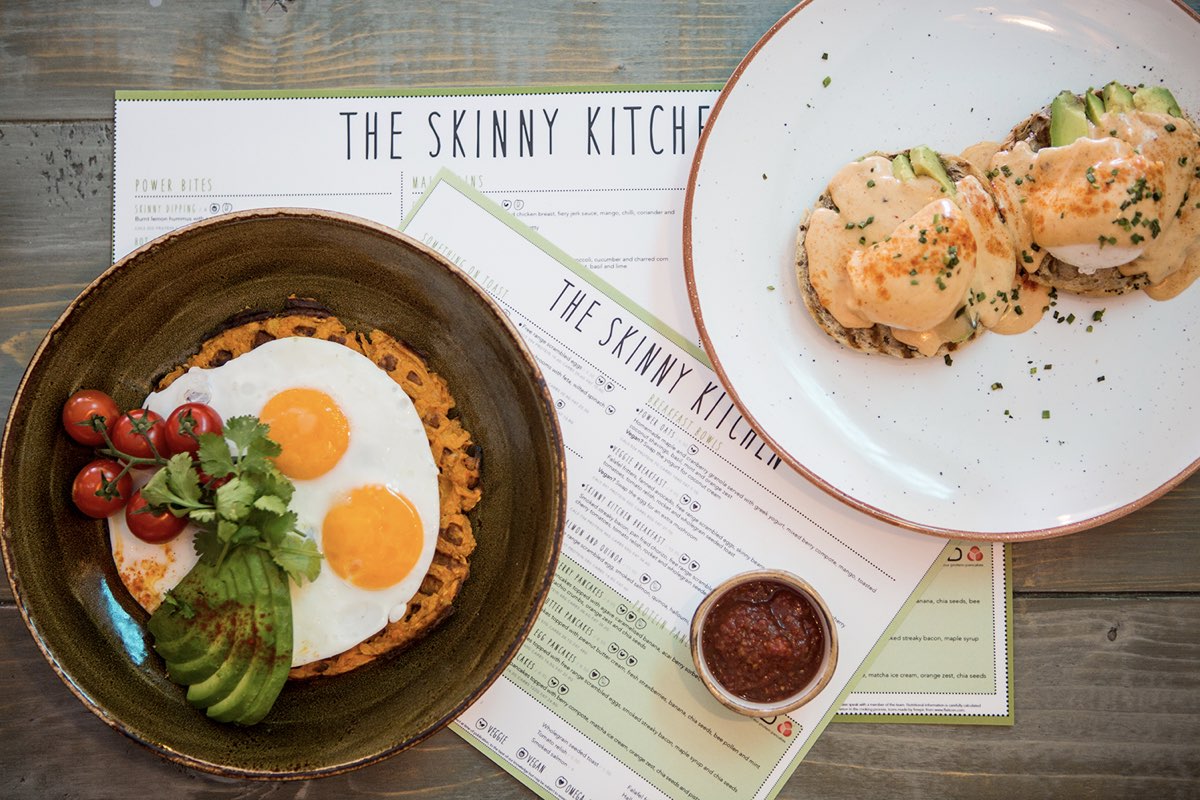 For a spot of clean eating, head to the The Skinny Kitchen. Set on the Marina front, you can watch the yachts sail past whilst sipping on a Superfood City smoothie made with blueberries, banana, mango, spirulina, goji berries, bee pollen and almond milk (phew).
If you're still hungry – relax, the menu is vast. From protein pancakes, fresh colourful watermelon, feta and mint salads to the 'Body Builder', you guessed it – a plate full of protein. 129g to be precise, thanks to the handy nutritional info slapped across every item. Eating healthily has never tasted so good thanks to a beautifully designed menu and portion size (!).
Ibiza is an island begging to be explored. Like most of the Balearics, the landscape is almost prehistoric and more surprising than you might think. We hiked over the mountains in the south of the island to watch the sunset behind Es Vedra. An uninhabited mystical island off the coast that's shrouded in myths and legends. It's also, alongside the Bermuda triangle and North Pole, one of the most magnetic spots in the world. It's a good job we swapped our compasses for Google Maps this time!
Sat on a rock, nibbling on a packet of sunflower seeds whilst watching the sun dip behind the horizon, I couldn't stop smiling knowing that I'd discovered something really special.
[smartslider3 slider=77]
After a hike through the wilderness with only a bocadillo in our back pockets, we felt it appropriate to sample some of Ibiza's finer cuisine. Next stop – Peyotito. The clean eating modern Mexican from Notting Hill has launched its second site at the long awaited Nobu Hotel Ibiza Bay.
After a long perusal over the menu whilst sipping a devilishly delicious margarita, we kicked things off with a couple of slow braised iberico pork taco's topped with unsweetened pineapple and a sharp sweet tomato salsa, wrapped in a soft corn taco.
If it wasn't for the three other starters, two main courses and desert, I could have easily eaten ten. Next up were huge fresh ceviche prawns with cucumber and coriander. A really delicate flavour and a salad of heirloom tomatoes and burrata.
However the main event was something else. A whole butterfly adobo marinated seabass topped with a smooth salsa verde and freshly squeezed limes accompanied by fried spicy sweetcorn… Spectacular!
Did I mention the margaritas? These are some of the best we have ever tasted. Ice cold tumblers come with a spicy Tajin rimmed glass, blanco tequila, Cointreau, agave syrup, lime juice and a vial of Mezcal that allows you to transform your bog standard salty marg into a combination of sweet, sour and smokey flavours. We had five each and rolled home.
At the end of the day, it's all about balance. But if your hangovers just aren't what they used to be, you can always treat yourself to a Pick Me Up IV Shot by Vitamin Injections London. Available mid Aug – early September at Pikes Hotel.