Pikes Ibiza located in the San Antonio hills, is an iconic institution, steeped in rock 'n roll history. Wham's 'Club Tropicana' video was filmed here. Freddie Mercury celebrated his 41st birthday with a party so wild it lives in Ibiza folklore. Primal Scream held an after-party here, attended by Kate Moss, while Jarvis Cocker's set was so legendary, it inspired the name of the hotel's restaurant, Pamela's. The party palace's reputation lives on through its ever-evolving events programme with a world class roster of residents and special guests such as Fatboy Slim, who will be performing here in August. But there is so much more to Pikes than just partying, as DOSE editor Hettie finds out, during a 24 hour stay at this bohemian gem, for pleasure seekers in search of balance…
"Pikes, for me, is the spirit of Ibiza". With Ibiza's party-hard reputation, as the home of hedonism, this statement by Fatboy Slim no doubt conjures images of debauchery and excess, which in light of Pikes' colourful past, isn't entirely inaccurate. Stories of cocaine served for breakfast on cornflakes, wild orgies and of Tony Pikes himself, the serial womaniser and self-proclaimed sex addict, who boasted of sleeping with over 3000 women (and a few men), all add to the hedonistic vibrancy of this pleasure palace. But as Jarvis Cocker once said, when speaking about Ibiza in an interview with Pikes in 2020, "some people call it hedonism, but it's about people enjoying themselves through being with each other".
Whether it's raving to Calvin Harris at Ushuaïa and David Guetta at Hï Ibiza, on the same night (as I am about to experience…), or on a treadmill at Barry's Ibiza, dripping with sweat in a room full of fitness revellers, hedonism is about feeling good with others – and our party "props", whether they be cocaine or a pair of dumbbells, are indicative of the time in which we live. The concept of hedonism is in dire need of a healthier rebrand and Pikes is already in the process of cleaning up its image.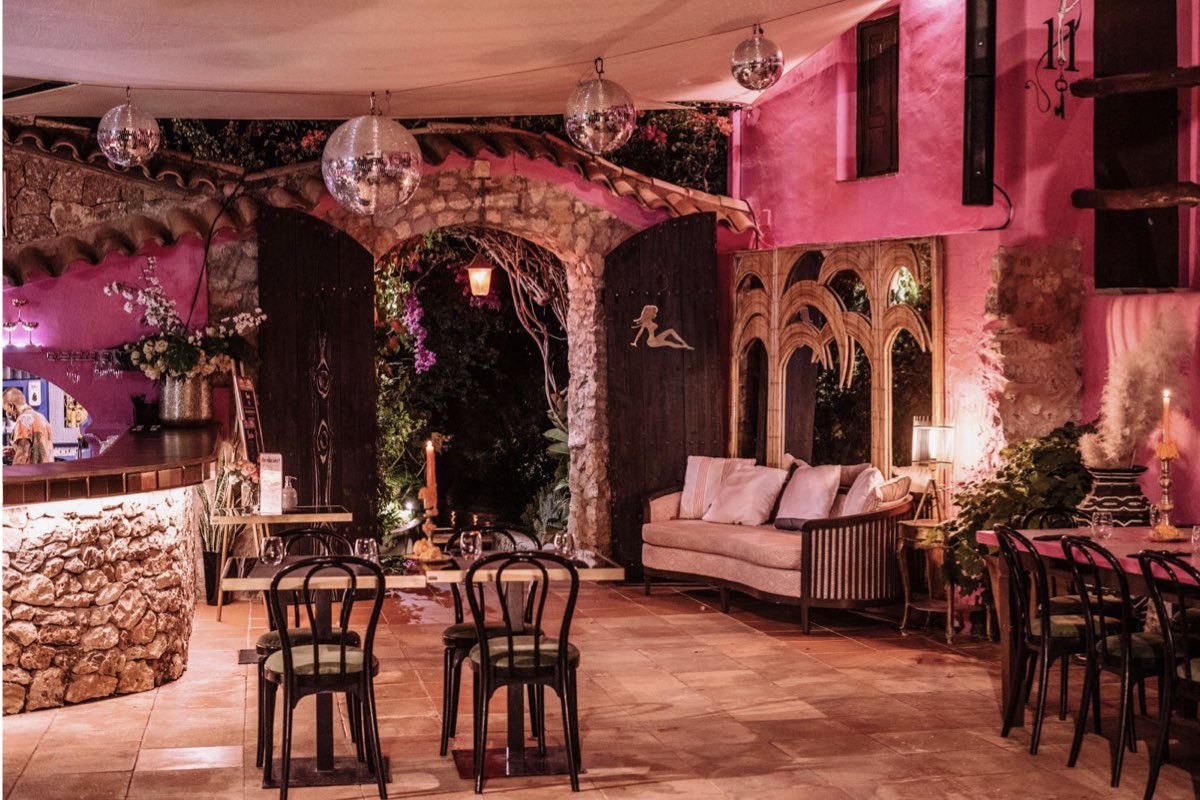 Pamela's at Pikes Ibiza
Take Pamela's, whose Love Food Ibiza Brunch pays homage to epicurean pleasures, while catering to a health conscious palette. Dishes use fresh, organic produce from the surrounding farmlands with ingredients brimming with authenticity, flavour and quality.
The all-day LA-style brunch menu features roasted cauliflower falafel, tofu satay, chicken shawarma and a Beyond Burger with faux mac sauce, catering to the vegan crowd. Sweet treats include a Pamela's 'recovery bowl' – an exotic ice cream sundae – 100% sugar-free and vegan made with dragon fruit, the exact same pink pantone colour to match the walls of Pamela's restaurant.
By night, dine on ceviche of wild sea bass with avocado and mango, braised aubergine with chickpeas and a vodka spiked lemon sorbet (known as the Pikes Happy Ending) or a frozen chocolate parfait with a cacao crumble. Be sure to order the CBD oil black truffle and parmesan fries.
Pink and flamboyant, packed full of glitter balls and eccentricity, Pamela's is a place for heightening the senses, while enjoying a healthier bite to eat.

Accommodation at Pikes
25 rooms are set around sprawling fairytale gardens and the famous aquamarine pool, looking out to the Ibizan countryside.
Inside, history literally oozes from the walls. Countless images of famous faces, from George Michael to Grace Jones are immortalised in the very fabric of the space, from the bed linen to the curtains.
Rooms are simple and authentic, old school and bohemian with the sort of understated luxury and home-from-home vibe that helps you to feel instantly relaxed. The air conditioning provides a wonderful contrast to the 30 degree heat outside. We take a dip in the pool and enjoy strawberry daiquiris from Club Tropicana, before taking a siesta.
Calvin Harris at Ushuaïa
Tonight at Pikes is OuShe, a celebration of raw feminine energy… but first to Ushuaïa. My party has a date with Calvin Harris who is in residency at the iconic super club every Friday from 3rd June until 2nd September. Famed for it's outdoor daytime clubbing, situation under the flight path and amazing light shows, our Ushuaïa experience doesn't disappoint. But the crowds of party goers with dilated pupils, crammed in together is a marked contrast to the bohemian laid back vibes of daytime Pikes, which feels more secret garden party than superclub. The queues for the bars to get drinks are so long that we spend our night for the most part sober, yet high on our shared experience, dancing to nostalgic beats.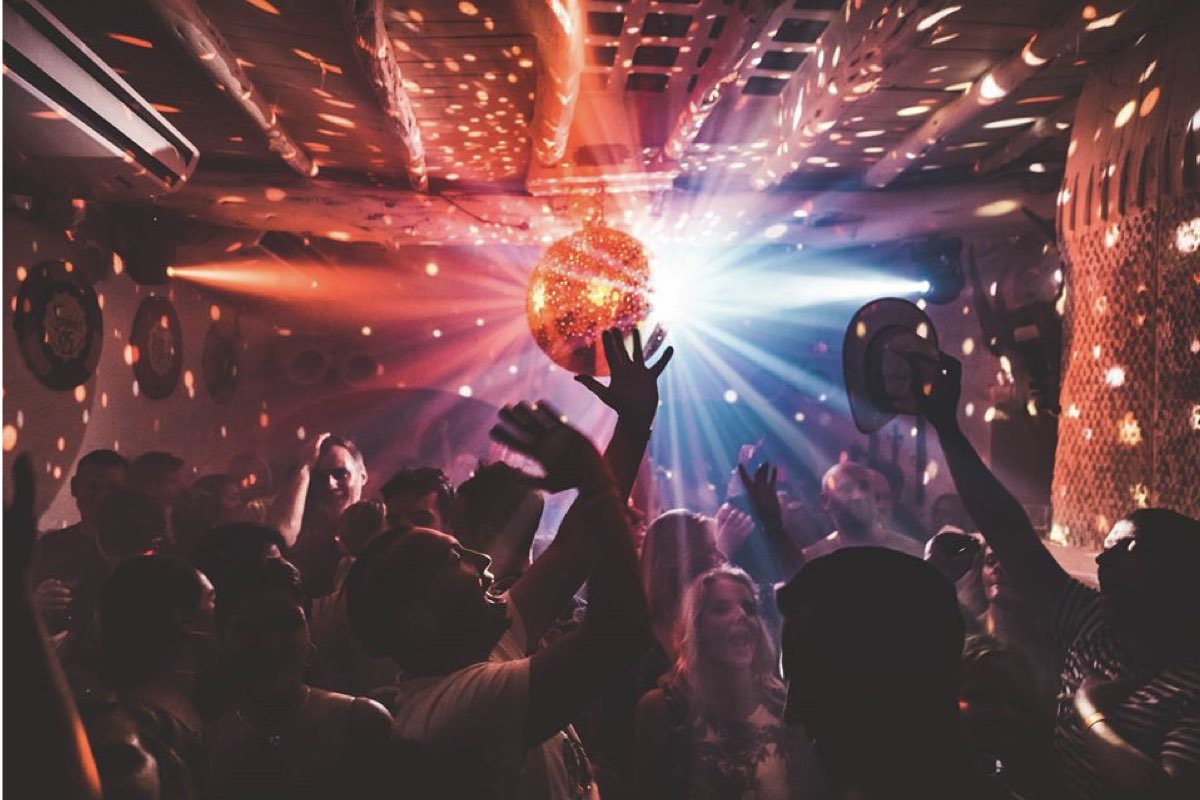 Freddie's at Pikes Ibiza
We head back to Pikes hotel to pay a visit to Freddie's – the little club space with a whole lot of character. There are a plethora of secret areas, nooks and crannies that have undoubtedly seen a fair slice of debauchery. The club is named in honour of the room's most famous former guest. Once a luxury hotel suite, now transformed into a party venue with an intimate feel, daring decor and magical vibes. We dance under Freddie's dazzling disco ball to local resident DJ Santanna Oush, before returning to our pad for a cocktail and a pizza.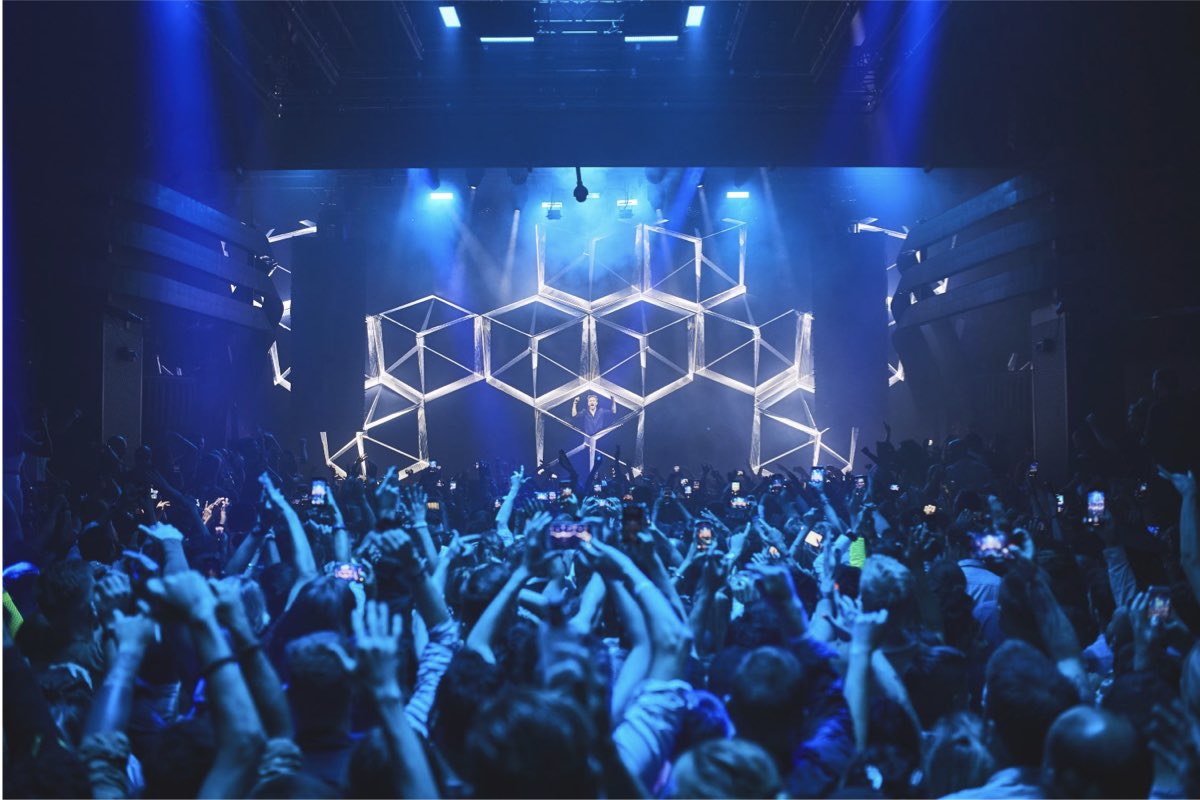 David Guetta at Hï Ibiza
We return to the thumping party circuit for another round, this time for David Guetta at Hï Ibiza. Perhaps due to a little too much merriment and mischief at Freddie's , we appear to our horror to have missed some of the iconic bangers at the start of the set, such as Titanium and When Love Takes Over.
The Future Rave turns into exactly that, as tunes turn progressively more techno with aggressive melodic arpeggiator's, fat basslines and punchy drums. David Guetta is in Ibiza for an 18-week residency this summer, every Friday from June 3rd until September 30th so I tell myself there's still time to go back. After spending 50 euros on 4 bottles of water, we leave the club at 4.30am and take a taxi back to Pikes to hit the pillow at 5am.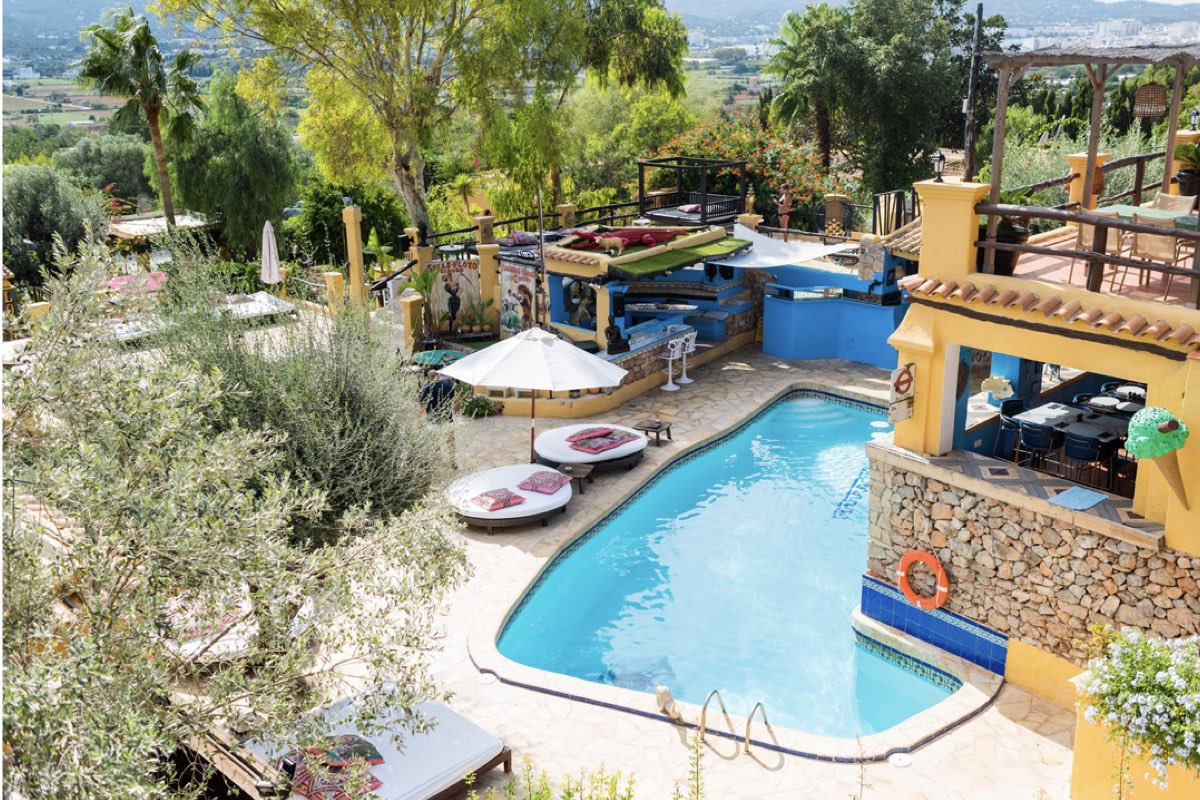 Morning after at Pikes
Breakfast is complimentary continental fair with tea, coffee, croissants and a bacon/sausage sarnie smothered in HP sauce, catering to the British guests. With the weekend in full swing, the hotel starts to amp up with a fresh energy. The new arrivals appear as we did at the start of our visit, bright eyed and bushy tailed, looking in wonder at their surroundings, giddy with excitement to be setting foot in the iconic venue.
Eating out in San Antonio
We spend the morning on the sun-drenched Pikes pool terrace on lounge beds listening to the balearic beats, before heading off to Café del Mar in San Antonio. A short drive down the hills from Pikes Hotel, the sea facing restaurant is famed for its sunsets, seafood and chilled vibes.
Other foodie spots in San Antonio include Wild Beets – a vegan restaurant run by a chef from New York; Taller De Tapas and Aubergine, a beautiful and romantic farm-to-table restaurant owned by Atzaro Hotel, oozing countryside chic.
Beaches near Pikes Ibiza
As for beaches, Cala Conta is one of Ibiza's most famous sunset spots and Cala Bassa, is a lively and popular beach with turquoise water and soft, pale sand. We manage to dip our toes into the ocean before catching a taxi back to the airport to complete our 24 hour stay in the White Isle.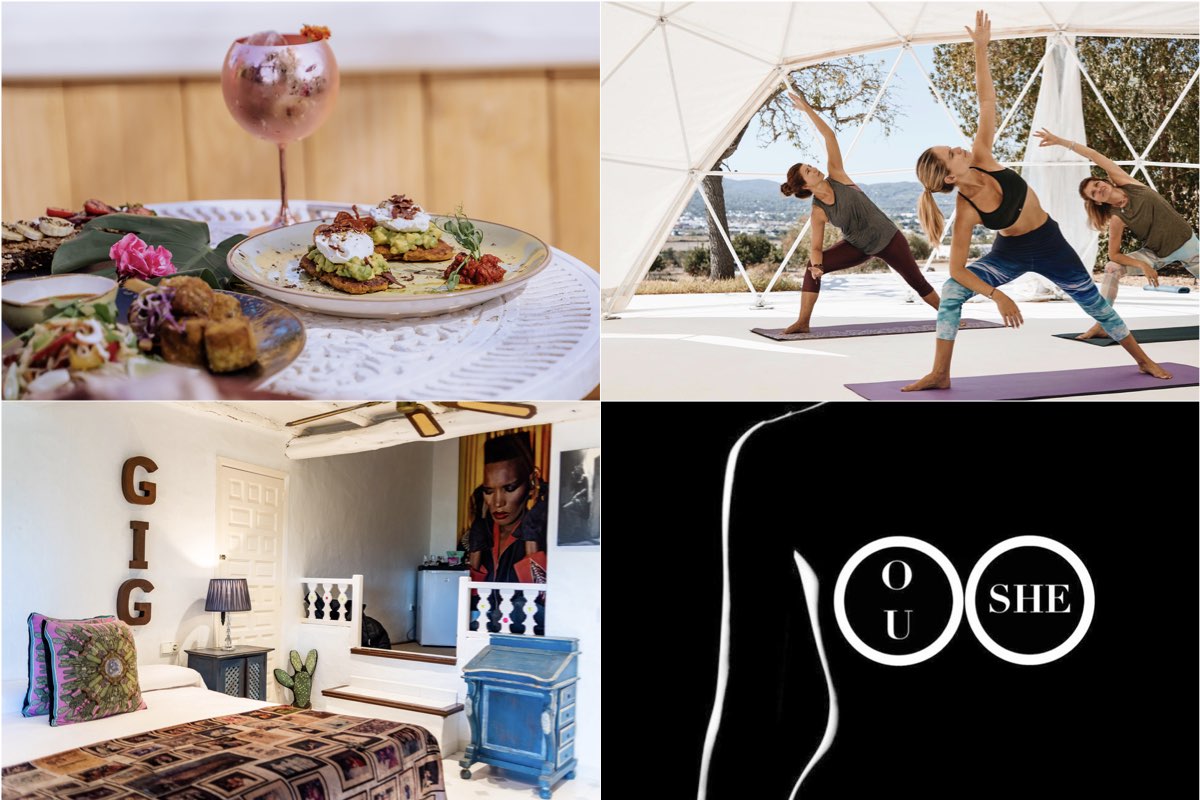 Pikes Ibiza: The Verdict
Would I return to Pikes? In a heartbeat. If it wasn't for the fact that room rates are pricy in peak summer months with a minimum 3 night stay. But everyone should experience Pikes at least once in their lifetime. It is a magical, constantly evolving space, brimming with personality, defined by the people within its walls – like a living piece of art. It's also an Instagrammer's dream with eccentric, psychedelic delights peppered throughout the property, including an oversized roller skate boot on a fluorescent pink tennis court.
While Pikes maintains a certain bacchanalian reputation (I'm told the Halloween parties can get pretty wild), there is a healthier kind of hedonism emerging at this party palace. The LA-style brunch menu at Pamela's, monthly Yoga Brunch series (with optional bottomless Cava or mimosas) and Pike's 2020 Rockovery wellness retreat that featured sunrise yoga, breathwork, beach fitness and crystal bowls/gong meditation, are all proof that health and pleasure-seeking, (which is all hedonism means after all), can coexist. It's about finding the balance of what makes you feel good. It's a philosophy DOSE lives by and this hotel is the embodiment of it.
I will no doubt be returning to catch the start of David Guetta's set and throw myself into a Barry's class at Destino Pacha. If that's not an example of health meets hedonism, I don't know what is. And who knows, perhaps the Gym that Tony Pikes originally built that no one ever used will be restored after all these years? You heard it here first.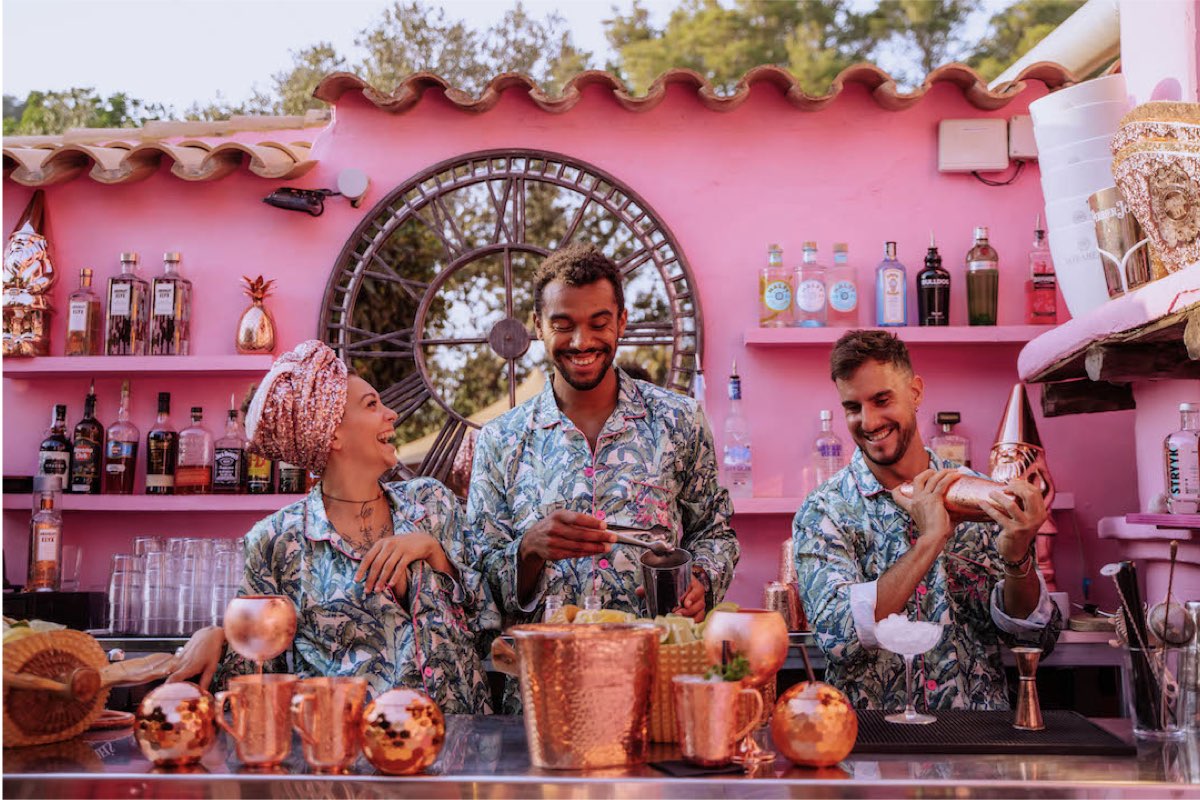 Book a stay at Pikes Ibiza
Address: Camí de Sa Vorera, S/N, 07820 Sant Antoni de Portmany, Illes Balears, Spain
Phone: +34 971 34 22 22
Main image: Pikes Freddies & Lux Nomad
GET YOUR WEEKLY DOSE FIX HERE: SIGN UP FOR OUR NEWSLETTER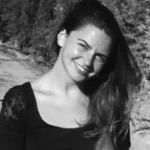 Hettie is the editor and co-founder of DOSE. A keen runner, she's also partial to a blast of high-intensity and hot yoga. A country girl at heart, she divides her time between London and the lush rolling hills of North Devon. When she's not jetting off on her next adventure, Hettie can be found in a candle-lit alcove with a laptop, a spaniel and a full bodied Malbec.