Are you craving a solo adventure, away from your family and responsibilities? We sent DOSE contributor Jax away to experience a mini 'Slice of Life' with one of the UK's hottest pro-kitesurfers. Mid-life crisis averted…
A few adrenaline-fuelled days away in Morocco's windy city of Essaouira, and I'm feeling high as a kite. I've just experienced a mini 'Slice of Life' with one of the UK's hottest pro-kitesurfers Tom Court, and KiteWorldWide. As I settle back into my leafy North London life with two young kids, a job to juggle, and a hardworking husband to support, the more I crave the simplicity, warmth and soul of Essaouira and its laid-back culture, wind and surf. Flying solo allowed me to reconnect with the optimistic self-pleasing person I was before kids, and feel way more epic about myself.
After a six-year kitesurfing hiatus, the opportunity to get my feet wet again and take a break from my everyday couldn't have come at a better time. It's the perfect four-day weekend, with Essaouira a mere three-and-a-half-hour flight from London. I'm heading towards one of the best kitesurfing spots in the world, with wind that blows all year (more on that later), and an interesting culture and heritage to boot. Pro-kitesurfer Tom Court is also thrown into the package with his 'Slice of Life' clinic. Designed for intermediate riders he adds a multi-dimensional experience; with a focus on health and fitness, kiting progression with expert demonstration, instruction and video analysis from the world's best, topped off with beers, new friends and the odd party or two. Sweet! That's the way KiteWorldWide roll.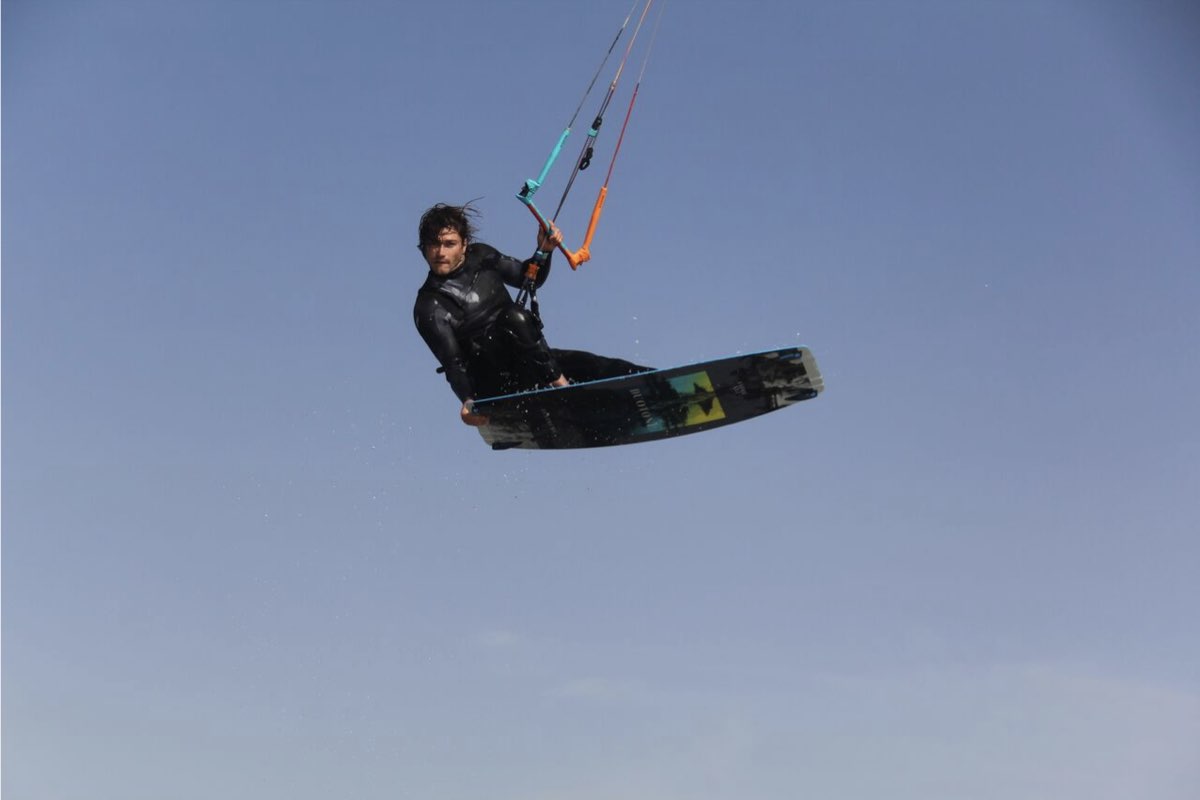 DAY 1
Essaouira airport: it's clean, cool and a civilised 15-minute drive from our traditional Moroccan riad. We're staying in the heart of the old medina just a few moments from its vibrant shops, restaurants, cafes and bars. Riads were once the stately city homes of the wealthiest citizens, with two or more storeys around an Andalusian-style courtyard containing a fountain or garden. Today, this is comfortable ensuite accommodation for those on a budget. Ours has six rooms, exclusively reserved for KiteWorldWide guests, who will inevitably meet like-minded travellers. The courtyard now serves as an airy communal dining area, where we all congregate for our first real taste of Morocco.
Despite the crowd-pleasing appeal of Moroccan cuisine, I was least excited about what I was going to eat here. But as the riad chefs deliver an array of fragrant meats, grilled vegetables, and fresh breads, I am henceforth converted. I could happily live the rest of my days on a Moroccan diet. I felt quite undeserving of this banquet having spent most of the day in a relatively static state, but it's essential fuel for tomorrow. The antithesis of today, tomorrow's adrenaline kick is only a sleep away.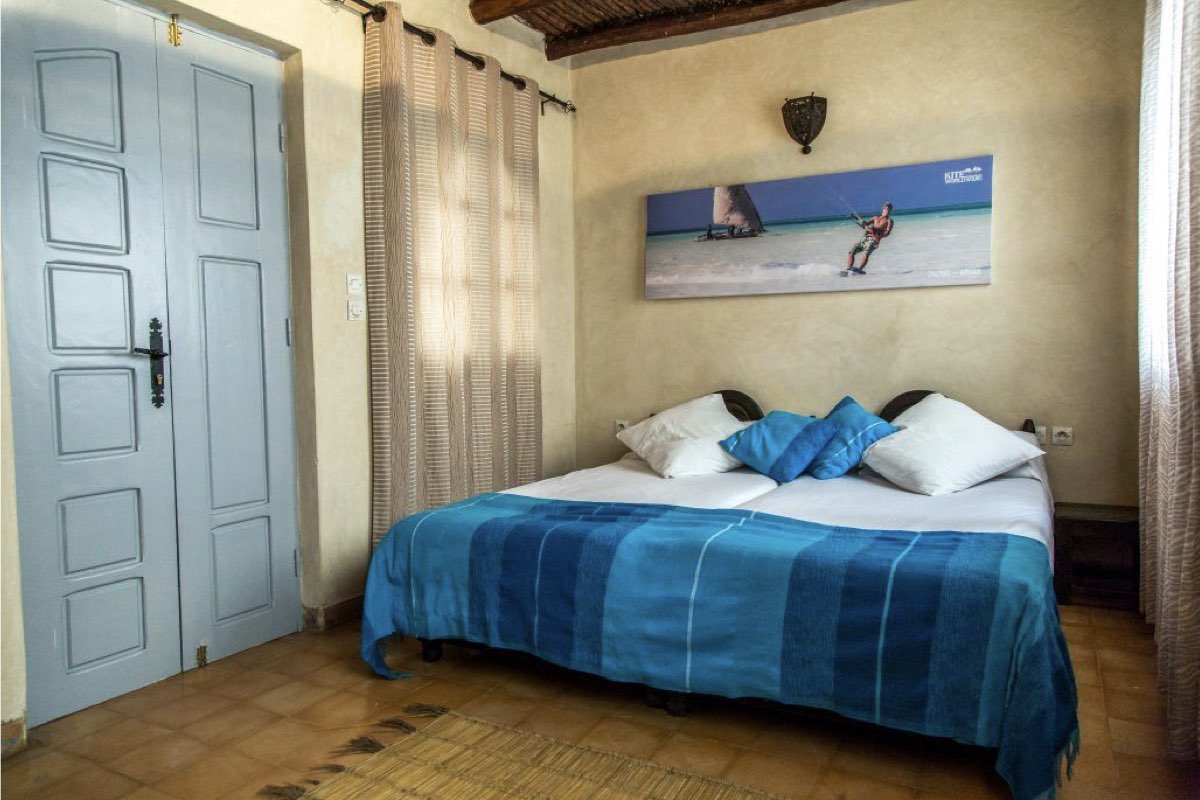 DAY 2
After a light breakfast together it's only a 15-minute walk along the sea-front and sandy beach to the kitesurf centre. Along the way we noticed the usually 'windy city of Africa' is err…not so windy! We are victims of a freak weather system that has upset the trade winds. Whereas in other kite spots this would mean sitting around for hours anticipating the merest puff, we have lots of activities to choose from. Windy Essaouira not only attracts kitesurfers, but also surfers. Here, when the wind's down the surf's up!
Naturally we're all surfer wannabes. So we don our wetsuits, grab some boards and head eagerly towards the surf.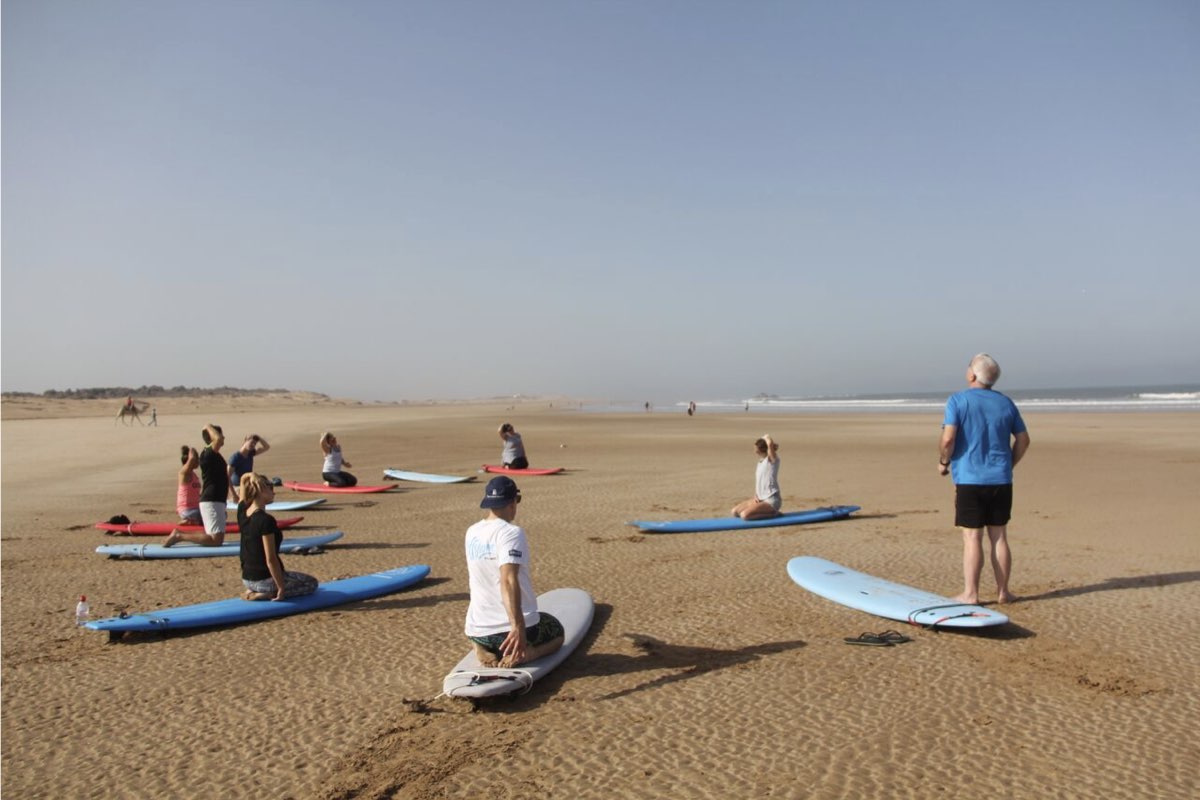 Once Sophie has finished stretching us out on our boards, surf coach Momo takes over. He talks us through the basics, shows us the motions, and before we know it, we're heading out into the cool Atlantic surf. It's so cold I really want to tip-toe my way out. Slightly less eager, I have to style it out in front of the crowd. But relief comes when I try to catch my first wave and forget the fact I can't feel my toes.
We're up and down like yo-yos. But every time someone in our group manages to get up, there's a cheer. We're part of a team. I get up a few times with bad form, fall off, get washed up in the surf, drag my board back, and try-try-try again. I pull off a couple of quality nose-dives too. I'm so die-hard determined to accomplish something that vaguely passes as surfing, that when we're finally finished, I'm queasy and light-headed. Thankfully lunch and a sugar-rush is not far away.
We're eating at Ocean Vagabond – a relaxed brasserie with views across the bay – conveniently located next door to our kite centre. I'm feeling jaded and anxious that I won't recover for this afternoon's main event. Mid-conversation I hang my head to emphasise my sorry state. Salt-water cascades like Niagara-falls from my left nostril. It seems to go on forever. Embarrassing moment #1: the nose-drip, or surfer's sinusitis. Apparently I'm a pro already – at face-plants and wipe-outs at least! But a kebab of grilled chicken, salad and hot salty fries (because I need to ingest more salt), plus a horizontal moment on the beach and I make a miraculous recovery. Just in time for the wind!
I squeeze and squelch back into my wets, and put my harness and helmet on. My instructor asks if I'm kitesurfing upside-down today. All the gear and no idea, that's me! It's been so long since I've kited, I've put my harness on upside down. Embarrassing moment #2. Not much else can go wrong though as Tom and the Explora Water Sports team provide a deluxe kite-concierge service. My kite is pumped to perfection, lines attached, board ready. Out in the water, one swoop of the kite and muscle memory kicks in far better than expected. The familiarity of it all is just like riding a bike – but wa-hey more exhilarating!
I get to kite under the expert eye of Tom, whilst the others train on the beach. They're learning everything they need to know about the wind, equipment, kite set-up, safety and kite control. Whilst I get comfortable being back on the water, Tom's busy demonstrating freestyle tricks and how to make friends with a camel.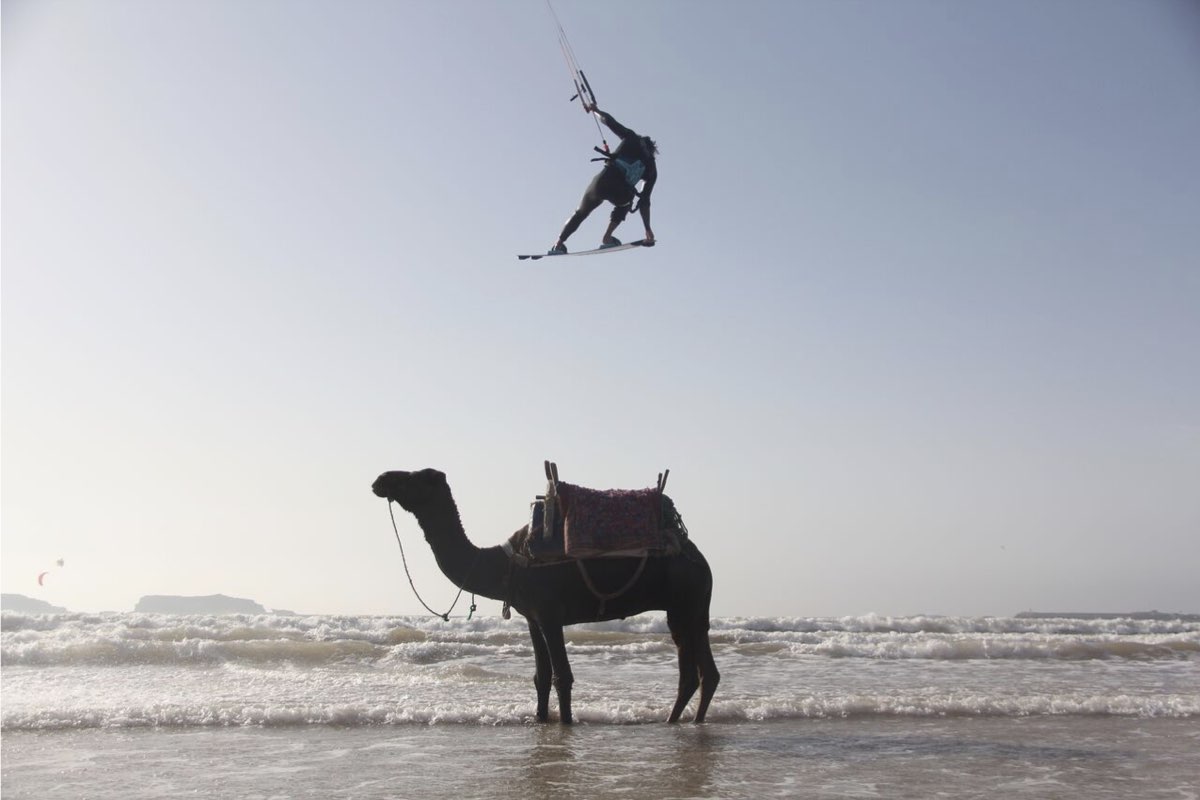 It's time to chill with an après back at Ocean Vagabond. We kick back in deckchairs and treat ourselves to some well-earned beers and surprisingly quaffable wine. Camel and sunset watching as everything winds down on the beach, we've all got that feeling that only an action-packed day can provide. Tom tells me about his competition-related knee injuries, and "what drives me now is that I just love kiting and being on the water. It enables me to travel, discover new places and meet new people. Now I'm focusing my competitor edge on the progression of others." Having taken notes on my kitesurfing this afternoon, he thinks I'm ready to nail some back-rolls tomorrow. Progression here I come! Since we don't have much time before dinner, and it costs seven Dirham or 60p to go pretty much anywhere in Essaouira, we grab a cab back to the riad.
A quick turnaround and we step out into the atmospheric medina in search of one of the hippest venues in town: Mega Loft. We pass by many colourful characters, food-stalls and shops selling all things bright and beautiful from hand-carved chess boards, spices, fruits, carpets, leather goods, pottery, clothing and so on. Artistry and craft is everywhere, but most surprising is that we pass through the souk without hassle. The disgruntled elder who tried to hit my friend with her walking stick doesn't count: she was either camera-shy or it was her unique way of requesting informed consent.
Our bohemian adventure continues as we discover our venue for the evening. An enchanting Aladdin's cave of café, restaurant, gallery, showroom, with paper lanterns lighting the entire rooftop.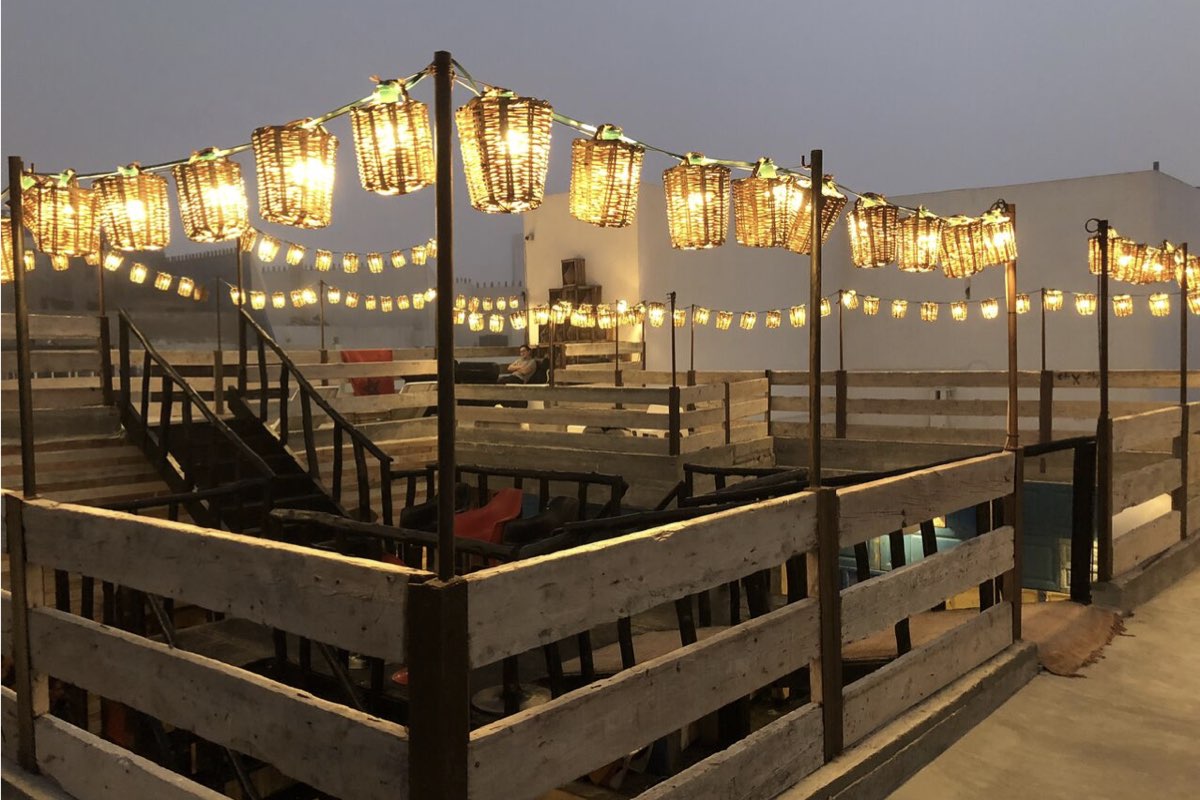 Mega Loft also offers cookery classes that look worthy of MasterChef, and host a live band every evening. We meet the owner Othman Chic, who tells us how he spent years collecting the traditional Berber baskets that line the walls. The only disappointment is that this place doesn't have a license to sell alcohol. It's notoriously expensive in Morocco. Consider making use of duty-free on your way out if that's your thing. But I make peace with the fact that my tomorrow will benefit from a night off, and my body will be thankful for a fresh orange, carrot and ginger juice instead. As expected by the attention to detail with the décor and presentation of Mega Loft, the food is unique and impressive. It's worth treating yourself to a starter and dessert.
Day 3
We get an early-ish night and I'm raring to go for our final day of action. Another stroll around the misty bay, and it's evident the trade winds are experiencing a few issues again. With no kitesurfing on the horizon, there's plenty of choice again: camel or horse-riding, yoga, quad or mountain biking, cookery class, massage or hammam, SUP, surfing or shopping. Most of the group go shopping. A couple of us choose the surf again.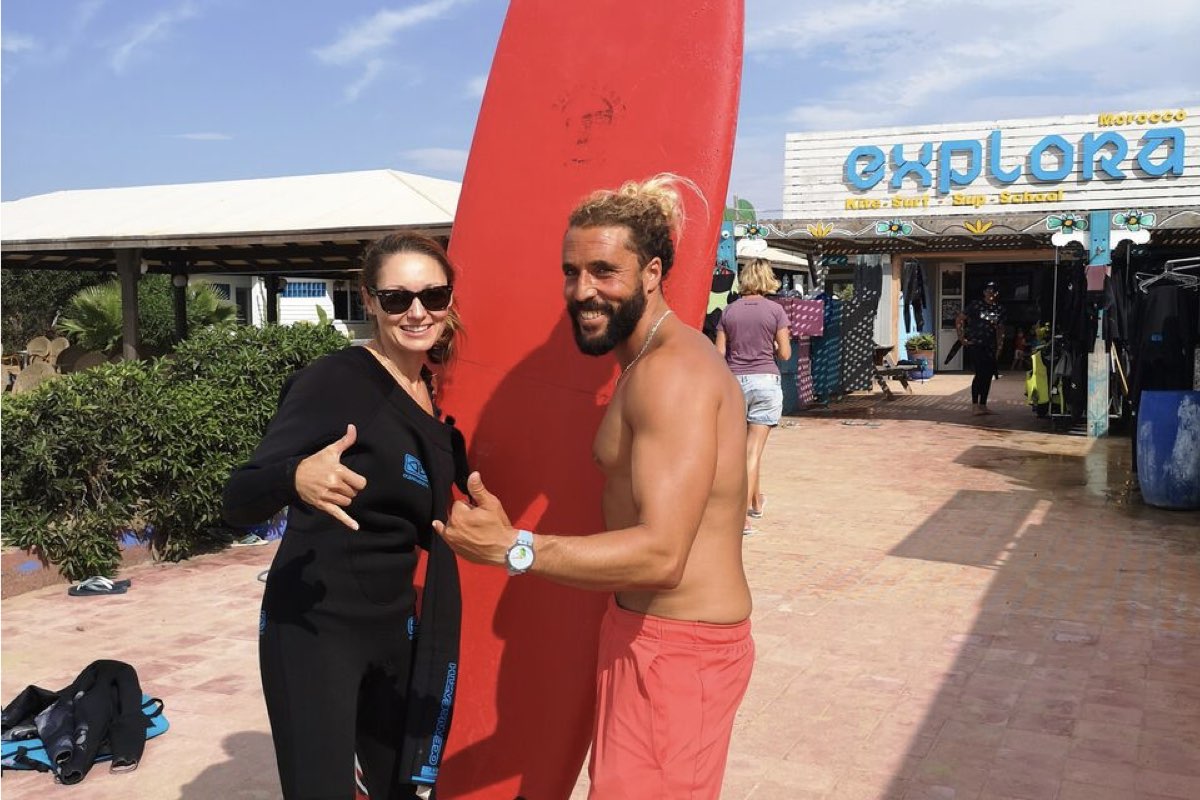 Our surf teacher today is something of a perfectionist. Rashid apologises for being 'picky', but I appreciate attention to detail. We get to run through the basics again, and provide a demo of what we've learnt so far to today's newbies. We've clearly still got lots to learn. I'm reminded to breathe, take my time, and thankfully have far fewer wipe-outs this morning. I'm happy – I made the right choice. I love shopping, and missed out on some special souvenirs – sorry kids, but I came here excited to do something epic and out of the ordinary.
A few hours in the water and we're looking forward to our fresh fish BBQ. It's a 5-minute taxi ride to the harbour, where we have time to explore the fortress ramparts and harbour whilst we wait for the shoppers. We're heading into Game of Thrones territory (Season 3 was filmed here), but with fish – and smelly seagulls! But despite the pungent smell, we're rewarded with a lively and authentic fishing harbour. It's lined with rows of striking blue boats flanked by larger impressive fishing vessels. Fish stalls are selling their plentiful and varied daily catch, which, we are about to go and fill our bellies with.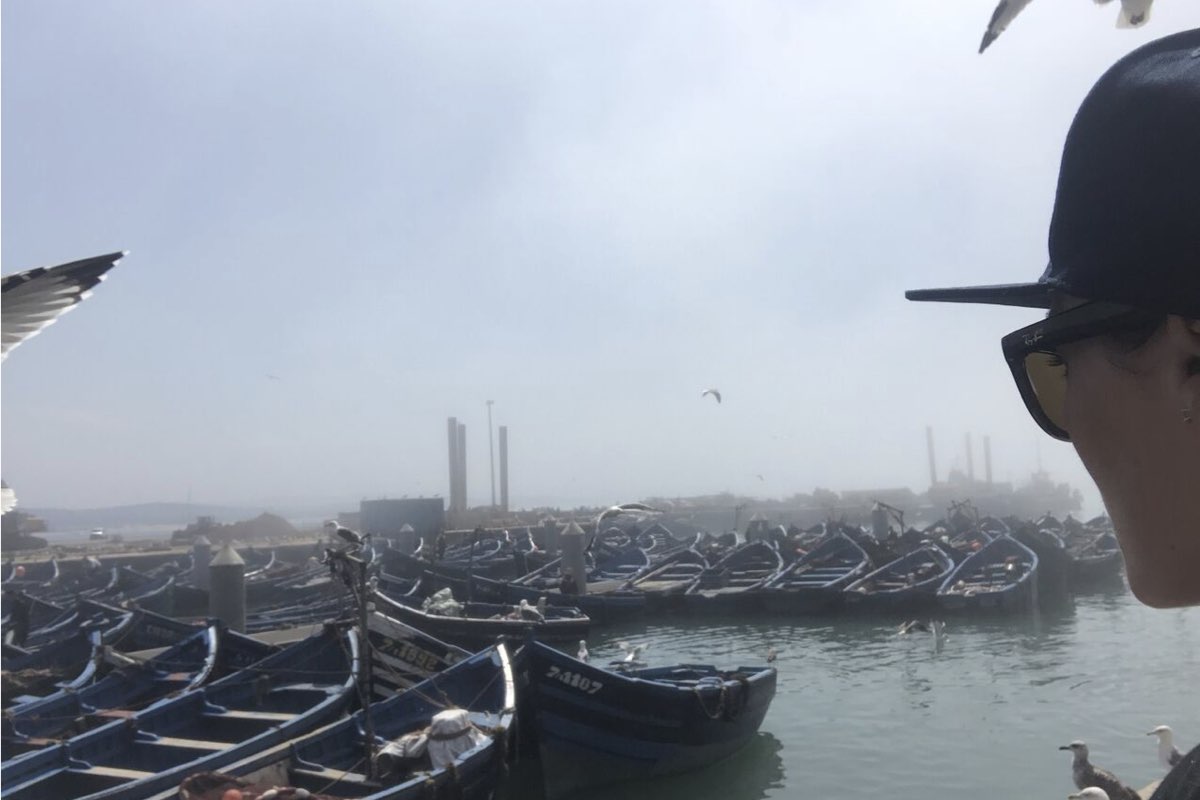 The fish shack is basic but authentic, cheap, and as fresh as you can get. Plates of freshly grilled fish start arriving within minutes, alongside salad, breads and hot salty fries. Piles of 'gambas' (apparently you can eat the entire prawn, the head being the most nutritious), sardines, red snapper, sea urchins (beautiful but…no thanks!), and yet more fish. Some have room for ice-cream at the parlour across the square, but I have a wetsuit to get back into.
Back at Ocean Vagabond we assess our options. When it becomes clear the usually reliable wind that Essaouira's famous for isn't coming, some of the team dive in for early afternoon beers. Tom talks about his favourite kiting spot of the year, "Vella Island in Sri Lanka. I was kiting at midnight with just the phosphorescence algae for company, bonfires on the beach showing me the way, sleeping in a hammock and kiting at sunrise – all create unique moments, which is what I love." Ready to create some unique moments of my own, I get my gear on and head down for the grande finale surf.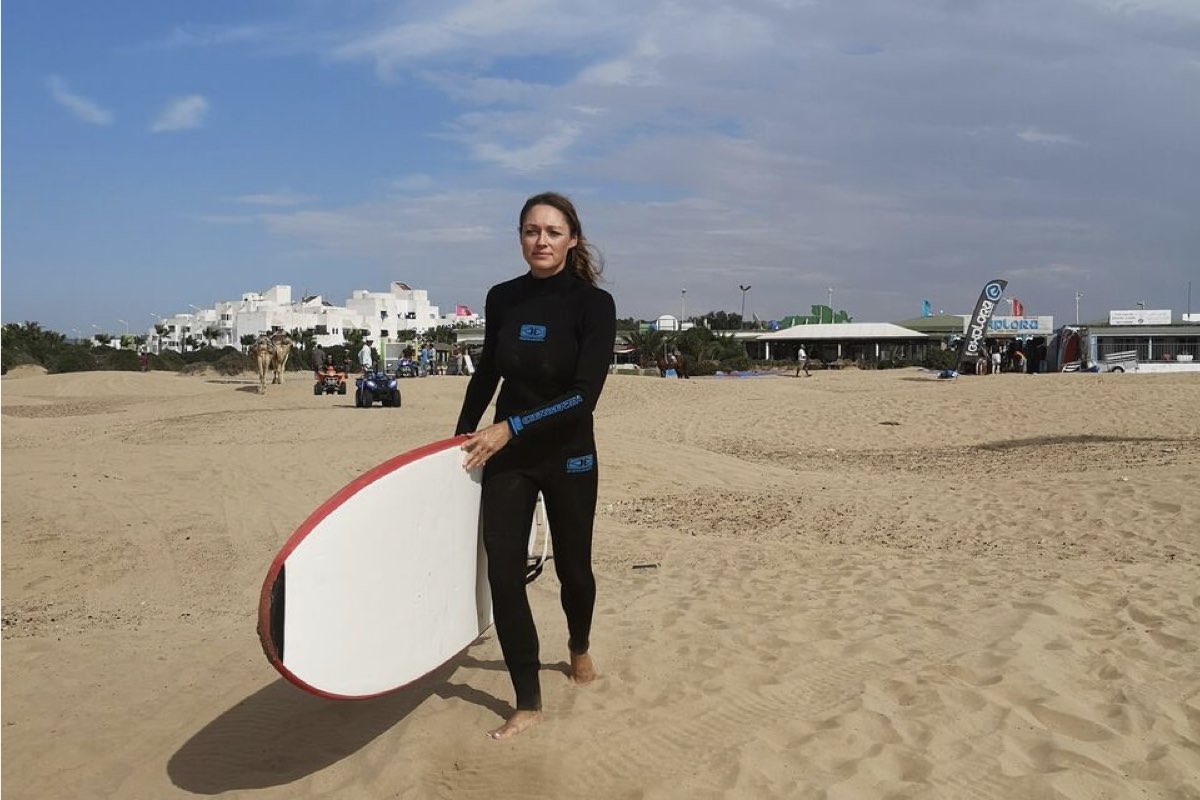 It's slightly overcast (again, unusual as Essaouira enjoys 320 days of sunshine a year) but this adds to the chilled late-afternoon vibe. Out there on my own steam, this time I'm standing up on the board almost every attempt, riding for longer, trying my best to 'dance'. I catch two minuscule waves at the right time. That feeling is enough of a win for me. I've made progress I'm proud of, yoga has paid off, and I emerge with a huge smile on my face. Thankfully I turn up just in time to catch the camel-train; a beach sunset on camelback is an experience not to be missed!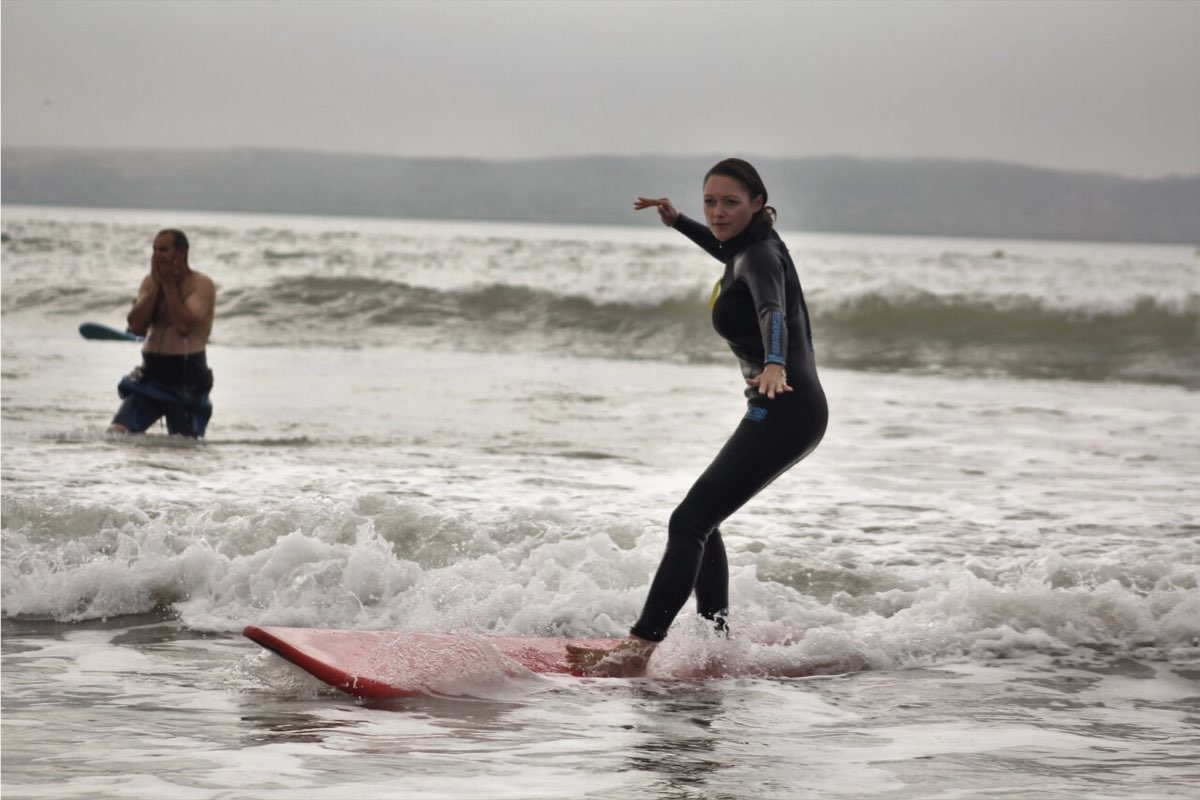 Back at the riad, we're being treated to a rooftop BBQ – a weekly event in the KiteWorldWide calendar. Another healthy dose of tasty grilled meats, salad and vegetables, paired with some red wine is greatly appreciated. All the hard work has been done. The party is on!
Day 4
The party is still on! Ouch. Today we fly home.
Though we didn't get to do the kitesurfing we had hoped for, we all had an extraordinary time experiencing a slice of Essaouira together. As Tom says 'it's a way of life; a way of going to incredible places I would never have thought to go to otherwise, and of meeting great, new people and friends along the way.' And even though I'm physically wrecked from two days of abnormal activity, emotionally I feel psyched and high as a kite. Thank you Essaouira and KiteWorldWide – mid-life crisis averted – you've been epic. I'll definitely be seeing you again!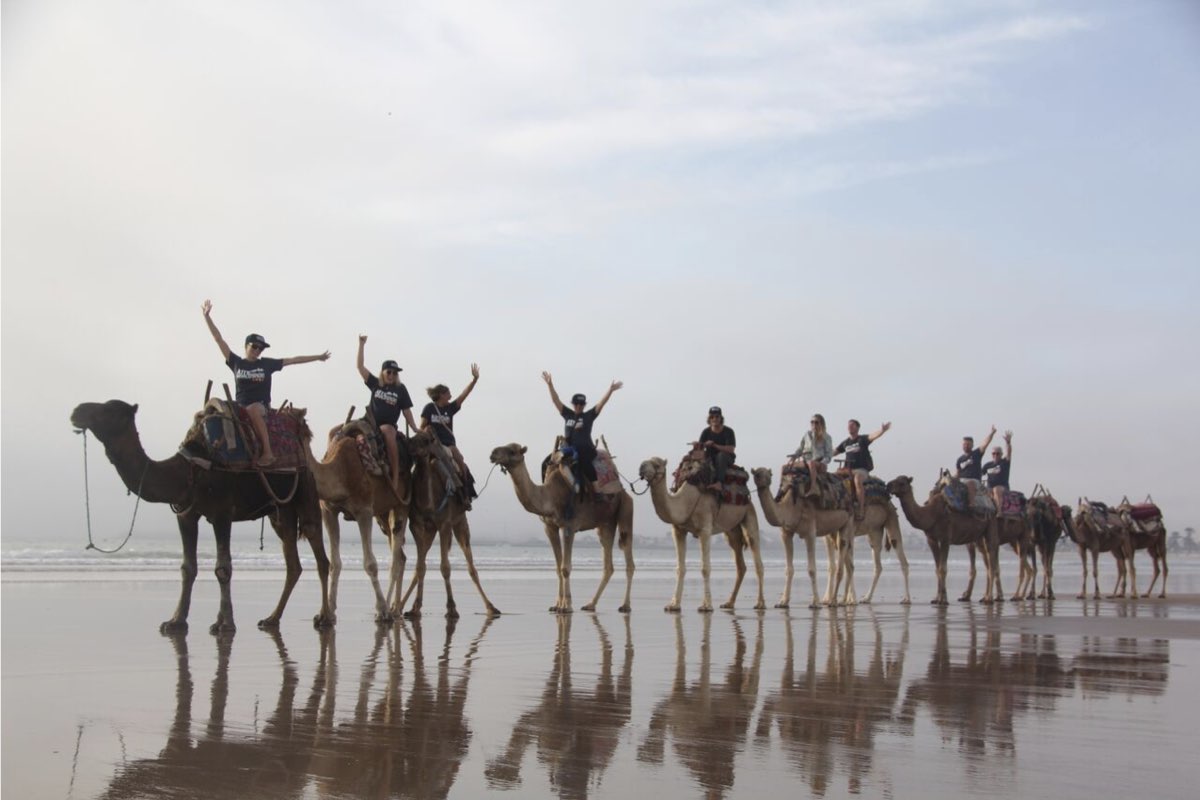 Jax travelled with KiteWorldWide, the kitesurfing travel specialist to the world's best destinations. Kitesurfing is the latest sport to be added to the Olympics, featuring for the first time in Paris 2024. Get started with KiteWorldWide from £650pp. Direct flights Luton to Essaouira were provided by the Moroccan National Tourist Office, www.muchmorocco.com and www.visitmorocco.com.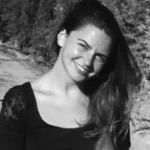 Hettie is the editor and co-founder of DOSE. A keen runner, she's also partial to a blast of high-intensity and hot yoga. A country girl at heart, she divides her time between London and the lush rolling hills of North Devon. When she's not jetting off on her next adventure, Hettie can be found in a candle-lit alcove with a laptop, a spaniel and a full bodied Malbec.