It's rare to find a holiday that strikes the right balance between getting out and about, allowing enough time to relax, and permitting plenty of indulgence without leaving you feeling guilty when you return home. Rosie visited Hotel Quelle, a spa resort in South Tyrol's Puster Valley, which manages to get the balance spot on.
If you're anything like me and operate at a hundred miles an hour, it can be hard to shake off that habit when you go on holiday – especially when the place where you are staying has an extensive activity programme that ranges from hikes, bike tours and excursions to fitness classes, cultural experiences and spa activities. My natural impulse is to try to do every single one of them, even though I know my mind and body need to slow down and get some much-needed rest.
So when we booked to stay at Hotel Quelle this summer, I couldn't help but scour the website for details of their activity programme to ensure that we made the most of our limited time there. Before I knew it, our holiday had been planned with the same meticulousness that goes into my daily work schedule: wake up at 07:30, yoga at 08:00, breakfast at 08:45, hike at 09:30, back for lunch at 13:00, massage at 14:00… Despite my boyfriend's best efforts to reel in my obsessive-compulsive organisation tendencies and remind me that we were there for a break, I still found myself wanting to do it all. However, to our surprise, we managed to do both, cramming in an array of activities whilst also switching off and recharging our batteries.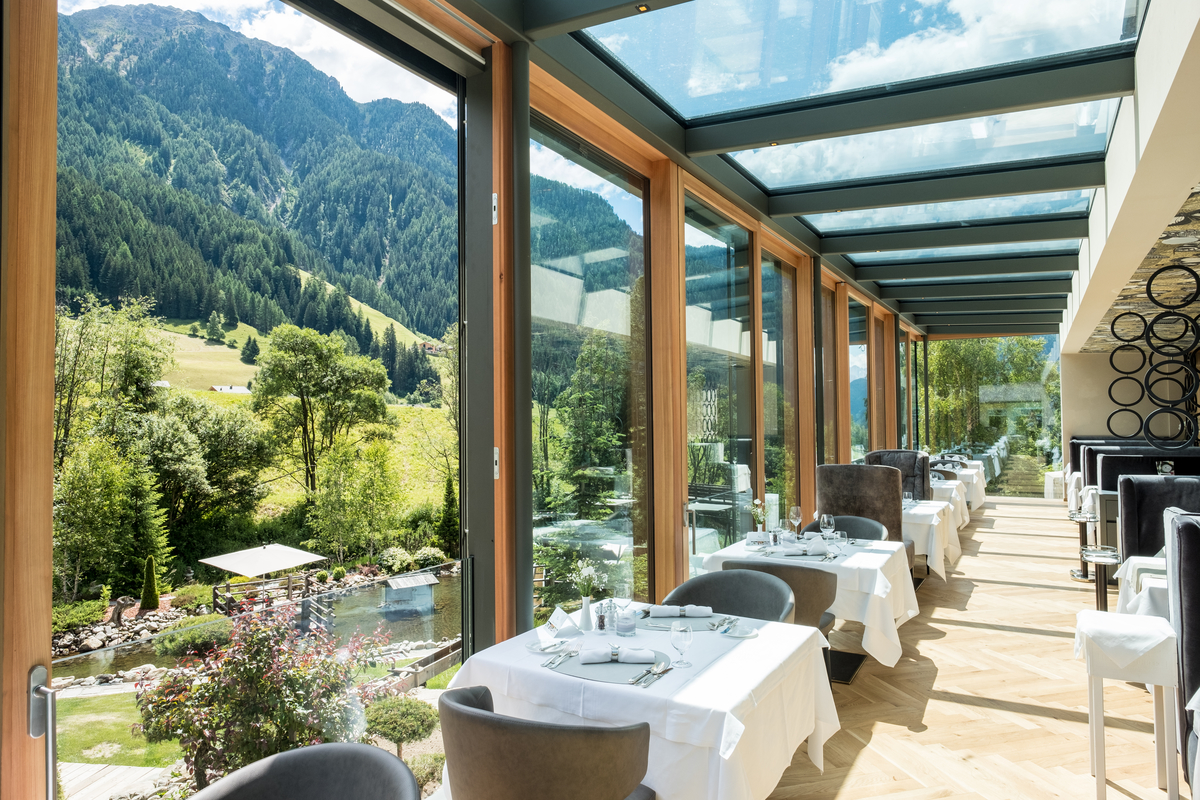 A refuge in the Gsies Valley
Hotel Quelle's location could not be more idyllic: the resort is perched in the Gsies Valley and surrounded by miles of picturesque mountains. The simplicity of the unspoilt scenery, the pureness of the air and the stillness of the surroundings – the only sounds that can be heard are cow or church bells ringing and birds tweeting – felt so much more wholesome than our lives back home in a crowded, noisy and polluted city: just immersing ourselves in the region seemed to lift our worn-out spirits and fill us with fresh energy.
On the recommendation of the hotel's outstanding fitness guide, Marco, we channelled that energy into hiking mountain trails, visiting local lakes and cycling to charming little villages, feeling so much more wholesome than our regular fitness activities confined to cramped basement studios back home. On our return to the hotel, we would reward ourselves by diving into the afternoon snack buffet, piling our plates high with thick slices of apple strudel, chunks of baked cheesecake and some of the sweetest locally-grown strawberries we've ever tasted.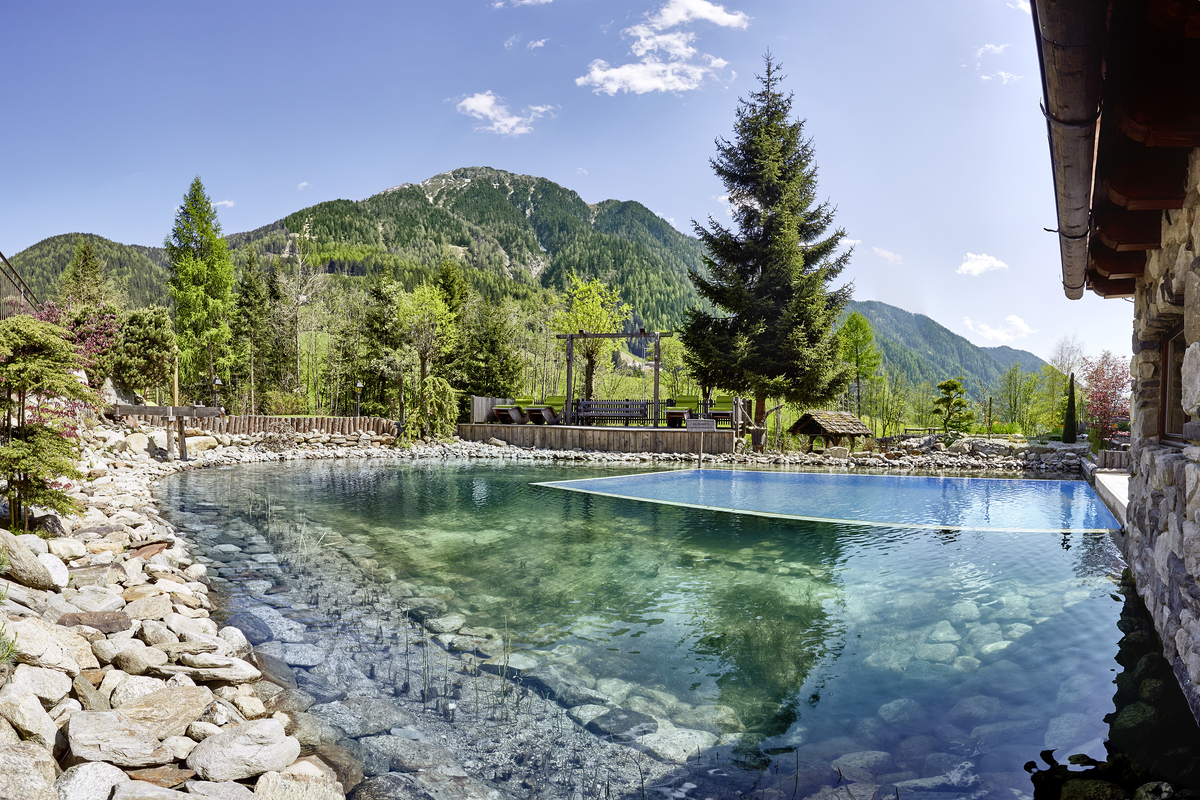 Scenic swims
The hotel's spa continues to immerse guests in the beauty of the surrounding scenery, with seven different pools including a heated outdoor infinity pool with panoramic views of the Dolomites, a biological bathing pond in the vital garden area, and a saltwater grotto in which guests can float with their bodyweight completely supported by the high salt content of the water.
In addition, there are ten themed saunas with various infusions throughout the day, culminating in a 'show sauna' every evening where the talented sauna master, Marco, wows guests with a show involving fire, ice and amazing towel tricks – a welcome distraction when temperatures approach 100°C. Fortunately, the hotel has also pioneered a unique 'snow sauna' concept, which is cooled to -10°C and offers a much gentler and more pleasant way to cool down than the traditional plunge pool of ice-cold water.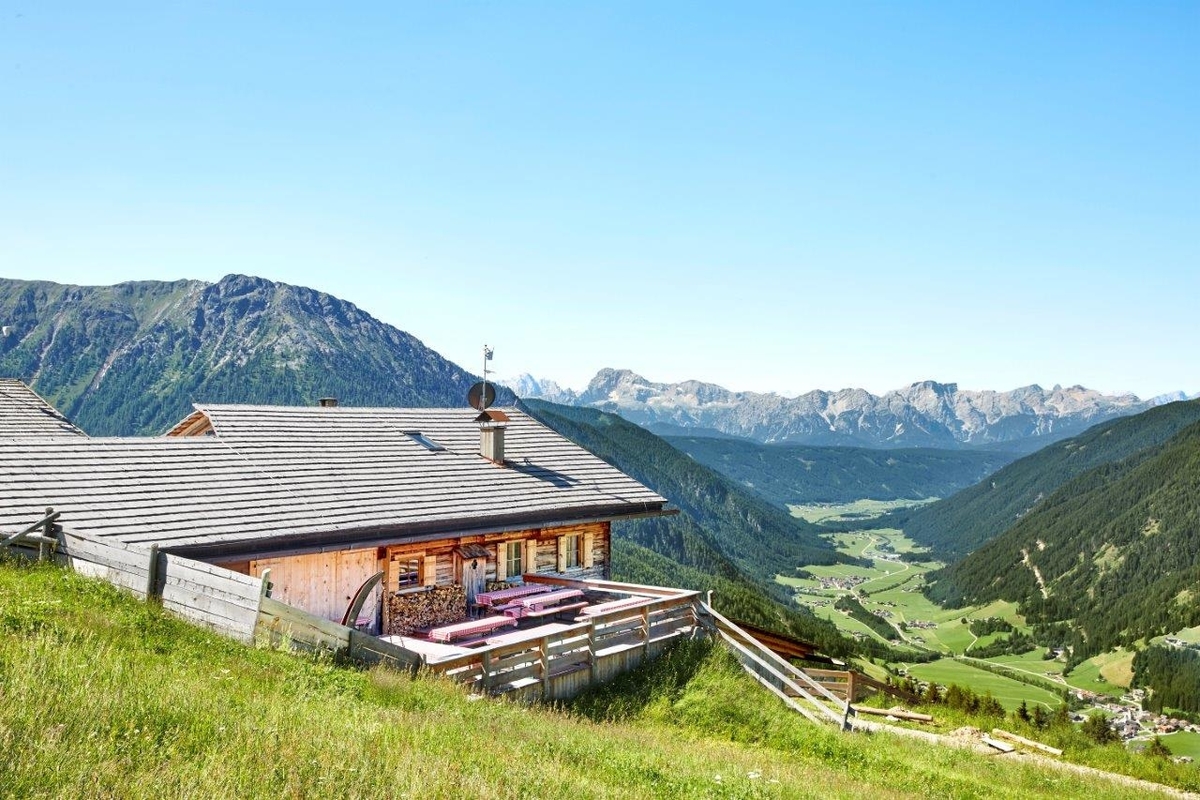 Steeped in tradition
Those hoping to experience South Tyrolean culture will not be disappointed: traditional music (expect there to be plenty of yodelling) is played in the bar once a week, and restaurant and front-of-house staff wear exquisitely embroidered Dirndls and Lederhosen to serve local dishes in a restaurant that boasts amazing views of the hotel's garden and the surrounding mountains through floor-to-ceiling glass windows.
Guests can also partake in making fresh bread with organic ingredients – or, if you're anything like us, simply choose to eat endless slices of it slathered in a thick layer of the hotel's homemade rich, salty butter at breakfast, lunch and dinner. A hike to the hotel's Alpine chalet, surrounded by rolling meadows and spruce forests, is unmissable not only for the incomparable view of the Dolomite peaks, but also the traditional mountain meal that you'll have more than earned, having hiked over 600 metres of elevation to get there.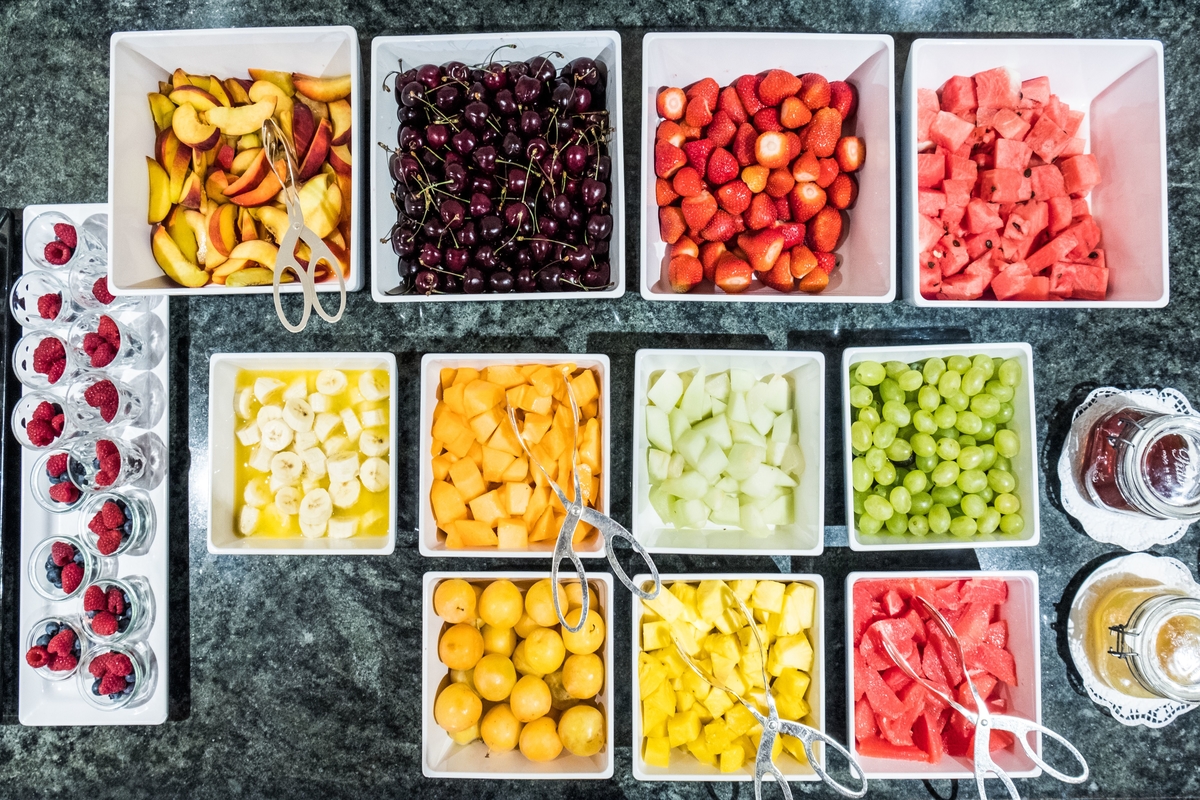 Nourishing the body and soul
Meals at Hotel Quelle were an unexpected highlight: from the local fruit, organic muesli and made-to-order eggs with the yellowest of yolks served at breakfast, to the huge variety of salads at the lunch buffet, to the multi-course gourmet dinner every evening, guests won't be left hungry. However, since everything tasted so fresh and wholesome, portion sizes were sensible, and sauces and seasonings were spot on, we never felt like we had over-indulged.
The hotel offers something special for all dietary requirements – I couldn't help but re-order the sublime vegan avocado and quinoa cake with tofu every evening and get a multiple helpings of the homemade strawberry sorbet for dessert, whilst my partner indulged in rich veal ragout served with homemade pasta, a huge range of charcuterie, and melt-in-the-mouth pork accompanied with sauce made from local apples.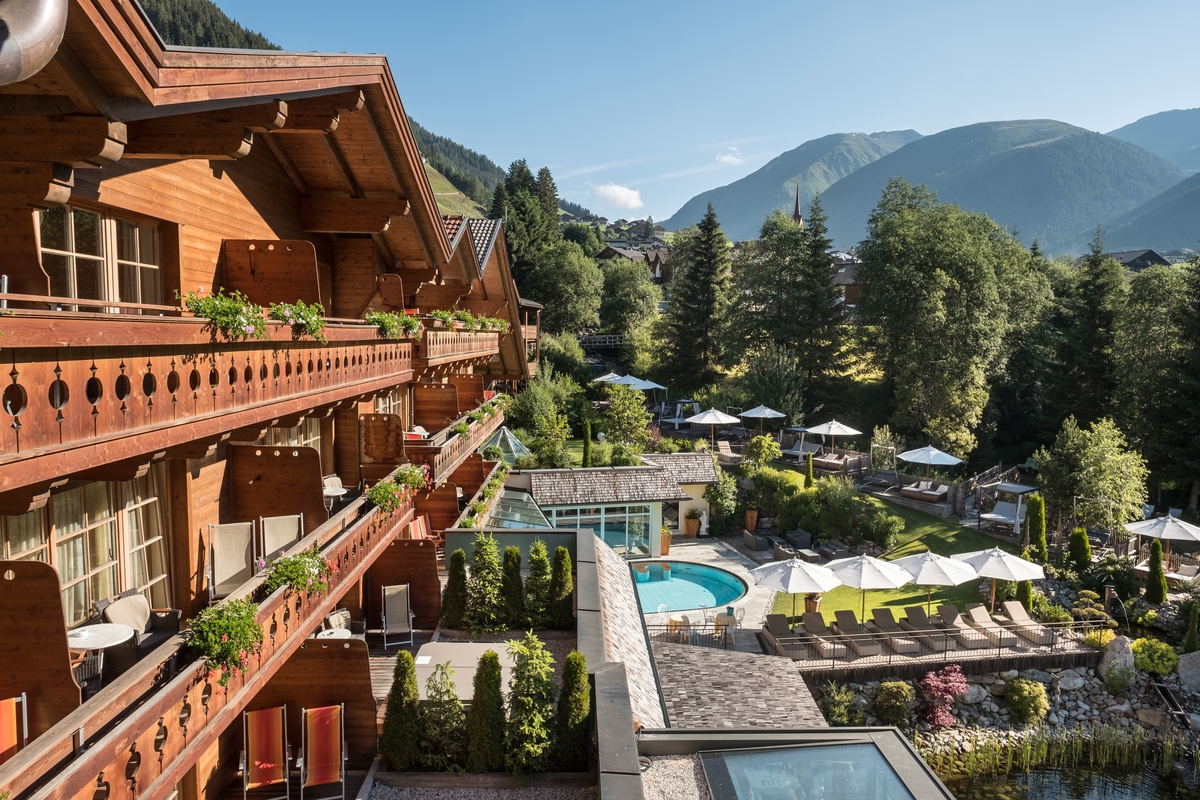 The most peaceful night's sleep
Not only will you sleep like a baby thanks to the peace and quiet of the hotel's remote valley location, but once you turn out the lights the ceiling of each room is studded with stars as if you're sleeping under the night sky.
It's not exactly difficult to wake up either, when you open the curtains to the sun shining on the lush green mountain pastures and you face the prospect of another beautiful day soaking it all in.
Just a few days at Hotel Quelle was enough to leave us feeling nourished from head to toe, although we wish we could have stayed for longer: there are so many trails to hike, villages to explore, and cakes to eat. On the other hand, it was probably for the best that I didn't stay long enough to get in the habit of eating apple strudel for breakfast before returning to my desk job…
Room rates at Hotel Quelle Nature Spa Resort start from €1,134 per person based on two sharing for 7 nights on a full-board basis. Family rooms, sleeping 3 to 5 people, start from €1,190 per person for 7 nights on a full-board basis. For more information, please visit www.hotel-quelle.com
Get your weekly DOSE fix here: SIGN UP FOR OUR NEWSLETTER