Have you ever heard of a weighted blanket? If not, get ready. With more of us looking for mindfulness and a feeling of safety in a fast-moving world, weighted blankets could be big in wellness as we move firmly into 2019.
Weighted blankets are basically exactly what they sound like: heavy blankets that you sleep or snuggle under, that are said to help combat stress and anxiety. "It simulates the feeling of being held or hugged," says Patrick Roche, founder of rocabi, a company founded in 2017 that produces weighted blankets.
"Weighted blankets are not a new technology. They have been around for decades and are traditionally used to calm children with autism and ADHD." Patrick says. "The medical term is DTPS – Deep Touch Pressure Stimulation. However, more recently blankets have become more mainstream as they are also an effective, drug-free sleep aid and help reduce anxiety naturally for many."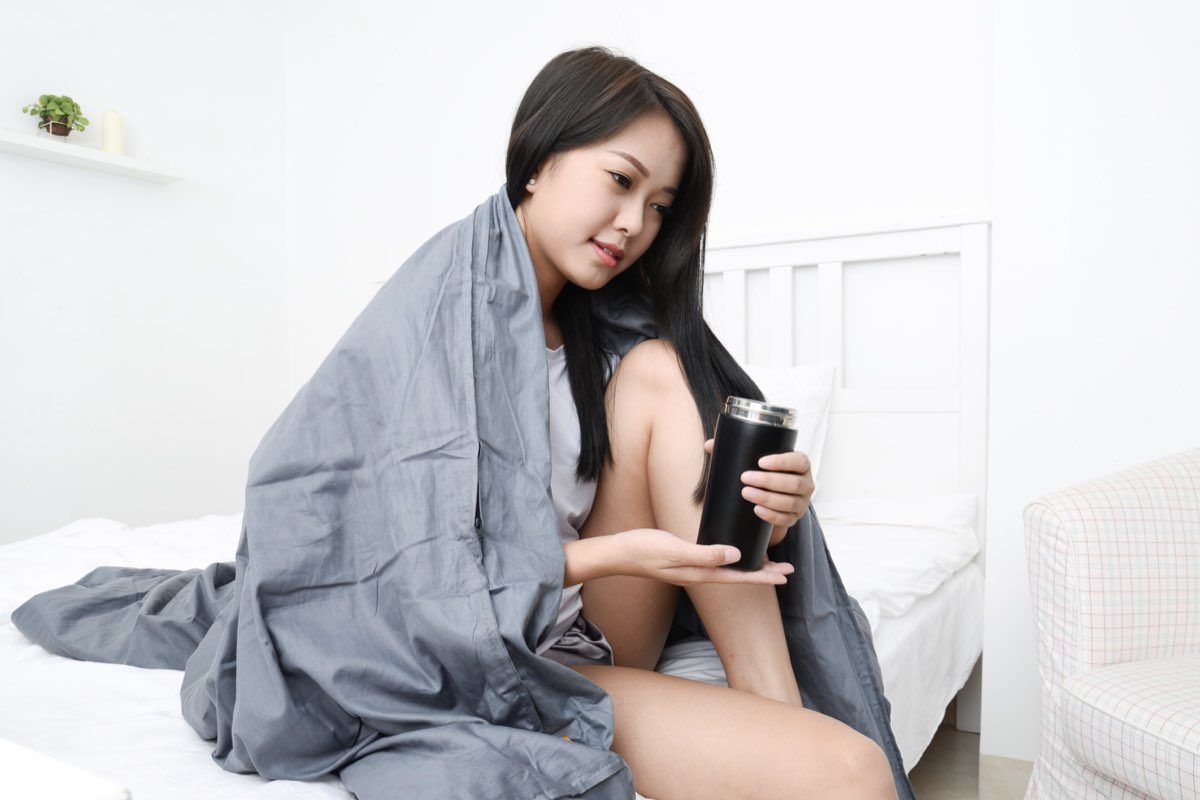 James is the owner of Sommio, another weighted blanket company founded in 2017. When it comes to anxiety, James acknowledges it's a "stubborn and complex issue," but says weighted blankets can be beneficial. "The physiological response to deep touch pressure prompts the release of chemicals which have been shown to reduce levels of stress and promote an increased sense of calm. The gentle pressure stimulates the proprioceptive system, providing users with a better sense of where their body exists in space; this can be calming for many users and helps them to escape their head."
Unlike a regular thick duvet, these blankets spread their load evenly across your body. They can be made specially for your height and frame – the blanket weighs about 10 ten percent of your body weight. "They hug you to sleep all night every night and the weight wraps around your body, naturally tucking you into bed," Patrick says.
"A weighted blanket provides sensory stimulation through gentle pressure across a user's body," James says. "The weight, pressure and embracing effect of a weighted blanket help to enhance body awareness. This provides a calming sensation and prompts your body to release hormones which have an anxiety-reducing and calming effect both mentally and physically. Greater body awareness reduces tension levels in the body, and this in turn improves breathing and increases the sense of calm." In addition, James says, "The weight of a blanket can create a sense of security, providing a calming sanctuary."
It's important to note that medically, their benefits can't be proven, but anecdotally, weighted blankets get a lot of support. My thinking is, what is there to lose?
By Charlotte
Get your weekly DOSE fix here: SIGN UP FOR OUR NEWSLETTER