A traditional night-time campfire treat, consisting of fire-roasted marshmallows and a layer of chocolate, sandwiched between two pieces of graham crackers. But if you're vegetarian, coeliac, or simply trying to eat healthier, the traditional version might not fit your goals. Thankfully we've got you covered with this healthier s'mores alternative…
Preparation
1 x packet of essential Waitrose mini pink and white marshmallows (or try these vegan ones from Dandies)
1 x Nairn's Biscuit Breaks (16 Biscuit Breaks)
Method
1. Preheat the grill to high and line a baking sheet with parchment. Break each biscuit break in half (one for top cracker and one for bottom cracker).
2. Place biscuits side by side in rows on baking sheet
3. Spread mini marshmallows evenly across the biscuits
4. Break small squares of Ombar chocolate and place on top of the marshmallow
5. Grill until the marshmallow begins to brown and melt.
6. Place the top half of the biscuit break on the cooked Smores; press each one down gently. Allow them to cool for a few minutes and serve.
Get your weekly DOSE fix here: SIGN UP FOR OUR NEWSLETTER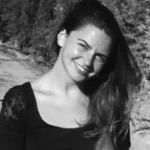 Hettie is the editor and co-founder of DOSE. A keen runner, she's also partial to a blast of high-intensity and hot yoga. A country girl at heart, she divides her time between London and the lush rolling hills of North Devon. When she's not jetting off on her next adventure, Hettie can be found in a candle-lit alcove with a laptop, a spaniel and a full bodied Malbec.