As the old adage goes, no pain, no gain. But is lying on a bed of nails in the name of wellness a step to far? DOSE writer Charlotte tests out the latest wellness craze, similar to acupuncture, that supposedly gets the endorphins and oxytocin firing…
What is a Bed of Nails?
When I first came across Bed of Nails (on Instagram; where else) I was intrigued. According to Cult Beauty who stock the mat, it can ease insomnia, stress and arthritic aches. The site also says it can help with cellulite, as the 'nails' help flush out toxins. But it was when I read that it could help with chronic neck and back pain that I knew we had to try one. I have a fairly sedentary job and my husband was complaining of a bad back and shoulder.  I pictured him lying back on the Bed of Nails, kneading out some tension. Thus began our week-long experiment.
First things first: it looks cool. It's available in a few colour ways, and the nails are made of 100% recycled non-toxic ABS plastic. The mat is shorter than I expected, and looks less scary than I imagined. There's a matching pillow, and both are totally portable; as easy to schlep around as a yoga mat. You wouldn't know there's more than 8,800 non-toxic plastic spikes on the mat, but apparently that's the case.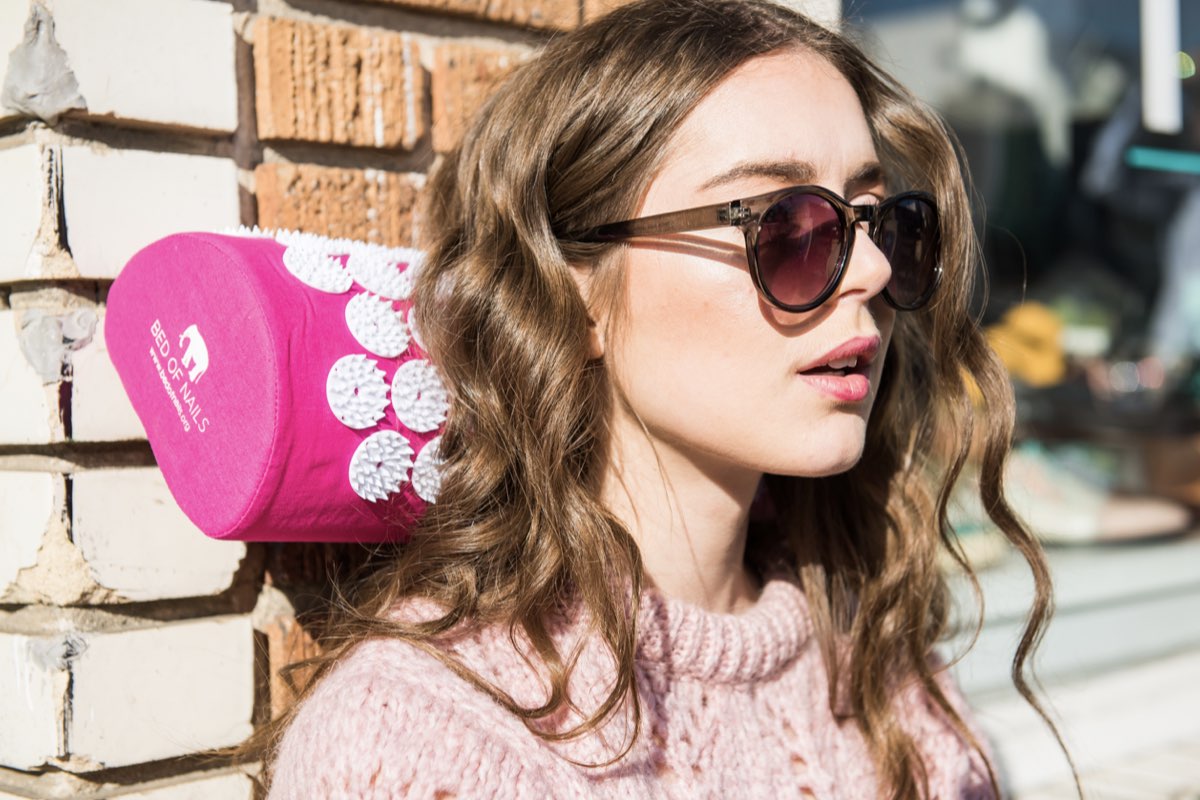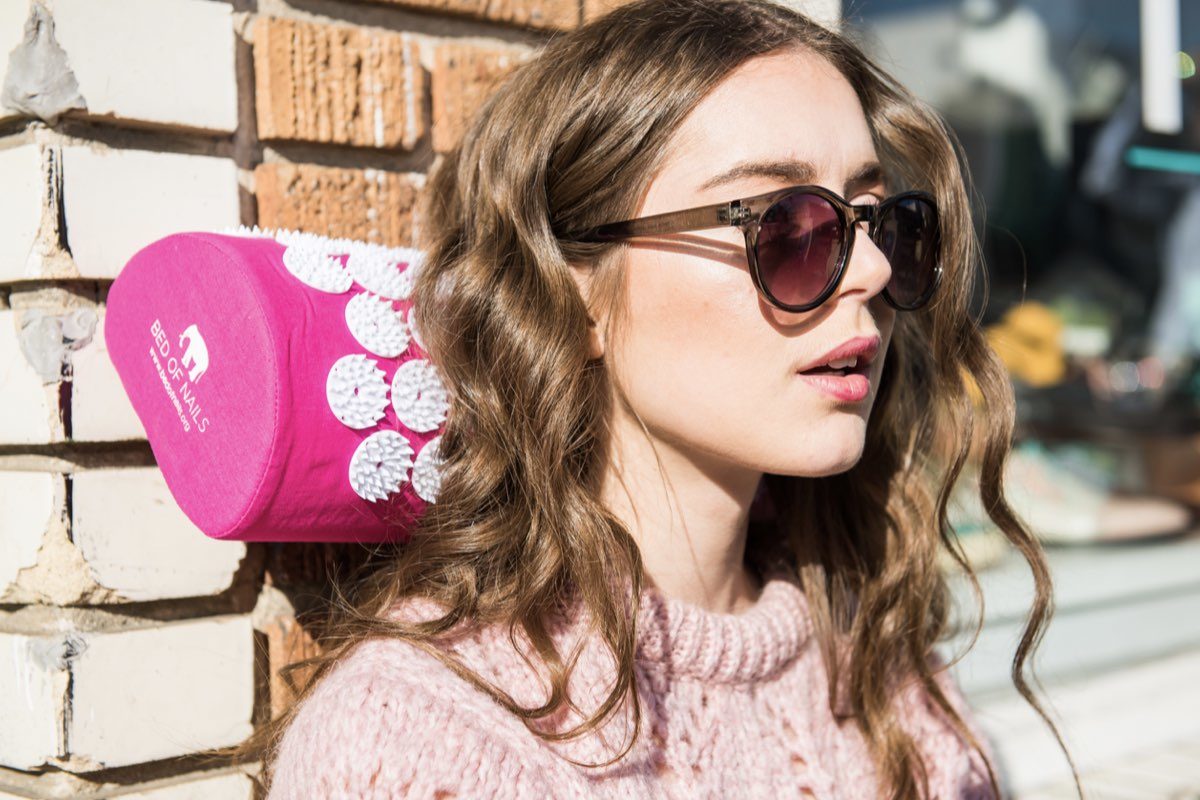 What does a Bed of Nails do?
It's an ancient Indian healing technique, so it makes sense it's become trendy. It's sort of acupuncture-style with the needles, and the instructions say beginners should lie there for up to 10 minutes (gradually working up to 30 when you're more used to it), in clothes. Cautious, I touch a single 'nail' with my finger, and it hurts, but when I lie back across the mat, the whole thing feels much less sharp than I imagined. You can lay it on the bed, on the floor, or propped against  a sofa – whatever takes your fancy.
There's a warming sensation, and while it's not at all painful, it's not particularly comfortable – but it is strangely addictive. After using it twice, I found myself excited to get home to lie on it. If I'm nit-picking, I do wish it was longer and covered the calves, too – it stops at the hips. But when you really press your back into it, you can actually feel tension release.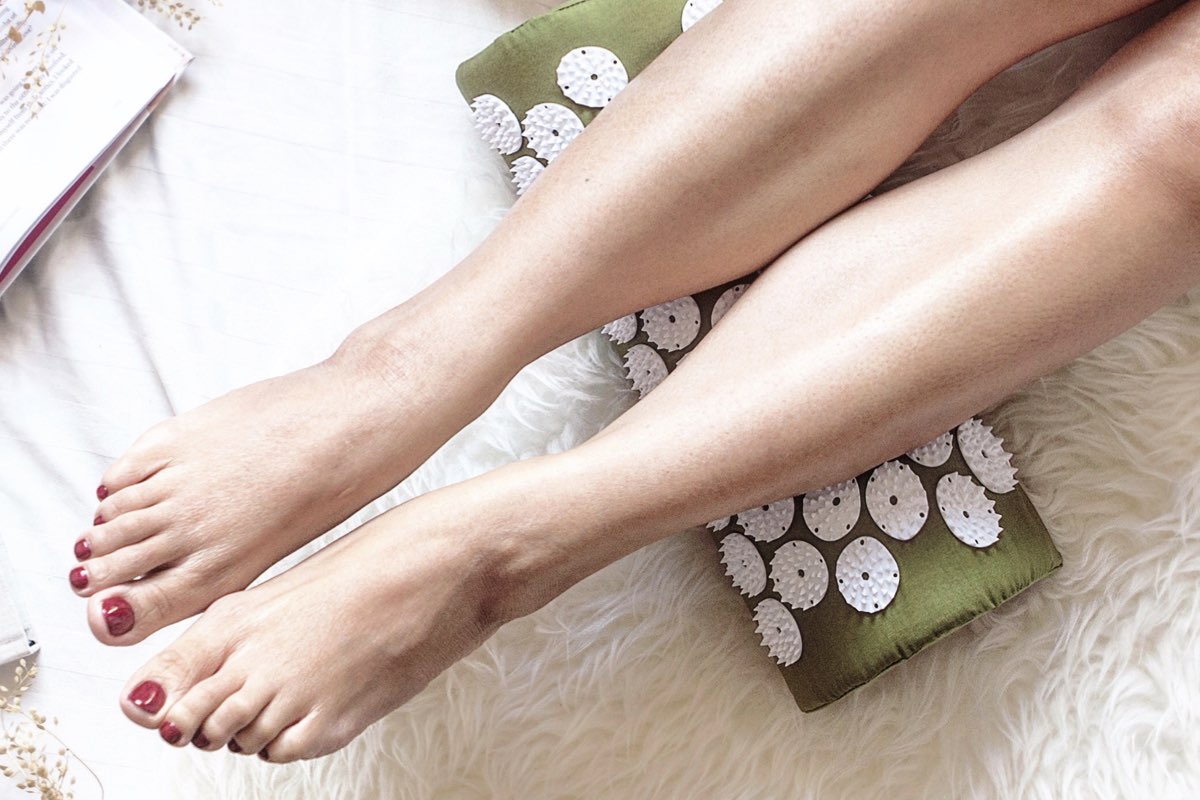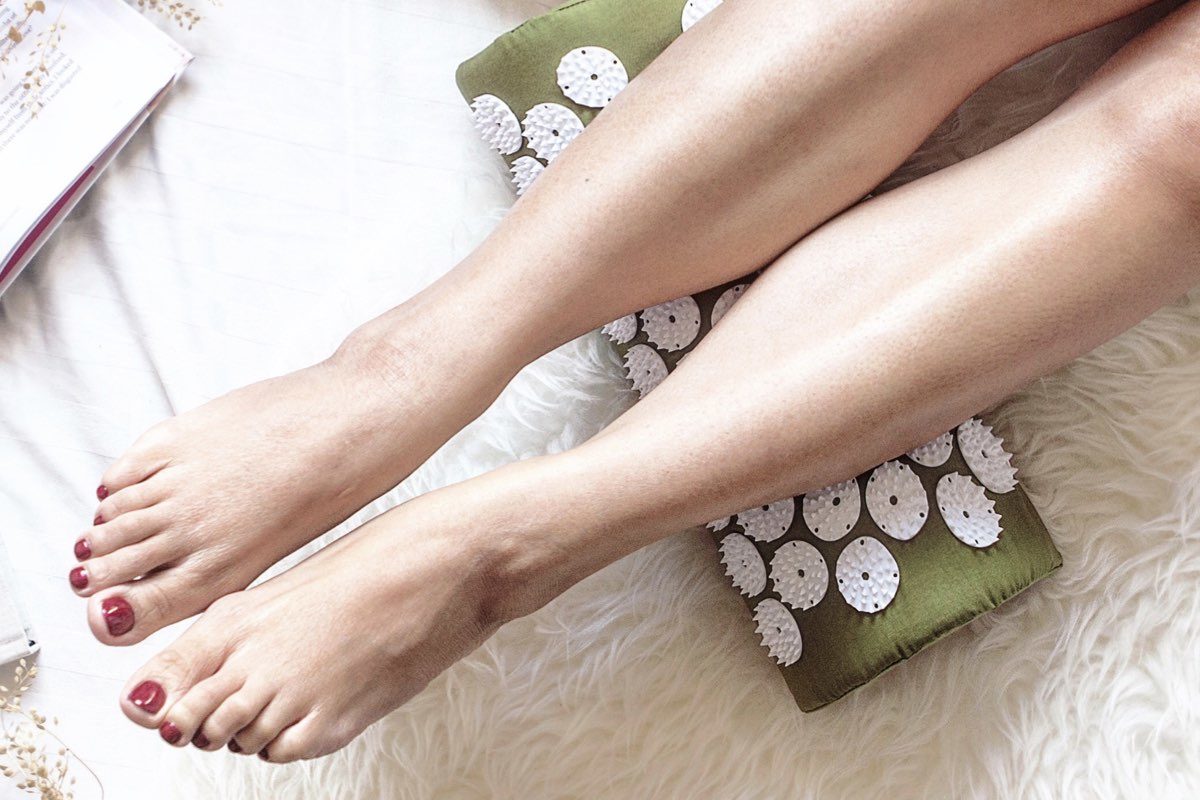 Does bed of nails really work?
It gets more comfortable as time goes on, and moving from side to side feels great. I particularly enjoy the neck pillow, which I start using alone on my bed while watching TV – there's something soothing, supportive and intriguing about it. There's a bit of redness on the area that's touched the nails, but it soon goes down. Shut your eyes, and it is incredibly relaxing.
You can use the Bed of Nails in a few ways. I stay on it longer each night, but I remain too scared to lie on it facedown. I did, however, graduate from lying on it fully clothed, to lying on my back on it naked, which felt like progress.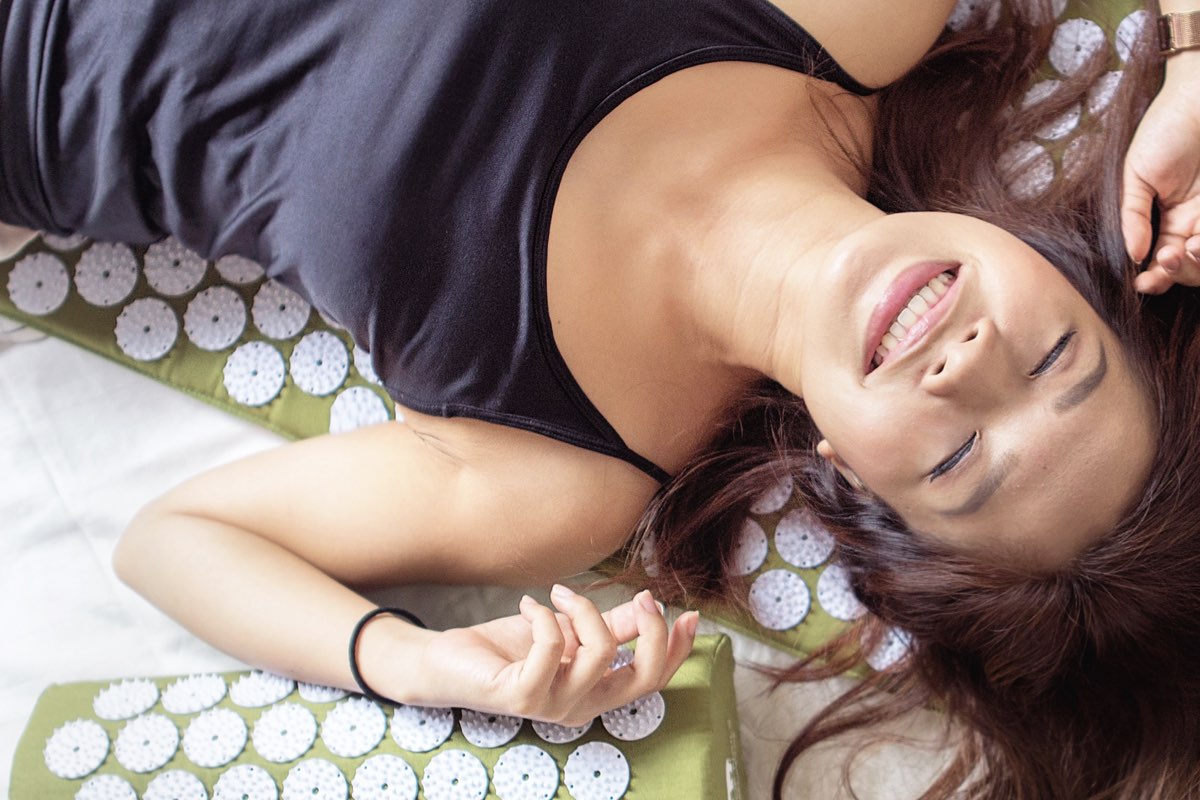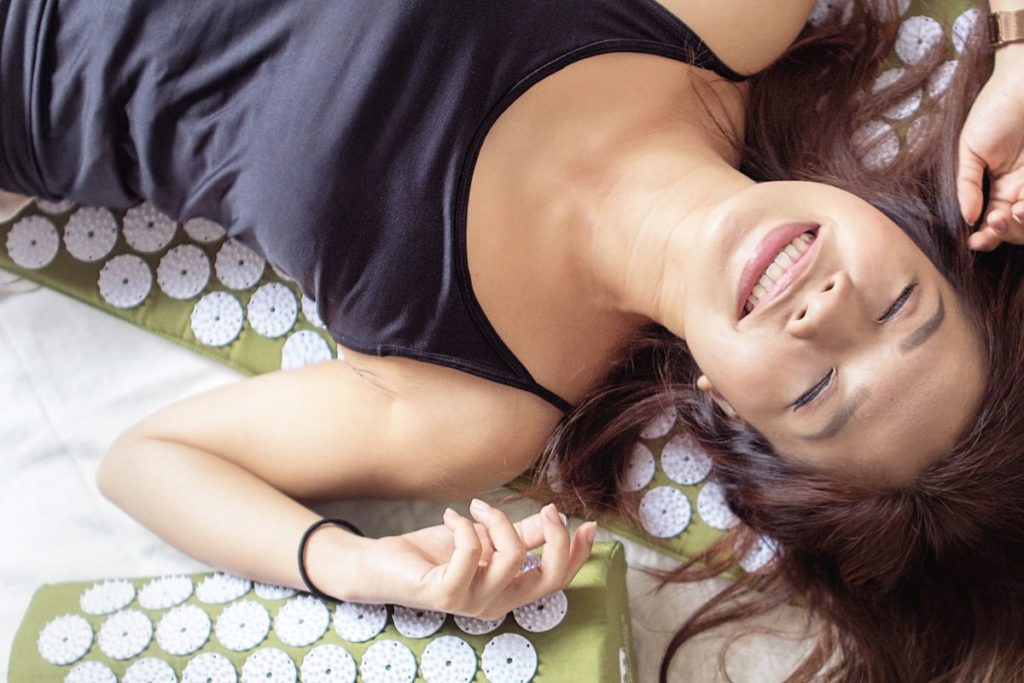 I'm not sure it did anything to fix cellulite, and if I had a real problem, I wouldn't rely on this to cure it. But then, it's not meant to. There's no doubt you feel more relaxed and looser somehow after a session on the Bed of Nails. It's brilliant at what it does and is an excellent addition to a wellness regime – minimal effort, maximum result. It's coming with me on my next holiday for sure.
Get your weekly DOSE fix here: SIGN UP FOR OUR NEWSLETTER
FAQs
Is it safe to lay on a Bed of Nails?
Yes, it is safe to lay on a Bed of Nails as long as it is used properly and with caution. It is not recommended for people with certain medical conditions.
What are the benefits of using a Bed of Nails?
The benefits of using a Bed of Nails include stress relief, improved circulation, pain relief, and relaxation.
How long should I lay on a Bed of Nails?
It is recommended to start with a few minutes and gradually increase the time up to 20-30 minutes. It is important to listen to your body and stop if you feel uncomfortable.
Can anyone use a Bed of Nails?
While most people can use a Bed of Nails, it is not recommended for pregnant women, people with skin conditions, or those with a history of blood clotting disorders. It is always best to consult with a healthcare professional before use.
Charlotte is a London girl through and through. She sweats through spin and puffs through Pilates to justify trying the latest restaurants and devouring copious amounts of sweet potato fries, burrata and bread – preferably on holiday. Her favourite destinations include Italy, the Maldives and anywhere where the sun's shining and there's a strong breakfast buffet. She's obsessed with walking, visiting farmers' markets and reading. She's also learning to cook. Wish her (and her husband) luck.