Switch up your mundane routine with this feel-good soup recipe from Melissa Hemsley. The combination of sweet potato, ginger and coconut is both refreshing and comforting all at once.
Don't worry about peeling the sweet potato, instead give it a scrub and it's good to go. Swap for butternut squash, carrot or celeriac if you prefer a slightly different flavour…
METHOD
Fry onion in coconut oil, stirring now and then for 5 minutes until softened. Use the time to prep the other veg.
Add garlic, ginger and chilli flakes if using and let fry for another 2 minutes.
Add the sweet potatoes/squash/carrot along with the coconut milk and the liquid, stir then put the lid on and let simmer away for 12 – 16 mins (depending on the veg) then add a pinch of sea salt or tamari and the lime juice.
Blend in batches, seasoning to taste then serve up with a drizzle of olive oil, extra lime and chilli flakes and coriander if you like.
INGREDIENTS
Serves 4
1 large onion
1 tbs coconut oil or ghee
3 garlic cloves
3cm of fresh ginger, about 1 thumb sized
1 tsp chilli flakes (optional)
700g of sweet potato or squash/carrot roughly chopped
1 x 400ml full fat coconut milk
600ml of quality broth/stock/water
1tbs tamari or extra sea salt
juice of 1/2 lime
sea salt and pepper
To Serve
Fresh coriander
Extra lime if you like
Chilli flakes
Drizzle of extra virgin olive oil
Get your weekly DOSE fix here: SIGN UP FOR OUR NEWSLETTER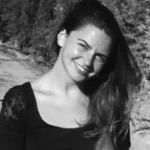 Hettie is the editor and co-founder of DOSE. A keen runner, she's also partial to a blast of high-intensity and hot yoga. A country girl at heart, she divides her time between London and the lush rolling hills of North Devon. When she's not jetting off on her next adventure, Hettie can be found in a candle-lit alcove with a laptop, a spaniel and a full bodied Malbec.