CBD is a buzzword in the beauty industry – it doesn't get you high like cannabis, but is known to have a host of relaxation properties. Behold, the most effective ways to take it.
As you may know, CBD, or cannabidiol, is the part of cannabis that doesn't get you high – it's the THC that does that. And in the UK, it's nearly a billion-pound business.
CBD oil can be good for anxiety, schizophrenia and arthritis, as it's anti inflammatory, though more research is definitely needed.
CBD oil comes in different strengths, and can be taken in various ways. Some are stronger, some will last longer and so on. As for what a regular dose is, "I'd say a standard dose is two drops morning and evening of a low strength oil, say 3-5 per cent," says Cefyn Jones at Cannabis Trades.
Eat it
We like ours in chocolate form – Almighty Raw CBD Chocolate is dark and delicious.
If you want to go all out, Farmacy's 'high' tea features a CBD infused cocktail, homemade CBD infused chocolates and a pot of hemp leaf tea.
Gummies
Yummy! There is often 5mg of CBD oil per gummy, but always check. Ingesting CBD oil through gummies and food can take around two hours for you to feel an effect, as it has to go via the digestive system – so may be less effective when you feel it.
Vaping
CalyFX is a range of six CBD vape pens, new to the UK. Choose from six blends such as Endurance, Sleep and Relief – each combines pure CBD hemp oil with plant-based terpenes to bring about the desired effect.
Vaping is a highly effective way to consume CBD. It reaches the blood stream directly through the lungs, and is absorbed rapidly. But remember, it's hard to know exactly how much you're taking in this way, and there is some argument that vaping can damage lung tissue.
As a skin oil
As our CBD manicure at Young LDN found, CBD oils feels nice and is soothing and anti-inflammatory for the skin, too. It can also serve the same purpose when used in facials.
Capsules/pills
These are simple and there's no guesswork with how much you're taking in – but the effects can take a while to deliver. Oil on the tongue, say, is more immediate. "The most common CBD product is a tincture/oil. People use the oil by placing it under the tongue and letting it absorb for 60 to 90 seconds. Capsules are essentially the same in a different form, gaining more popularity because they are convenient to take and also allow people to be more consistent with their dose," says Johan Obel. Obel is the co-founder of The Drug Store, opening this month in Marylebone.
"Like any other food supplement, when CBD is taken orally, as a capsule for instance, it will pass through the liver where enzymes will metabolise some of the CBD that was ingested. We usually hear from customers that around 25mg per dosage is a good place to start," Obel says.
Drink it
A few drops of CBD oil with herbal tea is brilliant, says Oliver Summers, the founder of @signature_cbd drops. "Chamomile before bed is the perfect sleep remedy," he says, plus, "a capsule (slower release) before bed helps support a deep sleep throughout the night."
In conclusion
You definitely have to remember that people are different and what works for Person A won't be the same for person B. "Everybody is different and nobody will react the same way to a set amount. It also depends on the formulation and application," says Obel.
However, inhalation, like vaping, and drops directly onto the tongue appear to be the quickest ways to see results. Commenting on which ways will reach the bloodstream quicker, Cefyn tells me it's "vape, oil, capsule, in that order."
And according to Healthline's Medical Network (HMN), you should generally start with a low dosage and go from there. "Most research has used doses from 40 milligrams daily to 1,500 milligrams. Some people advocate starting with 20 to 40 milligrams daily and increasing to the desired effect. But before treating a medical condition, talk with your doctor about the best approach for your specific condition," HMN says.
Get your weekly DOSE fix here: SIGN UP FOR OUR NEWSLETTER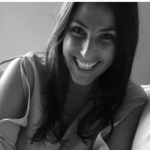 Charlotte is a London girl through and through. She sweats through spin and puffs through Pilates to justify trying the latest restaurants and devouring copious amounts of sweet potato fries, burrata and bread – preferably on holiday. Her favourite destinations include Italy, the Maldives and anywhere where the sun's shining and there's a strong breakfast buffet. She's obsessed with walking, visiting farmers' markets and reading. She's also learning to cook. Wish her (and her husband) luck.